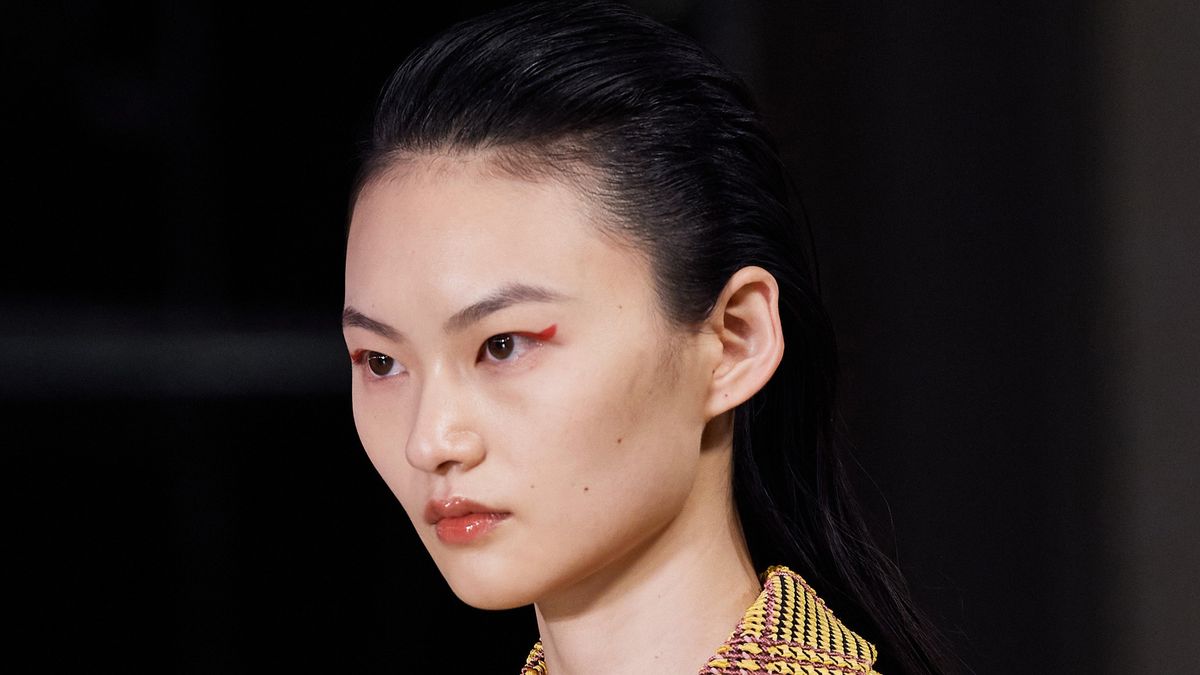 Fashion Week
Our Favorite Beauty Looks from the S/S '21 Runways
Because you deserve to look at pretty hair and makeup this week.
This
season's runways
were unlike anything we've seen before. Yes, there were
amazing clothes
and fantastical scenery, but there's no point in pretending that this was a traditional show cycle. Most of us were limited to our computer screens, pressing our noses up against the glass in order to catch
every tiny detail
. And although we're always eager to see what makeup, hair, and nail artists create for the designers, it's impossible to forget that masks are
the
most enduring accessory this season (and for good reason).
But all that won't stop us from admiring some of S/S '21's most fantastical, eye-catching, and just plain gorgeous beauty looks. If you, too, are in need of a dose of makeup or hair creativity, peruse our 11 favorites below. 
---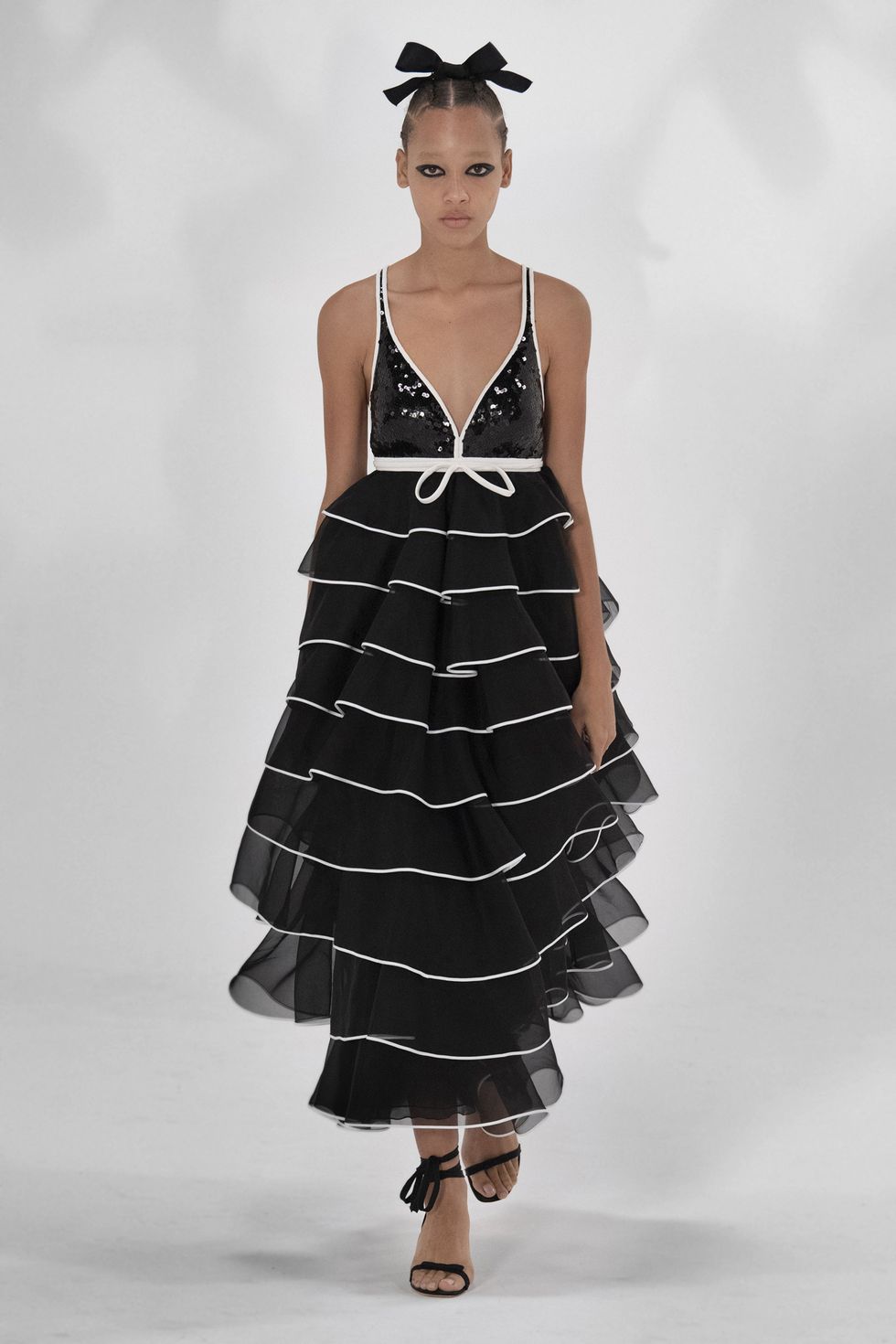 Giambattista Valli
Photo: Courtesy of Giambattista Valli
Unsurprisingly, many makeup artists and designers focused on the eyes this season. Strong—almost severe—liner on both the top and bottom lids gave models a dramatic feline effect, with many sporting bleached brows as well. Paired with the ultra-feminine bow in their hair, it was a nouveau gothic effect that we'll happily embrace for the foreseeable future.
[coveteur-shopping-module module_id=0]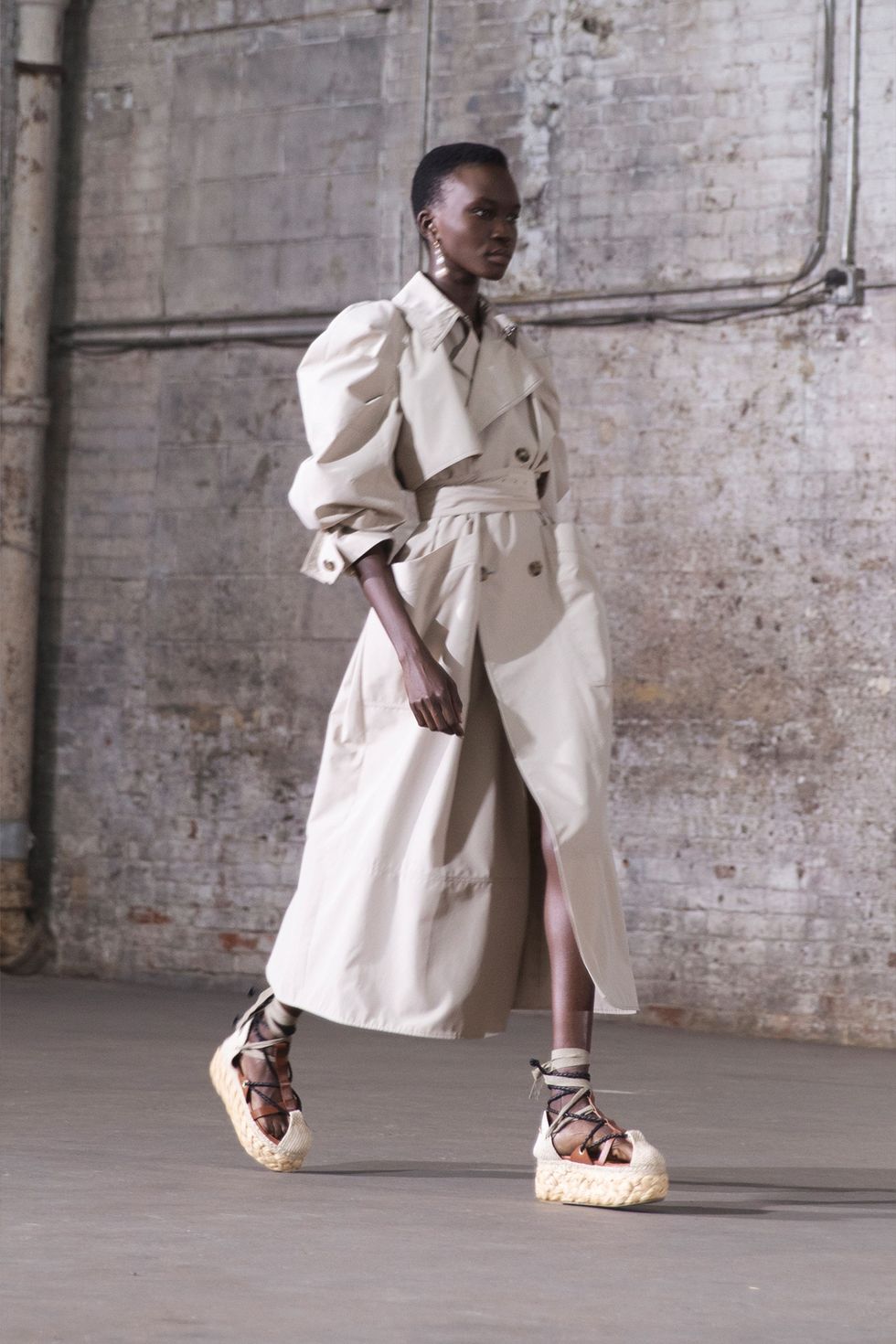 Altuzarra
Photo: Courtesy of Altuzarra
Who doesn't want skin so shiny you can spot it down a 30-yard runway? As we head further into fall and winter, with colder, dryer air comes dehydration that can sap your skin of its dewy glow. We're taking all the inspiration we need from the impossibly radiant skin on Altuzarra's models with plenty of hydrating serums, face oils, and highlighting sticks.
[coveteur-shopping-module module_id=1]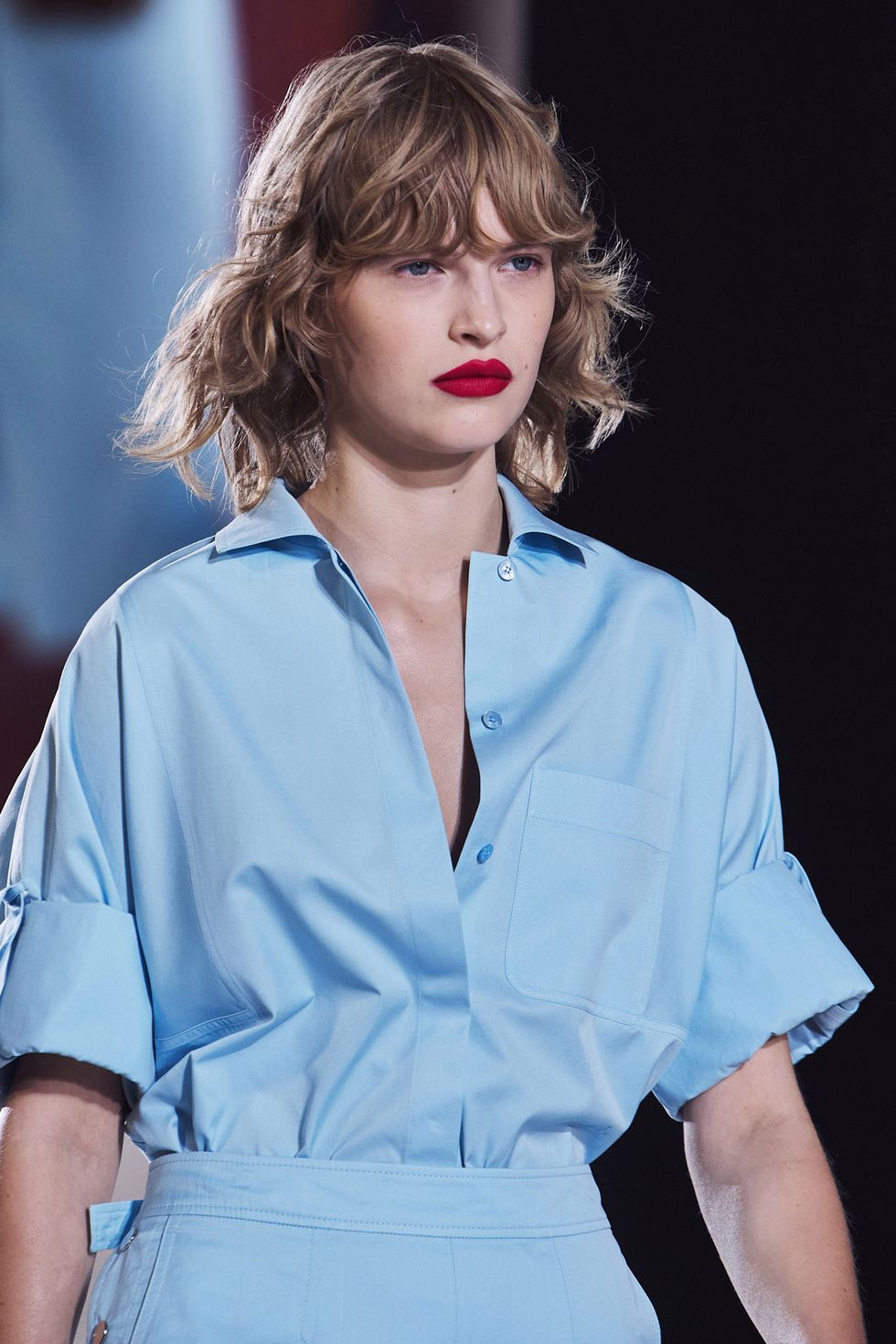 Hermès
Photo: Courtesy of Hermès
We refuse to relinquish our favorite lipsticks, and thankfully, Hermès served up plenty of color-pop inspiration at its S/S '21 show. Paired with a subtle, nude-toned blush, an extra-juicy pout (in either glossy or matte) will give you that much-needed boost come winter when your summer glow is officially gone. Who cares if you're only wearing it during your morning Zoom calls? You deserve it.
[coveteur-shopping-module module_id=2]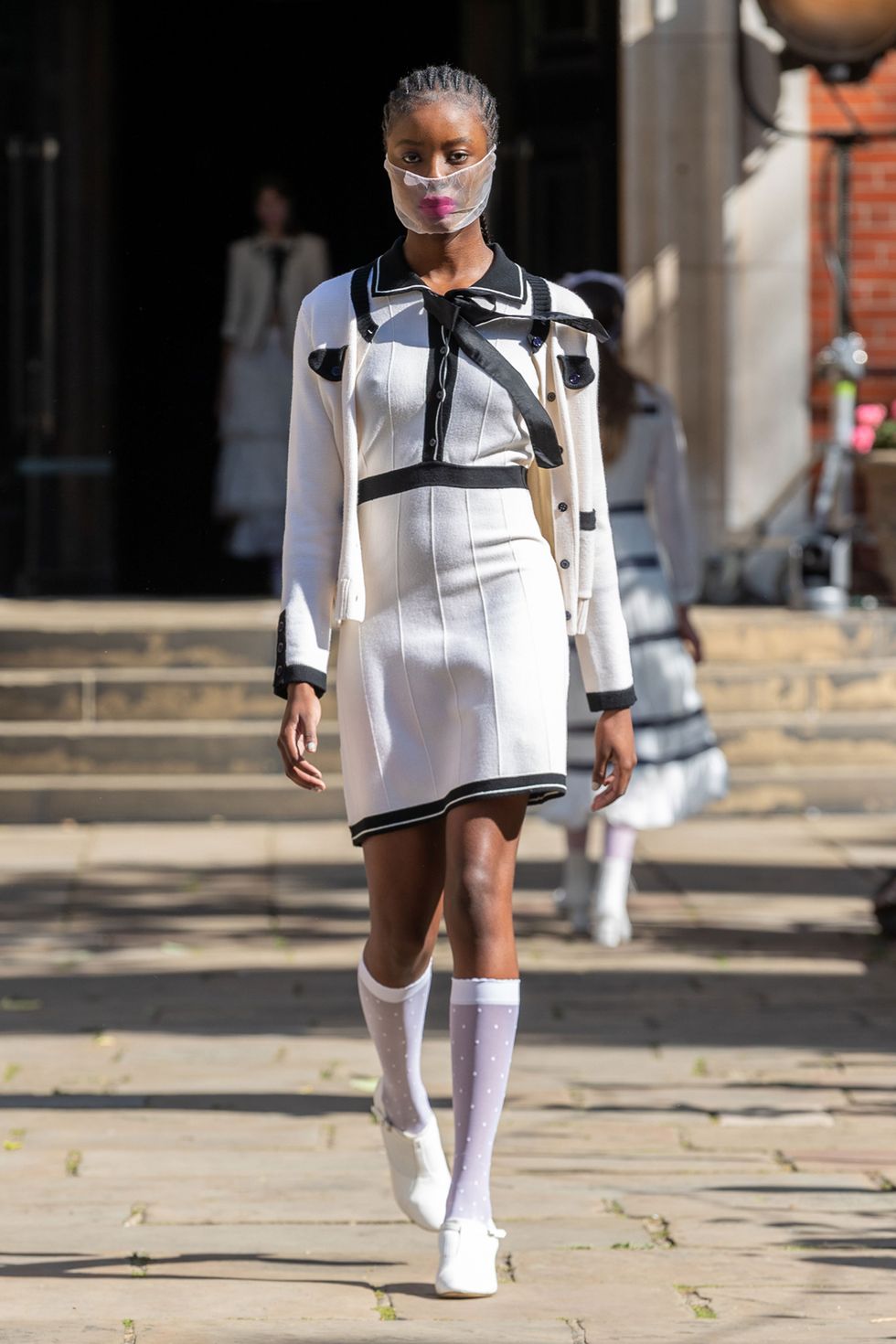 Bora Aksu
Photo: Courtesy of Bora Aksu
Designer Bora Aksu may have found the answer to all of our lipstick woes this season with his see-through masks. The accompanying bright magenta lip look—softly blurred at the edges for a pretty "imperfect" effect—was a welcome dash of color in an otherwise neutral-heavy collection. Pair it with an otherwise minimalist face, bold brows, and slicked-back hair, and you have our new weekend look.
Get the Look With:
Chloé
Photo: Courtesy of Chloé
We spotted more liner-heavy eyes at Chloé this season, but with a softer, more blurred finish (which we'd happily wear for a night of socially distanced wine drinking on our roof with a few friends). The artful smudge paired with a slightly damp, windswept hair was perfectly French, so until you can travel back to the City of Light, channel the best of its beauty traditions with this look.
Get the Look With:
Makeup by Mario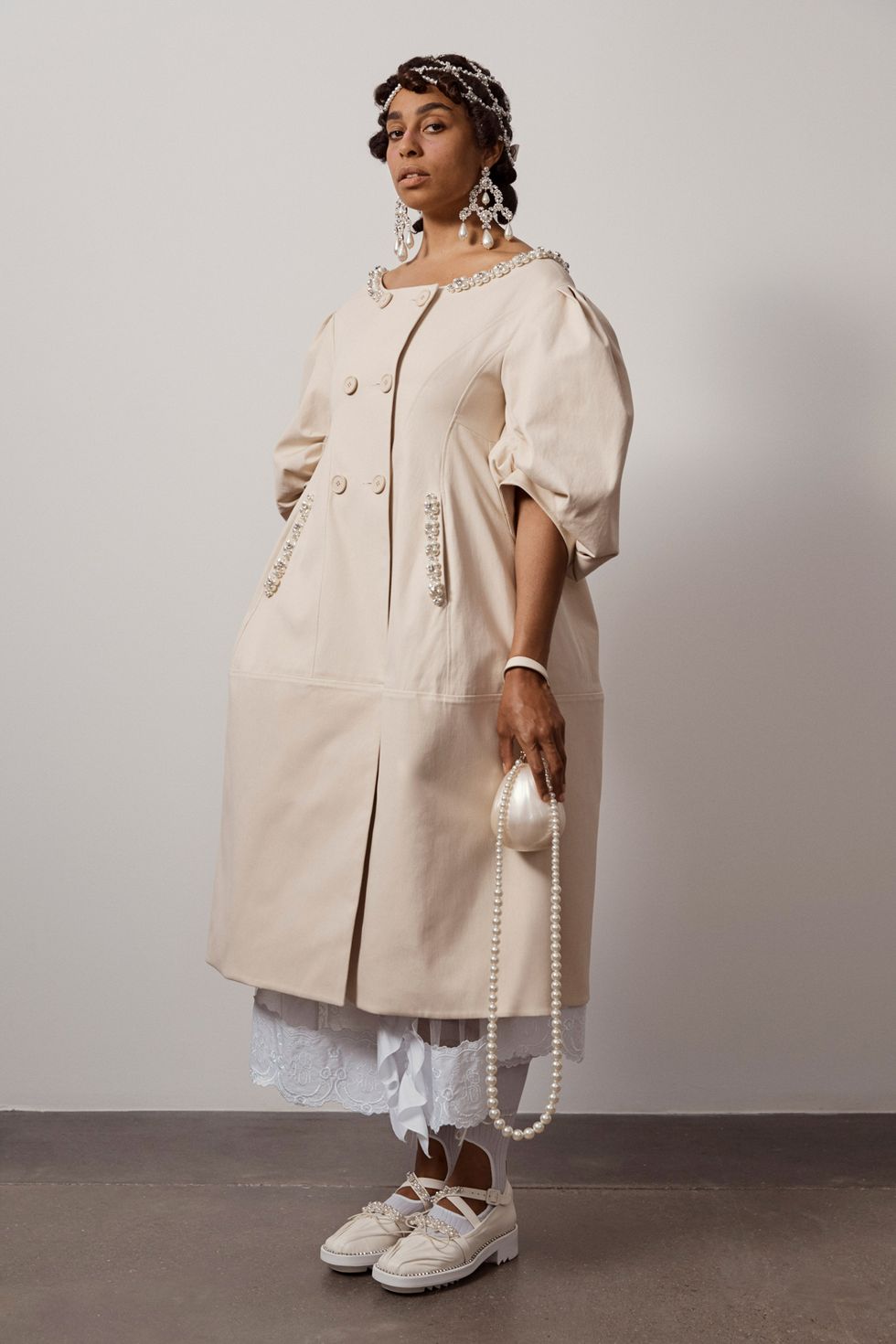 Simone Rocha
Photo: Courtesy of Simone Rocha
We always expect the pinnacle of glamour from Simone Rocha, and this season did not disappoint. The chandelier earrings and crystal headpieces were offset beautifully by voluminous curls—carefully pinned and tucked—and softly sculpted cheeks.
Get the Look With:
Ghd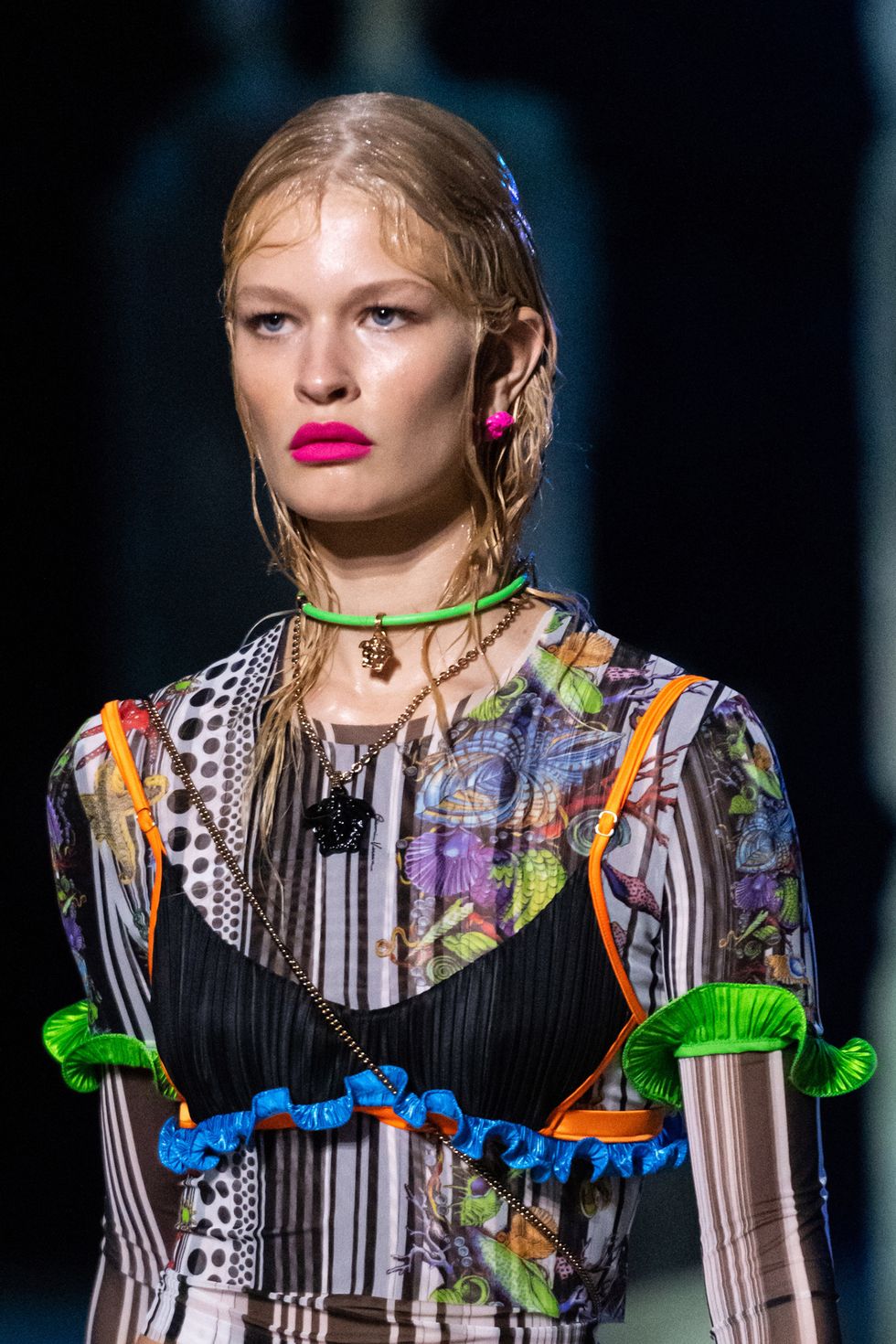 Versace
Photo: Courtesy of Versace
Nobody does drama like the Italians, which is why we were so pleased to see beguiling matte pink lips, wet-look skin, and Medusa-inspired hair. Hot pink might seem intimidating, but as long as you nail the warm or cool undertone, you'll be a serious head-turner in your favorite shade. And as for the hair? It's time to embrace the gel and play with your texture.
Get the Look With:
Christian Louboutin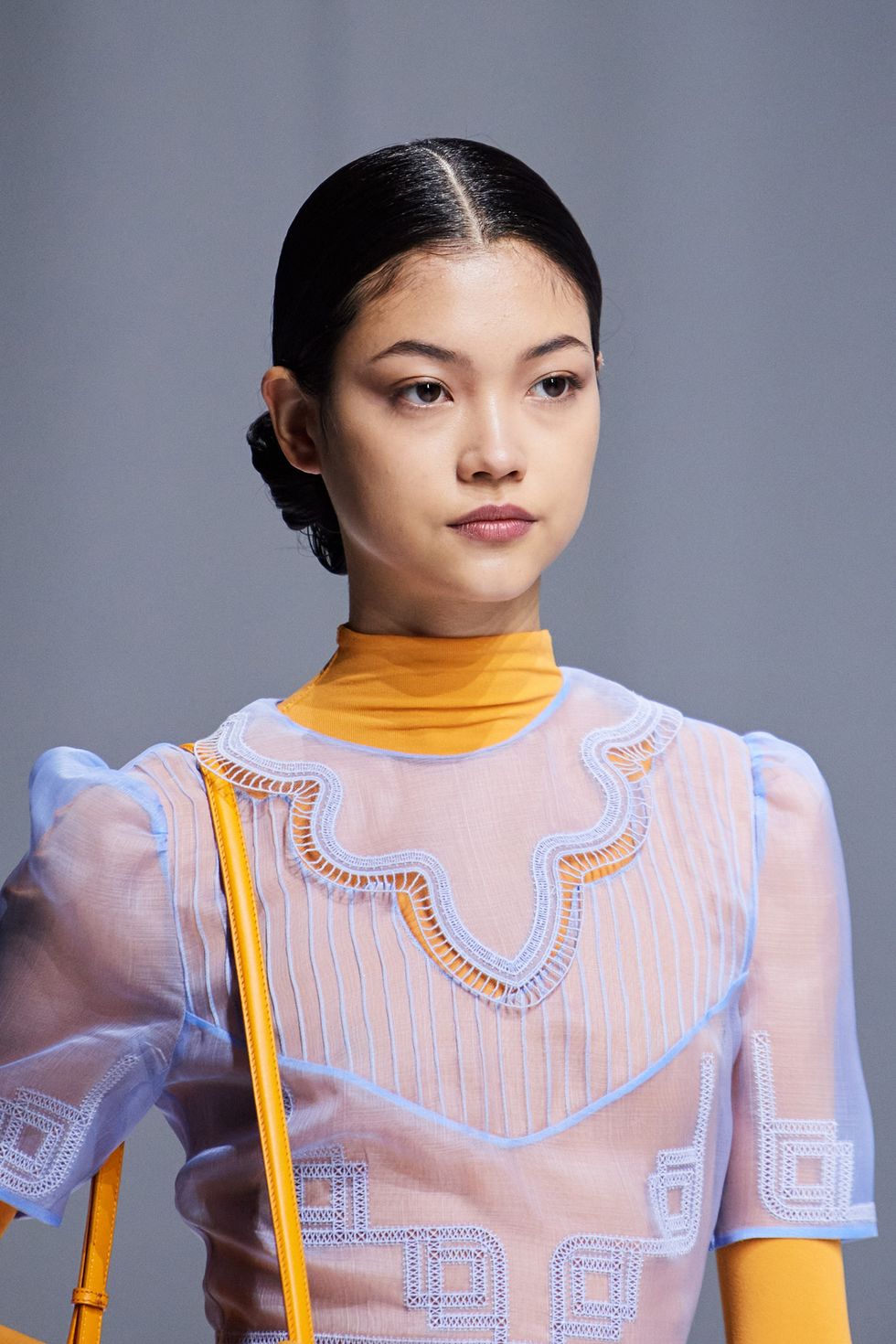 Fendi
Photo: Courtesy of Fendi
Not every designer sent over-the-top beauty looks down the runway—at Fendi, we saw gorgeous muted tones via a russet blurred lip and a barely discernible winged shadow. Coupled with elegant low chignons and center parts for the hair, the overall look was an homage to that timeless Italian beauty sensibility, and one we'll happily wear anywhere, anytime.
Get the Look With: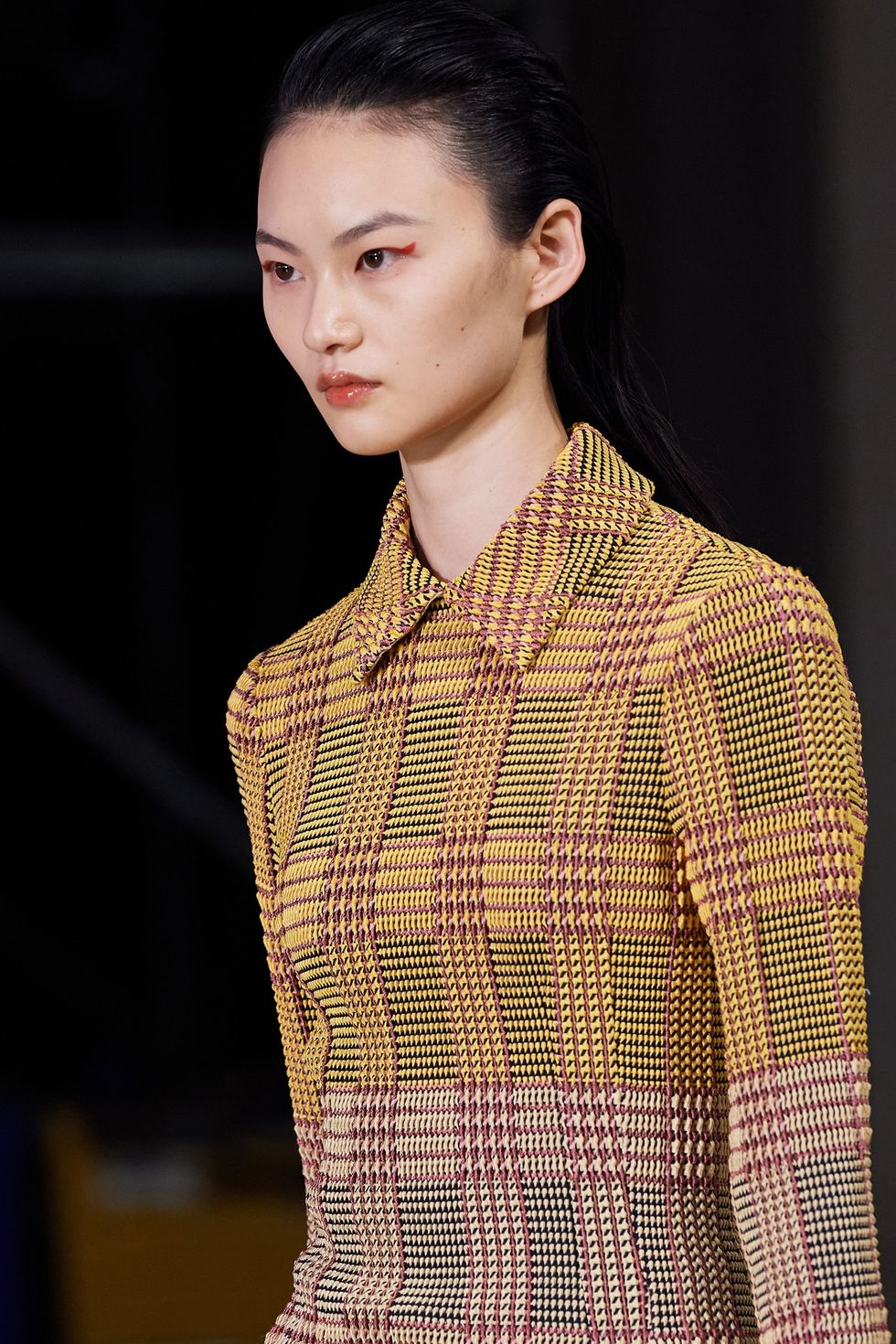 Salvatore Ferragamo
Photo: Courtesy of Salvatore Ferragamo
Bright pops of color weren't limited to the lips this season, with models strutting the Ferragamo runway wearing flicks of red liner. If crimson is too much for you, don't be afraid to play around with other bold hues like blue or purple. Let your imagination go wild with this surprisingly easy take on statement makeup.
Get the Look With:
Marc Jacobs Beauty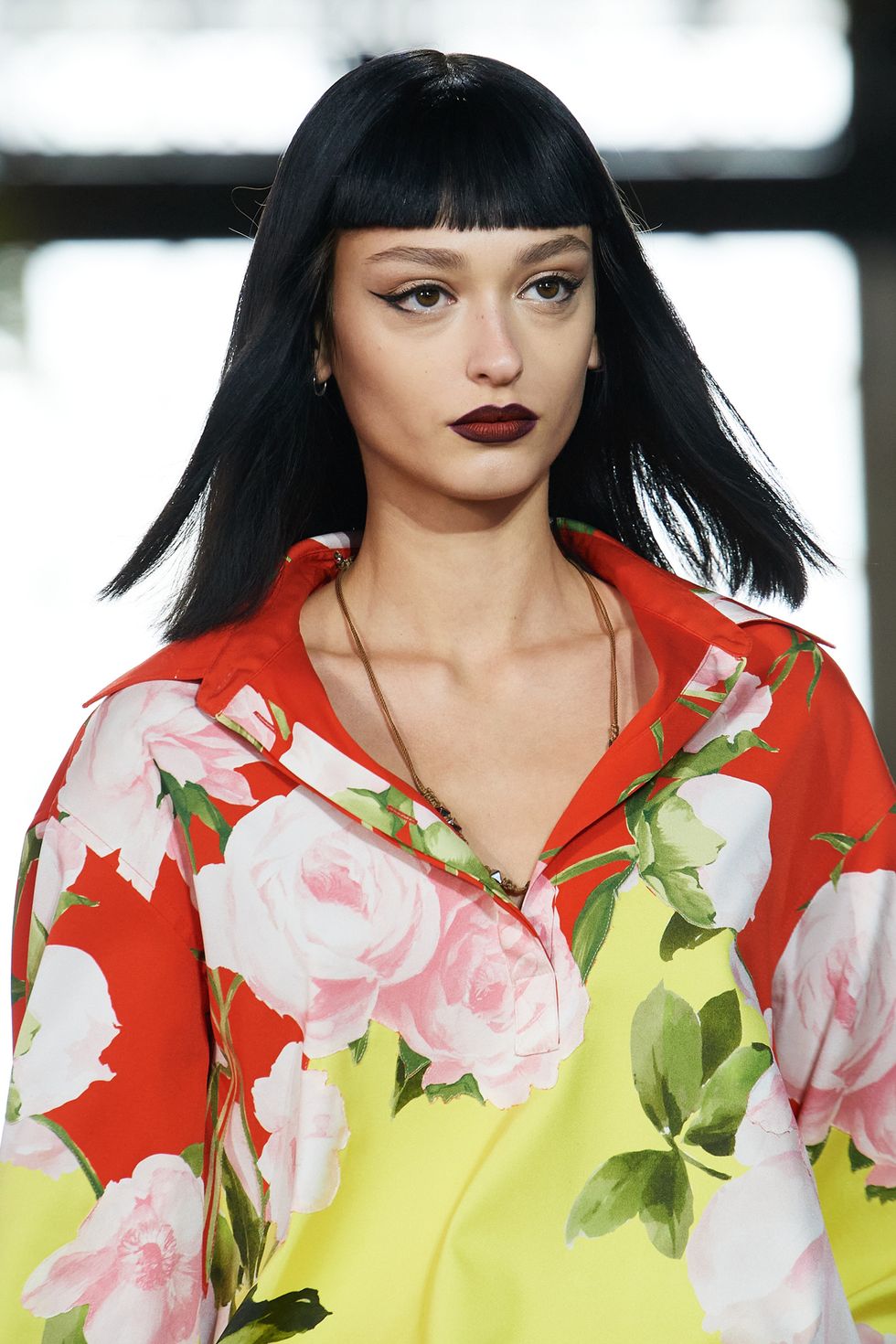 Valentino
Photo: Courtesy of Valentino
Valentino's girls all had unique makeup looks designed to flatter their features, but strong eyeliner and blood-red lips were at the core of this season's beauty inspiration. Assertive, powerful, and with endless possibilities, this might just be the look we rock as we head to the polls in November…
Get the Look With:
Yves Saint Laurent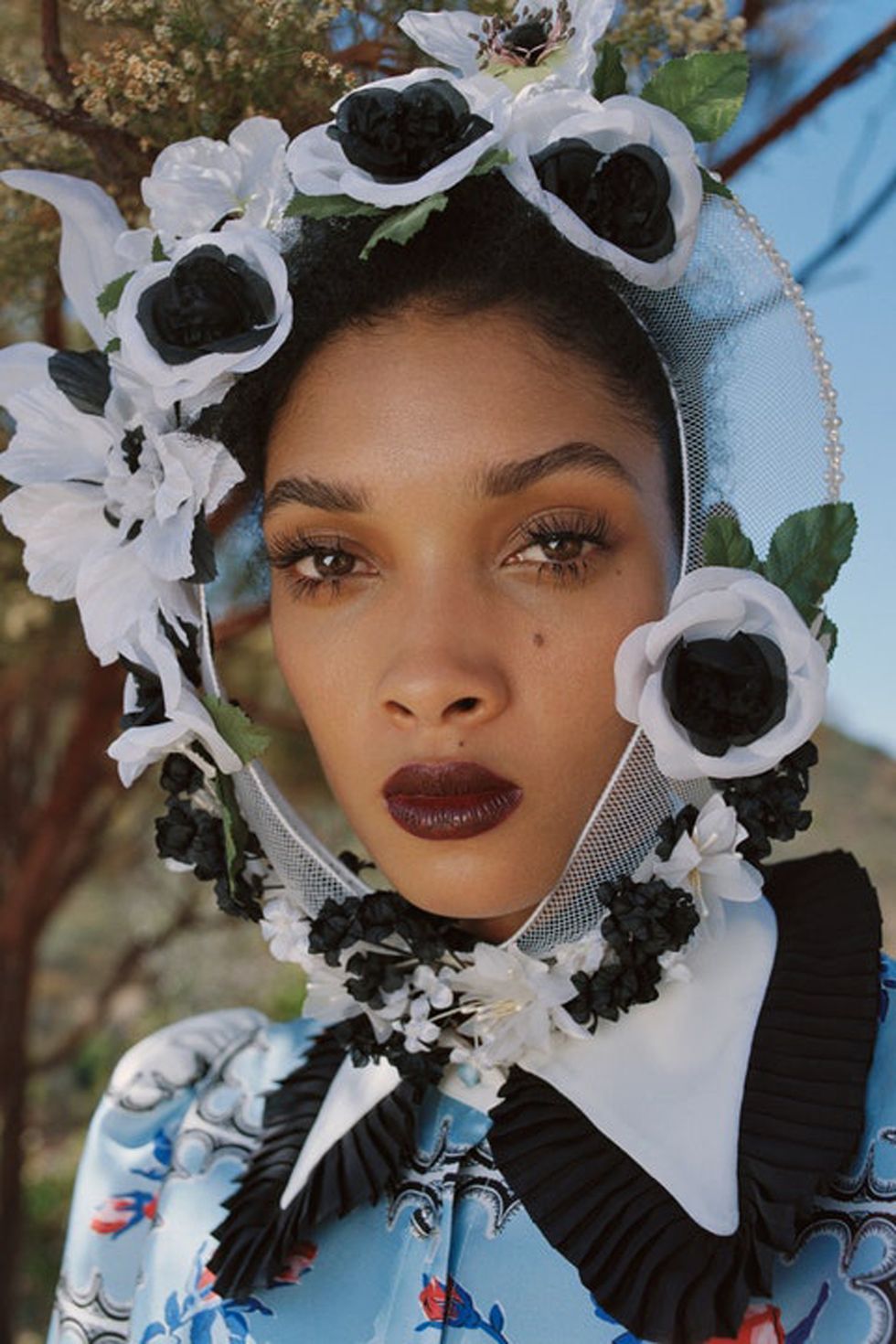 Rodarte
Photo Courtesy of Daria Kobayashi Ritch
You can't discuss fashion month beauty without mentioning Rodarte, who provided us with yet another feast for the eyes this season. Makeup artist Uzo utilized each girl's halo of flowers to showcase doe-eyed lashes and dark, moody lips—plus no shortage of dewy skin. Whimsical with just a touch of the macabre, it was everything we love about the Rodarte sisters' aesthetic, captured with picture-perfect hair and makeup.
Got the Look With: