Visit the New Makeup Museum During Your Next Socially Distant Weekend
The debut exhibit, "Pink Jungle: 1950s Makeup in America," is worth a trip to the Meatpacking District.
Beauty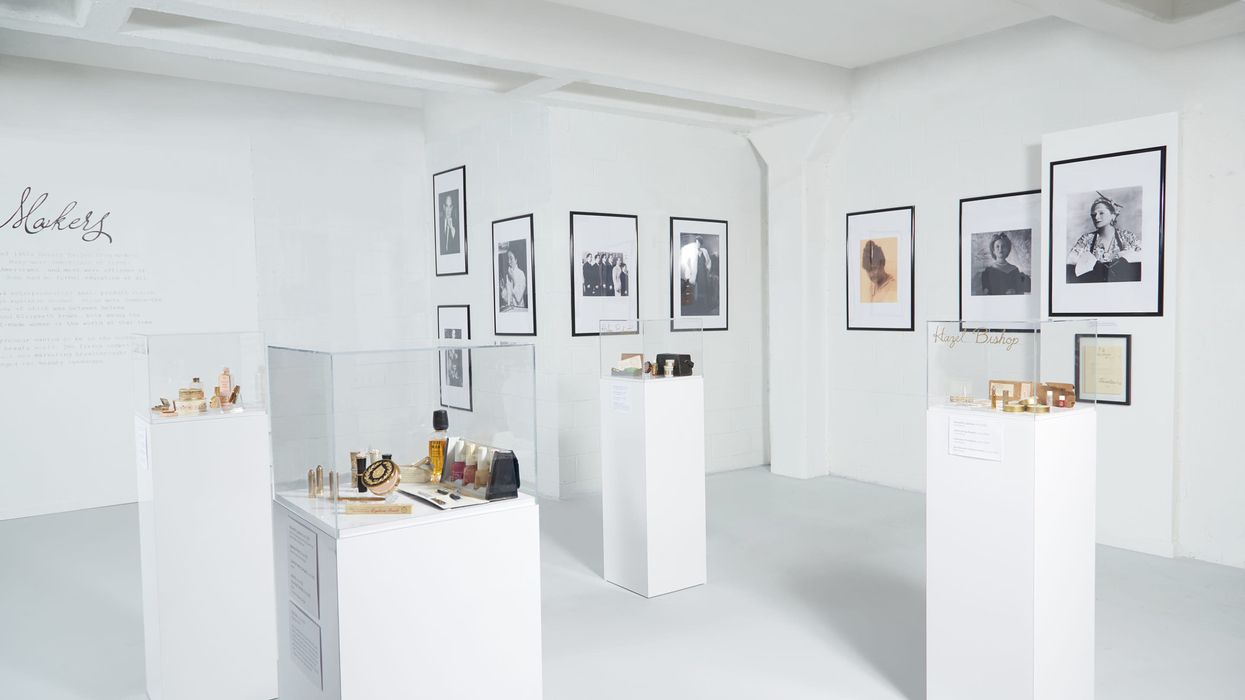 Last week I died and went to makeup heaven—that would be the newly opened Makeup Museum in NYC, to be exact. Devoted to the art, history, and sheer fun of makeup, it's the first museum of its kind and a must for everyone, whether you occasionally dabble in lip gloss or you're hardcore obsessed with the power and provenance of makeup.
The museum—which was supposed to open in May, prior to the onset of the pandemic—greets you with "Pink Jungle: 1950s Makeup in America," the museum's debut exhibit. The first exhibition of its kind, it focuses on the beauty products, innovation, and advertising of the post-WWII period when Hollywood's love of red lips and a good cat eye was embraced by the masses.
Makeup geeks, take note—the powders and pancake makeup developed by master makeup visionary Max Factor are all on display. Factor (whose name is, of course, now synonymous with the beauty industry) pioneered his color harmony theory to customize formulas and shades for the most famous faces in Hollywood, like Bette Davis, Joan Crawford, and Judy Garland, to name a few. This was pre
–
Fenty Beauty
and pre- anything that came close to the shade ranges and formulas available in today's makeup options.
"The thing about beauty is that it's forever evolving," says Doreen Bloch, co-founder of the Makeup Museum. "What we present in our Pink Jungle exhibit not only represents the thinking and influences of that time, but also the origins of so much that we see today in beauty–from product innovation to packaging." 
---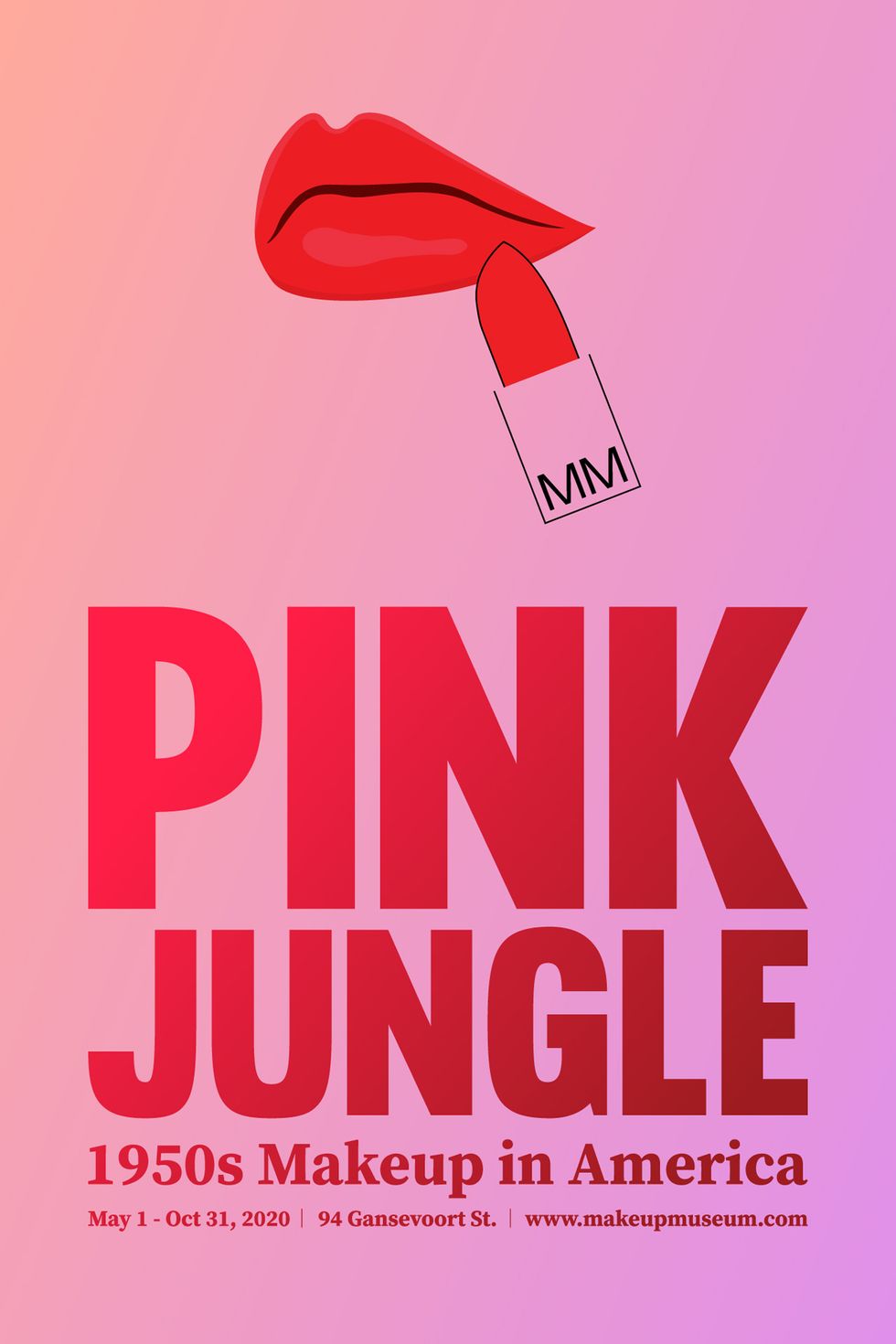 Photo: Courtesy of The Makeup Museum
For lipstick aficionados, there's plenty to love, including a side-by-side color-blocked lipstick case by Coty, circa 1950, that looks stunningly reminiscent of the Hermès Poppy Lip Shine bullet case,
which debuted earlier this year
. There's even the orange and ravishingly retro Revlon collaboration with famed jeweler Van Cleef + Arpels, with bejeweled and shimmering enamel designs, not to mention slip-and-slide compartments to accommodate cigarettes along with powder and  lip color—everything a femme fatale needs.
As for the oldest beauty object on display at the museum? A 5,000-year-old Kohl cosmetics jar from ancient Egypt. Used on the eyelids to indicate status and protect against sun damage, kohl was the luxury cosmetic of choice by both women and men at the time. Once again, the ever-evolving power of beauty on full display, and in this case, a precursor to that beloved cat eye of the fifties, too.
Classifying your complexion as a beauty canvas isn't a new idea, and here it gets its props in the Erno Laszlo gallery. A skin-care pioneer, Laszlo was the go-to skin-care guru for the most celebrated faces, like Marilyn Monroe, Jackie Kennedy Onassis, and Greta Garbo. Visitors can view the actual skin-care bottles of these beauty luminaries alongside the customized Laszlo products and prescriptions. As a bonus, Marilyn's includes underlining and doodles from the beauty legend herself (complete with a little heart scribble at the bottom).
As you move into other exhibition areas, you're greeted by a quote from a 1950s
Time
magazine article profiling the recession-proof power of the beauty industry: "In little bottles, eternal hope."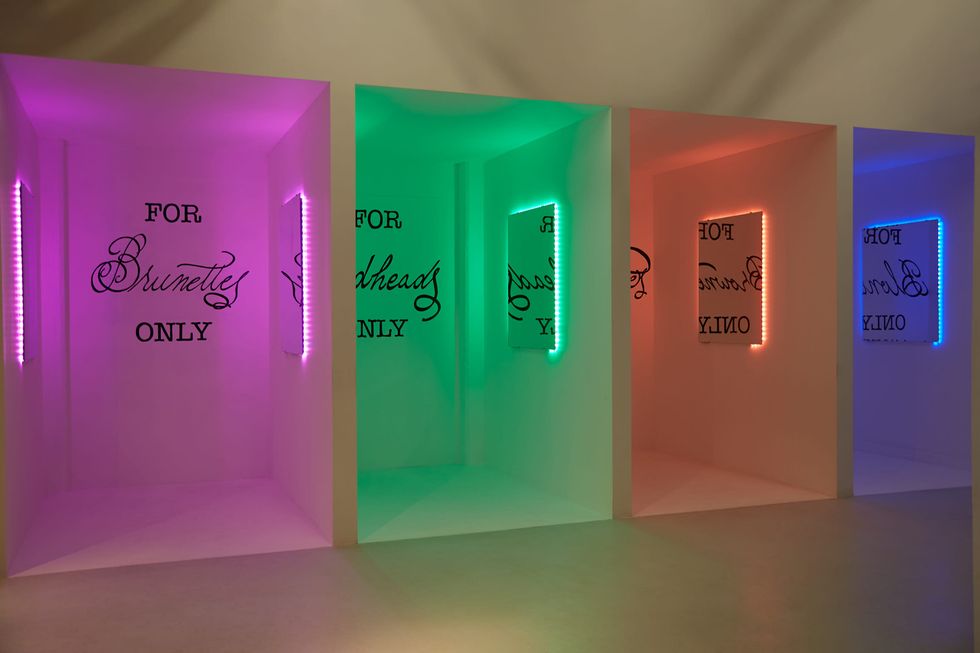 Photo: Courtesy of The Makeup Museum
The typography may seem a little dated, but the sentiment certainly is not, given that the beauty industry was valued at $532 billion in 2019,

according to Business Insider

. Even a worldwide pandemic has done (what feels like) little to temper the search for what's next within the skin, hair, and cosmetics markets. And truly, who doesn't feel the rush of opening that new little bottle or package promising our glowiest skin, most luscious lips, or longest lashes, even now?

With those words in mind, you're presented with a fascinating collage of past beauty advertising from pioneers of the beauty world, like Charles Revson, Estee Lauder, Helena Rubenstein, and Elizabeth Arden—the last two of which are known to have had one of the most notorious rivalries in beauty history. Beauty is dramatic! Print ads range from interesting to laughable, and yes, some questionable choices, with women playing the roles of temptress, homemaker, or Hollywood wannabe. But despite the range of characters, these ads all have something in common— they're homogeneously white, and usually blonde and blue-eyed. As a stark contrast, you'll see a considerably smaller collage of ads and publications devoted to women of color, including vintage copies of

Jet

. This is not an oversight, but rather a sobering comment on the lack of representation within the beauty industry at the time—a fight that continues to this day.

"We wanted to highlight the very real tension between nostalgia for a glamorous era and the reality that it was limited to a very white-centric, Eurocentric vision," says Bloch. "As a resource and authority on the subject of beauty, we want to give equal attention to the pleasures of beauty, but not shy away from what is clearly problematic and necessary for deeper exploration as we have this conversation around inclusivity and expanding beauty perceptions."

So whether you're a history buff, a makeup fanatic, or you're just looking for some really good Instagram moments, a visit to the Makeup Museum is sure to be an enlightening experience, allowing you to come away with a deeper understanding of beauty and history—and how the connections between beauty, power, and presence are more relevant than ever.

The Makeup Museum is located at 94 Gansevoort Street, NYC, and is open seven days a week, 9:00 AM

–

8:00 PM. Tickets available for

"

Pink Jungle

—

1950s Makeup in America

"

through November 30. Tickets $40, with discounts available for essential workers, students, and children. Please note COVID-19 safety policies are as follows: All tickets must be purchased online and in advance for timed entry and in compliance with reduced occupancy mandates (NYC is mandating 25 percent occupancy; the Makeup Museum is limiting visitors to 16 percent capacity). Required temperature check at the door and mask usage is required. Social distancing will be observed at all times, while a one-way traffic flow will be maintained throughout the exhibition space. Deep cleaning is done daily.Photos: Courtesy of The Makeup MuseumWant more stories like this?Jenna Lyons Is Back and She's Out to Fix Your LashesThis $12 DIY Turmeric Mask Gave Me Picture-Perfect SkinWhat Your Collection of Coffee Table Books Says about You