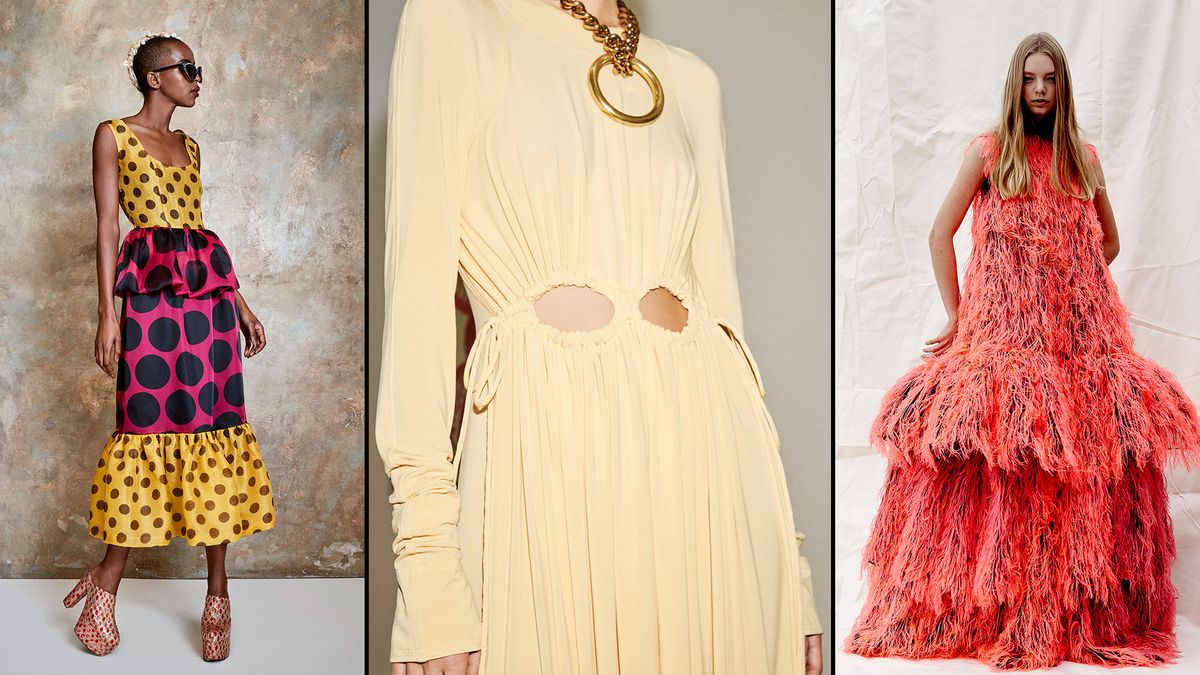 Fashion Week
London Fashion Week Reminded Us That Fashion Is About Joy
Think color, volume, and embellishments everywhere.
Graphic
Rachel Pickus
Done with one, onto the next. As
New York has (sort of) wrapped
, we turn our attention to the Brits across the pond to show us what to expect for spring 2021. London hosted more in-person events than New York (with temperature checks and masks, of course), but due to travel restrictions, they catered to a more local audience than usual of buyers, editors, and stylists. It also seems both the presentations and the collections were more personal this time around.
If designers did decide to release a virtual presentation, aside from just their spring lookbooks, many kept the traditional runway aspect.
Erdem
and
Burberry
both sent models traipsing through forests, which provided sharp contrast to the fairytale couture at Erdem and the shocking blues and oranges at Burberry.
Fashion East
, Lulu Kennedy's emerging talent incubator, got a little more creative, allowing each of the four designers to film a tribute to their new collection. Models danced, walked, and ran, allowing viewers to appreciate the full range of motion of the garments.
Despite the proliferation of negativity in fashion at the moment, it seems some British designers are embracing the odd circumstances. Instead of getting deterred, this collective moment in time has sparked that excitement that originally fueled their creativity—and reduced resources have taken them back to the conceptions of their line. "I found the whole thing liberating," Victoria Beckham told
Vogue
. "Everything changed this season, and it reminds me why I fell in love with the industry in the first place, all those years ago when I used to do smaller presentations and narrate through them."
Other designs seemed to carry this same excitement, as collections were far from dreary. You can always count on London heavyweights like
Simone Rocha
and
Molly Goddard
to deliver escapist fantasy. In terms of overall trends, "we are seeing designers embracing opulence in terms of color and volume and embellishment,"
Heather Gramston
, head of womenswear at
Browns Fashion
, tells Coveteur via email.
On the reverse end of the spectrum, designers like newcomer
Maximilian via Fashion East
and
Margaret Howell
have challenged the traditional whimsical aesthetic of British dressing, instead offering silhouettes that convey strength in more modern ways. However, even those who are providing more wearable options for a lifestyle dictated by WFH do so with that quintessential British quirk—a square tie, a shocking hue—as a reminder to not take yourself too seriously. See the major takeaways from LFW below.
---
The prints in London this season were more than just graphic, they were truly artistic. Bethany WIlliams, alongside artist and illustrator Melissa Kitty Jaram, turned drawings from mothers and children at the
Magpie Project
into prints. Christopher Kane discovered new painting techniques and then transferred them onto his material along with lots of glitter.
Ribbons, rhinestones, and buckles were everywhere. Fashion this season is dripping with embellishments that will immediately bring a smile to your face. Ricardo Tisci created a gleaming mesh overlay at Burberry, while Erdem Moralioglu bedecked his vibrant patterns in ribbons and bows.


The definition of a shirt has definitely expanded—designers this season are showing bras worn standalone as tops. If that idea frightens you, take a styling note from Osman Yousefzada's book and layer a vest or jacket over yours.


Statement-making fashion often takes up a lot of physical space. Designers experimented with this in all types of ways, from Halpern's spherical dress reminiscent of a Christmas ornament to Roksanda's streamlined, yet amplified proportions.


Rein in your mind from the typical dreary connotation surrounding the adjective militaristic, because these looks are anything but. From Eden Loweth of Art School's uniform jackets to Richard Malone's oversized shoulders, these ensembles are reinterpretations of the typical silhouettes. The colors may be subdued, but the shapes are strong and sharp.


Cutouts are nothing new, but the execution this season is the opposite of tired. Everyone from Victoria Beckham to Fashion East's Maximilian is showing bits of skin in unexpected places, creating sex appeal in an understated fashion.


Platforms are back. These towering shoes are like high heels minus the discomfort—perfect for those of us who miss the height. Molly Goddard contrasted uber-feminine silhouettes with edgy flatforms, while Duro Olowu used his to complement his sophisticated ensembles.