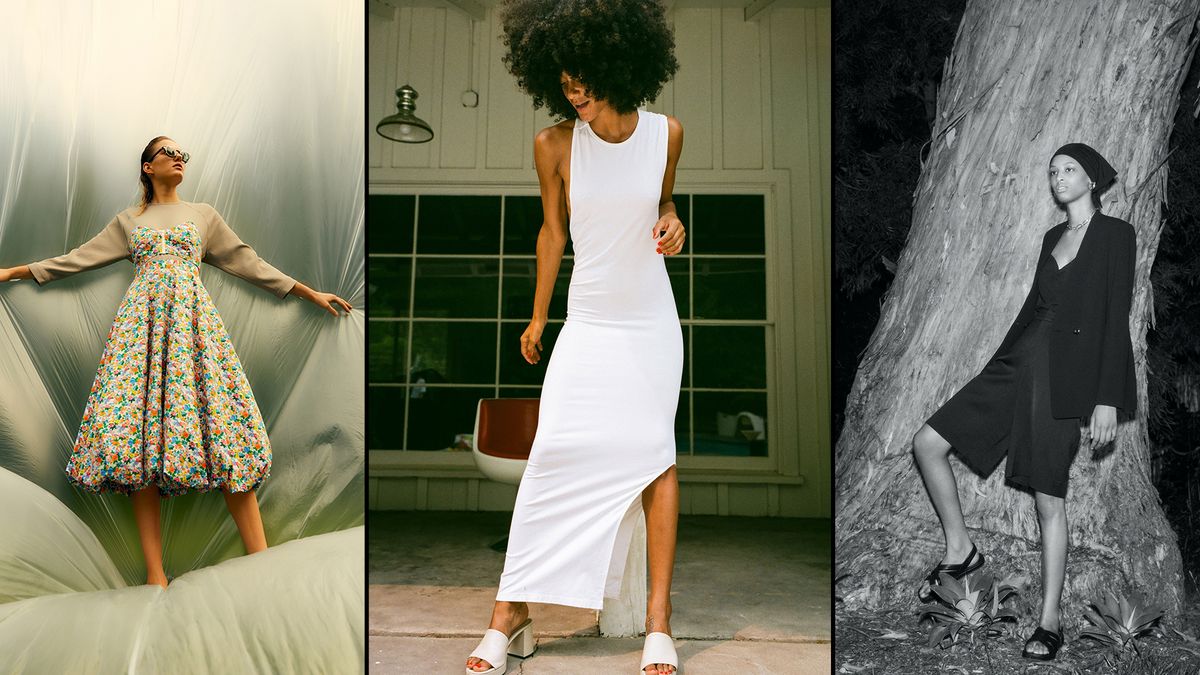 Fashion Week
New York's Spring 2021 Collections Were a Lesson in Effortless Fashion
Our lifestyles have shifted and so has our relationship with fashion, at least for the moment.
Graphic
Rachel Pickus
Over the past few days, editors, buyers, and stylists alike streamed fashion shows from their beds, couches, countertops, and more, clad in anything from sweats to denim to dresses, to watch as designers attempted to woo us from afar. Was the first virtual New York Fashion Week as effective as its previous counterparts? As many of the NYFW power players (Marc Jacobs, Michael Kors, Pyer Moss, and many others) sat out this round, it was up to the smaller designers to set the tone.
Some brands treated the virtual platform like an ad campaign—their spring lookbook in motion, set to a soundtrack (a key part of an in-person show).
Marina Moscone
used the video to explain the inspiration behind her collection, while others forwent the "fashion show" entirely. Wes Gordon sat down with the label's eponymous founder Carolina Herrera to discuss the history of the brand—lookbook to follow? We're still not sure.
Others decided to rethink the purpose of the show. Catherine Holstein of
Khaite
toyed with augmented reality, allowing viewers to cast images of shoes directly into their own homes. A few aligned themselves with a cause: 
Studio 189
and voting,
Social Work
and inclusion, and of course,
Collina Strada
and climate change—we highly recommend giving that wonderfully weird video a watch.
On top of that, the fashion, along with the way we feel about it, has shifted. As New York Fashion Week grapples with something of an identity crisis, we are forced to question the concept of
"
American fashion.
"
The irony here is that so many collections seemed reminiscent of what the country's fashion was originally known for: sportswear. According to
WWD
, the concept originally emerged as "coordinated separates that could be easily mixed and matched, such as blouses and shirts worn with skirts or shorts." Sportswear emerged to cater to the shift in women's lives as they migrated from cities to suburbs and needed comfortable, less restrictive clothes in easy fabrics that catered to their active lifestyles. Sound familiar?
"They're clothes for women who are working from home—or are at least spending more time at home—and want to 'get dressed' without feeling ridiculous or uncomfortable," a
Emily Farra
 wrote about the Nellie Partow collection.
Tibi
's Amy Smilovic posited a good rule of thumb: She would think of herself wearing the clothes in her living room, and if she felt ridiculous, the ensemble was cut from the collection. Once again, sound familiar?
This season was less about trends and more about an overall change in feeling. That said, there were some standout moments, so we decided to highlight the styles we think expertly cater to this current period in our lives.
---
We know what you're thinking. A tunic seems like a totally taboo item worn by our grandparents in another lifetime, but isn't that what fashion is good at? Taking previously taboo items and turning them into desirable of-the-moment pieces? This season's rendition is streamlined and ultra modern, often styled over wide-leg pants or skirts.


The column-style sheath silhouette is a total '90s throwback. The beauty here is they aren't physically constrictive—no boning, no too-tight waistband—which means they are perfect for that elusive WFH outfit that is both polished and comfortable.


The Pant Silhouette: Wide Leg
It seems like fashion is moving past skinny and even straight to free your legs entirely with these wide silhouettes. Ranging from something just fuller than a flare to a super-wide leg, this seems to be another contender for our WFH
'
fits.
Nothing new to see here—the long short is here to stay! A solid investment, this is one pair of shorts that is actually office-friendly, too. The styling ranged from a shorts suit to mismatched separates.


The CFDA should probably just add to their NYFW requirements that you must include at least one blazer in your collection because it seems like just about everybody has followed suit (literally). Then again, what modern American woman's closet doesn't include a blazer? Many designers this season departed from the coordinating suit that reigned supreme for so long and opted for super wearable tailored separates that can be mixed and matched.


Emphasis On: Nostalgic Prints
With all this talk about fashion's practicality, it's important to remember that it can still be fun. Designers from Tom Ford to the Mulleavy sisters at Rodarte reimagined prints from the past into modern ensembles you'll want to wear today.


The Shoes: Flat, Sporty Sandals