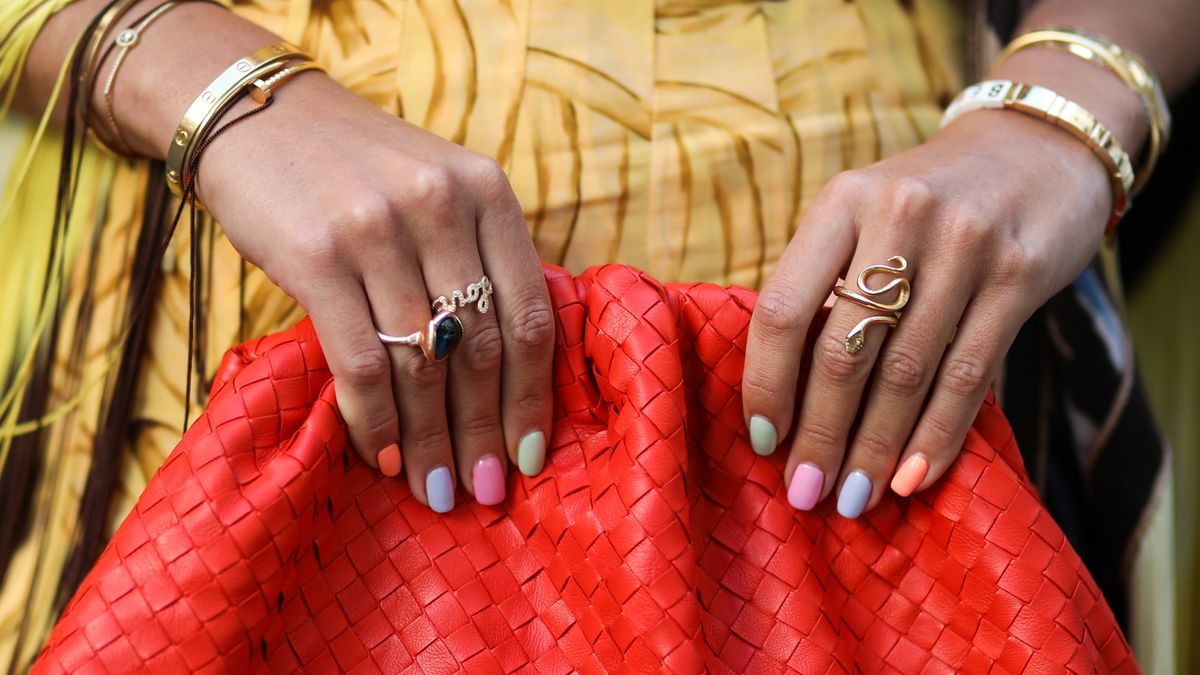 Nails
Look Out, Press-Ons—Nail Wraps Are Coming for Your Crown
The easiest way to have gorgeous nail art this summer.
Correct me if I'm wrong here, but I can't be the only one mourning my favorite nail salon. With closures still in effect for much of the country, I have been forced to tackle my nails at home for months on end, and while I do enjoy the occasional self-manicure, it will never replace the quality of an honest-to-goodness professional. And nail art? Forget it. My hand-eye coordination can't handle that level of skill.
Enter the nail wrap to save the day. Temporary nail options have exploded in the last six months, first with
press-ons
and now with stickers, which can be printed with a variety of designs and embellishments. And don't worry—these aren't the stickers of the '90s, which could barely last a few hours. There are several brands that produce high-quality nail wraps that can last up to a week with anything from floral designs to technicolor glitter.
Nina Park
, the founder and CEO of
Scratch nail wraps
, explains that, compared to press-ons, "nail wraps [lie] very close to the nail, just like polish," which means that you're less likely to have dirt and debris get stuck underneath. The best part is that you don't risk damaging your nail bed with glue (which is needed to apply press-ons). And once you're ready to remove your wraps, just use a regular polish remover and a cotton ball or pad, soak your nails for a few seconds, and
voil
à
. Just be sure not to pick at the sticker when it's applied as this can harm your natural nails (that applies to your regular or gel manicures, as well).
Says Park of the nail-wrap trend, "I have been so in awe of the rise in nail wraps lately. They're a great new medium for artists to express themselves while also allowing clients to have beautiful, intricate, or minimal nail art in less than 10 minutes." Sign me up!
Check out the easy application step-by-step below.
What you'll need:
1.
Nail file
2.
Cuticle pusher
3.
Polish remover
4.
Cotton rounds
5.
Your favorite nail wraps
---
Step 1
Prep your nails for the stickers by gently buffing your nail bed to eliminate any unevenness and ensure you have a smooth surface to apply your nail wrap.
File your nails
into your desired shape, and push back your cuticles. Remove any excess oils from your nails with a cotton pad dipped in polish remover—this will prevent your nail wraps from falling off prematurely.
Step 2
Remove the clear film that covers the nail sticker or strip, and peel the strip from the backing paper. Align the rounded end of the sticker or strip as close as you can get to your cuticle, and smooth it down until the nail is covered from the base to the tip. This will ensure you don't have any air pockets in the sticker, and your nails will look and feel even.
Step 3
Stretch the sticker from edge to edge on your nail to help it fit perfectly and cover the entirety of your nail bed.
Step 4
Trim any excess sticker from your nails with a nail file. Be sure to crease the sticker where you want it to stop before filing. Then sit back and admire your handiwork!
Shop our Favorites:
Dashing Diva
Scratch
Color Street
Deborah Lippmann