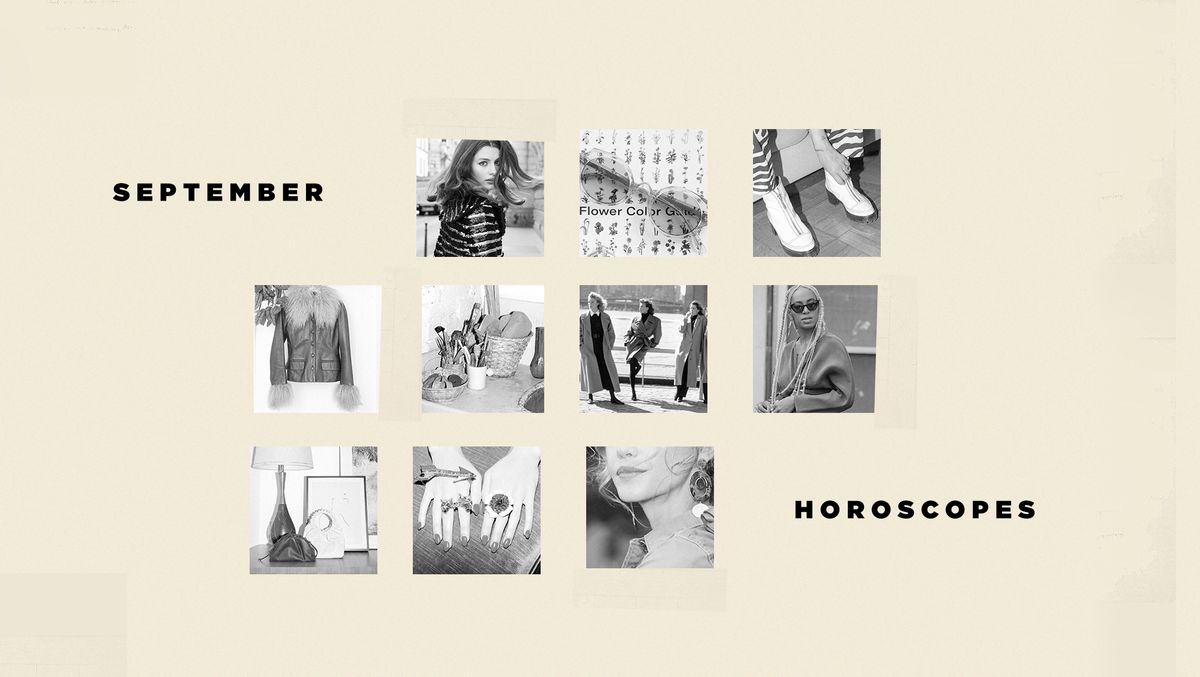 Horoscopes
Time to focus on the details.
Graphic
Rachel Pickus
The vibrant astrology of September calls us to (thoughtfully) shake things up. As the sun journeys through the grounded sign of Virgo, the collective focus turns towards details and efficiency. It's time for everyone to walk the talk. Historically associated with the concept of agricultural harvests, the insightful sign of Virgo possesses discernment and an eye for quality. Did your work pay off? What needs adjusting? The illuminating Pisces full moon on September 2nd highlights how the menial micro is intrinsically tied to the magnificent macro; small choices add up when it comes to the fruits of your labor.

This month's noteworthy shift comes from the feisty red planet, Mars, which will go retrograde for the first time since 2018. Mars is associated with straightforward action and motivation, so its testy backtrack from September 9th to November 13th may leave matters postponed or stalled. But retrogrades are a keen time to regroup, revise, and reassess any plans. Plans don't have to be scrapped, perhaps just reverse-engineered or optimized before forging ahead. The Virgo new moon on September 17th is perfect for honoring exactly where you're at while setting a new course towards a brighter future. Where would you like to be six months from now?

A busy Libra season begins on September 22nd, ushering in a wave of idea-sharing and proactiveness. Ruled by stylish Venus, the sign of Libra is about reaching out, starting dialogues, and being a kind neighbor.

The astrological landscape is somewhat tricky during the final week of September, when controlling Saturn butts heads with impulsive Mars. Which battles are worth fighting? What tools are required? Learning when to rest versus when to act will be our cosmic charge for the remainder of 2020.
 

ARIES
Tap into the beauty of being on the ground floor. With your scrappy ruler slowing down and turning retrograde on the 9th, there's room for reflection and recalibration. The Virgo new moon on September 17th is optimal for working out the details and plans of your ideal autumn. What requires more attention? The last week of the month looks promising for receiving and processing significant ideas and messages. If you have the will, there is a way! 
TAURUS
The planets are shifting, pausing, progressing, and so are we. Fruitful Virgo season provides the backdrop for thinking outside the box and exercising your dreamy right brain. What's the vision? With your amorous ruler moving into a fire sign on the 6th, you possess extra warmth and charisma. Channel this creative energy into passion projects, especially around September 15th. If you keep tending your own garden, the grass will always be greener on your side. 
GEMINI
How well do you know yourself? This month, enjoy your own company—indulge in your favorite personal rituals and integrate new ones that add joy. The new moon on September 17th is ideal for optimizing your space and envisioning the kind of home you desire. There could be turbulence the last week of the month—but if anyone can navigate a sensitive situation, it's you. Honor those powerful emotions and transmute them into thoughtful self-expression. 
CANCER
There's no rushing a masterpiece. September's astrology urges you to be intentional with your words and actions—notably at work and around others. "Slow and steady wins the race" is especially true when Mars is retrograde! Double-check all correspondence and optimize outdated methods before entering the fourth quarter. A striking new moon on the 17th reveals that teachers appear in many forms; embrace your inner student, and cozy up with new ideas. 
LEO
The good and bad news? Nothing lasts forever. As we straddle two seasons, the astrology of September seems especially fickle. Be kind to yourself—you are not expected to have all the answers right now. When hazy Neptune challenges the sun mid-month, it might be more satisfying visiting daydreams rather than virtual meetings. Don't let futuristic visions of grandeur muddy up necessary minor tasks; stay present and take it one day at a time, one step at a time. 
VIRGO
Put yourself at the top of your priority list. As this stimulating summer takes its bow, there's an urgency to "do something," but the fickle planets may have other plans. Budget your energy with intention so you aren't just spinning your wheels. This is a time to nourish your mind, body, and spirit through high-quality foods and rituals. The September 17th new moon sets something in motion—what will that be for you? Rise to the occasion and speak it into existence. With your natural wit and grit, anything is possible. 
LIBRA
Never underestimate the power of simply showing up. A stimulating first week of the month sees sociable Mercury shifting into your sign, a full moon, plus your ruler Venus shifting into fiery Leo—you're up to bat! What do you have your sights set on? When the sun enters lovely Libra on September 22nd, it's a chance to kick off autumn with eyes wide open and a positive outlook. Consider it your personal new year: look towards the future, name your resolutions, and celebrate how far you've come. 
SCORPIO
'Tis the season for problem solving. With Mars going retrograde for the next two months, it's a productive time to service anything that needs a little extra love or attention before moving forward. A heartfelt full moon on September 2nd encourages you to let go of outdated connections and habits; lovingly and respectfully clean house. The last week of the month reminds us that unconventional times call for unconventional measures—share your big ideas! 
SAGITTARIUS
September challenges you to balance your wants with your needs. With your jovial ruler finishing its retrograde on September 12th, there is more energy—especially around security and finances. The Virgo new moon mid-month is the perfect chance to get off on the right foot regarding your long-term goals and public stature. People are listening to you—what are you saying? The future is yours to write, no matter your past. 
CAPRICORN
Pull weeds from your mind so healthy thoughts can grow. September's planets are bringing awareness to your inner conditioning: How do you speak about yourself to others? To yourself? An imaginative Virgo new moon on the 17th helps you see the big picture and encourages meaningful action. What strong first steps can you take towards a goal? The final, stormy week of September gives you a chance to exercise your autonomy and define your purpose. 
AQUARIUS
What does
release
 mean to you? September taps into your raw power, stoking the flames of determination and independence. As the planets continue their unpredictable start/stop movements, patience is a virtue. The bold Pisces full moon invites you to engage your senses and get your hands dirty. Find productive ways to release pent-up energy, especially around September 29th, when Saturn and Mars square off. Limit excess distractions, and embrace doing one thing at a time. 
PISCES
September starts on a profound note, with a full moon in your sign on September 2nd. You've been feeling pressure to "evolve" into a better version of yourself—just make sure the motivation is coming from within, rather than outside forces. Strike a balance between nurturing social connections and focusing on your own growth. The second half of the month tasks you with taking charge of your personal assets; tidy up your space, and watch how your mind shifts. 
Want more stories like this?
How to Boost Your At-Home Vibe, According to Your Astrological Sign
Who You Should Date, According to Your Zodiac Sign
The Hottest Places to Have Sex Based on Your Sign