WWWRN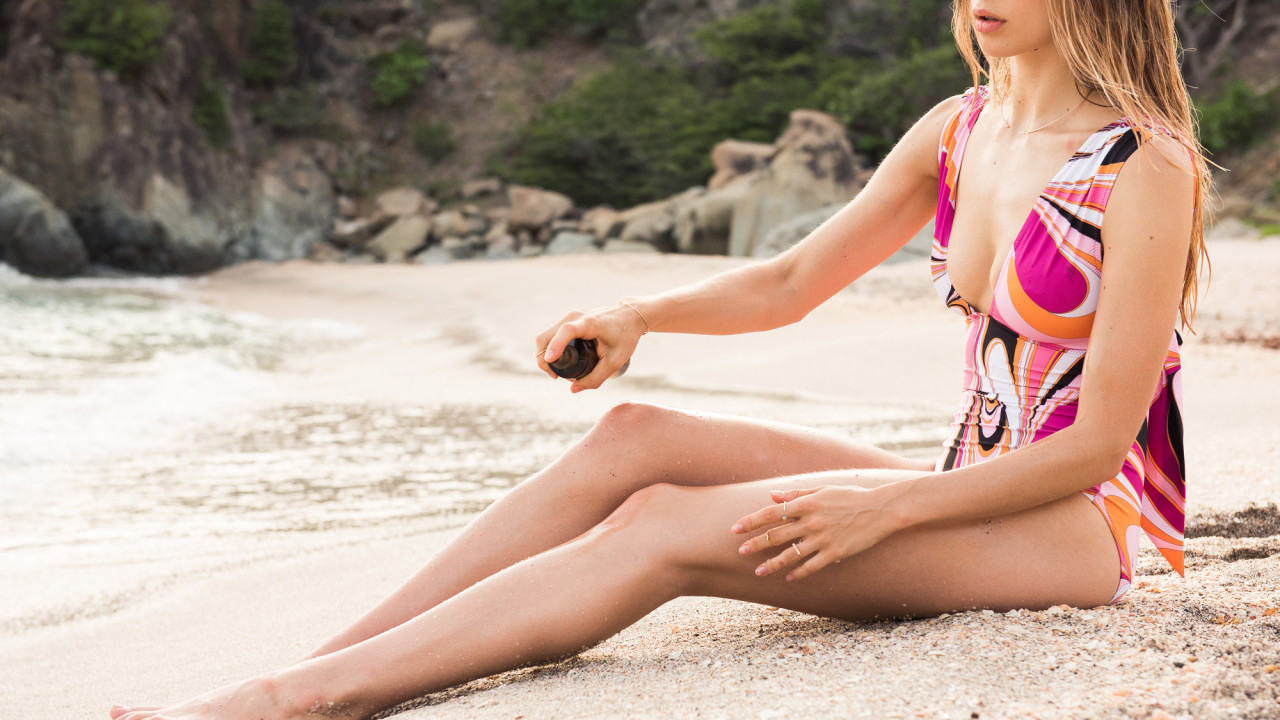 According to the Pros, We're Not Applying Enough Sunscreen
The amount of daily SPF you need may surprise you.
Using a daily SPF is critical for maintaining your skin health—this we know, but have you ever sat back and wondered if that pea-sized amount is enough to fully protect your complexion? Is a full bottle of mineral sunscreen overkill for the rest of your body, or exactly what the doctor ordered, so to speak? And is there such a thing as *too much* sunscreen?
Luckily, aesthetician Renée Rouleau was more than happy to answer these safe sun quandaries and give us a peek into her own sun-care routine—there's a reason every beauty editor has her on speed dial, folks. Check out her recommendations for thorough and effective sunscreen application below.
OK, first things first: How much product—dime-sized, quarter-sized, an entire palm, etc.—is enough to protect your face?
"After cleansing, using toner, and ideally, an antioxidant serum with vitamin C, take a quarter-size amount of sunscreen and first apply it to the neck area. If you're wearing a bathrobe, you'll want to remove it because the collar will interfere with proper application on the sides of the neck. Apply to the neck in upward strokes, starting in the front, then working sideways to the sides of the neck, all the way to the hairline in the back of your head. This will ensure that you are covering the area well.
"Apply a dime-size amount to the chest area if you're going to be wearing a V-neck shirt or any clothing that allows the chest to be exposed. Let dry. Next, apply a nickel-size amount to your fingertips, rub it together in your fingers and, starting from the sides of the nose outwards to the ears, apply it generously. Then, apply to the forehead, nose, chin, and upper lip area. You'll want to make sure that you're very thorough in your application by extending it all the way up and out to the hairline."
Does the amount differ depending on whether it's a physical or chemical formula?
"No. I apply every sunscreen generously. However, technically less is needed when using a chemical sunscreen to protect the skin because there is no risk of there being gaps between the sunscreen molecules after application like there is with physical sunscreens."
How much product is needed for the rest of your body?
"I like to eyeball it by getting a generous layer. If I'm using a spray on my body, I will spray enough that it looks wet, and then I'll let it dry. If using a lotion, I'll apply a thick layer, enough so that you have to rub it in pretty well."
Can you use less product when you reapply throughout the day?
"For reapplication, I prefer to dust on a mineral powder so I don't have to wash my face during the day. And actually, sunscreens don't degrade very fast when you're not outside and in direct exposure to UV light, so just dusting my face with some powder once during the day is sufficient. Of course, if you're out in the sun outside, you'll want to reapply about every 90 minutes."
What are some other general sun protection tips that you abide by?
"As an aesthetician, I have been working hands-on with clients, and I preach to them about sunscreen use so that they get the most long-term benefits from the skin procedures I'm doing on them. I've also done my own independent research by asking my clients to show me exactly how they are applying sunscreen. Time and time again, it's not being done correctly. While they are applying it to the face, they are simply not applying enough of it—and sunscreen is definitely not the product to skimp on. After all, it's not so much the number of the SPF as it is about how generously it's applied.
"The most important part of proper sunscreen application is to apply it to each area that you want to protect. Most people will apply it to their face and then what is left over they will carry onto the neck. Sound familiar? It's important for you not to neglect your neck, as this is an extension of the face and will definitely show the effects of aging.
"I also will wear long-sleeved t-shirts (sometimes special SPF-rated shirts) so that I don't have to mess with applying sunscreen to my body. It just is easier and less of a hassle to throw a shirt on."
In the summer, when we're outside and using more sunscreen, what skin-care products do you love to give your pores a deep cleaning and remove any lingering junk?
"Cleanser, toner, and a mask. I use a different cleanser for post-workout and proper sunscreen removal. [My] Rapid Response Detox Cleanser has antibacterial properties, so it's giving a really good, deep pore cleansing after I sweat to make sure my skin stays clear of any breakouts or clogged pores from sweating. The Rapid Response Detox Toner has probiotics in it to bring balance to my skin's microbiome. I love using the Rapid Response Detox Masque to reset the skin. It's a cooling gel, so it brings water back to thirsty skin, plus it calms the skin and lowers the skin's internal temperature after being overheated outdoors."
What is the most misunderstood thing about SPF and sun care that you hear from your clients?
"If you work inside all day, you still need to reapply your sunscreen. If you see the light of day when you are at work, then this daylight is also [affecting] your skin and causing unnecessary exposure that contributes to aging. Why get UV damage through windows when you're not even getting a tan for it? The easiest way to reapply is to dust an SPF-infused mineral powder over your makeup a few times throughout the day. I certainly wouldn't expect anyone to wash their face in the company bathroom (for those who work in an office) and reapply makeup all over again.
"The daily use of sunscreen is so important because it has the ability to prevent wrinkles and premature skin aging as well as skin cancer. If you don't protect your skin from the sun to begin with, it doesn't matter how many other creams or serums you use. Start using sunscreen correctly today–your skin will definitely be better off for it."
Part of the series:
WWWRN