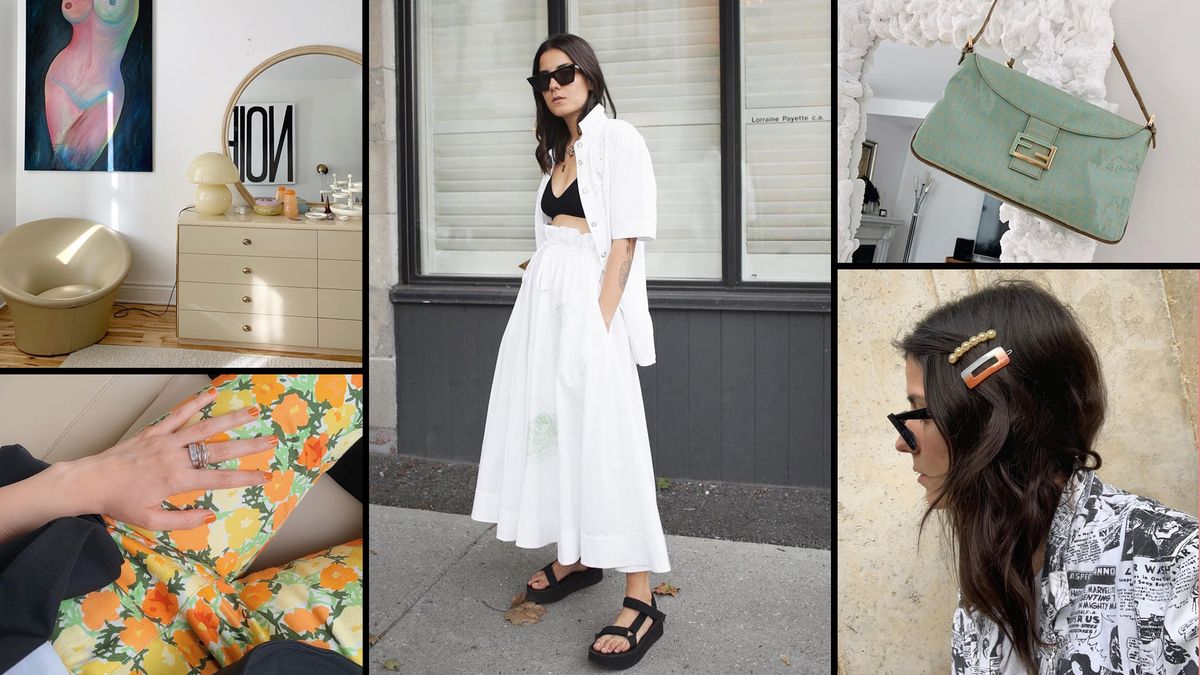 Shopping
How to Shop Like Vintage Dealer Elif Filyos
Think investment bags, checked prints, and comfy shoes.
Graphic
Rachel Pickus
Discovering a
new vintage dealer
on Instagram is the fashion lover's equivalent to hitting the jackpot. Who knows what treasures lay just beyond that #linkinbio? And when they offer clothes and accessories in addition to
home goods
—forget about our afternoon plans, because we'll be lost in the depths of the internet for the next few hours.
Singulier MTL
is our latest discovery for picking up thrifted closet staples, and co-founder
Elif Filyos
is serving all the shopping inspiration we need for the season ahead. The Montreal-based dealer might have only started her shop 12 months ago, but she's been collecting vintage for over 15 years, which means she's got a few tricks up her sleeve for navigating the market. It doesn't hurt that her personal style is exceptional, too.
We caught up with her to learn what pieces she's interested in for the summer, her all-time favorite designers, and, of course, what other vintage stores she shops at religiously.
---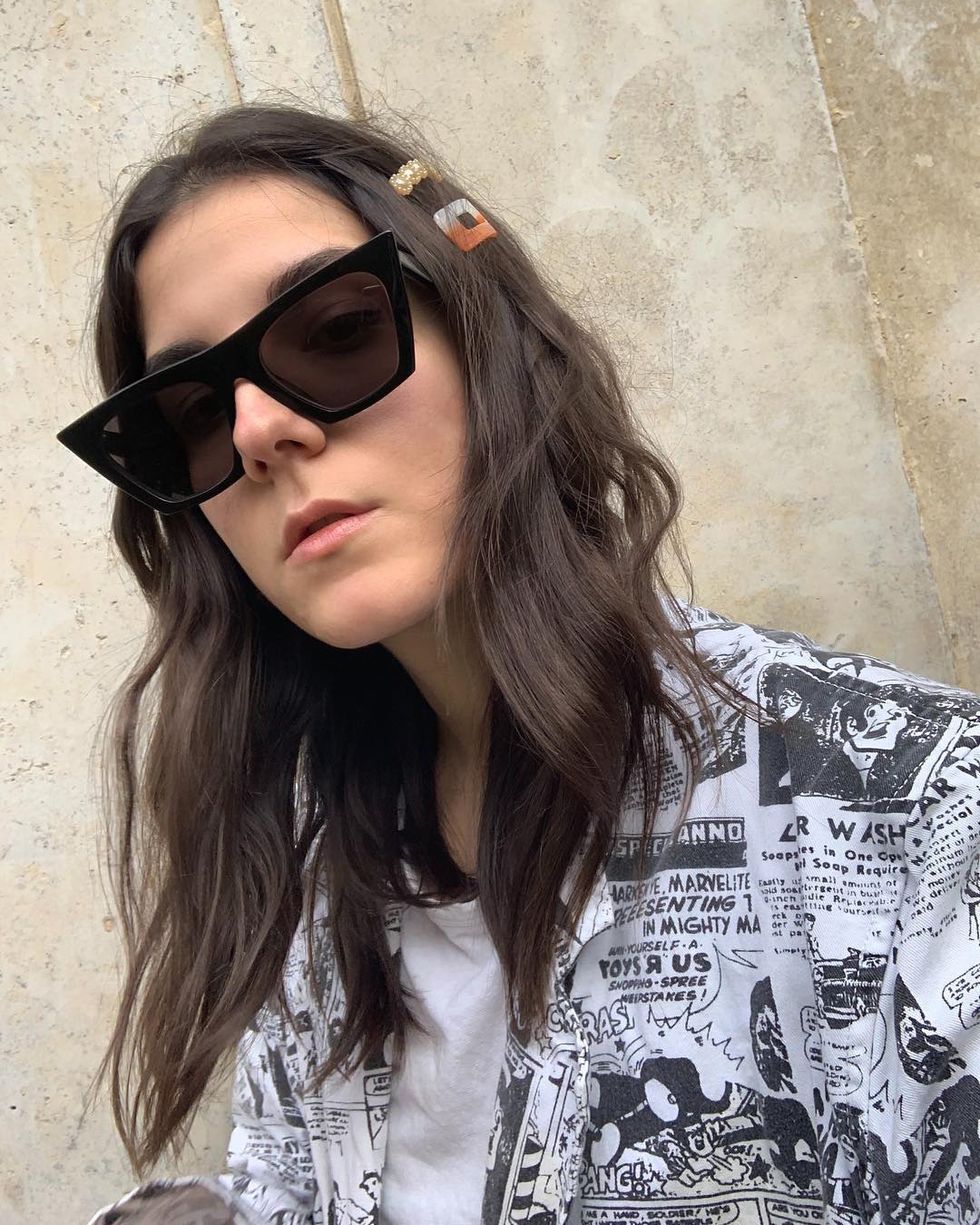 Photo: Courtesy of Instagram/@eliffilyostezer
When did you first fall in love with fashion and vintage?
"[When] I was little, I used to sew clothes out of socks for my Barbie dolls and then take photos of them as lookbooks of different 'collections.' I have photos at age three or four where I'm wearing clip-on earrings and fancy dresses over trousers or stuff like that.
"When I discovered eBay, around age 16 or 17 I think, [I became interested in vintage]. After that I found Etsy, and it was all I could do all day—just search for vintage. I had a blog named Old Is Always Better even before
The Fashion Medley
[my mood-board account]. I used to find a theme every day and post my favorite vintage picks for that theme/style."
How would you describe your personal style?
"Definitely comfortable, masculine, a bit edgy, and eclectic."
How do you typically get dressed in the morning? Do you have a ritual?
"My days are so different from each other (and from other people's days, really). I go to bed at a different hour each day and wake up at a different hour, so my approach to getting dressed differs a lot. But I don't really have a ritual; I just check the weather and wear whatever I'd feel most comfortable in that day. If I'll be seeing lots of people or going to an event, I put in a bit more effort; if not, I'll just grab whatever my '
uniform
' is that year (I have one or two uniforms each year that I wear the heck out of)."
What are your favorite shoe styles and designers?
"I have a very bony foot structure and extremely sensitive and thin skin, so even flip-flops hurt my feet. For me, comfort is number one, definitely. In that sense, I love
By Far
—their shoes have the softest leather. I also love my
Nanushka
sandals. For flip-flops, my favorites are
Havaianas
or
Tkees
. For comfy sandals,
Birkenstocks
or Tavi all the way. For sneakers, definitely
Converse
or
Nike
.
"If comfort isn't a big issue and I just want something fancier, I love
Maryam Nassir Zadeh
and
LOQ
. Also
Eytys
make the coolest ugly shoes ever. Other than that, I don't really have favorite brands, but I have favorite styles. When I see something I love, I just try my chances and hope that it's comfortable, too."
What are your favorite styles of jewelry?
"I love metal. Gold used to be my favorite, but lately I'm all about silver and edgy styles. I love anything
Hernan Herdez
or
Faris
make—I also love
Wolf Circus
for everyday pieces.
Esra Dandin
also has beautiful, romantic styles.
Justine Clenquet
is my most recent favorite—love her edgy style. I'm mostly a ring and necklace girl."
What are some of your favorite online retailers for vintage?
"Oh, there are so many. I love
Subrina Heyink
,
Persephone Vintage
,
Hall of Wonders
,
Mirth
,
Desert Vintage
,
Lucia Zolea
,
O.Laroche
, and, of course,
Singulier MTL
!"
Where do you like to shop for ready-to-wear online?
"MATCHES and SSENSE are my all-time favorites. I also love to shop from Shopbop or Urban Outfitters from time to time. Other destinations I often shop from are Farfetch, Maimoun, Lisa Says Gah, and New Classics Studios."
How often do you scour both online and brick-and-mortar spots for vintage?
"Every single day, for up to eight hours. Because it's also my job, it's literally all I do, and I love doing it! I can't do it anymore because of the pandemic, but before, I used to go out three to four days a week to visit vintage and thrift shops, and I spend at least two to three hours every day checking for vintage online."
What are your favorite spots to shop at in person in Montreal and to travel to most often?
"I live in Montreal, and my favorite spots are Empire, Eva B, Marche Underground, and Les Etoffes. Also
Re.ixue
for vintage furniture. I travel most often to Turkey, as it's my hometown. I love By Retro in Istanbul."
What are your favorite items to splurge on?
"Bags. I don't have a lot of bags, surprisingly, so when I decide to get one, I don't hesitate to splurge and get the best. I also love wearing trousers and coats, so if I see a piece I love, I get it. Shoes are my weakness, but I try not to spend so much money on shoes, unless they are really comfortable and I know I'll be wearing them for a long time."
Top five investment pieces?
"A good-quality leather bag that is not too trendy, but not too classic either, like the Loewe Puzzle or Lemaire Egg bag. A beautiful wool coat, a nice pair of tailored pants (can be cropped cotton or fancy silk—just one excellent fitting pair), a good-quality cotton white t-shirt, and one extremely comfortable pair of shoes that you know you'll be wearing forever and ever."
Top five most worn items in your wardrobe?
"My black Converse All Stars, my black lightweight vintage trench coat, my COS white cotton t-shirts, my Nili Lotan cotton pants, and my black fanny pack."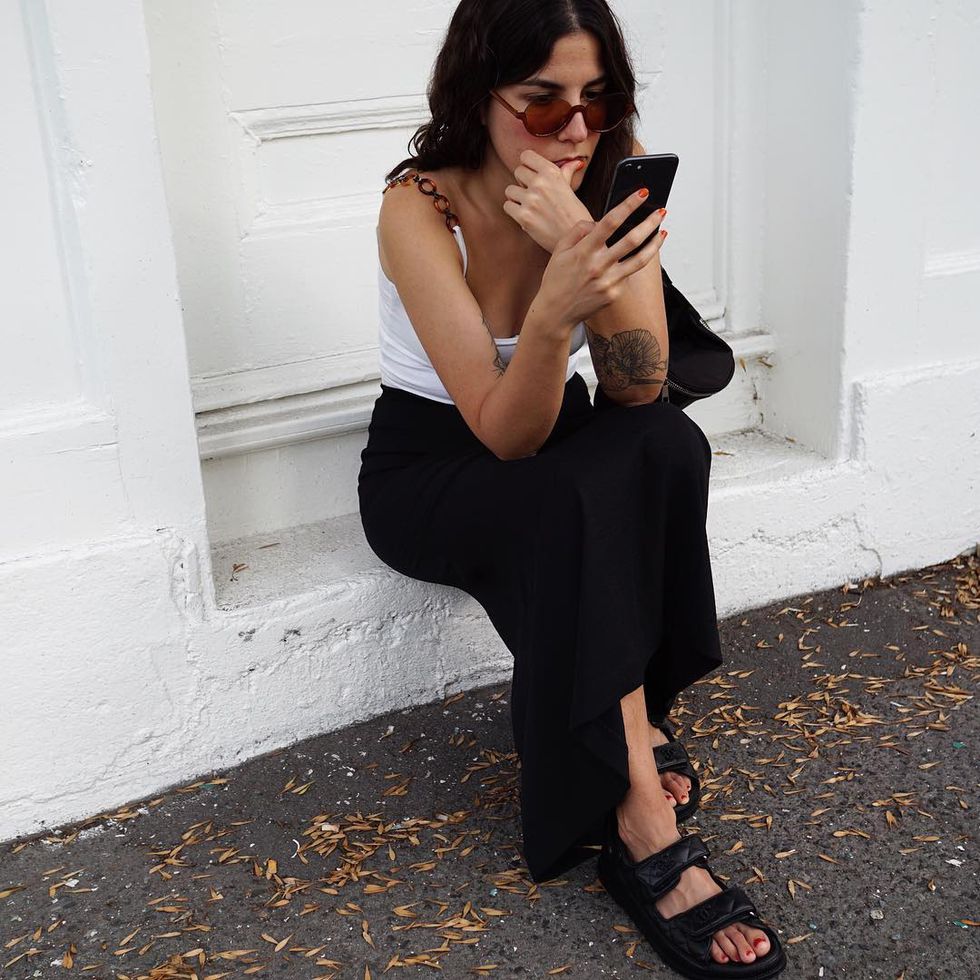 Photo: Courtesy of Instagram/@eliffilyostezer
Have you been getting dressed even in quarantine, or are you sticking with what's comfortable?
"Definitely comfortable, I completely let it go."
Favorite trends for the season ahead?
"I love the
'
60s prints and the checker print. I love the collage-print pants, and I'm definitely going to get a pair, either from Collina Strada or Paloma Wool—or vintage. I love the black-and-white color-block styles. I don't follow trends as much as I did before—I'm just sticking to my style with just two or three new additions each year."
Who are your style icons?
"I love my friend Ilkin Kurt's style so much. On Instagram I love
Anna Gray
,
Nicole Huisman
,
Reese Blutstein
,
Coutney Trop
,
Blanca Miro
,
Maria Bernad
,
Tylynn Nguyen
,
Marta Cygan
,
Sissi Pohle
,
Linn Eklund
, and
Paloma Elsesser
, to name a few. I don't follow celebrities so much, but I like Kendall Jenner's style. I'm also head over heels for
Russell Westbrook
! In terms of vintage looks, Princess Diana is one of my icons, as well as Lauren Hutton, Diane Keaton, and Anjelica Huston."
What designers do you love for vintage and ready-to-wear?
"For vintage, my favorites are Galliano and John Paul Gaultier. For current pieces, my favorite is always Acne Studios. I also love Loewe, Prada, Maryam Nassir Zadeh, Margiela, Saks Potts, Paco Rabanne, Eckhaus Latta, and—still mourning—old Celine."
You have five minutes to get ready—what outfit will you always put on?
"My comfortable black jeans, white t-shirt, Converse All Stars, 
or
my black midi dress and sandals."
What bag is your everyday staple, and what five things do you always keep in it?
"A fanny pack worn as a short cross-body is always my comfiest style. If I need something bigger, I either take a backpack or my Loewe Puzzle. I'll always have my AirPods, my phone, my wallet, my keys, and my sunglasses in my bag."
What era of fashion is your favorite, and why?
"This actually changes all the time, but
'
90s minimalism will probably always be a favorite. Also 1920 and 1930s dresses. Lately I'm very into
'
60s pieces."
6 Items Elif Filyos currently has in her shopping cart: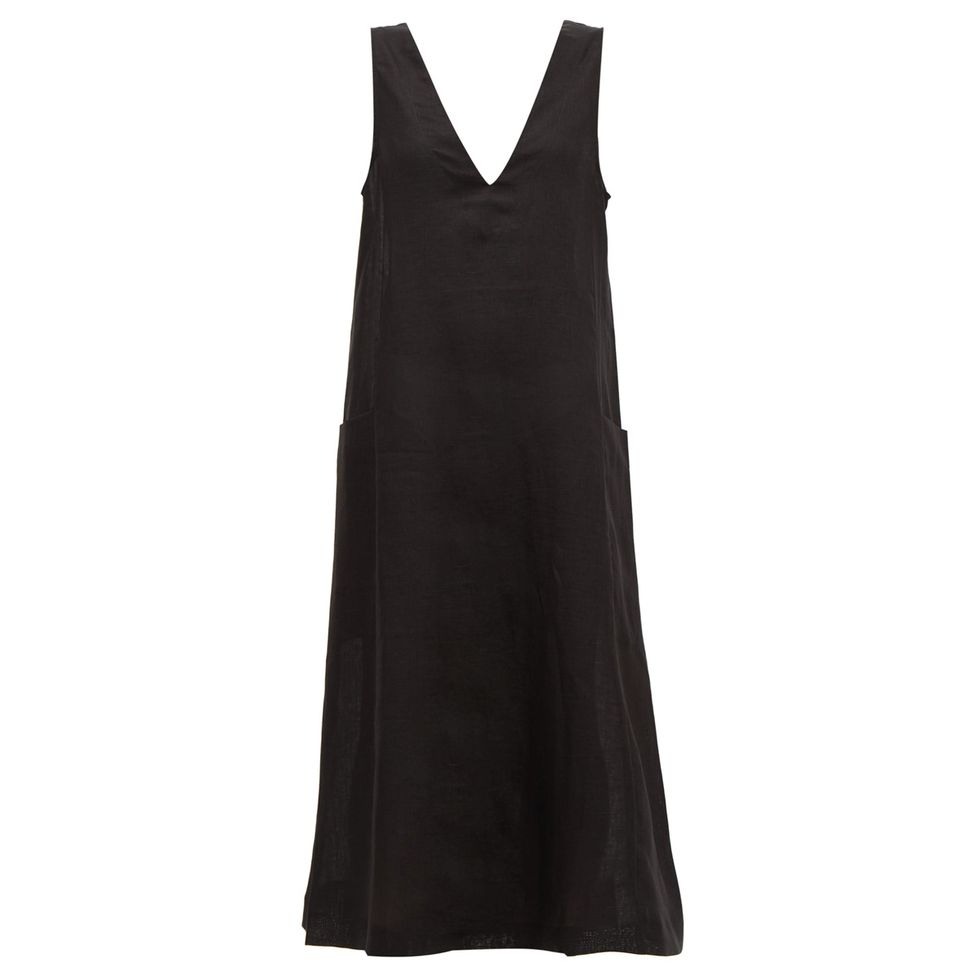 Asceno
Julia Heuer
Jacquemus
Tibi
Collina Strada
Urban Outfitters