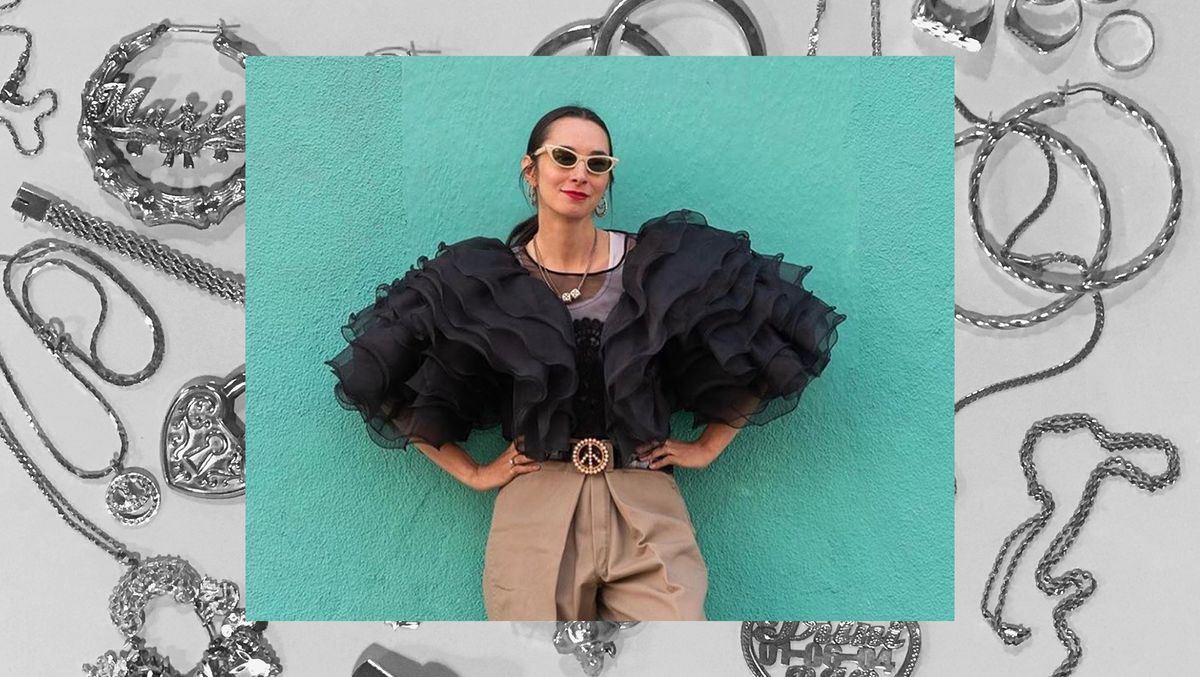 Fashion
Army pants and hoop earrings, anyone?
Graphic
Rachel Pickus
We always love to meet someone who blatantly disregards the fashion calendar and cyclical trends in favor of an entirely unique style that is all her own. Even better when she has a deep knowledge of
vintage
and plenty of go-to shops to scour for the best finds. That's exactly how we felt chatting with L.A.-based stylist
Liz Baca
. And although she revealed that she prefers to shop in real life (ah, remember those days?), she was more than willing to share some of her current favorite Instagram shops as well as her must-have investment pieces, and how she's managed to make dressing for comfort impossibly cool. More on how to shop like Baca below, and don't forget to check out the Virtual
A Current Affair
happening on May 9th and 10th over Instagram Live to snag some of her best vintage finds.
---
How long have you been a stylist?
"My start date is vague, really, and I didn't know at the time that I was 'styling.' I worked as a clothing designer for a clothing company in the late nineties in San Francisco. We all wore many hats, so I was in charge of putting outfits together for photo shoots. So that's when it started."
When did you first fall in love with fashion?
"Gosh, as far back as I can remember. My mom told me a story of my dad letting me dress myself for preschool one day, and I went with my dress on backwards. You tell me if it was by accident or a fashion risk. I was really into dressing my Barbies, too, and sketching clothing designs for Betty and Veronica, as I was obsessed with
Archie
comic books."
When did you become passionate about vintage?
"I was brought up with antiques, thrift stores, and a mom that wore
vintage
. I'd say around five or six is when I started collecting Bakelite jewelry, which my mom would buy for me at the Alameda Penny Market from the 'Deco Man.' I'd also pick up vintage scarves and accessories. The interest never stopped. In fourth or fifth grade, I wore a '50s pink chiffon dress to my first Valentine's boy/girl dance party. I danced with Chris Stauder, who was
the
heartthrob of my elementary school."
How would you describe your personal style?
"Always comfortable, which usually translates to baggy/oversized. Colors, prints, graphics, and army pants. Authentically me—pretty much the same since ninth grade."
Photo: Courtesy of Liz Baca
How do you typically get dressed in the morning?
"I dress for the occasion, so it depends. Typically when working, styling, or at our vintage showroom, I'm in a tee, pants (usually those army pants I mentioned), and sneakers. Both jobs can require lots of moving, lifting, sorting, etc. So I always refer back to my style mantra: Comfort is key.
"Now, if I am dressing for an occasion, like
A Current Affair
, I like to put together a look that is still comfortable, but taps into one of my fashion personalities. I also love wearing a complete ensemble. If it's vintage Todd Oldham or a Moschino set, I like to wear all the pieces that 'go together.' It's like Garanimals for adults."
What are your favorite shoe styles and designers?
"Sneakers: Nikes
—
'80s canvas All Court Tennis shoe, or any Rift or Dunk lo's, and the adidas boost made me an adidas wearer (because comfort!). Birkenstock since 1990. I still have my first pair that my friend gave me because his mom worked at the factory. I now have maybe 30
–
40 pairs. Easy to justify when you buy them secondhand. Brogues are my go-to dress shoe. Some of my favorites are Robert Clergerie and Comme des Garçons."
What accessories do you love?
"Earrings—specifically big hoops—and layered gold charm necklaces. [I love jewelry that's] big and to the max. An arm or two full of bracelets. Multiples of anything—I'm not a minimalist when it comes to jewelry. Bold color, interesting textures, and/or shiny. I love plastic—things that look like they came from the future or from the inside of a computer. But I also love jewelry that looks like kids
'
toys."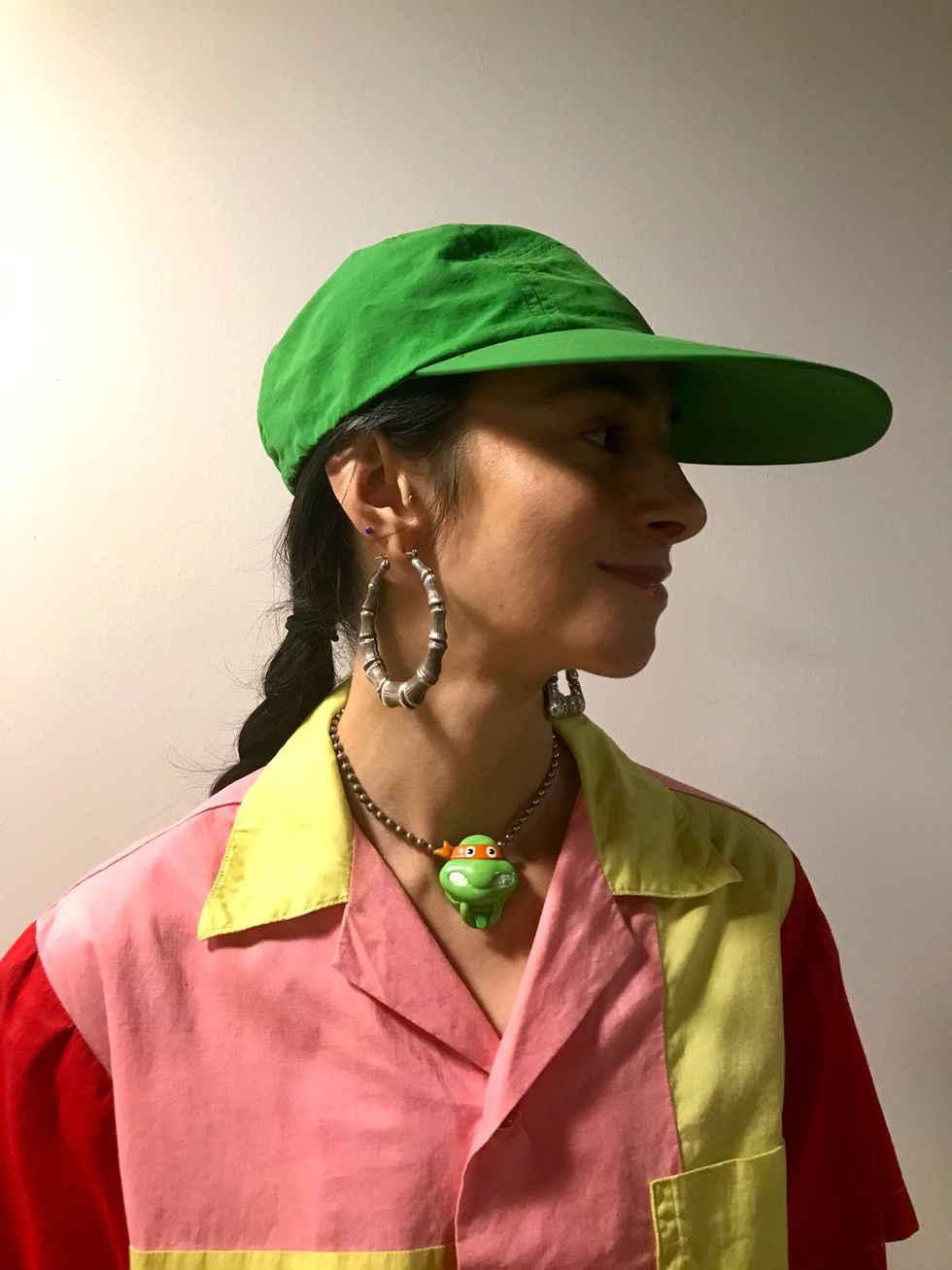 Photo: Courtesy of Liz Baca
What are some of your favorite online retailers for vintage?
"This might be disappointing, but I prefer shopping IRL. Call me old-school, ha! I do follow and enjoy lots of vintage accounts on IG. Some favs are
@_coasttocoastvintage_
,
@animalvintage
,
@arcadeshops
,
@butchwaxvintage
, and
@strangedesires_
. They all offer things that speak to my fashion personalities—fun, bold, dramatic, kooky, strange, avant-garde—so I enjoy keeping up with these accounts. [I'd scour for vintage] every day if I could. It's not always intentional. If I'm out and pass a vintage shop/thrift/yard sale/opportunity to buy, I'll investigate."
Favorite spots to shop at in L.A.? In NYC?
"L.A.: Squaresville. Gift of Garb and Recess are two great consignment shops. NY: [I] love hitting all the buy/sell/trades; Buffalo Exchange, Beacon's Closet, Fox and Fawn, & Tokyo 7. Spark Pretty is super fun and feels like you're being transported back in time. Amarcord & Arcade in Brooklyn both offer some major eye candy."
What are your favorite items to splurge on?
"Fourteen-carat-gold earrings or charms, and vintage CHANEL."
Top five investment pieces?
"Fourteen-carat-gold/fine jewelry. Vintage designer handbags: CHANEL or Hermès. Good shoes—your feet will thank you. Good undergarments. Literally the foundation to your outfit and comfort. I switched to organic bamboo years ago. Sunscreen & Sunglasses."
How do you determine your sizing when you're shopping online for vintage and can't try something on?
"For me, I just buy what I like. I'm familiar with my sizing in many of my favorite brands. I have the option to resell something if it doesn't fit due to my business. But for most people, I suggest getting the measurements and comparing them to something similar in style that you own."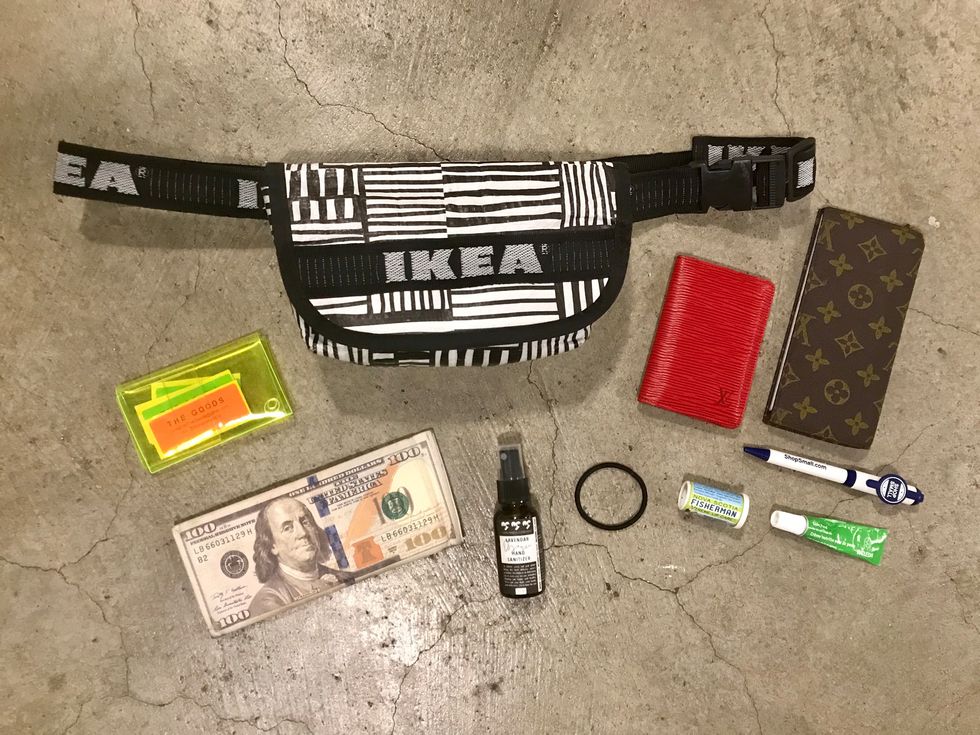 Photo: Courtesy of Liz Baca
Favorite trends for the season ahead?

"I hope for a continued consciousness towards sustainability, especially wearing vintage/secondhand."

Designers you love for vintage and RTW?

"Walter Van Beirendonck, Jeremy Scott, Franco Moschino, Kosuke Tsumura, Gaultier, Issey Miyake, Yohji Yamamoto, Rei Kawakubo, Kansai Yamamoto, Elsa Schiaparelli... I could keep going on and on."

You have five minutes to get ready—what outfit will you always put on?

"Vintage white tee, army pants, cropped pink hoodie, gold hoop earrings, and my Nike All Court tennis shoes."

Five things you always keep in your bag? What bag is your everyday staple?

"Checkbook and wallet. Pen for signing checks. Hair tie. Nova Scotia Fishermans Kelp Lip Balm. Business cards.

"A fanny pack worn crossbody. Current pack in rotation is a handmade one constructed from a black-and-white patterned IKEA bag that I bought on a recent trip to Japan."

What era of fashion is your favorite and why?

"The '90s. I'm grateful to have experienced it as a youth. It was insanely fun. I loved the freedom and innovation—it was raw and authentic. It's where I found my personal style that I still carry with me today, and I feel as comfortable with it now as I did then. Rave on."
9 items Liz Baca currently has in her shopping cart: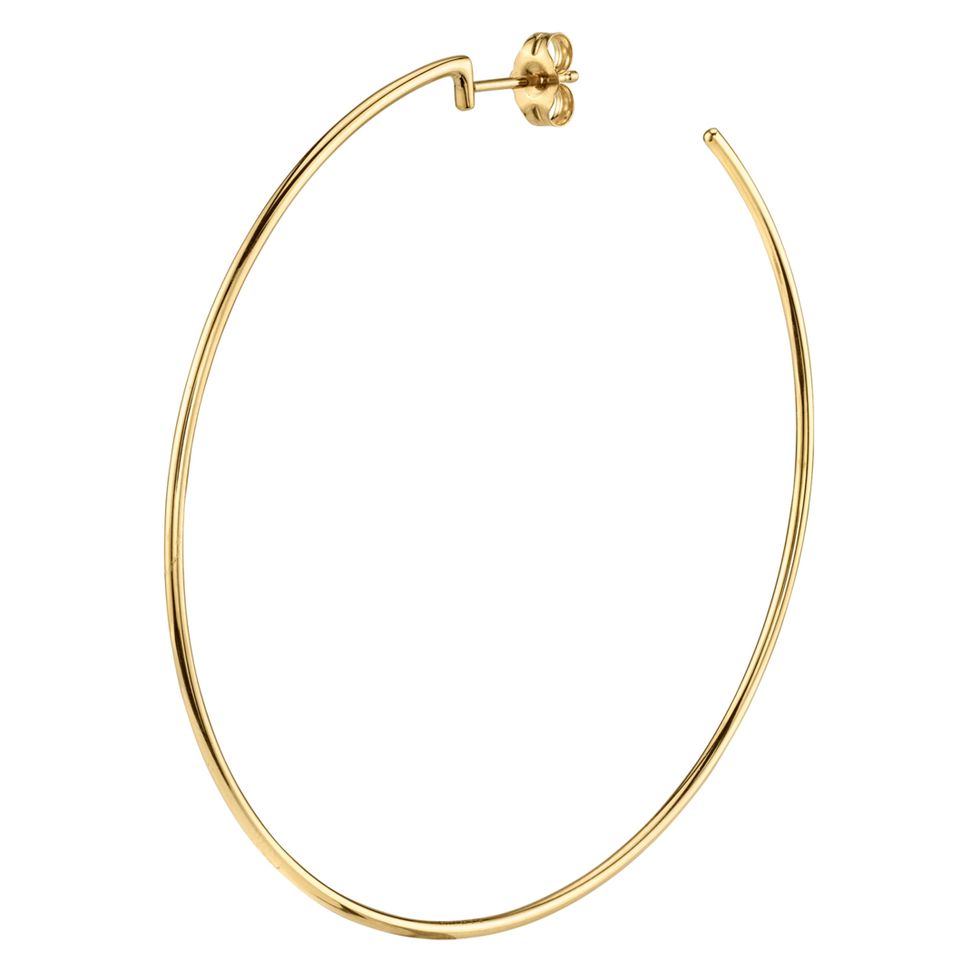 The Last Line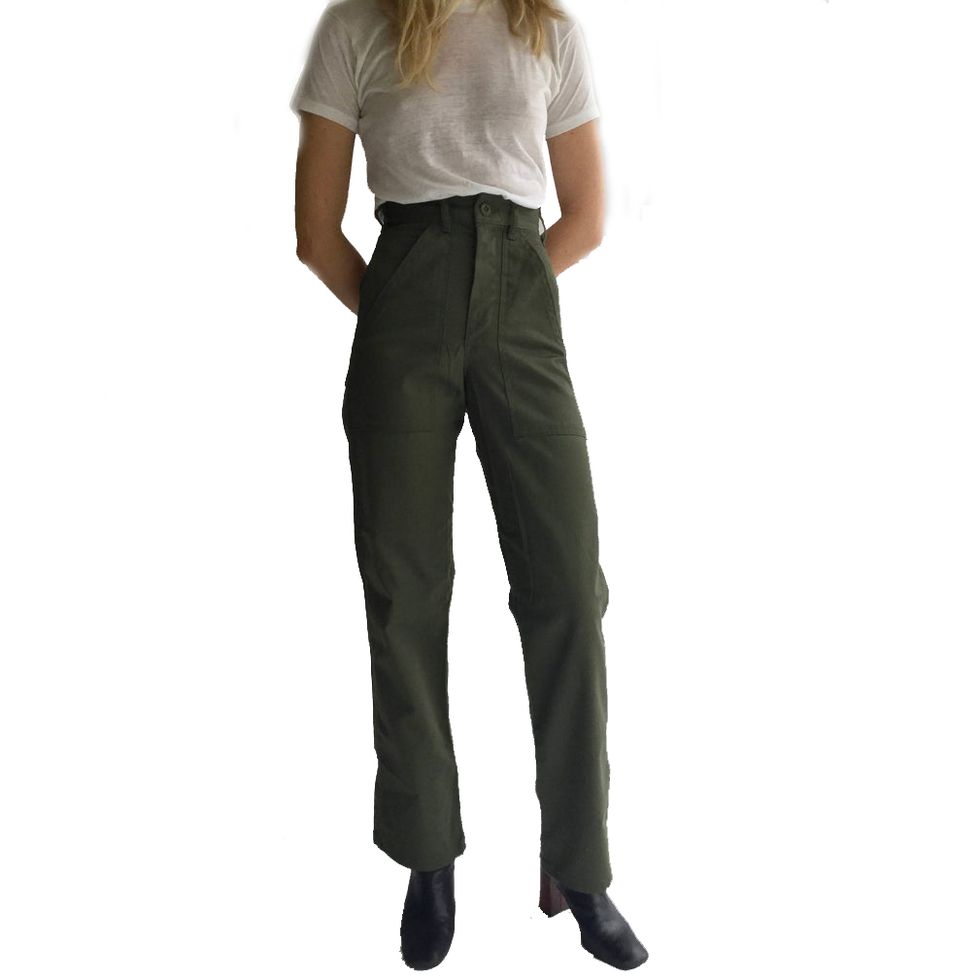 Rawson Studio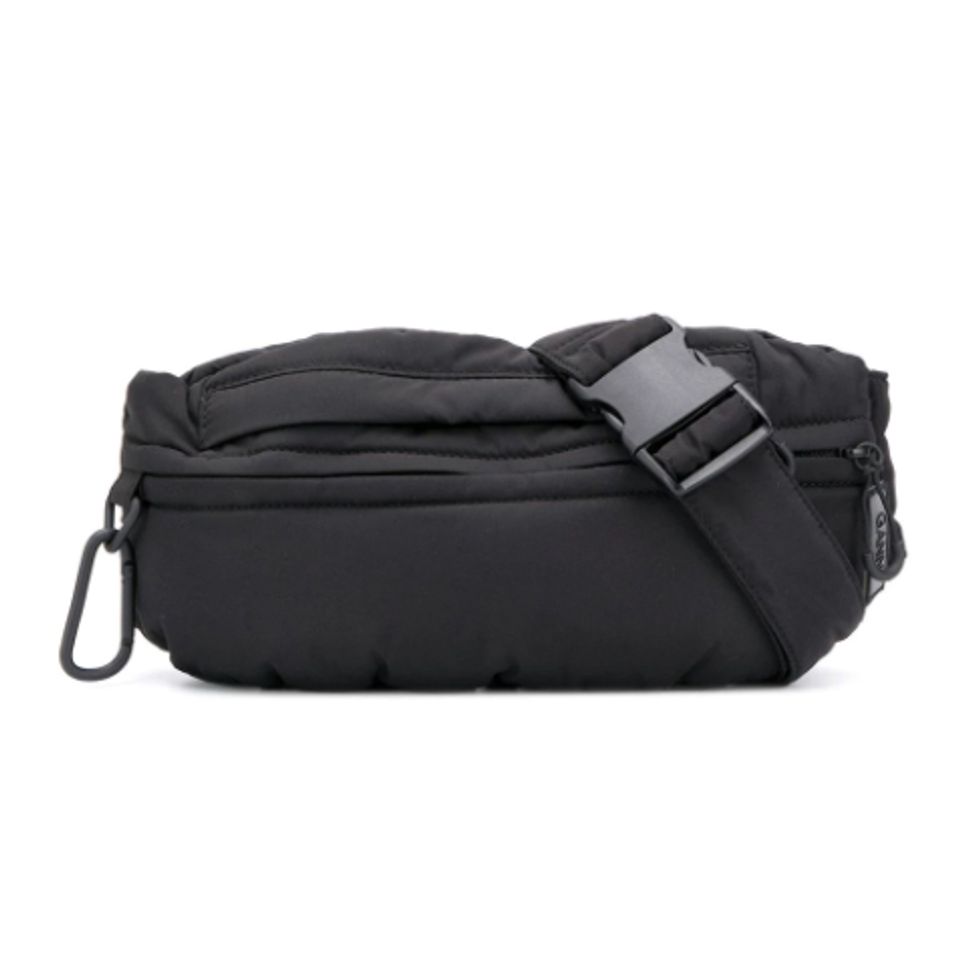 Ganni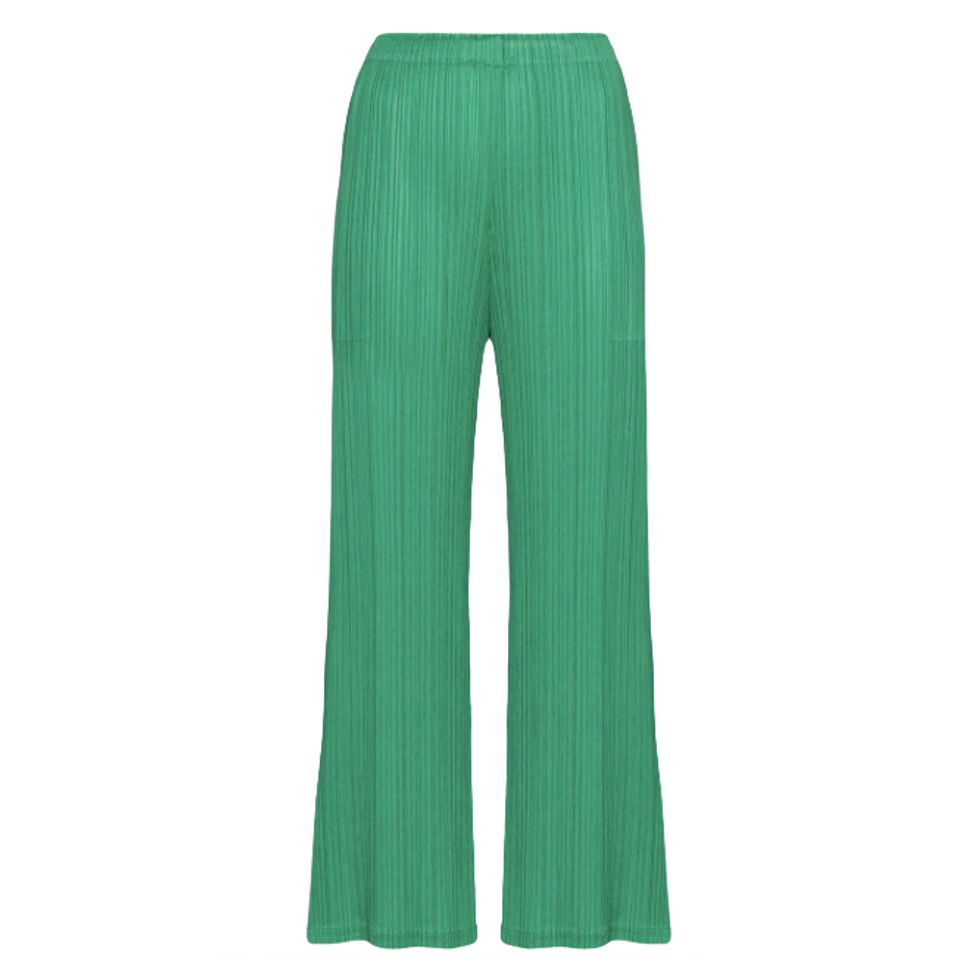 Pleats Please by Issey Miyake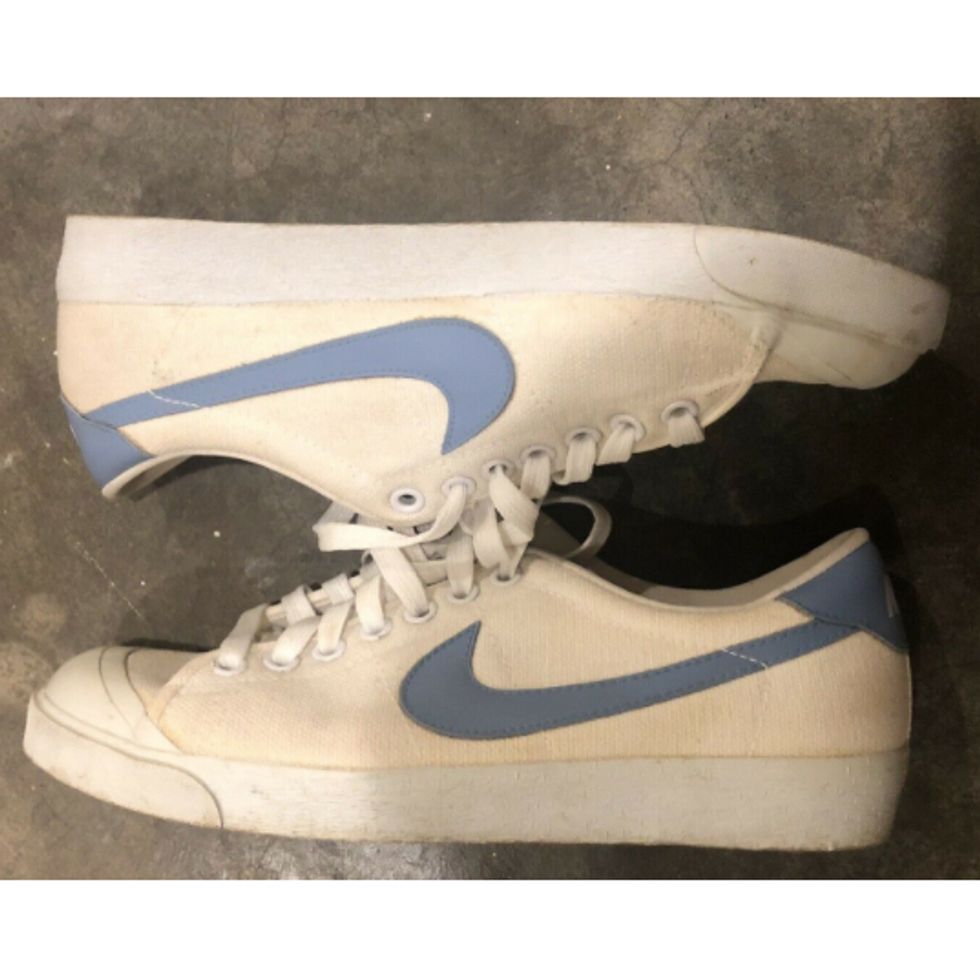 Nike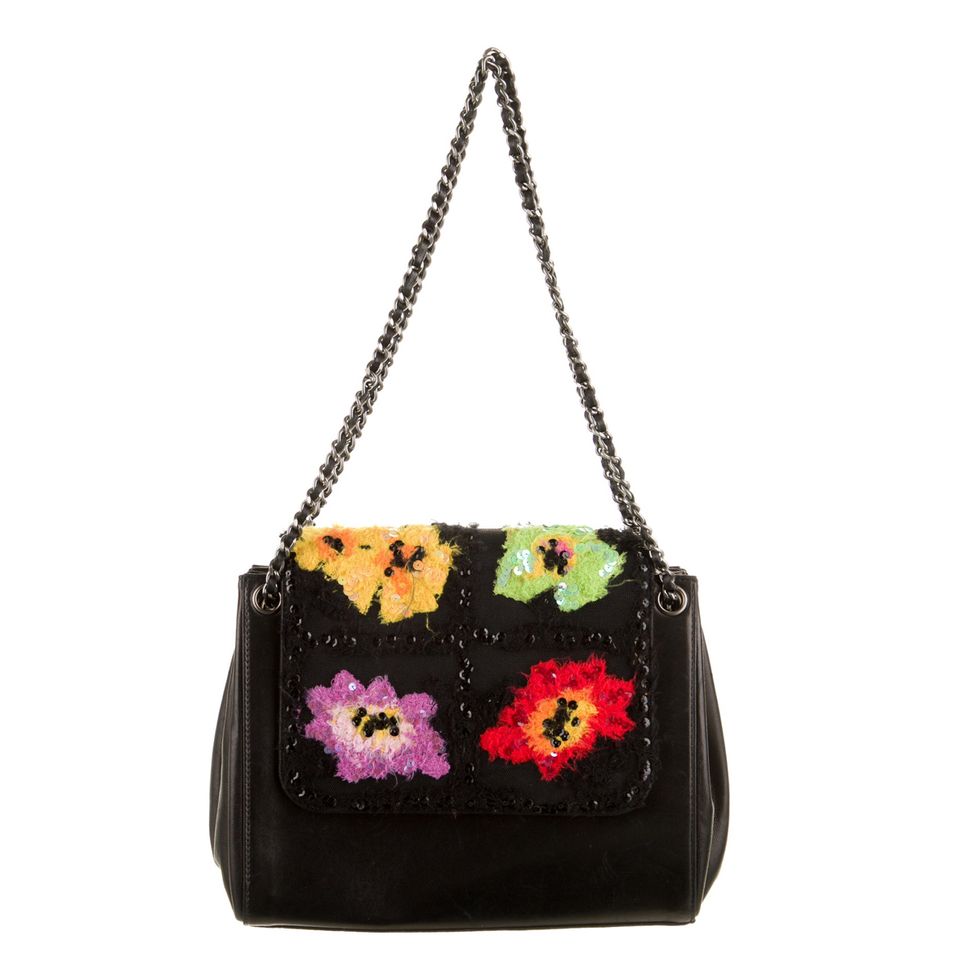 CHANEL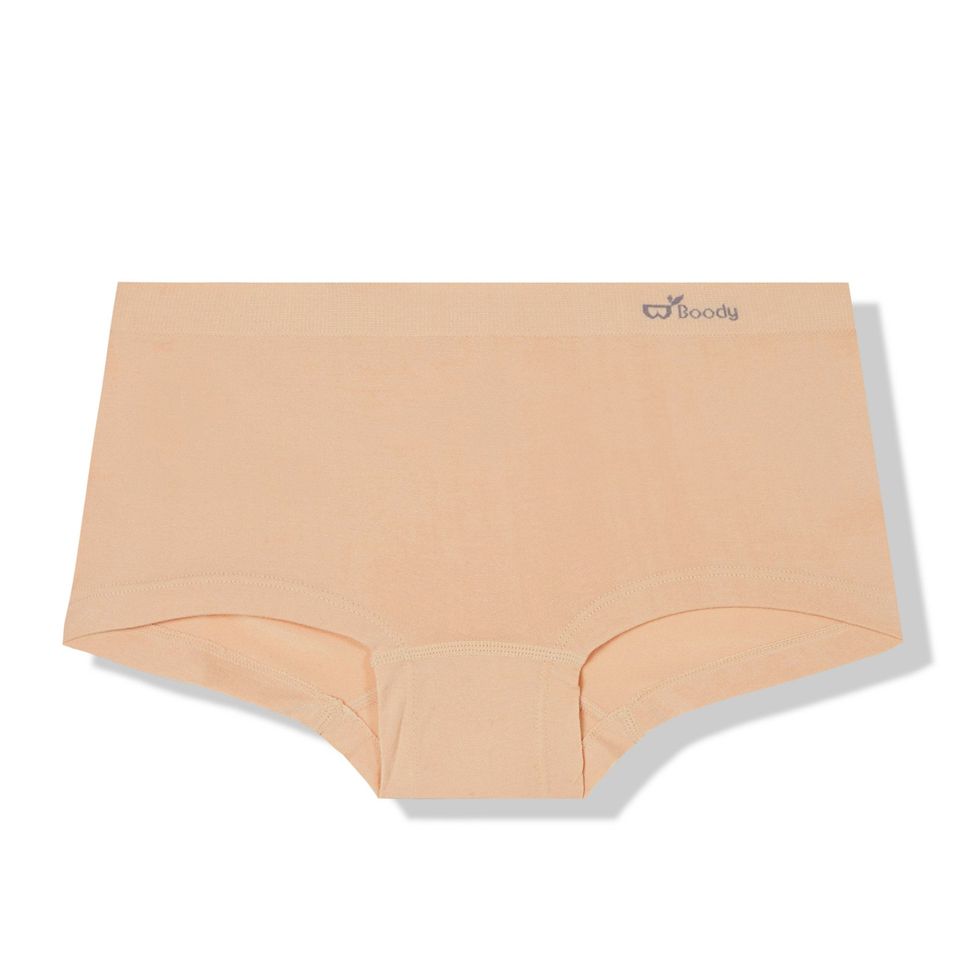 Boody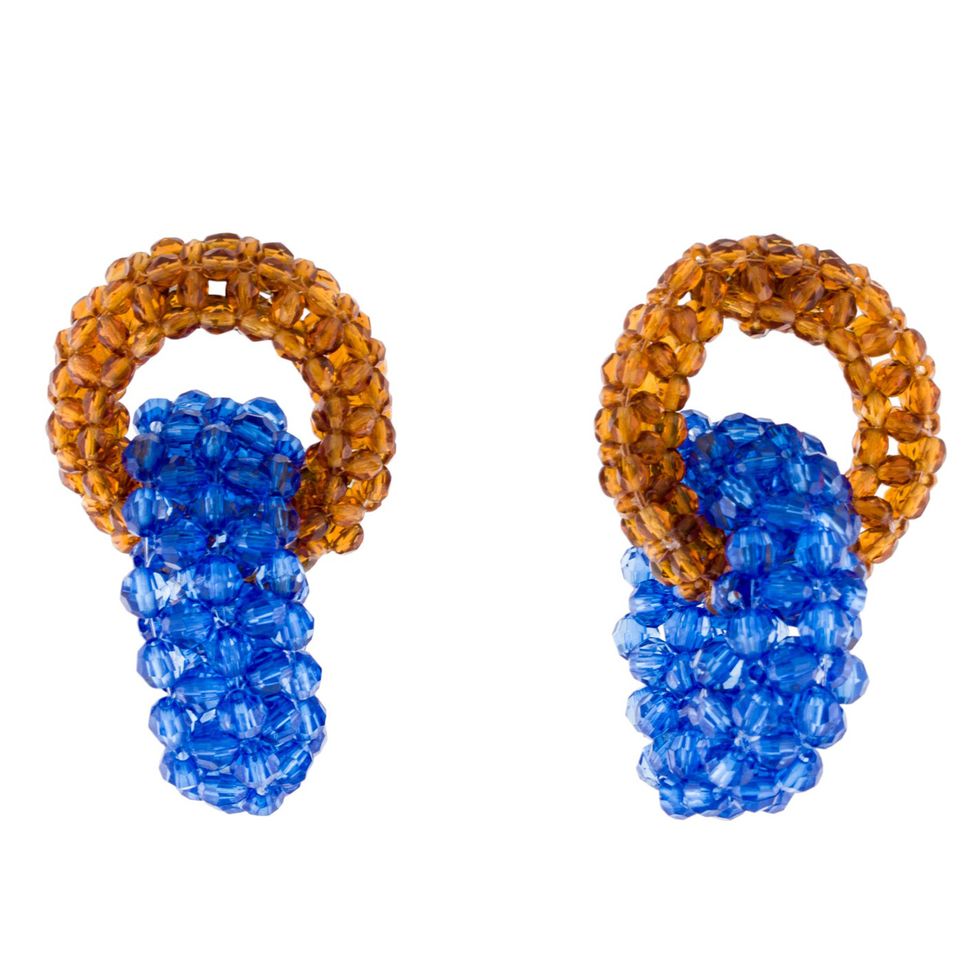 Dries Van Noten