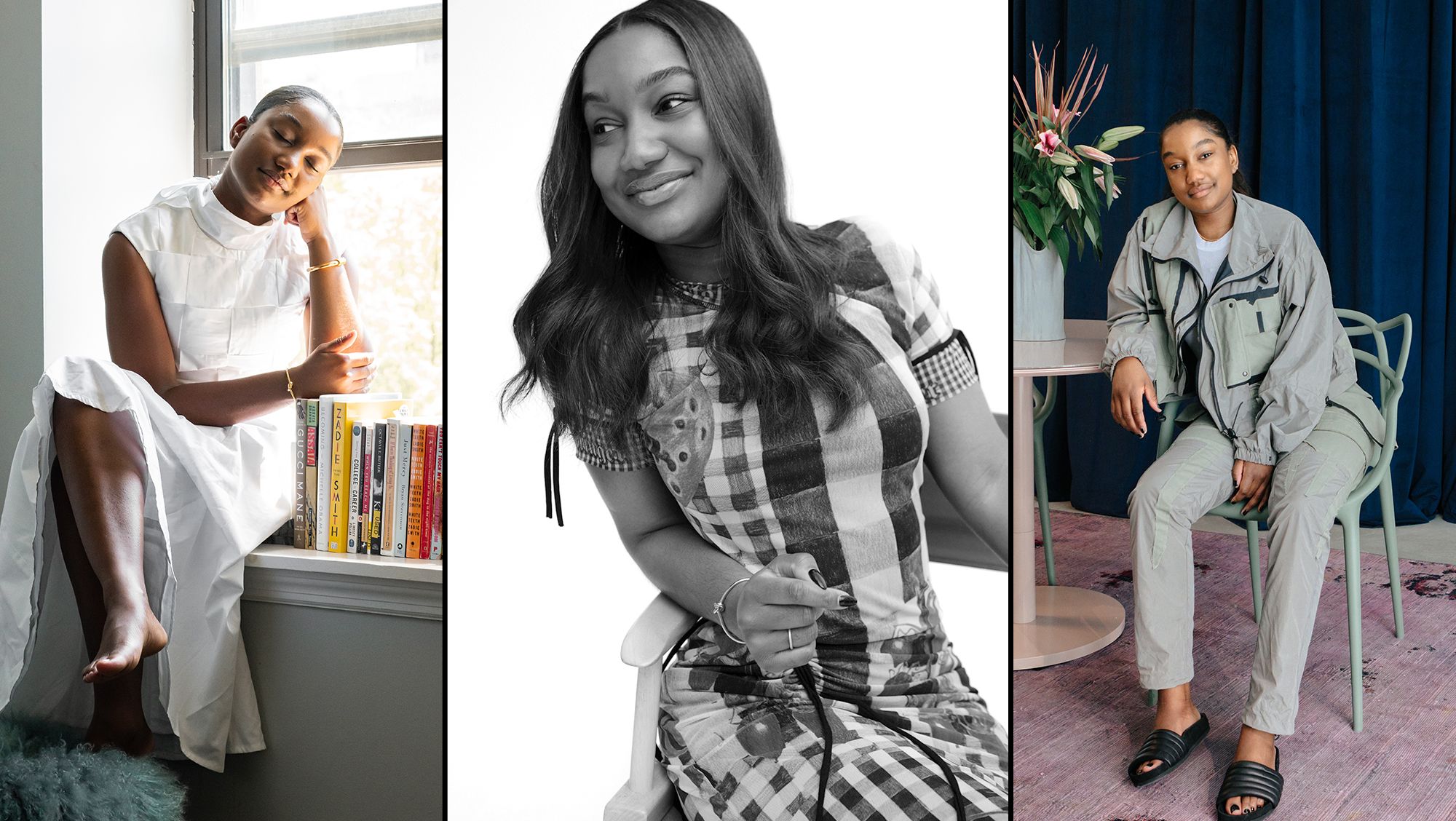 Shopping
It's all about the details.
Graphic
Rachel Pickus
Telsha Anderson
was all set to launch her new storefront, 
t.a.
, right before New York City shut down; however, that has not kept her from converting her platform to an online one for the time being. The brick-and-mortar oasis located in NYC's Meatpacking District is a fashionphile's dream. Anderson's diverse curation of designers—everyone from Korean label Pushbutton to New York
–
based Ashya leather goods—paves the way for unique silhouettes, compelling fabrics, and funky prints.
Her career is atypical of the fashion industry—Anderson has bounced from selling park guides for a start-up, to a social media managerial company, to fashion PR. But it's this very assorted mix of skills that has actually prepared her to launch her own boutique (which she did at only 26 years of age, we might add). As many fashion entrepreneurs can attest to, the job is so much more than just picking out pretty clothes. We asked Anderson how she curates her own wardrobe and style, and let's just say, the tips are good—real good.
---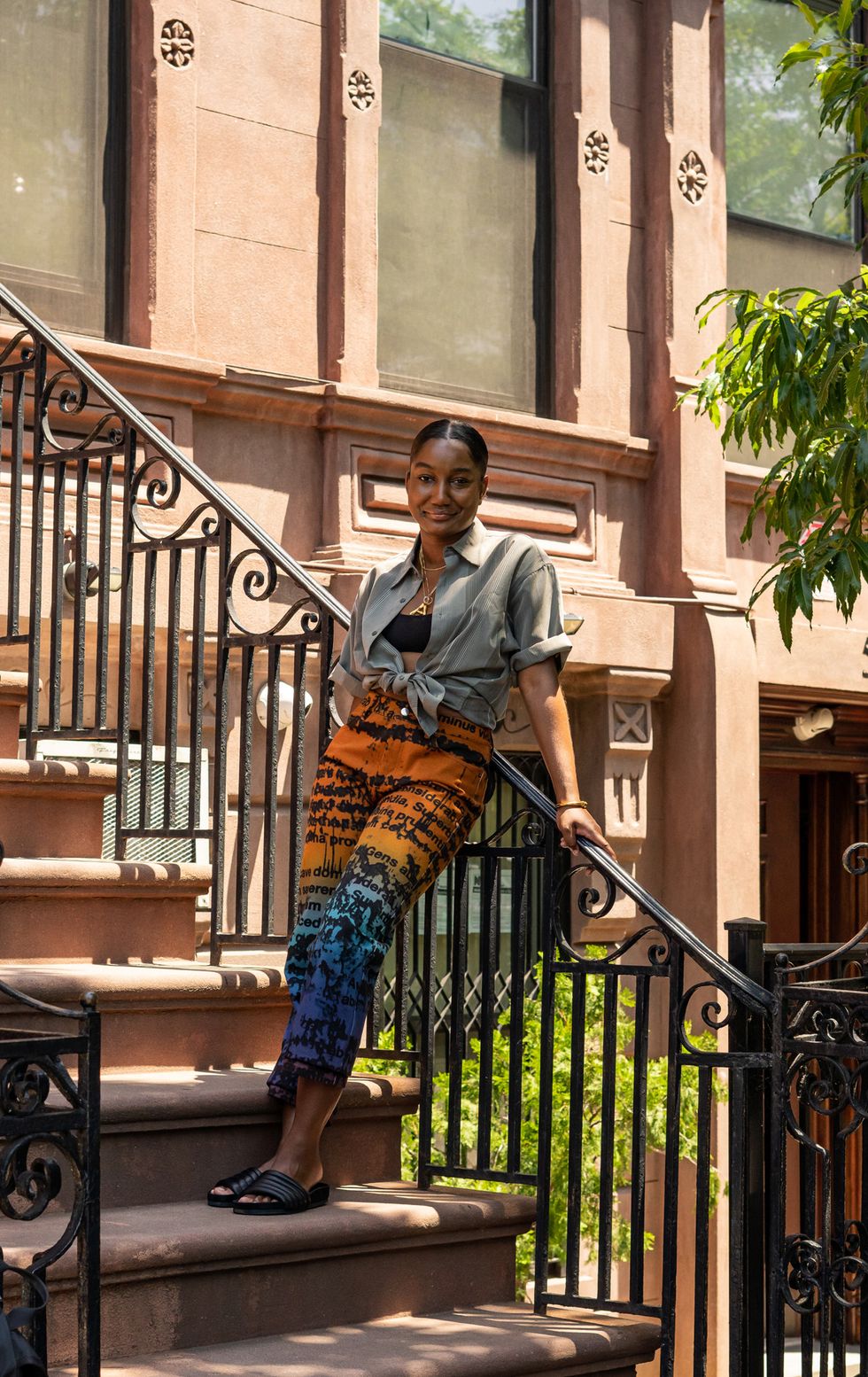 Photo: Justin Boone
When did you first fall in love with fashion?
"My grandmother and my mother had closets and jewelry cabinets filled with some of the most cultivated items in fashion history and often had one-of-a-kind pieces that I still don't believe existed anywhere outside of their wardrobes. My inspiration for t.a. was genuinely curated to be an extension of their closets. That's where I first fell in love with fashion, because they had Louis Vuitton backpacks, thick silver necklaces, and distinctive DVF wrap dresses, all of which I'm still not allowed to borrow."
How would you describe your personal style?
"If I could put my personal style into one word, it would be
mindful
. I'm mindful of my body type, the colors that look nice against my skin tone, my shoulder width, and how an item will fit in my closet amongst everything I already own. I'm also very particular about the make of an item
—
the stitching, how a pleat may fall, or how long I can envision myself having said item. And since I'm extremely mindful on the front end when purchasing, it allows me to get dressed easier in the morning or at night. Because I already plan ahead when I purchase something, I'm able to quickly throw something on before I head out and not have to think twice about if it matches or if it fits right; I've already done the mental work to ensure it does."
Do you have a uniform?
"It's hard to attach myself to a uniform based solely on clothing, because our perspectives and commentary towards fashion are constantly changing as style and our world evolve. I think my uniform, if anything, is reflected in my accessories. One day I'm wearing a pair of Golf Le Fleur Converse and the next a 3.1 Phillip Lim silk dress paired with Jil Sanders sandals—both alongside the same jewelry. I wear the same three gold necklaces, two gold Celine bracelets, and one gold ring every day. I truly believe that the details are what makes up a person's identity—an identity that travels far beyond fashion."
What do you let yourself splurge on?
"I'll splurge on a great pair of pants any day of the week."
What has been your favorite purchase of all time?
"Not a purchase, but a gift. In 2015 my parents bought me the Chloé RTW black lace-up boots as seen on the runway for Christmas. It was the first luxury item I owned, and from there, all I wanted was luxury everything. They're the main focal point of my wardrobe, and every time I put them on, I catch myself singing 'Fresh Off the Runway' by Rihanna."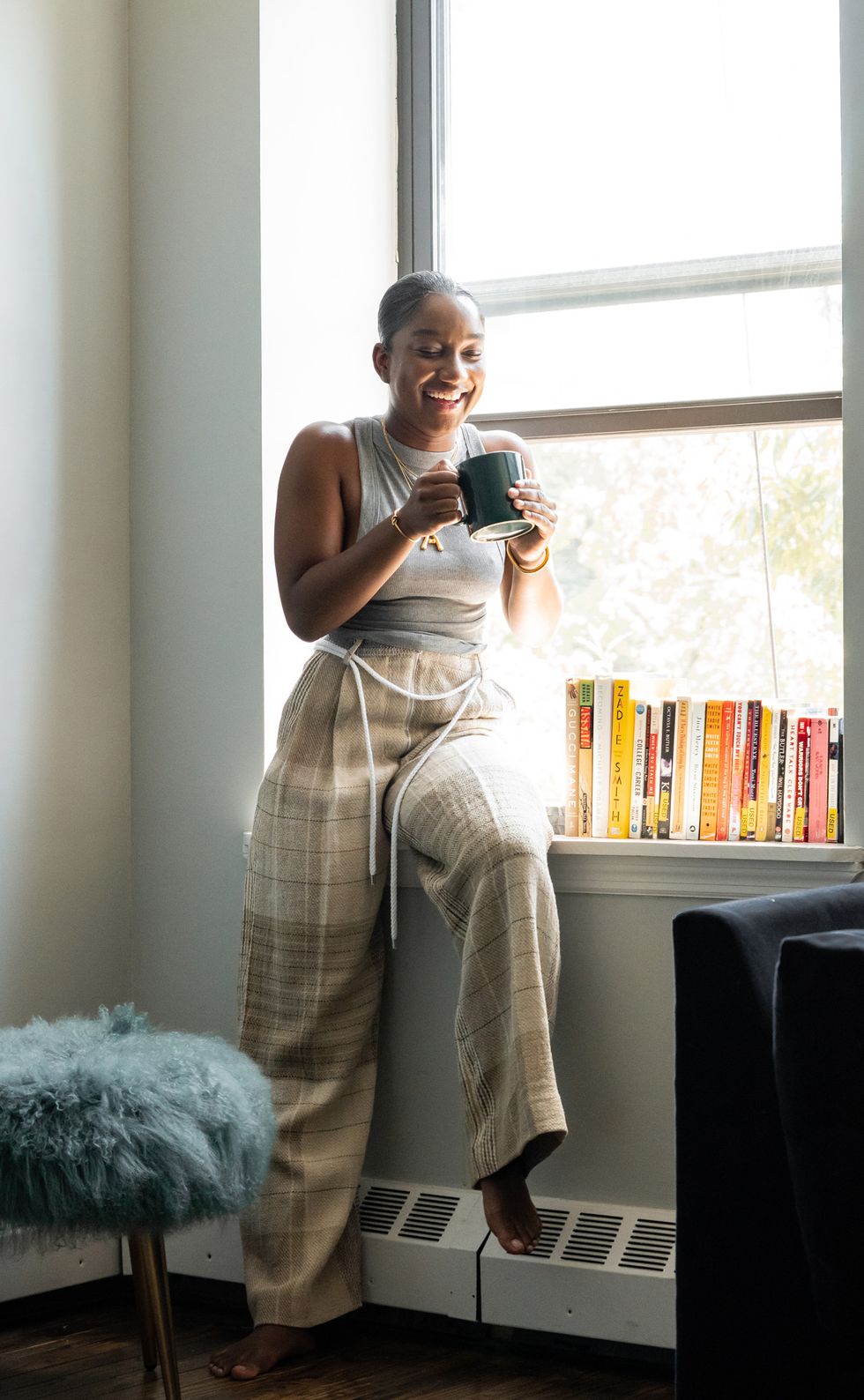 Photo: Justin Boone
Do you prefer the in-store experience, or would you rather just shop online?
"Nothing compares to walking into a store, having an employee ask 'Is there anything I can help you with?' while you drink a glass of champagne and decide what to try on next. I've made some of my most memorable purchases in-store because of the service, which was a main driver in opening a brick-and-mortar. I want to create that same experience for our customers once we open IRL—so unforgettable that they'll come back a second, third, or twenty-fifth time."
How does your career as a store owner/buyer impact your own style?
"As a store owner/buyer, I take more risk than before. When curating the brand matrix and developing the inventory list for t.a., I saw myself falling into what I call WWTW (What Would Telsha Wear). I had to constantly pull myself out of that mindset and remember that the buy was not just a reflection of my personal style, but more importantly, a reflection of where I saw fashion going in regard to shapes, colors, fabrics, and more. Some of my favorite pieces at t.a. are the items that speak the loudest towards today's fashion-forward shopper."
Which stores do you frequent?
"
T.a.
,
SSENSE
,
The RealReal
, and
Vestiaire Collective
(mainly to hunt for Celine)."
What would your closet be full of if money were no object?
"Timeless Celine pieces and a pair of Union Jordan 1s."
Vintage or new?
"Both! A closet should be a reflection of the past, present, and future."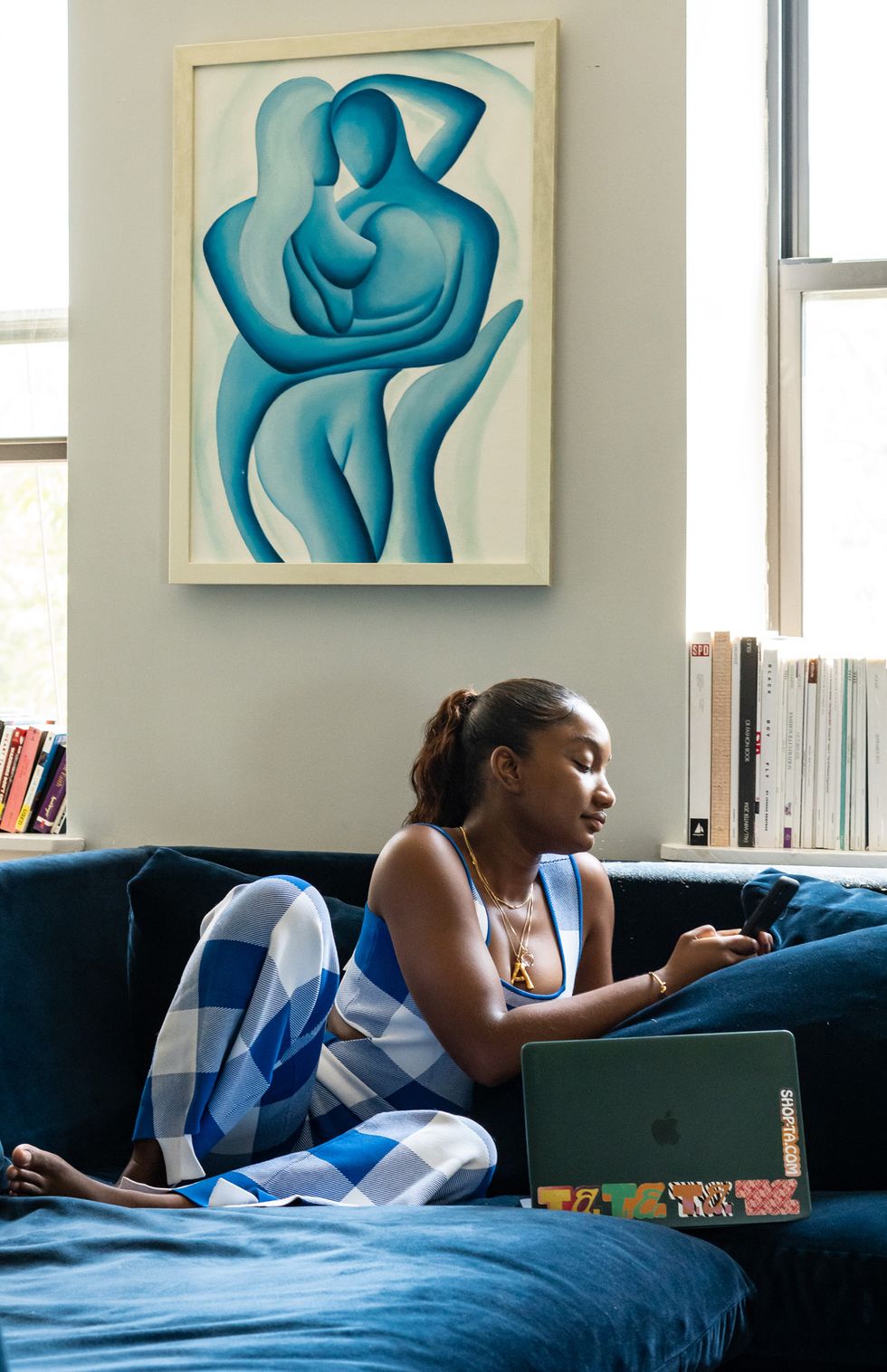 Photo: Justin Boone
Dress up, or dress down?
"A wise woman once said, 'When in doubt, overdress.'"
What does your current WFH wardrobe look like?
"My go-to WFH look is a pair of R13 drop-crotch jeans, an oversized white button-up with all my jewelry on, and a slicked-back bun. There's something about walking around the house in a pair of fresh denim that keeps me on task. My sister and I WFH together, and she'll walk in the living room and ask, 'What are you trying to prove? Jeans? Again?' and we'll burst out laughing. Now when I wear jeans while WFH, it's a way to make her smile midday."
Who are your favorite small fashion brands of the moment?
"
Annika Inez
,
Wesley Harriott
,
PH5
, and
Mozh Mozh
are some of my favorite up-and-coming fashion brands at the moment and are carried at t.a. In some form, each have made commentary moves towards today's society through their work, allowing their personal experiences to speak for themselves. Mozh Mozh created sustainable masks for loved ones using material from previous collections. When sourcing designers to showcase at t.a., it's important to know that they've created a voice of their own."
If you could only keep three pieces in your closet, what would they be?
"Jeans, an oversized vintage t-shirt, and my Madbury Club tote bag filled with 100 Burt's Bees chapsticks."
What era of fashion is your favorite and why?
"Hands down, the early '90s. There was a show called
A Different World
that aired from the late '80s to the early '90s. Whitley Gilbert, played by Jasmine Guy, had the best on-air wardrobe to date. In my opinion she was the OG 'Homme Girl'—dressed in Chanel two-piece purple suits, Morehouse crewnecks, high-waisted blue jeans, and silk pj's. Her cast mates also play a major role in today's fashion. Jada Pinkett Smith, as Lena James, personified the term 'tomboy' before anyone even knew how to articulate her wardrobe."
9 Items Telsha Anderson Currently Has in Her Shopping Cart:
Priscavera
Mozh Mozh
Mrz
PH5
Coperni
Marni
TPH by Taraji
Brother Vellies
Khaite