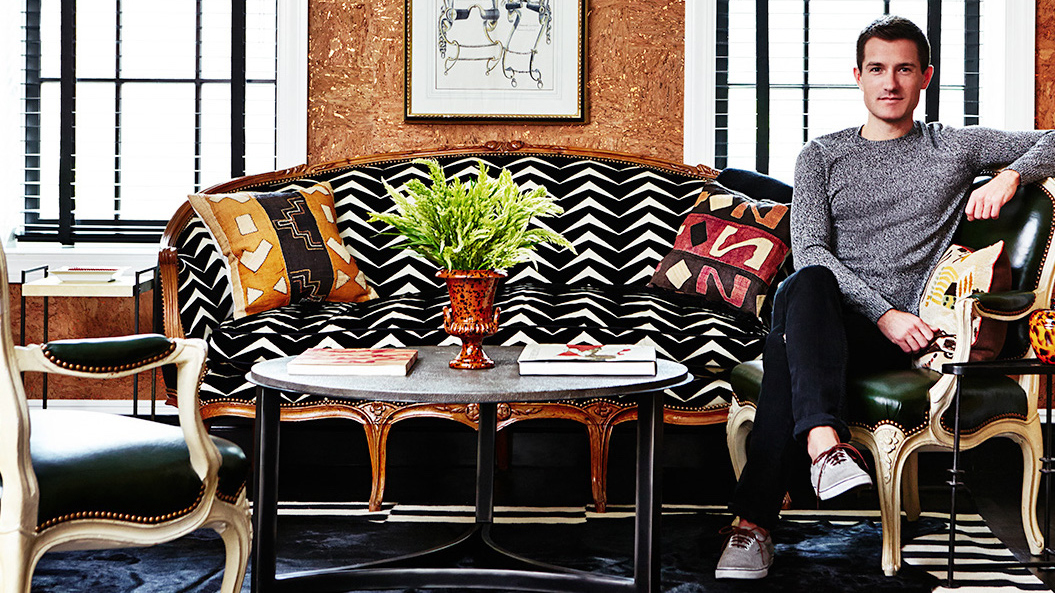 How to Create a Home Office in a Small Space
Interior designer Nick Olsen shares his tips.
Working from home is a big adjustment when you're used to spending Monday through Friday in an office. While we're very jealous of those of you that have an actual, designated home office, that isn't a possibility for everyone (especially those of us in city apartments with limited square-footage). Coffee tables and kitchen bars are becoming desks. Conference calls are being held in bedrooms. With our homes becoming our workplaces, a question that's top of mind for May is how do we make them feel like an office?
We tapped one of our favorite interior designers, Nick Olsen, to share some advice. After earning a degree in architecture, Olsen studied under Miles Redd and launched his own NYC firm in 2010. He's known for his bright, dynamic spaces that expertly pair traditional and modern aesthetics. His own home landed on the cover of Domino magazine in 2006. Needless to say, we trust him with our spaces 100 percent.
For a small space, look for furniture that doesn't take up space visually
"If space is an issue, I like using waterfall-style console tables as desks—the lucite ones practically disappear. So much of our work takes place on the computer, so I can't imagine filling every drawer of a big, bulky partner's desk! But beware: A console should sit between 29 and 32 inches high for it to work comfortably as a desk."
Give yourself a view from your desk
"Wherever possible, I avoid situating a desk directly against a wall or in a corner. It's nice to have a pretty view while you work, so I'll place desks in front of a window, or perpendicular to a wall so the chair faces out into a pretty room. The same logic goes for desks behind sofas that float in the middle of a room—the desk serves almost as a sofa table, and its user can look over the sofa cushions to a window or television."
Get creative with your storage solutions
"I'm not a fan of most office furniture, but these inexpensive little Componibili units could double as a drinks table. If your work is heavy on the paper files, I recommend this adorable file cabinet. The trompe l'oeil design looks like a bookcase."
Find a way to incorporate supplies in an aesthetically pleasing way
"I'm a stickler about cords and will use garbage-bag ties and blue painter's tape to disguise them behind pieces of furniture, under rugs, and so on. (The painter's tape generally won't damage furniture finishes.) The rest lies in presentation: Buy a pretty silver julep cup for your pens and pencils and a lacquer tray for your mail and other papers. I actually feel less stressed when my supplies are contained in an attractive way."
Brighten up your workspace
"A bud vase with a single fresh flower will brighten up any work space. If you have a favorite small artwork, why not prop it up on your new desk? The same goes for family photos or handwritten notes that will lift your spirits. I'm personally coveting this primary-color Paul Smith desk lamp."
When converting a coffee or dining table into a desk, make it your own
"If you can manage to hide the cord, it's nice to have a desk lamp and maybe an accessory, like a pencil cup or a framed photo, on your makeshift desk. I'm currently working from my breakfast table and have some art supplies and papers that need straightening. I've found that keeping a sense of order to all my work surfaces is even more important during quarantine, and of course I have the time to set everything at right angles!"
Don't forget about your own needs
"While it's important to have a #WFH routine, I also like to switch up my view from time to time—it's as simple as changing which dining chair I use at different parts of the day as the light changes. And remember to treat all the senses: Light a scented candle, and play motivating music!"
Shop Nick's favorite products for a home office space: