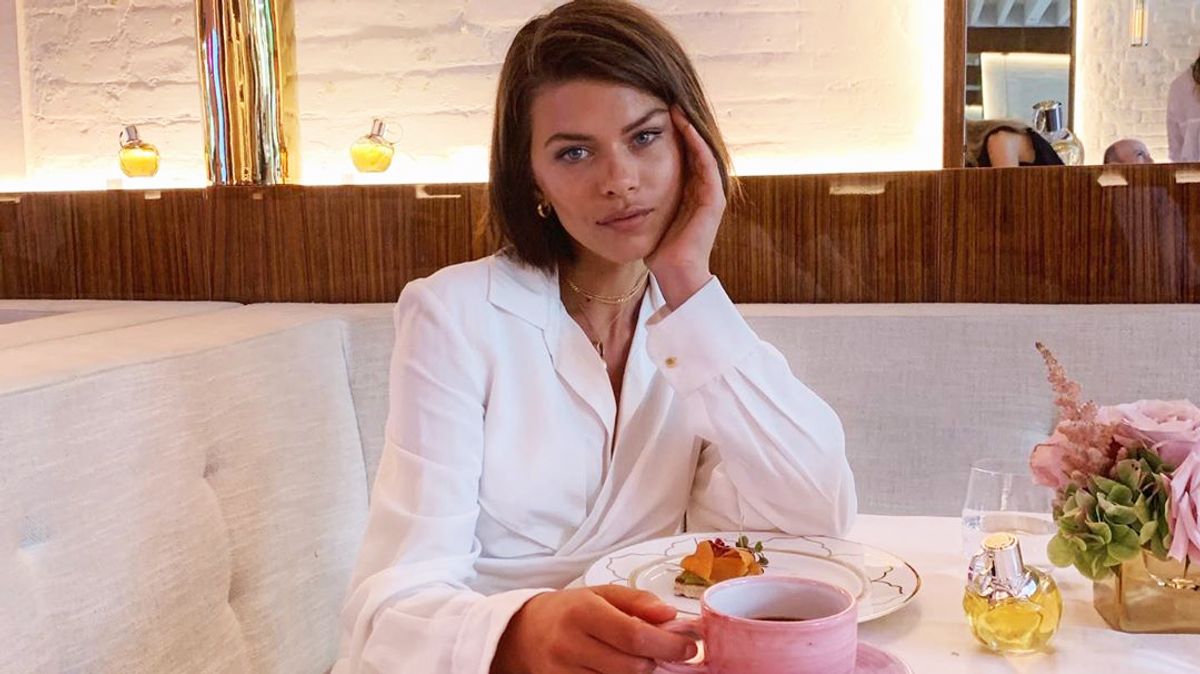 Food
The model whips up some of her signature dishes.
In this episode of
In the Kitchen
, we follow model
Georgia Fowler
as she cooks up not one, not two, but THREE delectable dishes that add up to one seriously amazing meal. Her culinary chops make us wonder… Is there anything this girl can't do?
---
---
Red Lentil Dahl
---
Ingredients
400 g red lentils
1 can tomato
1⁄2–1 can coconut cream (coconut milk, if you want to be healthier)
500 ml vegetable stock (approximately)
(Add stock or cream to desired consistency and keep stirring)
1 chilli
Thumb-sized bit of fresh grated ginger
4 garlic cloves
White onion
A few handfuls of spinach
Coriander
Lemon (squeezed)



Spice mix
~1⁄2 tsp of each spice (ground):
Cumin seeds
Coriander seeds
Mustard seeds
Garam masala
Fennel seeds
Turmeric



Directions
1. Heat the oil in a large pan over medium heat. Add the onion, and cook gently for five minutes. Add the garlic, ginger, and red chilli, and cook for a few minutes.
2. Grind the cumin, coriander, and mustard seeds lightly in a pestle and mortar, then add to the pan, along with the turmeric and garam masala, and cook for one minute.
3. Add the lentils, tomatoes (with juice), coconut milk, and broth/stock, then stir to combine. Season with salt and pepper and cook on a medium/low heat for 15
–
20 minutes until reduced and thick. If you have time, you can leave it a little longer on a very low heat for even more flavor (just stir often and make sure it doesn't scorch the bottom of the pan). Taste and add more chilli, if desired.
4. Stir in the lemon juice and spinach until it wilts.
5. Serve and garnish with coriander.
---
Cucumber Raita
---
Ingredients
Lebanese cucumber (shredded and squeezed)
Natural yogurt
Mint (finely chopped)
Salt and pepper
Lemon zest



Directions
1. Grate a Lebanese cucumber and squeeze to get out the excess moisture.
2. Add to a bowl with natural yogurt (about a cup, depending on your ratio and the size of your cucumber), lemon zest, mint, a drizzle of honey (I used golden syrup, as I didn't have any), and a generous amount of salt and pepper. Stir.
---
Spiced Eggplant
---
Ingredients
Eggplant
Drizzle with olive oil and spices, including:
Turmeric
Cumin
Fennel seeds
Chilli flakes



Directions
1. Preheat oven to about 220 degrees Celsius.
2. Slice eggplant—thicker will need slightly longer in the oven, but can create a more gooey texture, which I love. Learning from my mistakes, I would have almost just halved the eggplant or sliced into thicker chunks or strips.
3. Coat in olive oil and spices—I use ground fennel seeds, cumin seeds, turmeric, chili flakes, and salt.
4. Bake on a lined baking tray in the oven for about 15
–
20 mins—oven and thickness dependent. Keep an eye on it.
---
TURMERIC RICE
---
Directions
1. Combine a cup of Basmati rice with about 1
¾ 
cup of salted water, bring to the boil, add a bay leaf, some cloves, and turmeric.
2. Cover and simmer for about 15
–
20 mins until water is absorbed and rice is fluffy.