Endless Inspiration Abounds in This Minimal, Art-Deco-Inspired Home
Trust us, you'll go wild for this charismatic NYC space.
Interiors
David Krause's line of vegan skin and hair care,
Alder New York
, was not only designed to be inclusive for all, regardless of age, gender, or ethnicity, but the visually enticing products were also intended to be displayed with photo-ready sleek, minimalist packaging. It therefore stands to reason that his creatively inclined eye would carry over to his own interiors, as well. Krause explains, "The core design tenants of Alder New York's aesthetic and philosophy are everywhere in my home."
Krause and his husband, Ayan, bought their current home in Queens in the fall of 2016—most of the houses in the neighborhood were built in the early 1900s and are abundant with nods to the art-deco era. The way Krause's minimalist, cool aesthetic intertwines with the traditional elements of the home is a lesson in contrast. You enter through an archway framed in original '20s stained glass into view of a mid-century modern chair under a contemporary light fixture.
"As a designer, I like things that are functional, yet make an impact, like practical furnishings that also have a bold visual impact," he told us.
---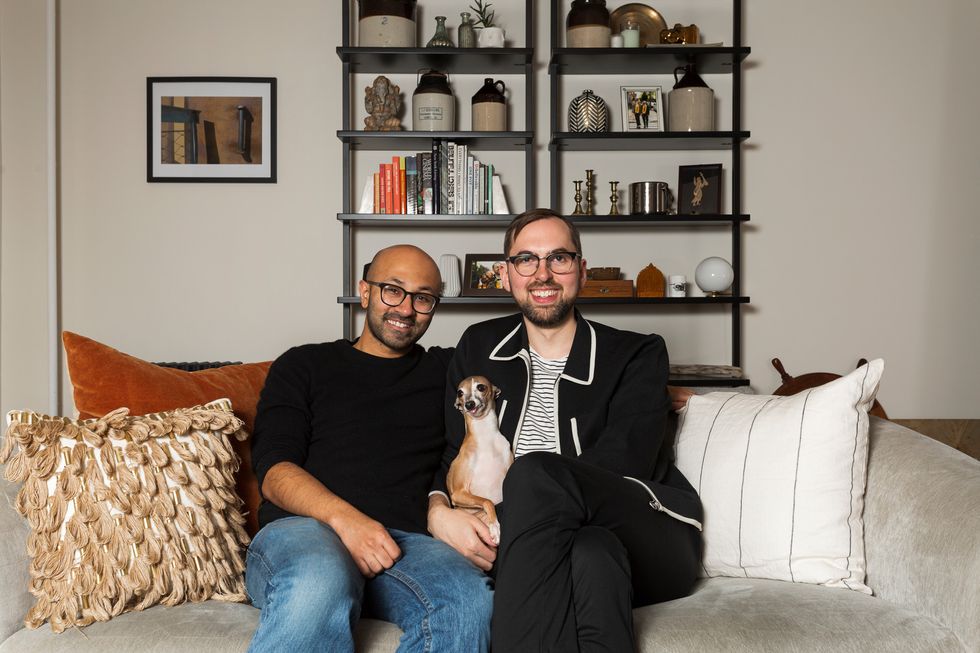 Photo: Niv Rozenberg
When Krause first saw it, he recalls thinking, "'We need to make this awesome and make this our home.' We put an offer in without my husband even seeing it." Without the help of an interior designer, Krause and his husband renovated the space while preserving some of the original elements, like fantastic wood floors and the coved ceilings in the living and dining rooms.

Spaces they gutted, like the kitchen and bathrooms, are much more pared down in a decor sense, implementing modern design elements into the old space. Despite a minimalist undertone, the two were not afraid to toss some conversation starters into the space. We're talking about the mismatched gallery wall where each piece has some sort of sentimental value, the embroidered tiger rug mounted on the wall (a purchase from a market in India), and don't even get us started on the Gucci tiger wallpaper in the guest room!


Shop David's favorite home products: