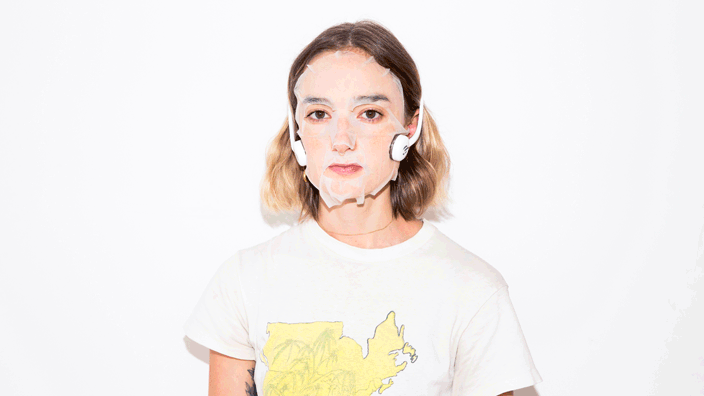 Our Beauty Routines Are More Robust Than Ever—Here's What We're Using
Self-care in the age of quarantine.
If there's such a thing as a silver lining to the current quarantine climate, it's that we have seemingly unlimited time to devote to our beauty routines. Hours spent inside and away from other people means that we're at our leisure to try new products, as well as buff, polish, and generally baby our skin and hair to perfection. It's the type of self-care we all need right now, and team Coveteur has been embracing it wholeheartedly. So, in the spirit of helping you achieve your best skin and hair during our time tucked away from the outside world, here is how nine of our staff members are approaching their current beauty routines (plus the products they love right now).
Hannah Baxter
Senior Beauty Editor
We're over a week into our recommended time working from home, and it has been, in a word, brutal. New York is a city of hustle and bustle, so it feels wrong to be indoors and remote for so long. Still, my heart goes out to everyone who isn't able to work remotely and all the businesses that are suffering because of social distancing. Also, hi, friends and family, I miss your real-life faces. But beauty is both my job and my passion, so I'm diving deeper into my skin-care routine with all of these additional hours at my apartment. It's one of the best ways to take your mind off the current situation, in my opinion.
To start, I cleanse in the morning with a gentle balm from Royal Fern. Next up is a mask—I choose based on how my skin is feeling that day, but the Caudalie exfoliating peel is exceptional for getting rid of rough patches. I follow with a hydrating toner from Renée Rouleau and a hyaluronic acid serum from Dr. Barbara Sturm. Then it's on to the Protocol vitamin C serum because I don't want any dark spots to pop up as I sit by the window and soak in the sunshine. If my skin looks lackluster, I add the La Mer Regenerating Serum or the Heraux Molecular Anti-Inflammaging Serum. Are they fancy as f*ck? Yes. Worth it in these trying times? Double yes. My skin has never looked better.
Then it's on to a light and airy Tatcha eye cream, plus a moisturizer. The B-Silk formula from Eighteen B has my skin feeling particularly bouncy these days. Then obviously I finish off with an SPF because sun damage can happen, even through a window (that's courtesy of the UVB rays). If I want a little extra icing on the cake, I tap my favorite plum face oil on my cheeks and forehead. Then I settle into my work-from-home armchair for an afternoon of Zoom meetings.
Jessica Teves
Head of Content
I practice intuitive skin care for the most part, meaning depending on how my skin is feeling and looking, I alter my routine accordingly. On the breeziest of days, I'll use basic Dove bar soap (yes, don't judge me—it's the BEST!), a simple moisturizer, and lots of sunblock. But, as I've started working from home this past week, I'll admit to ramping up all aspects of my daily routine. It's probably due to stress, because I definitely don't have more time on my hands, but regardless, I'm craving more masks, layers of serum, and anything that will give me a sense of calm (and glow) in the midst of this scary time. Here are the products I'm currently using on overdrive.
Alex Bair
Senior Sales and Brand Partnerships Manager
I feel incredibly lucky to have the opportunity to work from home during these trying times. When I'm not tapping away on my laptop, I am using this time to recenter through light movement-based workouts, meditation, and extra-long skin-care routines (in the comfort of my own home, of course). When it comes to skin care, I'm addicted to anything that's ultra-hydrating and leaves me glowy AF. Marie Veronique has a gentle exfoliating cleanser that I use every single day, followed by the Advanced Hydrating Mask by Josh Rosebrook. The combo creates this unreal, soft, bouncy glow.
Rachel Pickus
Creative Associate
In an effort to ease my mind and anxiety, I'm finding solace in my daily rituals, one being my skin care (every bit counts, right?). My routine begins with a CeraVe gentle cleanser followed by a Youth to the People toner that doubles as a gentle exfoliant to rid any residual grit from the previous day. If things are looking iffy around my nose, I'll slap on a Lancer detox mask to get rid of clogged pores and any lingering redness. My skin leans towards the dryer side, so I like to slather on a substantial layer of my favorite moisturizer, or if I'm feeling luxe, I'll wear a moisturizing sheet mask while I watch reruns of Housewives (IYKYK).
Annie O'Conor
Audience & Development Manager
More often than not, my ideal beauty regimen is cut short due to a busy schedule. With the current circumstances, I'm fortunate to be able to continue to work at home, and my skin hopefully is reaping the benefits. With an ongoing battle with acne and past remnants, my skin needs a lot of attention. Amid many video meetings, I can focus a little more on it. A mask or two, some extra moisturizing, added efforts to restore stubborn texture and pigmentation, and much-needed relief to those ever-present under-eye bags, god willing, my skin will absorb all of this extra love and attention.
Taylor Ford
Head of Social
I've been in a decade-long habit of blow-drying and flat-ironing my naturally curly hair to stick-straight, Long Island girl oblivion on a near daily basis. But with all this time by myself, I'm embracing my wild mane and finally giving my strands the R&R they deserve. It's the longest break I've taken from using hot tools since middle school, plus detoxing and replenishing products that smell good, too.
Isabella Sarlija
Beauty Fellow
During a time where anxiety-inducing headlines are continually being pushed to our phones, I'm grateful to have a grounding routine. It indicates start and end times to my day, just like any normal day at the office. In the morning, I wipe my face with micellar water and follow with a hydrating mist, essence, serum, eye cream, face oil, moisturizer, and sunscreen. Yes, sunscreen, because WFH means my skin is still soaking in blue-light radiation from my laptop. Midday is when my masks and tools come out to play: I often ice-roll my face during this time while using a sheet mask. When the sun sets, I wash my face and lather on the 45-day retinol treatment I recently started. Retinol treatments are certainly fitting during times of isolation, since nobody, besides my partner and our cats, will be close enough to me to watch my skin purge.
Leya Kaufman
Head of Sales
I typically thrive when I can take control. And while I feel less in control these days, I've been extending the length of my meditative morning showers and embracing aromatherapy in an effort to re-center before taking each day head-on. CBD-infused products, like the rosemary mint Nourishing Shampoo from Lab to Beauty, have been welcome additions to my isolation schedule. I'm also maintaining a sense of normalcy and continued confidence with a familiar self-care and beauty routine. Today I put on my go-to mascara and favorite lip oil, which felt so empowering that I might take on DIY nail art tomorrow. It's incredible what a little bit of color can do.
Giselle Persak
Campaign Manager