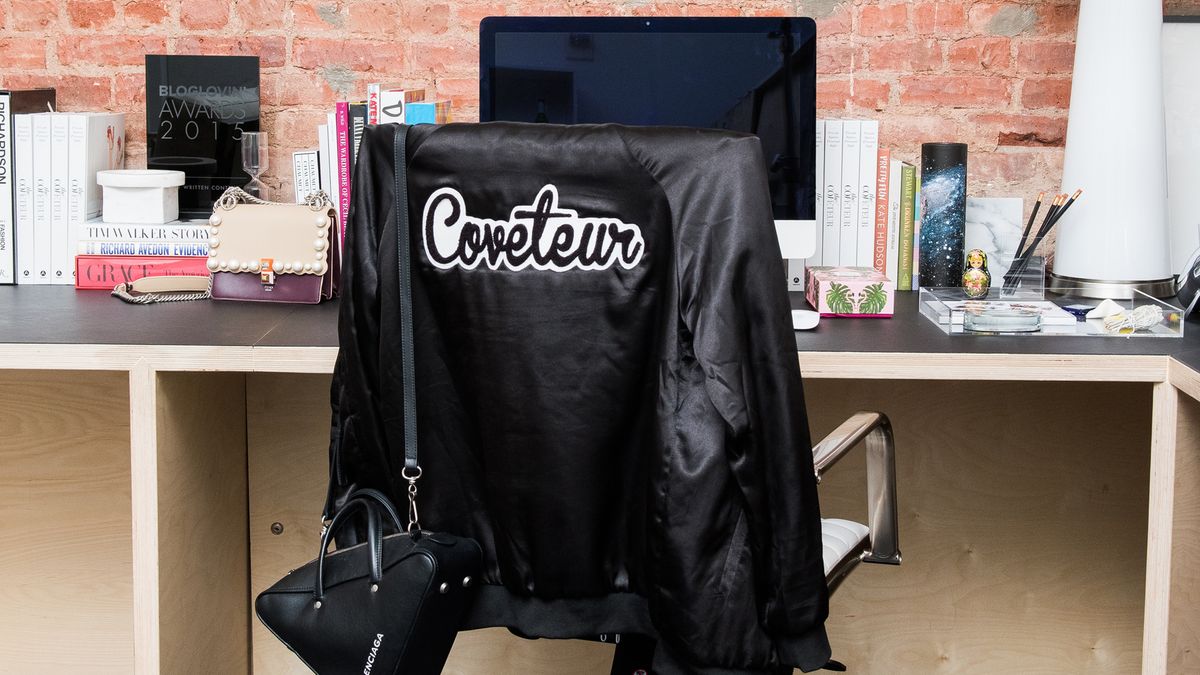 Living
Tips for productivity, self-care, and more.
Last week Coveteur joined countless offices across the globe in implementing a work-from-home policy as the world navigates the COVID-19 outbreak. We're incredibly fortunate to be able to do our jobs from the comfort and safety of our homes, and it's not lost on us that many don't have that option. Adjusting to this new normal looks different for each one of us, and over the past few days we've been swapping stories about how we stay productive and positive during these stressful and uncertain times. From standing FaceTime calls with friends to at-home yoga practice, here's how six Coveteur staffers approach working—and doing everything else—from home.
 

Leah Faye Cooper
Editorial Director
I'm a true extrovert and very social, so as a single woman who lives alone, this has been difficult for me. I've been starting each day with a moment of gratitude for being able to work from home, because it's a luxury a lot of people don't have. I've also made it a point to stick to a modified version of my daily schedule. That means getting up early and going for a run (I've decided to hold off on the gym for now), getting dressed (as I type this I'm wearing a knit top, tulle skirt, and my everyday accessories), and eating meals at the same times that I usually do. The morning run helps me to feel less isolated, as does the standing FaceTime call I have with a group of friends every evening. There's a lot of laughing and wine involved, and it's the next best thing to hanging out in real life. 
Hannah Baxter
Senior Beauty Editor
It comes as a surprise to absolutely no one that I'm using this time working from home to indulge in some beauty pampering. That means exploring the storage cabinet where I keep all the samples I bring home from the office (including skin care, hair care, nails, and makeup) and trying them out. I rarely get so much time to explore the things I already have, so I'm trying to feel as grateful as possible for this opportunity to be home to do so. I'm also making a point to reach out to friends every day to make sure they're feeling healthy and calm, and checking in with my parents, who live in different areas of the country. My partner and I are also brushing up on our cooking skills, showering our hairless cat with attention, and burning a little sage anytime we feel our anxiety mounting. And when all else fails,
taking a hot bath
with some wine, a joint, and a book cures all. 
Halle Lagatta
Production Coordinator
I pride myself on my daily routine. Wake up, chug a homemade juice, go to yoga, go to work, etc., etc. Without this regimen—which has taken me years to refine and is always in a state of refinement—I feel lost, anxious, depressed, and succumb to my chaotic Sagittarius side. Being forced out of this routine has encouraged me to reinvent new ways of keeping calm while balancing my productivity and mental health. A few things keeping me grounded as I WFH right now are cooking (I've already made it through three of
Alison Roman
's fabulous recipes that are filled with immune-boosting ingredients and keep my hypochondria at bay), running at least one mile in the park I so thankfully live across the street from, FaceTiming my incredible therapist so that we both avoid public transportation, and lastly, practicing yoga! I highly recommend watching
Yoga with Adrienne
on YouTube. She has amazing yoga flows and breathing exercises. Deep breaths, ya'll! Check in with your neighbors, friends, family, and loved ones. More importantly, check in with yourself! 
Annie O'Conor
Audience & Development Manager
Working from home definitely has pros and cons, but for the sake of keeping an optimistic outlook, I am going to hone in on one positive. I've taken this extra bit of time to take care of my space. When there is an excess of stress in the world, any chance to feel relief is indispensable. For me, a sense of peace at home comes from organization and cleanliness. Being at home has meant a lot of (re)folding drawers, doing laundry, washing floors, watering plants, color coordinating, you name it. To be a little more mindful each day is important, and cleaning provides me an opportunity to be thankful for my home and take my mind off a few things. Cluttered space equals a cluttered mind. For the foreseeable future, I plan on opening the windows (weather permitting), getting work done, calling my loved ones, and making my home as neat as humanly possible. 
Jessica Teves
Head of Content
I'm sort of a homebody to begin with, so having to work from home right now feels like a natural extension of the life I'm meant to lead—without all the world panic and fear, of course. The first few days I most definitely lived in sweats, denying this new schedule. But as the week has progressed, I can feel myself developing and adjusting to a new routine that is accepting of this life change, and appreciative for the extra time at home. I've found myself making a real breakfast, testing my mother-in-law's cheesecake recipe, whitening my teeth, and face-masking like an animal, all while feeling extremely productive at work. I'm also trying to be incredibly grateful for my home and family, and keep an eye toward how we can give back to those who are unable to have those same luxuries, like stocking up at a grocery store or logging onto Slack and being able to work. I don't take that for granted, because it is a luxury. 
Abby Miller
Head of Production
For me, working from home has been a double-edged sword. I am a bit of a hermit, so staying home all day is my secret dream. I relied on the obligation of going into the office as a way to get me out and about. Now without that impetus, I have to admit I am afraid of falling into unhealthy habits and letting my inner laziness get the best of me. To offset this, I am trying to set daily goals to keep active and stimulated. Daily walks around the block with my dog, streaming online workouts from home, finally getting around to some home-improvement projects that have been on my list, etc. I even ordered the workout
Mirror
, so I am hoping that will help keep me motivated and active. And of course, I've been lucky enough to have coworkers, friends, and family who have been keeping in constant communication, so the isolation has felt a little less lonely. 
Want more stories like this?
What to Eat—and Drink—in the Bath
Chapped Hands? Soothe Them Fast with These 8 Moisturizers
Lagom Is the Anti-Kondo Method & It Might Just Be Right for You