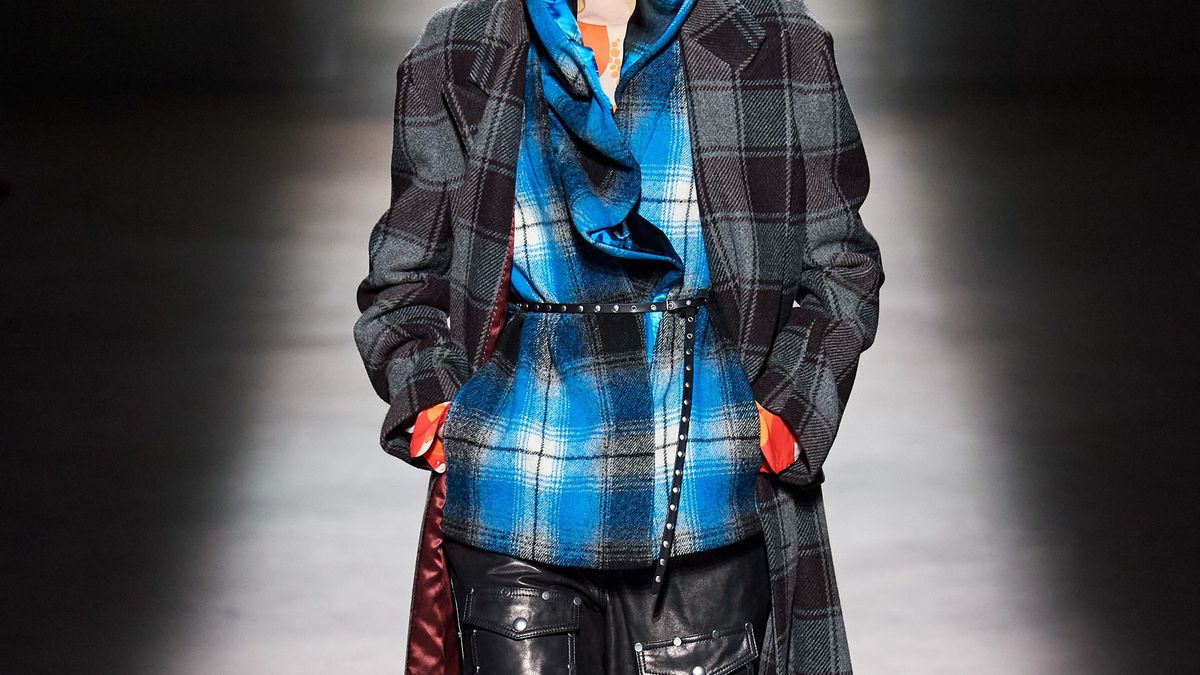 Fashion Week
The story behind moto boots and torn denim.
On the fall/winter 2020 runways, we saw fishnet tights, tartan skirts, biker jackets, and more than your fair share of leather—all easily recognizable symbols of punk. More than just a trend, the punk movement has an important place in fashion history, important enough to warrant its own
Met Gala
theme in 2013. The clothes themselves are an aesthetic communication of angst, but it's important to note where that angst came from. Punk fashion is about more than just a moto boot and a ripped T-shirt. The clothing originated decades ago as a form of rebellion among young people who were not content with the general state of things. It's no coincidence that as we deal with an era fraught with political turmoil, that iconic punk look has crept back onto the runways. While a lot of labels have drawn more from its obvious visual queues, others are more inspired by the "stick-it-to-the-man" message behind it, creating new designs backed by that same punk spirit.
---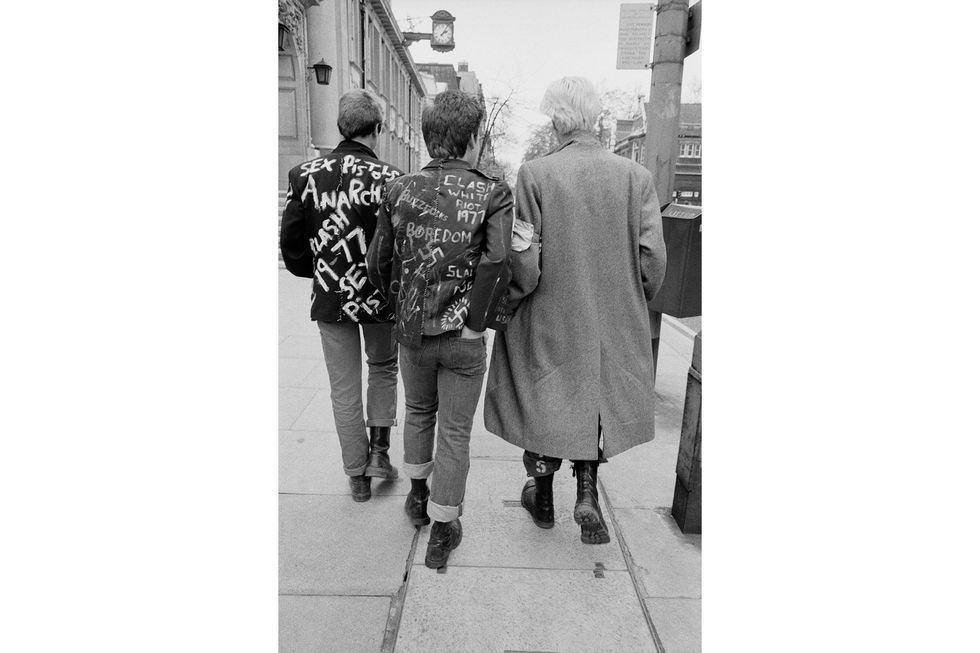 Photo: Getty
The punk subculture originated in Great Britain and America as a reaction of the youth demographic in the 1970s to things outside their control—government, politics, the economy, etc. The
post

–

World War II period
saw ethnic minorities, women, and LGBTQ persons all fighting for their rights. In Great Britain, there was massive unemployment, changing moral standards, and rising poverty levels. Across the pond, the United States was dealing with rebellion against the Vietnam War, The "New Right" (a movement that emphasized political conservatism and traditional family roles), and Watergate, among other issues. Spurred by a new wave of musicians such as the Ramones, The Clash and the New York Dolls, the youth subculture dressed to show their sentiments of disillusionment and rebellion. They challenged the fashion norms by wearing slogan tees, torn and safety-pinned clothing, crazy hair and makeup, and overtly sexual silhouettes. It had a DIY appearance as it was made out of necessity, largely pieced together from secondhand stores and what kids had on hand. Designers like Vivienne Westwood and Jean Paul Gaulthier pulled punk fashion from the streets and translated this sense of frustration and oppression to the runways.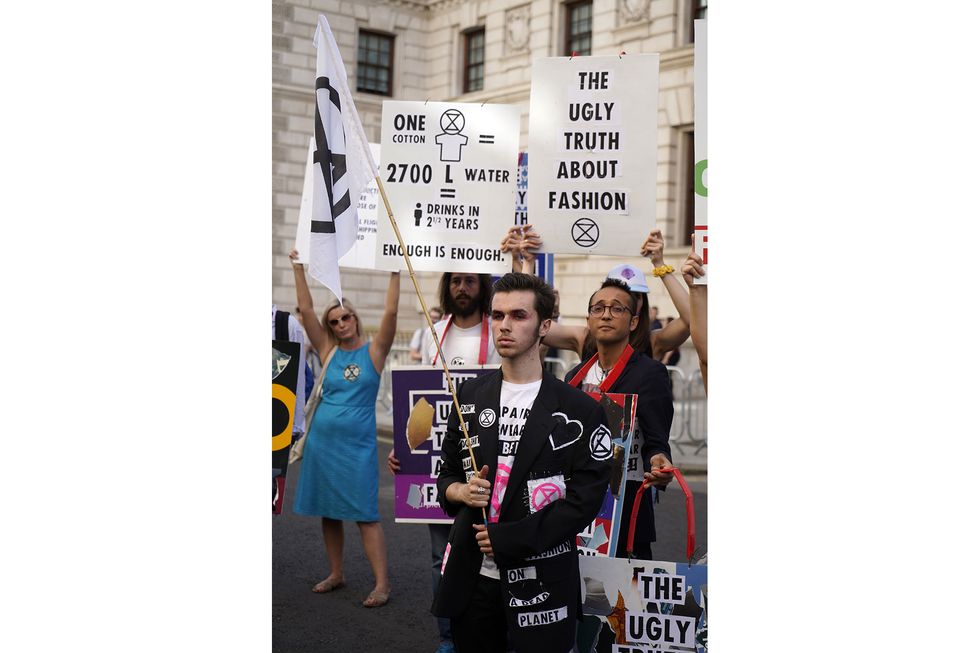 Photo: Getty
Now we have Brexit, a looming political election, a climate crisis, the threat of disease—and that's just at a general level. The fashion industry alone is facing issues such as overconsumption, persisting questions about the longevity of fashion week, and ethics of production. Anger about the state of the world among young people has been demonstrated by young activists like 17-year-old Greta Thunberg, who gave a viral speech at the UN's Climate Action Summit (you've probably seen it on YouTube), Emma Gonzalez, who organized March For Our Lives to raise awareness about gun violence, and Malala Yousafzai, the youngest person ever to win a Nobel Peace Prize for her fight against the suppression of children.
London Fashion Week
saw the same disruptive spirit with a protest by Extinction Rebellion that asked people to "boycott fashion." The youth is visibly angry, as they were in the '70s and '80s about things that are considered out of their control.
Punk Trending at Fashion Week
This recycled trend of the '70s subculture is easily recognized by iconic symbols of the movement: safety pin adornments, ripped clothing, and lots of leather—pieces of resistance. Many designers referenced their punk predecessors in a literal way. At Monse, models were decked out in tartan plaid and fishnet stockings. R13 chunky moto boots stomped down the runways on models clad in 10-gallon hats and layers of shredded denim. Punk came in the form of mismatched plaid, studded leather, and
unnatural hair color at Dries Van Noten
. Not only did we see designers putting these symbols on their clothing, they did the same with the presentations. Coach had punk icon Debbie Harry perform to close the show. She wore a sweater with a Basquiat design, a well-known punk artist, which was also on display throughout the collection. Marc Jacobs commissioned Karole Armitage, dubbed the "punk ballerina," to choreograph for his show. Much like a slogan tee, designers are putting an obvious punk stamp on their clothing and presentations to link themselves to what the movement stood for.
Brands like Collina Strada, Matty Bovan, and Area are toying with the '70s punk notions of anti-conformity, sexuality, and political activism in a more modern approach. Instead of using literal references, we saw designers doing what punk fashion was trying to do decades ago: push boundaries in order to challenge the status quo. At Collina Strada, Hillary Taymour encouraged people to think about the environment with a collection fittingly dubbed "Garden Ho." "I think it's important to challenge the silhouette of the body," Matty Bovan told
Vogue
about his fall '20 collection, where he used curtain rods that shot out from the body, creating new shapes with draped fabric. At Balenciaga, Demna Gvasalia, who put an apocalyptic spin on the show itself, experimented with gender norms in clothing, toying with austerity and the intersection of religion and clothing. The 2020 version of punk, like that of prior decades, is an aesthetic rebellion against what fashion
should
look like in the context of what's going on in the rest of the world. It reiterates that fashion is influenced by politics, government, ethical issues, and more, and is able to react with design as their medium.
Shop a few of our punk favorites