Makeup
Pretty, not cheesy.
When in the home of everyone's favorite manicurist (read:
Jen Brill
, Rose Byrne,
Sky Ferreira
and more) and Sally Hansen ambassador, leaving
sans
new nail knowledge isn't really an option. Case in point? When we swung by the L.A. home of manicurist Madeline Poole and practically came away with a crash course in all things DIY after Poole whipped up a quick mani to mirror the
Fleur du Mal
jumpsuit she happened to be wearing (so, really, really pretty). Oh, and we obviously got all of the steps to follow along with at home if you're feeling crafty or hit with that special I-have-to-paint-my-nails-right-now variation of 3 AM insomnia, matching jumpsuit not included.
---
---
What you will need:
Jin Soon Power Coat Base
CHANEL Fracas
RGB Vellum
Ciate Stiletto
Sally Hansen Mellow Yellow
RGB Tropic
Soft bristle brush
---
1. First things first, Poole began with a base coat of Jin Soon's power coat base. "I love it—it dries quickly, doesn't cause clumping and has algae, biotin and diamond powder in it... very luxurious!" Yeah, you could say that.
2. Now for the hard part: "Then, I painted two coats of CHANEL's Fracas, which has insane coverage—one coat is nearly enough."
3.
"I used
RGB's
Vellum
next. Next, I used the
Ciate
Stiletto
polish to paint the leaves. You can use a soft bristle detailing brush from an art supply store. Use the shape of the brush to make a few leaf shapes around the cream flowers."
"You don't need to be careful, you just need to feel it out."
4. "Next, I used Sally Hansen's Mellow Yellow to paint in the center of each cream flower. Keep this shape organic as well—it doesn't need to be a perfect circle. You can add details and highlights if you're feeling extra ambitious with RGB's Tropic and Vellum on the leaves. Let your nails dry for 5-10 minutes, and [add a] top coat."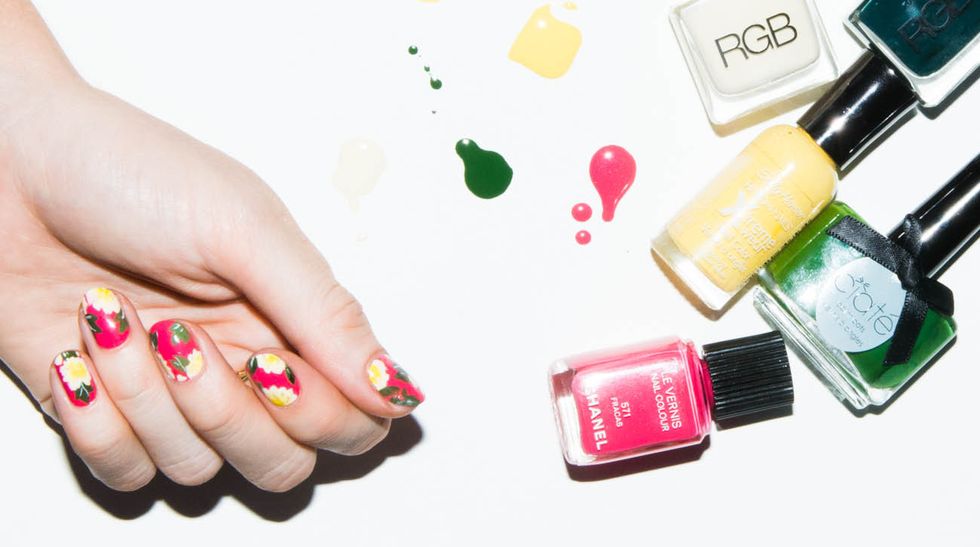 Easier than it looks, right?! Oh, and you can totally follow your gut: "I used the brush that's in the bottle to paint natural organic floral shapes; you don't need to be careful, just feel it out. It looks best when half of the flower is coming out of the side of the nail... does that make sense? Breaking up the pattern rather than painting complete flowers in the center. It makes the pattern more continuous." Even for those among us who don't possess the competence to do a simple DIY mani without covering their cuticles in polish can pull this one off.
"Use polishes with high opacity so your nail doesn't become to think with layers of paint."
As for general nail art advice: "You need to use polishes with high opacity so that your nail doesn't become too thick with layers of paint. These particular colors weren't just chosen for their shade, but also their formula. Clean the detailing brush out with nail polish remover and wipe on a paper towel between each color change or if you notice it drying up." And how can one ensure that they won't be leaving the house with ten fingers of blotchy polish that resemble exactly nothing? "If you're a beginner, I suggest organic patterns like florals, gradients, animal prints... they're easier to recreate using your non-dominant hand. Believe it or not, florals are a great place to start because there's no wrong stroke. You can always cover a mistake up with a leaf!"
Oh, and her Fleur du Mal romper isn't exactly her first sartorially-inspired manicure rodeo, either. "I did a replica of a Bottega Veneta floral pattern with burnt orange tips and a Tom Ford purple suede patchwork boot." She also revealed the unlikely places in which she finds inspiration—namely, uh, Cheetos bags. "Of course in fashion, in textile patterns in shoes, bags, jewelry, but literally everywhere else from the packaging of a bag of Cheetos to a rock at the bottom of the ocean."