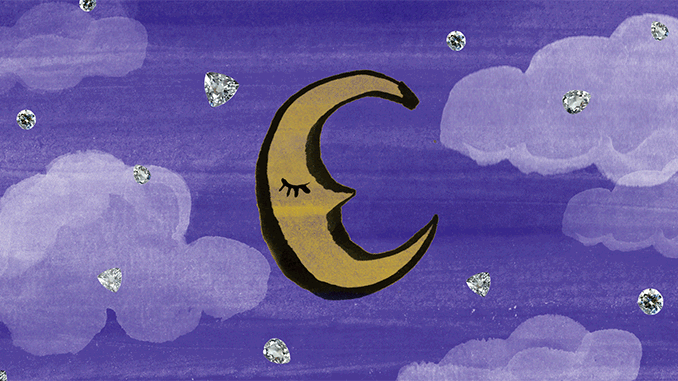 Horoscopes
Your look ahead, C/O @queercosmos.
Illustration
Hannah Becker
It's not every year that important astrological events line up perfectly with our worldly calendar. So if the universe is aligning astrology with the calendar of the world, I'd venture to say that means we have so much to look forward to. We'll forecast the January, July, and December eclipses here to understand the beginning, middle, and end-of-the-year themes.

But first, Jupiter in Sagittarius is setting the yearlong tone for the zodiac with the values of proactive optimism, idealism, and expansion. Don't wait for evidence. Just see your glass as half full in the present moment! Consider as many experiences as you can with the belief that it will go well, you'll be taken care of, everyone's here to help you, and so is the universe, for magical results in 2019.

So we don't get carried away, disciplinarian Saturn tours through Capricorn all year long, which is like a big audit from the universe's IRS. Saturn will make sure we'll put our money where our mouth is and pay attention to people who do the same. Values like integrity, accountability, and radical responsibility will texture your experiences. If you're met with emotional resistance in particular places, avoid blame. Look for your role in the racket, and Saturn will smile on your responsibility with a quick pivot from pain into peace.

Red planet of sexuality, motivation, and passion, Mars enters its hometown sign Aries on New Year's Day. Aries is the first sign of the zodiac, so it's no coincidence that January 1 heralds Mars in. It'll offer the new year the blank slate the zodiac is hoping for. If we see Mars' transits all year long as cumulative steps in the right direction, we can make significant steps in the direction of our dreams.

Every planet and its mother went retrograde in 2018, but 2019 only has the minimum lot. Mercury Retrograde dates are in Pisces between March 5–28, then in Leo and Cancer July 8–August 1, and concluded in Scorpio on October 31–November 20. If you were born during a Mercury retrograde, then it's business as usual. If not, try to avoid anything permanent. Stay flexible, detached to outcome, and choose curiosity over certainty every time.

Now let's talk eclipses! Up first is January 5's solar eclipse in Capricorn—the first one since 2011! Then it's January 20's lunar eclipse in Leo. Six months later, a solar eclipse in Cancer lights up the skies on July 2, followed by a mega lunar eclipse in Capricorn on July 16. The grand finale of the year is December 26's solar eclipse in Capricorn.


---
ARIES
March 21–April 19
It's all about "home" and career for you, Ram! The first solar eclipse on January 5 wants you to declare high-minded intentions on your work, career, and soul purpose. Hardly in short supply of confidence, ask yourself,
What's the one special thing only I can contribute?
Tell the universe you're ready to throw caution to the wind, and it'll support your projects. If a crisis of confidence knocks you off the runway of life, the lunar eclipse on January 20 is here to help. Identify the dramatic stories from the past that keep you stuck in comparison, and offer them to the universe for divine correction. By July you'll see the manifestation of what you declare in January. The July 2 Eclipse asks you to find the people and places that feel like home. You, too, Ram, are allowed to be sensitive and need a soft place to land. Two weeks later, on July 16, your career will experience the changes you set forth in January under the lunar eclipse, which will be bookended beautifully by the solar eclipse in Capricorn this December.
TAURUS
April 20–May 20
Bon voyage, Taurus! You're no longer the sign scared to death of change or uncertainty. The solar eclipse on January 5 asks for your ideas to expand through travel, publishing, or higher education. Your intellect will give you the adaptability you need to handle the big changes coming your way. There's no place like home, as the lunar eclipse on January 20 reminds you. You'll feel a full-circle moment there. The July 2 eclipse teaches you that communication is a two-way street. Check in with your trusted friends on your listening practices to make sure you're not the bull-in-the-china-shop of dialogue! Since you'll be off and flying away to glamorous new places after the July 16 lunar eclipse, you'll want to make sure you have the right words while you're chatting it up with the exotic traveler. Come December 26, after your year of growth and with your horizons expanded, the solar eclipse will ask you to integrate the key learnings of the year into your decision making, so you can be the most authentic Bull on the block.
GEMINI
May 21–June 20
Ruled by intelligent Mercury, you like when big ideas are phrased in a question. So
what are your values, and how can you share them in intimacy?
You'll begin to find your answers in the bedroom shortly after the solar eclipse on January 5, wink, wink. It'll have you rethinking your meaningful commitments and intimacy. Go ahead and show the zodiac that the mythological Twins can happily swing from chandeliers and take dialogue to depths. The lunar eclipse on January 20 will make you the queen of communication—from listening and analyzing to speaking, you can do it all! This might be a good time to have "the talk" with partners. Six months later you'll see the effects of your work on July 2's solar eclipse in your resources sector. What do you cherish? Think of words like discipline, consistency, and reliability. How sexy would it be if your partner said what they meant and just did what they said they were going to do? Then speak it, sister! Just two weeks later, your most emotionally charged eclipse enhances your sexuality zone, which could bring about major personal transformation through the intimacy you share with another on July 16. The finale of this series is December 26's solar eclipse in the same topic. It's a benchmark for the progress thus far and asks you, "What next?" You're writing the story with a sexy-speaking someone. So make it extraordinary!
CANCER
June 21–July 22
Two is way better than one, Cancer. The solar eclipse on January 5 activates your love and romances, inspiring you to open up to receiving and giving the love you crave. Think about what you'd like to attract in a relationship. Educated, attractive, compassionate, creative? Your values will be your lighthouse on January 20's eclipse. Identify ideas like loyalty, commitment, and mutuality to find your way back to shore. It'll also supercharge your income. Make it rain, Cancer! Six months later, the most important eclipse is ~in~ Cancer on July 2. Have a ritual that allows you to tell the universe who you want to be, what you want to do, and how you can be of service. This solar eclipse could prove to be one of the most meaningful and receptive days of the entire year. Just two weeks later, the manifestation of your dream love life impacts the night sky on July 16. Soften into the experiences of romance, joy, and partnership with an open heart and a trusting mind. Whatever the outcome, you'll have another opportunity to initiate, deepen, or transition the romance at the solar eclipse on December 26. I can hear the wedding bells now.
LEO
July 23–August 22
Commit to your resolutions with your whole heart, your majesty! On January 5's solar eclipse, you'll want to identify strategies and practices on the micro level so that they will impact the macro. Your royal mind will find the Divine in the details of personal growth and responsibility. January 20's lunar eclipse is the grand finale in a two-year eclipse series affecting Leo. It's a powerful moment, so call in the best parts of yourself that were born of the last two years. Something's coming to a conclusion, so the exciting new opportunities you crave are coming your way! Have you thought about a spiritual practice? The solar eclipse on July 2 is asking you to think about what your heart's path is
—
whether that's more meditation, a yoga practice, or even reconciliation to your childhood religion. The mystical wants to be in your life, so invite it in. You'll see the positive gains of your resolutions on the July 16 lunar eclipse, which will motivate you to take it even farther. You'll be so proud of your commitment and focus to personal development. At the end of the year, the December 26 solar eclipse ends a chapter in this endeavor, so you'll want to graduate to the next level in some way. You're ready to be better than ever every single day.
VIRGO
August 23–September 22
Courage is the decision to tell the story of your whole heart, Virgo. The solar eclipse on January 5 is your moment to walk onto the stage of life and do it. You have something brave, important, creative, and vulnerable to say. Consider it showtime! If you realize you need closure, the lunar eclipse on January 20 is your moment. Identify the low-level beliefs, circumstances, and relationships that hold you back from flying at full wingspan. It's a moment to ask the universe for divine help. Friendships will support your every endeavor this summer. The July 2 eclipse helps you align with your community support sector, and friendships help you lean into courage all year long. Show up for the friends who show up for you. Two weeks later, the lunar eclipse pushes you to show your heart once again—whether that's launching a creative project, sharing your feelings, or confronting your own inner critic. This is not the year for perfectionism or people-pleasing. In the last month, December 26's solar eclipse is a gentle inspection from the universe on your courage, creativity, and confidence practices. Be willing to master current ones, let go of what doesn't work for you, and you'll receive the right confidence practices that help you shine!
LIBRA
September 22–October 22
Happy homecoming, Libra! The solar eclipse on January 5 has you going to the people and places that keep you safe. If you're thinking about a move, family planning, or anything domestically related—this weekend is the time to start designing. You'll be supported by your friends under the January 20 lunar eclipse, so share your ideas with your most trusted confidantes over your favorite bunch and and tell them what you could use their help with. They'd be honored to show up for you. You'll see the effects of this trust and support six months later. When the solar eclipse shines on July 2, you'll want to ask yourself how you can best be of service in your career, since major changes are coming to your professional life. What began in January reaches its manifestation under the lunar eclipse on July 14. If something occurs that's related to what started in the year, trust the Universe is helping. It's an answered prayer. If you need more time or want to elevate your ideas, emotions, and family, then the December 26 solar eclipse is your moment to nail it. Let your emotional intelligence be your guide to the wonderful experiences you deserve.
SCORPIO
October 23–November 21
A wise drag queen once said, "Larger than life is just the right size," Scorpio. It's about to get bigger! The solar eclipse on January 5 wants you to expand your thinking to make way for different opinions and the willingness to grow. You can do it. In your career, perhaps? A charged lunar eclipse on January 20 will promote you to all the professional places you deserve. Make sure you're receiving the opportunities with gratitude and trust. Six months later, you're jet-setting to far corners of the international or intellectual world. If you're feeling the wanderlust or insatiable curiosity, book the ticket or enroll in the program. On July 2's solar eclipse, your brilliance and stamped passport will make everything much, much bigger. Not just your Instagram engagement! Only two weeks later, a lunar eclipse asks you to step it up when it comes to communication. You're more comfortable with action, not words, but integrity needs both, so let straight-talk lead to understanding. After the winter holidays, you want to travel again under the solar eclipse on December 26. If you've worked hard all year, then make it happen. Bon voyage!
SAGITTARIUS
November 22–December 21
Before you can head off into the sunset, let's talk about the terra firma beneath your feet. Lucky Jupiter is in your sign till the end of the year, making this an unforgettable chapter in your life. The solar eclipse on January 5 wants you to find the right values that inform your success. Find your beliefs that keep your heart open and your mind safe. You have the Midas touch, so let's prepare with a little impulse control. Two weeks later, you're struck by wanderlust. Is it time to travel or hit the books? Trust whatever country or campus comes up for you. You're ready to expand and learn what you need to know. When the July 2 solar eclipse electrifies the summer sky, you'll be thinking of intimacy in powerful ways. You want to go deep with a particular someone. Don't kick 'em out of bed in the morning—have them stay for breakfast at least. Two weeks later, it's all about the terra firma again, while you share your existential world with a deserving partner. You can handle the depth! Especially through the end of the year when December 26's eclipse asks you to go even deeper. Your heart craves authenticity.
CAPRICORN
December 22–January 19
The year of transformation starts now. January 5's solar eclipse is in Capricorn, so the entire universe is listening to your intentions, ideas, and practices for personal growth. It can quickly manifest your heart's desire. You'll need to get really real first under the January 20 lunar eclipse. Take conversations and relationships to intimate places, because only through complete honesty between people can growth emerge. Good thing you love getting your hands dirty! The summer of love is yours six months later, when the July 2 solar eclipse helps you invite, deepen, or transition romance as you'd like it. Show current or potential partners your tender, vulnerable side. No more ice-queen or workaholic stereotypes. Two weeks later the manifestation of your resolutions arrives under the lunar eclipse on July 14 in your sign. You'll want to experience all the emotions that arise. From fears of failure to fears of success, make space in your heart for all of it. We conclude the year with how it began: another solar eclipse in Capricorn. So embed the learning of the year under this moon, and tell the universe what exciting new pinnacles you'd like to reach in the new one.
AQUARIUS
January 20–February 18
Surrender can be so sweet, Aquarius. You're not quitting, but releasing an unhealthy attachment to outcome. The solar eclipse on January 5 wants you to surrender all low-level bullshit from your life; beliefs, circumstances, and relationships. Whatever stops you from keeping your heart open and your mind optimistic—let it all go. Love is on the other side under the January 20 lunar eclipse. After you've detoxed, you're brand-new! This will invite, deepen, or transition you into a romance you crave. Six months later, a spiritual summer begins. Thanks to the solar eclipse on July 2, you'll find the divine in the details. Is it time to start a consistent activity that strengthens mental, emotional, and behavioral health? The universe says yes! Especially since the July 14 lunar eclipse invites in a more mystical side to your life. You're far more intuitive than the internet gives you credit for. Invite those gifts in, and show us what you can do; they'll be a tremendous source of inspiration for you towards the end of the year under the December 26 solar eclipse. If it doesn't give you peace, let it go. Whatever's magnetized to you in its absence will give you joy and love every single time.
PISCES
February 20–March 20
"Make it last forever / Friendship never ends!" This year you'll be supported by friendships that'll last forever. The January 5 solar eclipse invites you to inspect your role in what it means to be a friend. Go deep with them, and you'll flex your emotional muscles for just about everything. Two weeks later, it's time to stop rescuing everyone else and monitor your own personal growth. The lunar eclipse on January 14 wants you to commit to a consistent routine in the micro that helps you see major shifts in your macro. In other words, your life works when you work at making your life work. Six months later you'll be braver than ever. The solar eclipse on July 2 asks you to share the story and/or creativity within your heart to the world. I know that's a scary thought for the introverted mermaid, but just speak your feelings and contribute your work before you're ready. Yes, it'll be vulnerable, but you can't be courageous and comfortable. Only two weeks later, a lunar eclipse on July 14 helps you feel embraced by your friendships. You're embarking on a brave adventure, so you'll need the support of your loved ones to keep it up. This will give you the foundation to ask yourself, "How can I be of service like the friends who help me?" A solar eclipse on December 26 is listening carefully to your intentions on activism, community organizing, and being—your favorite thing—profound help to others.
Want more stories like this?
The Best Sex Toy for Your Zodiac Sign
Your Dream Wedding Dress According to Your Zodiac Sign
This Astrologer Will Make You Rethink the Way You Think About Your Zodiac Sign