WWWRN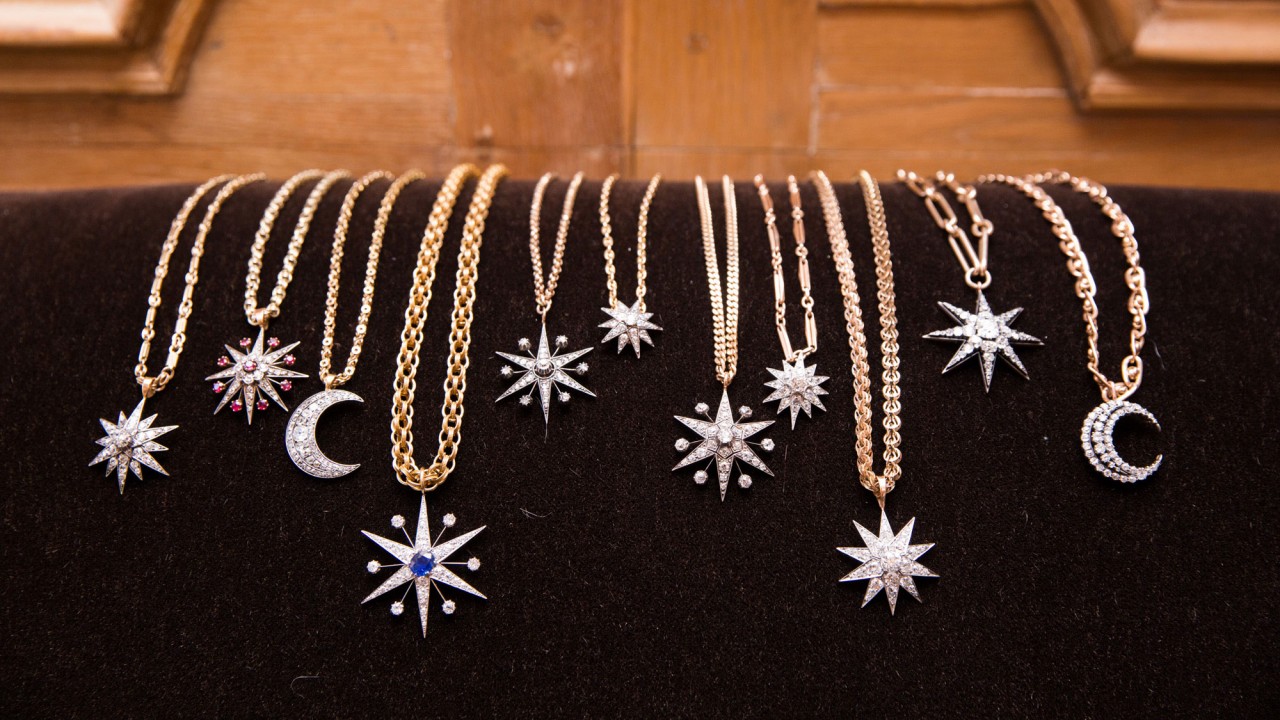 The Best Zodiac Jewelry to Buy Based on Your Sign
Your next jewelry purchase, as told by astrology.
I'm a Pisces, which, I've been told, means...a lot of things. I'm "empathetic," "creative," and "intuitive," with a strong connection to "water and fish." And while I do find that those adjectives accurately describe me—I'm also a pescatarian, which could either mean I love or hate fish, depending on how you look at it—overall, horoscopes and astrology don't particularly resonate. But something that has always resonated with me? Fashion, and shopping, and shiny, pretty jewelry. I've recently been seeing a lot more zodiac pieces I want to add to my collection, thus inspiring me to get in touch with my own personal star sign.
Whether you're panicking over the fact that mercury is currently in retrograde (like everyone I know) or have no idea what a rising sign is (like me), ahead are 12 really great pieces of zodiac jewelry that are sorted by sign by an amateaur clairvoyant (myself). *Plus* almost every option comes in all 12 signs, so no matter how you feel (or how I did), you're certain to find something that resonates and is perfectly ethereal and shiny. It's basically a horoscope we can all get behind.
Retrouvai Wisdom Pendant, $3,910
Since Aries are independent, they're more likely to opt for a non-zodiac alternative to a zodiac necklace, much like this equally otherworldly wisdom pendant.
The Last Line Diamond Coin Zodiac Ring, $998
Those who fall under Taurus love to fight for what they want—especially if it involves diamonds. Considering they also enjoy excess, a diamond coin ring feels like the perfect fit.
Me & Ro Gold Large Gemini Astrology Pendant, $2,875
Geminis are talkers and into socializing, so you probably wouldn't mind wearing a very large pendant that's on display and in plain sight. It'll be a welcome conversation starter!
Mejuri Zodiac Ring, $69
Cancers aren't known for being predictable—they love to keep people guessing. You're more likely than friends to constantly switch up your jewelry game, which is why this ring will be the perfect addition to your stack, and easy to take off when you just aren't feeling it.
Maje Leo Zodiac Sign Necklace, $75
Leos are loyal and devoted, and at the same time want to be admired and loved. You'll go all out on repping your sign with this decorative pendant, which puts Leos front and center with a large lion engraving and red Swarovski crystals.
CVC Stone Libra Necklace, $3,150
Libras of the world (err, universe?) especially appreciate fine jewelry, because they have expensive taste. And if you were to splurge on any necklace, it really should one by CVC Stone, because they are just so GOOD.
Carolina Bucci Sagittarius Lucky Zodiac Bracelet, $3,209
Sagittariuses like to take risks and can be a little reckless at times—especially with jewelry. It's probably best to go with a piece that can be tied tightly around the wrist to avoid losing it when spontaneity and adventure hit.
Jennifer Fischer Capricorn Charm, $250
Capricorns like to be in control and are also very active minds, so this Jennifer Fischer charm leaves the choice on where to accessorize up to you.
The M Jewelers The Little Zodiac Necklace, $54
Some people might say wearing a name plate of your zodiac sign is a bit too much, but luckily, Aquariuses don't care what people think about them! They'll wear what they want.
Part of the series:
WWWRN