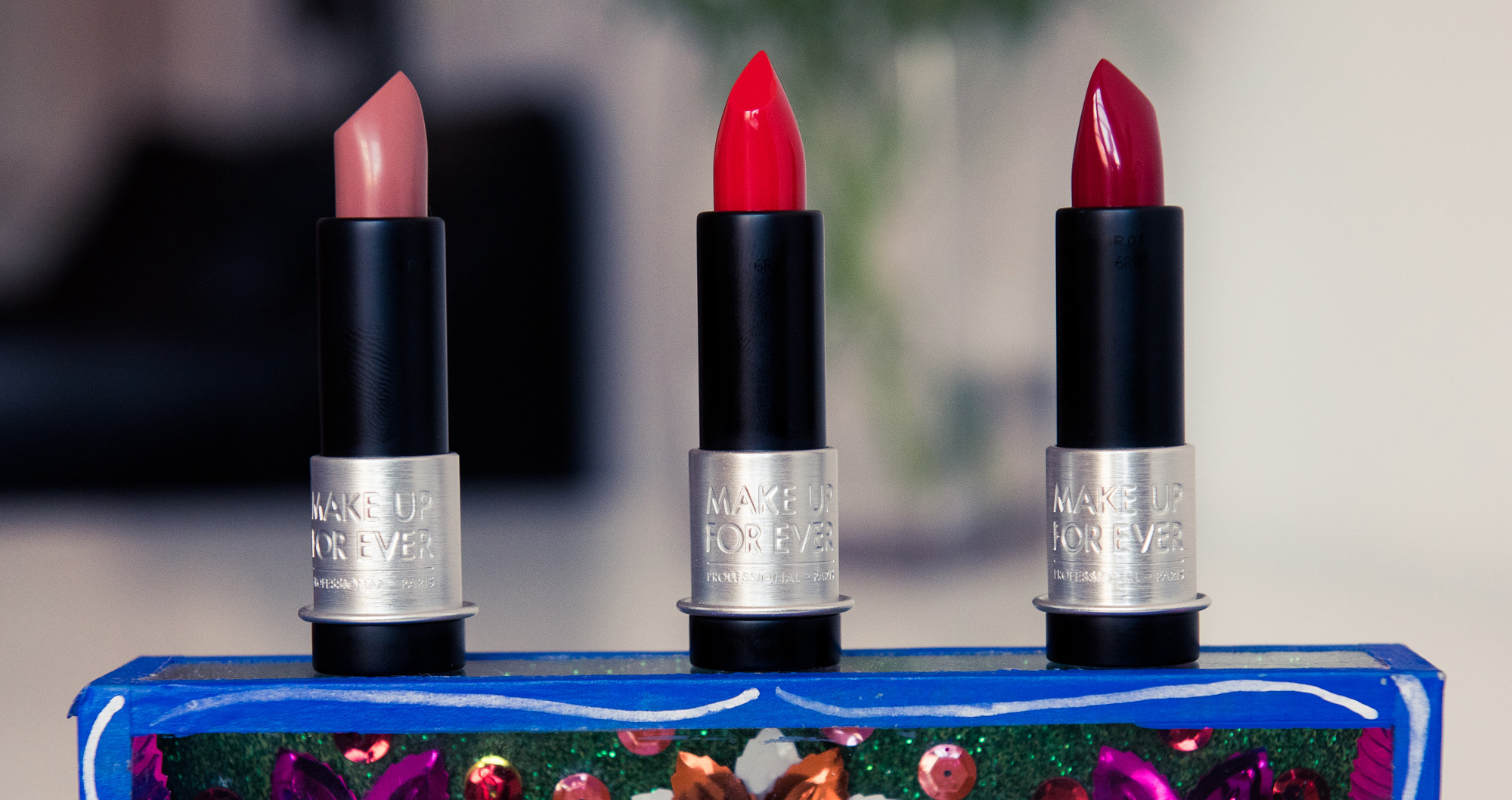 The Lipstick Shade You Need in Your Life, According to Your Zodiac Sign
Mercury is in retrograde right now. Do you really want to mess with the stars? In collaboration with Make Up For Ever.
If you're reading this, chances are you've seriously related to your horoscope at least once in your life. So why not apply it to your lipstick? With fall around the corner and buying new beauty things being an excellent way to distract yourself from that, we asked our resident astrologer, Amelia Quint, to help us choose new shades of lipstick based on our signs. Here's what she had to say.
Can we all agree that there's something about fall that makes you want to change your look? Maybe it's the cooler weather, but as soon as our calendars turn over to September, we're struck with an irresistible urge to freshen up our aesthetic.
September is Virgo season, when the cosmos help everyone get in touch with their inner editor. This is a brilliant time to refine your style, especially by adding details that pack a punch. Virgo is unfussy and doesn't dig heavy statement accessories, but that's only because she knows there's a better alternative: a great lipstick. From dramatic red to midnight blue, here are the best shades for fall, based on your astrology.
Extra credit: Read for your sun, rising, and Venus signs. Hey, an excuse for more lipstick never hurt anyone!
Make Up For Ever Artist Rouge Lipstick in C403 Vermilion Red, C304 Orange, and M300 Red Orange.
Everyone knows that Aries's lucky color is red, but that's been done. As the first sign of the zodiac, you're here to start trends, not follow them. For an unexpected take on your calling card, spice things up with orange, red orange, or vermilion red. You're a fire sign, and you look best in fiery shades. Stick to yellow-based reds for best results.
Make Up For Ever Artist Rouge Lipstick in C302 Beige Coral, C108 Hazel Beige, and M102 Pink Brown.
Your sensual pout is already famous for its alluring, siren-like properties. As such, it needs very little augmentation. Instead, stick to an earthy pink hue that evokes your earth-sign nature. A toned-down coral or a warmed-up beige are also great candidates. Your goal? Your lipstick should look like your lips, only better.
Make Up For Ever Artist Rouge Lipstick in M201 Blue Pink, M301 Poppy Orange, and C208 Magenta Pink.
The dual nature of the Gemini aesthetic is difficult to boil down in one descriptor, but suffice it to say it's eclectic, picking up bits and pieces of inspiration wherever they find it. Eye-catching neons appeal to your magpie sensibilities. You look radiant in curious choices, like shimmering blue-pink, poppy, or magenta.
Make Up For Ever Artist Rouge Lipstick in C106 Pink Beige, C210 Petal Pink, and C302 Beige Coral.
There's no sign that can pull off Rose Quartz (Pantone's 2016 Color of the Year) quite like you do, Cancer. It's comfortable, inviting, and warm—just like your aura. Bring the same vibe into your lipstick with petal pink and pink beige. For a brighter option, try a beige coral. Your lips will look as pillowy soft as Liv Tyler's in no time.
Make Up For Ever Artist Rouge Lipstick in C405 Stage Red, M501 Plum Violet, and C207 Fuchsia Pink.
As the performer of the zodiac, you need a lipstick that's as dramatic as you are. You can't go wrong with a proper blue red, but what if you want other options? A plum violet or fuchsia can help you venture into darker territory without losing your glamorous roots. Remember, you're ruled by the sun, so anything too dark could kill your vibe.
Make Up For Ever Artist Rouge Lipstick in C107 Mocha Beige, C104 Praline Beige, and M101 Caramel Beige.
You're nothing if not polished, and nothing says elegant like the perfectly matched nude. Pick your flavor: mocha, praline, caramel—whatever you decide, make sure it's flawlessly applied and makes your skin glow. Here's an idea: Try out fall's color-coordinating trend with your lipstick! Camel coat, bag, and lips, anyone?
Make Up For Ever Artist Rouge Lipstick in C211 Rose Wood, C404 Passion Red, and C303 Orange Coral.
You're associated with beauty itself, so there's really no color that will look terrible on you. That said, Libras have a knack for harmony and know exactly how to balance a situation—yes, even with the right lipstick. A few options include: a faithful brick rose, a passionate red, or a graceful coral.
Make Up For Ever Artist Rouge Lipstick in C407 Black Red, C506 Dark Purple, and C604 Black.
Scorpio is the sign of taboos, secrets, and shadows—how spooky! You have a reputation for intensity, and your lipstick should follow suit. A blackened red would magnetize your look, as would a dark purple. If you're feeling adventurous, go all in and rock black lipstick. If anyone can pull it off, it's you.
Make Up For Ever Artist Rouge Lipstick in C406 Brown Red, M500 Wine Violet, and M402 Brick Red.
Here's a great rule for Sagittarius beauty: If it reminds you of something you saw or experienced while traveling, it's good. Well-traveled Sagittarians have a rich palette of brick reds and wine violets from which to draw inspiration. Think of exotic spices, rich vineyards, and the thick red sauces of Italy.
Make Up For Ever Artist Rouge Lipstick in C105 Grege Beige, M401 Hot Red by Icona Pop, and C407 Black Red.
More than likely, you already have a beauty routine you adhere to with religious fervor; however, there's something to be said for trying something new every now and then! A surprising yet businesslike greige is the perfect Capricorn tone for fall. Need to dress it up? A classic red or a blackened red take you from day into evening.
Make Up For Ever Artist Rouge Lipstick in C603 Midnight Blue by Icona Pop, M202 Candy Pink, and C502 Taupe Violet.
If you're a futuristic Aquarius, you probably couldn't care less about the bourgeois seasonal changes everyone else is so hyped about. That said, any chance to experiment with a new, weird lipstick color is one you're happy to take. You make midnight blue and taupe violet look like the new red. For everyday, try candy pink.
Make Up For Ever Artist Rouge Lipstick in C502 Taupe Violet, C503 Mauve Violet, and M501 Plum Violet.
Pisces, your style is as muted and mysterious as you are. You're a poet and a dreamer, so the colors you choose should be gentle, soft, and subtle. As a water sign, you stand out in cool violets. Choose watercolor-inspired shades of mauve, plum, and taupe to complement your ethereal demeanor.