Zendaya's Copper Hair Is the Subtle Color Refresh To Try This Spring
Plus, six steps to recreate her Oscars bun—straight from her stylist.
Beauty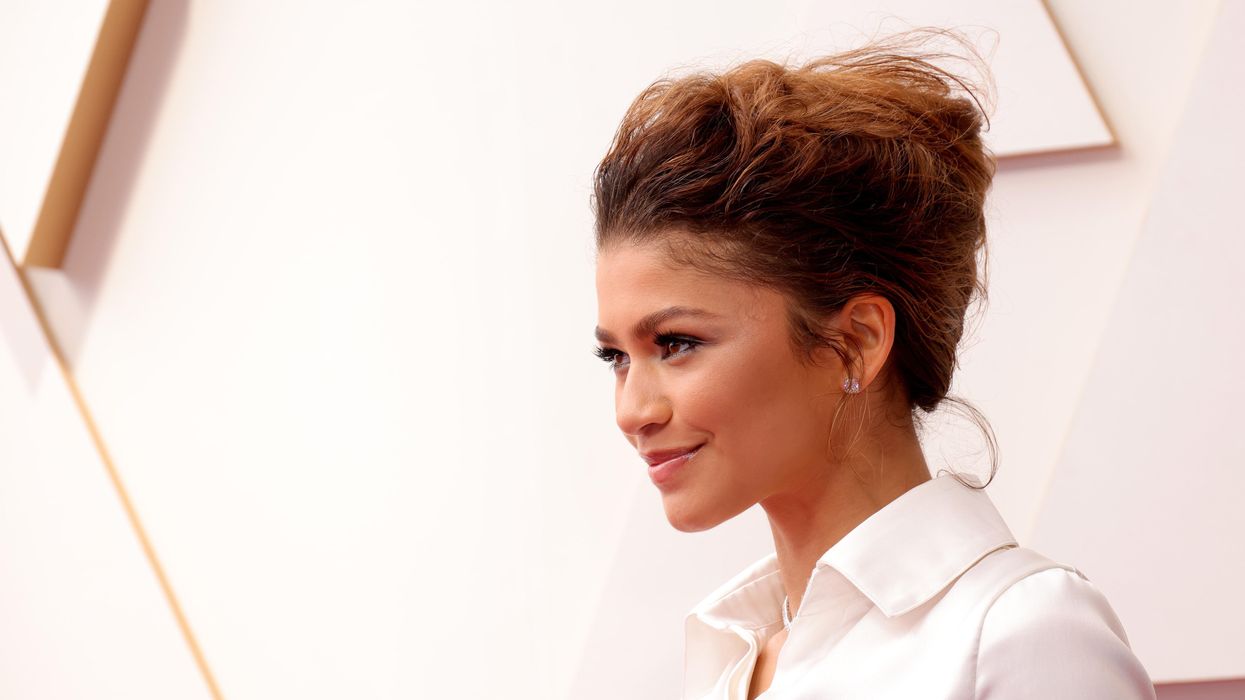 Photo by Momodu Mansaray/Getty Images
Notice anything different? As the stars descended on the Dolby Theatre for this year's Oscars, we found it hard to look away from Zendaya. Yes, there are the typical reasons, like yet another genius style moment in Valentino Haute Couture, her incredible bone structure as per usual and her poised presence on the carpet. But there was something new about her look that caught our eye: She had lightened her signature brunette hair.
She showcased the new color with a teased updo by celebrity stylist Antoinette Hill, where her deeper roots graduated into a honey-toned strawberry blonde-copper hybrid. "For Zendaya's Oscars look, we decided to go with this soft up-sweep because we felt it's very glamorous and Hollywood-esque," Hill shared in a release. "It also accentuates Zendaya's beautiful features."
We first got a glimpse of the new shade on her Instagram story earlier this month, days after the Euphoria finale aired. At the time it was unclear if they were honey blonde highlights or a full-on dye, but now she's evidently in her copper ombré era. And she's not the only Euphoria castmate to part ways with her signature hue for the color of the season: Sydney Sweeney also debuted her newly dyed copper hair earlier this month and Barbie Ferreira first shared her fiery foray into red hair last year.
Photo: Kevin Mazur/Getty Images
The change appeared less dramatic on Zendaya, and for those who want a color refresh without veering too far out of their comfort zone, following Zendaya's lead will serve you well this spring. The magic of this color is in its subtlety. For a signature brunette, it's a blink-and-you'll-miss-it color swap to mark the change of seasons.
To get the look, Hill color-matched Zendaya's Hidden Crown Original Clip Ins to her new copper-y ends. To prep the extensions, she reached for Joico's Defy Damage Pro Series 1 "for bond strengthening and protection," she says. "I then created dimension using Joico's Blonde Life Powder Lightener and used two Joico LumiShine Demi Liquid color formulas to achieve the perfect shade."
Photo: Momodu Mansaray/Getty Images
To create Zendaya's bun, Hill spritzed her roots with TRESemmé's One Step Volume Mist while drying and styling her strands with the T3 AireBrush Duo on the medium setting with the round brush attachment—this gave the bun its voluminous finish.
"I applied TRESemmé Keratin Shine Serum from roots to ends for added smoothness and shine," she says, "then attached three 18-inch Hidden Crown Original Clip Ins to the back of the hair for added fullness." Since they have four wefts, the clip-ins created a finish that was full of volume but kept bulk at bay.
To finish off the look, Hill says she "pinched out tendrils around the perimeter of the hair for added softness and sprayed TRESemmé Total Volume Hair Spray throughout to achieve an all-day hold while still maintaining lift and volume."
In the decade since Zendaya first danced onto our screens, she's seldom switched it up on the hair front, save a few short-lived stints with auburn hair—really leaning into the M.J. Watson of it all—first for Joan of Arc cosplay at the Met Gala in 2018, then for the Spider-Man: Far From Home press tour in 2019, then on Instagram at the end of last year, when she shared a snap of an auburn lob, saying it was "It was time for a change."
It's unclear whether or not this hair change was triggered by her role in Luca Guadagnino's upcoming tennis-themed romantic drama Challengers or if it's something we'll be seeing in Euphoria's third season (unlikely, but we can dream). Regardless, we'll be keeping tabs on her new subtly fiery hue (and sharing photos with our stylists).
Shop the Look
Joico
Joico
TREsemme
TREsemme
TREsemme