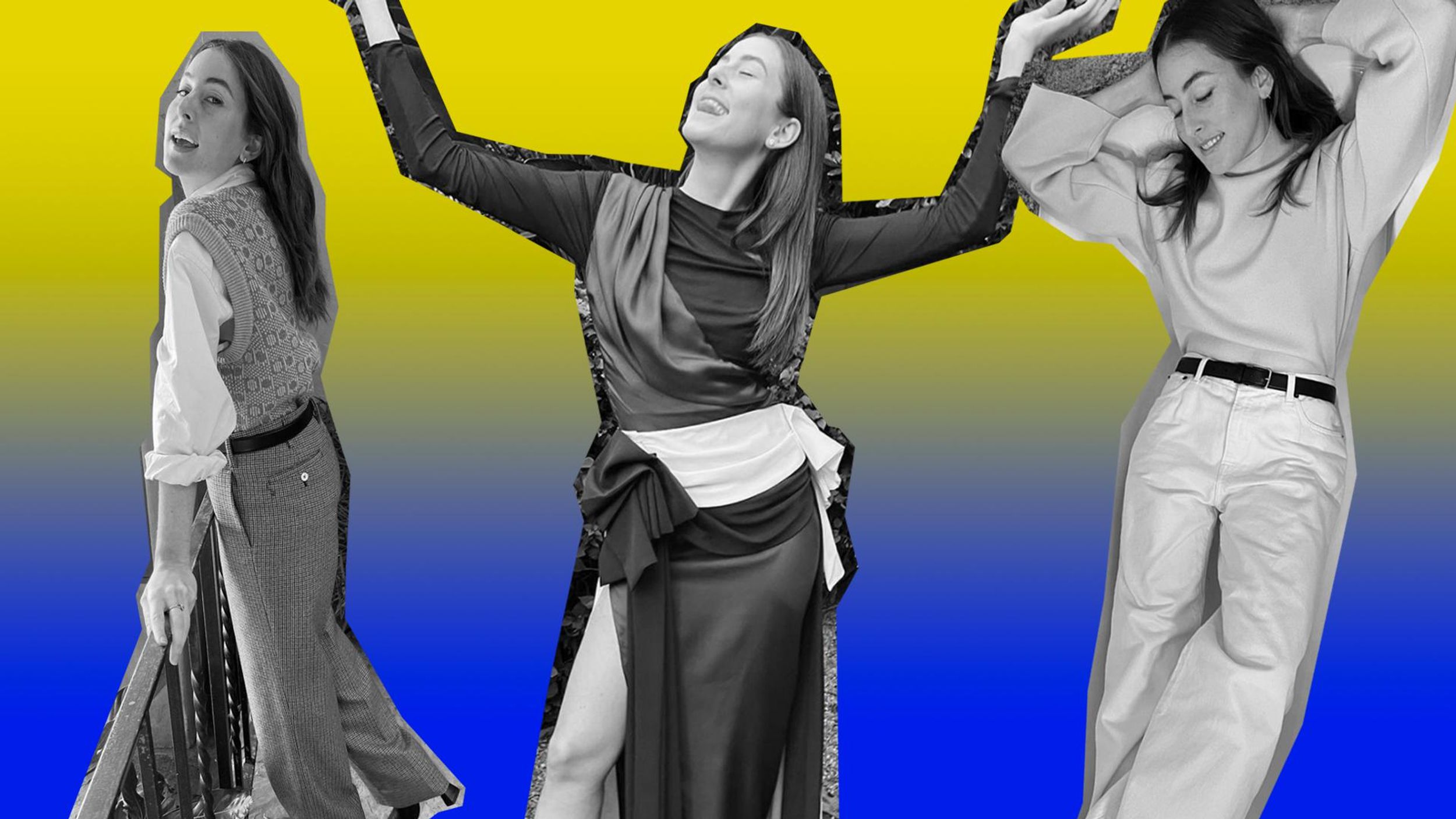 Celebrity
Alana Haim reflects on Licorice Pizza, personal style, and fashion's role in her career.
Amidst a sea of silk, taffeta, tulle, and ostrich feathers at the 2021 Brit awards strode three women clad in coordinating looks of pressed trousers, slouchy sweater vests, and crispy white shirts. The Haim sisters—Este, Danielle, and Alana—selected tailored looks from The Row's Spring '21 collection for their red carpet appearance. "The Brits is like the Grammys of the UK. So everyone was wearing gowns, like gowns," explains Alana, who donned the aforementioned sweater vest. "Don't get me wrong, I love a gown but we're a rock band. We're tough."
"It felt like a fairytale even though we weren't wearing a blue Cinderella gown with glass slippers, we were wearing the most amazing suits and we all looked fucking badass." That night, they looked and felt like themselves.
The three sisters explored how to look like rock stars on the red carpet—a contradictory notion—many times before. At the 2021 Grammys, they gave us mod rocker energy as a periwinkle blue triptych, courtesy of Prada. The triple-emphasis on one fashion idea not only packs thrice the punch visually, but it also dilutes the risk. Now, in tandem with her highly-praised acting debut in Paul Thomas Anderson's Licorice Pizza, youngest sister Alana has hit the press junket alone, sans her "wolf pack," for the first time. Or at least that's what it looks like.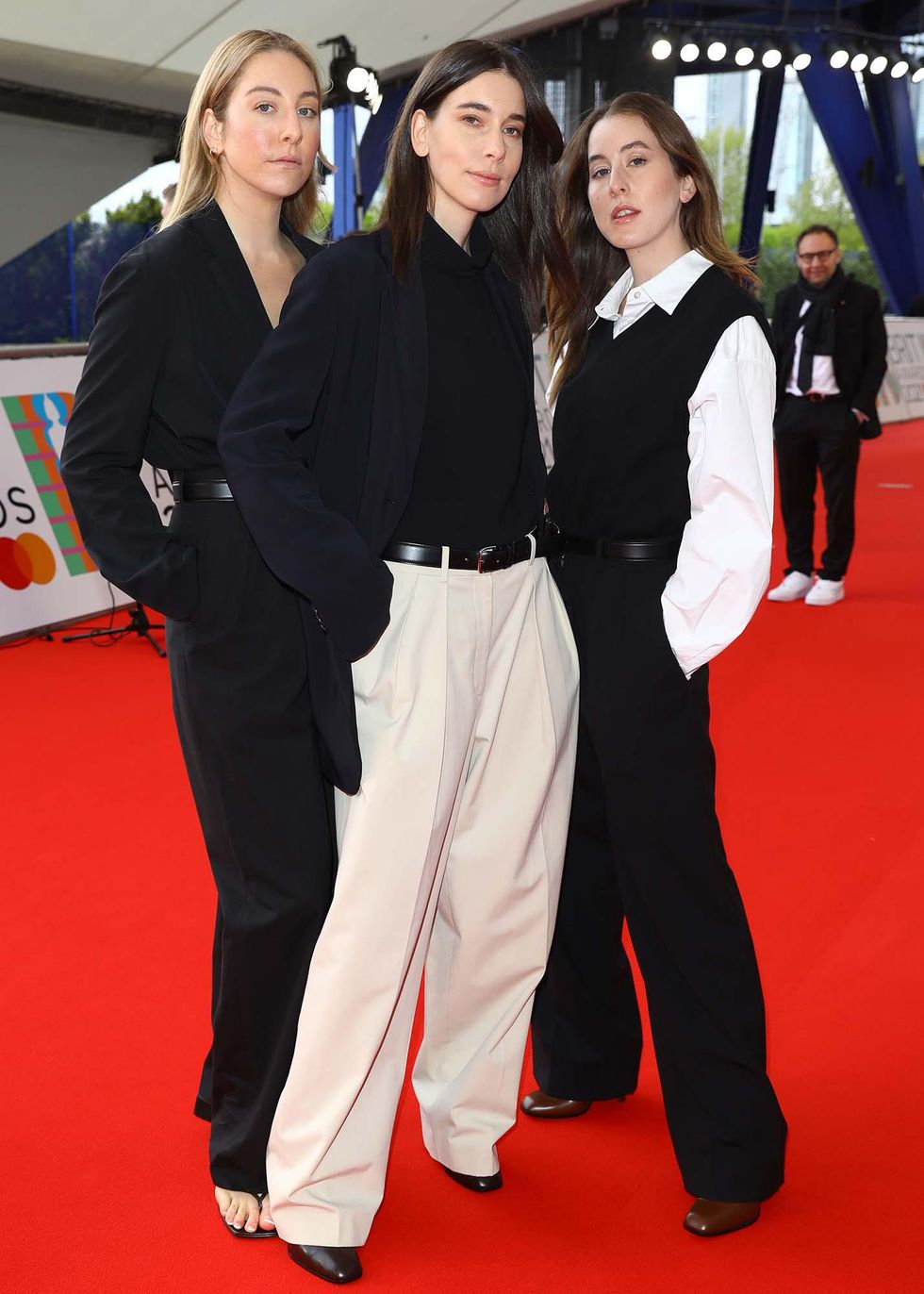 Photo: JMEnternational/Getty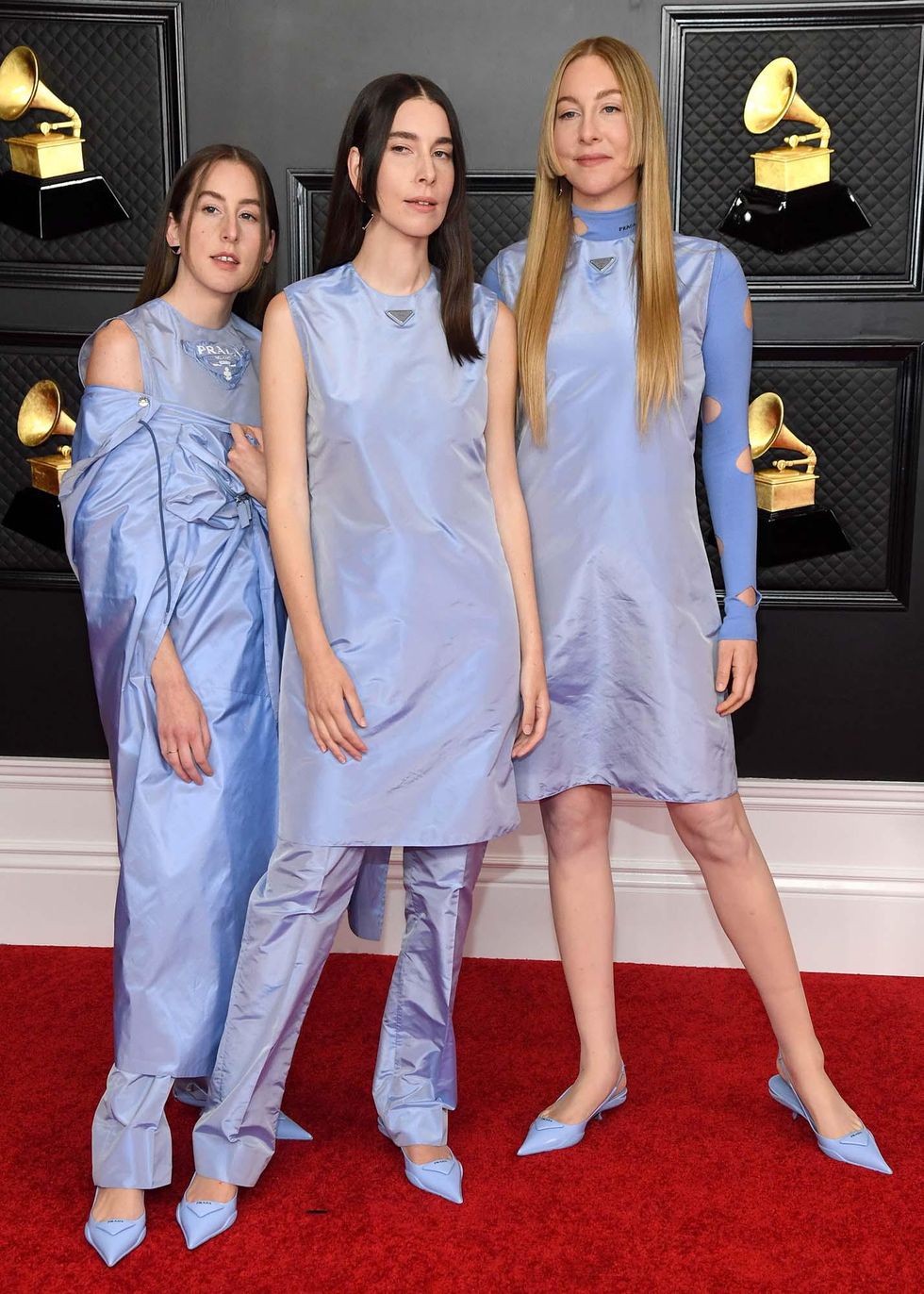 Photo: Kevin Mazur/Getty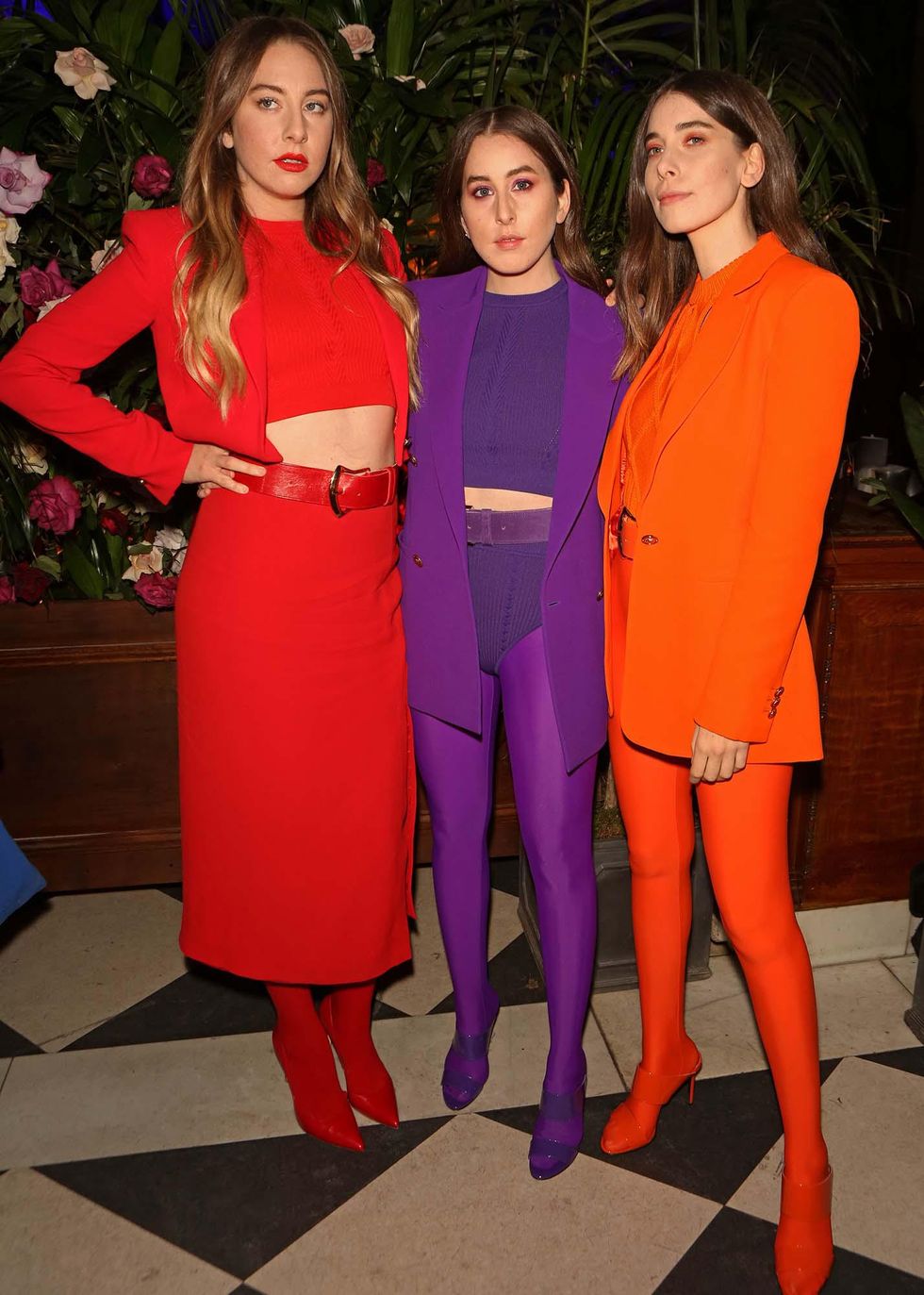 Photo: David M. Benett/Getty
Behind the scenes, her sisters have remained with her both on- and off-screen—they have supporting roles as Alana's family in the film) and they have been particularly involved in her fashion choices. Alana has two stylists: Rebecca Grice and Danielle Haim. The latter is who turned her onto The Row. "She has always had such a crazy eye for fashion," says Alana. "Even though sometimes I'll love something, she'll be like [whispers] 'Trust me.' And I do. I trust her."
Alana cast her fashion net wide for the Licorice Pizza press junket. For the premiere, she wore a piece-y Loewe number, draped in oceanic hues. She has worn A.W.A.K.E. Mode, Marni, Ottolinger, brands often overshadowed by behemoth labels that court young Hollywood ingenues as ambassadors. And they all helped the star to feel like herself as she hopped from late night talk show to zoom press conference.
She experienced a similar feeling of transformation moving into her eponymous character Alana Kane, whom Anderson fashioned after her. The costumes, which she describes as "outrageously perfect," depict the youth of the San Fernando Valley in the 1970's and range from a paisley two-piece set to a microfloral mini shirtdress, a progression that ebbs and flows with Kane's storyline.
In one of her first fittings, Alana recalls her introduction to legendary costume designer Mark Bridges, who frequently works with Anderson. "I was so incredibly nervous to meet him and I'll never forget one of the first things he said. I put on the purple bell bottoms and the white shirt that says You've come a long way baby, and he was like, 'This is your era.'" Her fandom of the '70s bleeds into all facets, she explains, noting its heavy influence on early HAIM songs. The comment on the aesthetic alignment gave her the necessary confidence boost to tackle the looming project.
"It felt like a fairytale even though we weren't wearing a blue Cinderella gown with glass slippers, we were wearing the most amazing suits and we all looked fucking badass."
Alana, the real person, did everything she could to physically get into character. She did her own hair and makeup to better set the scene—"not because I thought I was better at it," she clarifies. At 5 a.m., the budding thespian set her hair in rollers. She purchased a '70s-era Samsonite travel case—"it looked like a kaboodle"—which she filled with makeup items reminiscent of the era like Maybelline Great Lash mascara. Apart from the costumes themselves, which the team did not allow her access to until arrival, "I would show up everyday on set pretty much already being Alana Kane."

A few of her costumes did some of the work for her. One poof-sleeved red dress with an inordinately feminine collar serves as what she calls "a walking punchline" when her character attempts a grown-up audition. In another scene, Alana wears a bikini theoretically made for a character much bustier than herself. As the chaotic scene unravels, so does the stuffing in her top (a mishap they decided to leave in the final cut), striking a chord of relatability in any girl who has ever purchased a push-up bra. "My parents would have never let me buy a Victoria's Secret push-up bra," adds Alana, "and that was my dream, like my dream." (Stars. They're just like us.)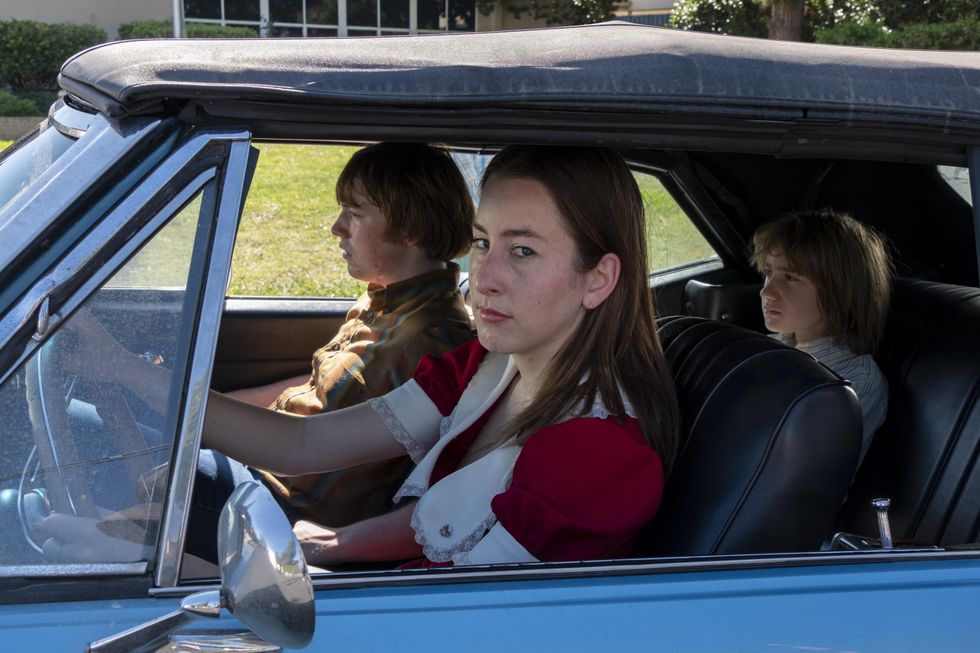 Photo: Melinda Sue Gordon
Though she recently celebrated her 30th birthday, the musician-slash-actress loves to reiterate how much she still feels like that A-cup-ridden 7th grader searching for padded help. "Let me tell you, you do not want to see what the fuck I was wearing when I was in 7th grade," she laughs. "It was not cute, like not cute." Her mother dubbed shaving off limits—legs and underarms—presenting an obstacle between the San Fernando Valley weather and her middle school sartorial choices. "It's a million degrees outside and I'm getting made fun of for Rapunzel legs." Though this topic definitely sidetracks our conversation, Alana notes that she feels for anyone who was also plagued by the awkward stage. And for those who managed to avoid it? "I don't know how. That's just too cool."
Ironically, the sisters are now lauded for their cool factor, something they spent years honing. "Growing up, my parents never really gave us money to buy clothes so we were a full hand-me-down family." They used to frequent the infamous $1 Sale in Los Angeles in order to recreate looks that Danielle had bookmarked on Vogue.com. Alana notes their timely inclination towards Phoebe-Philo-era Chloe dresses which they attempted to emulate through a little DIY action. "In our minds, we looked amazing. In photos? Dude, gnarly."
Fast forward to 2018, and they are collaborating with the real Chloe under the helm of Natacha Ramsay Levi for Coachella. "Talk about putting on armor,'' she recounts of her bohemian blouse and metallic shorts, "that was the whole philosophy; we were putting on armor because we're going to battle."
During a tour, pajamas are the reality when she's not onstage. "Tour is so exhausting. You wake up. You try to find food. You sound check. You play. You're exhausted. You shower. You sleep. It's a never-ending groundhog's day just in a different city. So being onstage and putting on these clothes, it really does make you feel so confident."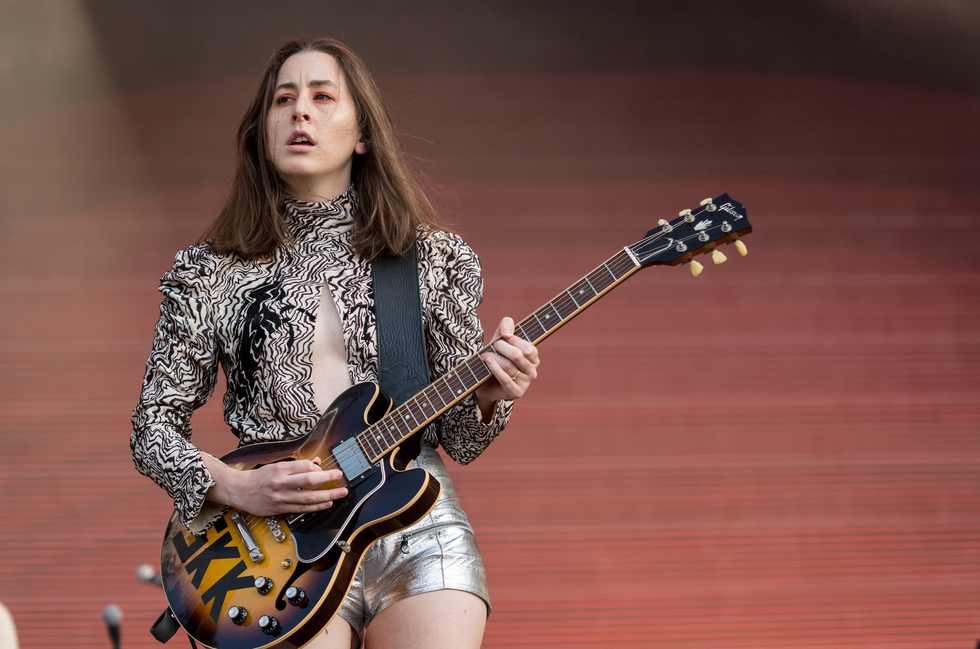 Photo: Getty
Despite sartorial accolades with brands like Chloe and Rodarte (HAIM attended the 2016 Met Gala as guests of the Mulleavy sisters), high profile designers weren't always part of the equation. "For [our first tour] Days Are Gone, we were really just flying by the seat of our pants," sifting through thrift stores to piece together outfits. Alana wore the same pair of denim shorts throughout the entire tour, which ironically served as a sort of marker for that moment in time, disappearing after the last show to bookend the experience. "It was like they came into my life at a certain time, and then when that chapter of my life was over, they were like, 'You don't need me anymore. Go on. You don't need me. Prosper.'"
For their second stint on the road, the Haim sisters worked with their stylist to conceptualize a vibe. "We really wanted things that could reflect light because our set had mirrors on it, everything was reflecting light." They settled on fake PVC leather pants. They looked fantastic, but the reality of a tour means each night you're sweating in a pair of pants you cannot wash. "We had to wash them with vodka," she grimaces, noting how they would spray down the pants each night like a theater company cleans their costumes. They even went so far as to freeze them in order to disinfect the materials.
Wardrobe malfunctions are commonplace. "Este's top has ripped open. My pants have split down the center. " Alana says the costumes for their next tour, One More HAIM will be more low-key. "No more smelly pants." And according to her, figuring out the vibe of the tour is "the most exciting part."
"Tour is so exhausting. You wake up. You try to find food. You sound check. You play. You're exhausted. You shower. You sleep. It's a never-ending groundhog's day just in a different city. So being onstage and putting on these clothes, it really does make you feel so confident."
When she's not clad in The Row or PVC leather pants, Alana can be found in jeans—she is currently living in a pair of men's pants from Our Legacy—vintage tees, sunglasses, and boots. Her wardrobe is collected rather than accumulated. Par exemple, their tour bus once broke down in Kansas—a cliche of sorts. "I had never been to Kansas. I have no idea what to do there. There was one main street in this town and one huge vintage store. I don't know if it was because I was in Kansas or people didn't know what they had, but I found a Hell Freezes Over tour original Eagles vintage t-shirt."
With her first major paycheck, 20 year-old Alana bought a Givenchy bag, a material symbol of her progression. "I was like I'm going to buy one thing that's super expensive that I'd never in my wildest dreams thought that I could afford and then I'm never going to spend money ever again." Ablaze with confidence, Haim strode into the New York City Barney's (she's pretty sure that's where it was) only to have her card declined. The credit card company suspected fraud because she "had never spent anything more than like $10 on something and my card was like whoa, whoa, whoa. I remember being so embarrassed."
Ten years later, Alana wears The Row, one of the hardest fashion brands to gain access to, yet again on the red carpet—the white-on-white look that sparked a million instagram posts back in 2021. "I was so stoked that they thought that I was cool enough. I was like, 'Me? Why me? I'm just a dork.' For the first time in my life, I thought that I was cool." With a resume that includes a role in an Oscar-nominated film, three records, and multiple world tours, I'd say the rest of the world thinks so, too.