Photo: Chris Pizzello-Pool/Getty
Fashion
You already know Gwyneth's pink dress made the list.
The Academy Awards are this weekend, but as someone who saw all of two new movies this year—The French Dispatch and The Batman—I will likely be tuning into Instagram on Sunday night versus the show itself. I look forward to engaging in my favorite activity: ruthlessly critiquing looks that are no doubt the product of months of preparation and hundreds of hours of manpower while eating Chex Mix on my couch in my stained alma mater merch. Aside from a few moments of triumph (Parasite winning) and outrage (Get Out losing), my feelings on the fashion have always been far stronger than for the awards—since the first time I saw a Best and Worst Dressed collage in People magazine. Here, for a fun bit of red carpet nostalgia, Coveteur staffers recall their all-time favorite looks, from Gwyneth Paltrow's pink Ralph Lauren number to the look that solidified Zendaya as a certified fashion "it" girl.
Jess Teves, Editor-in-Chief
Gwyneth Paltrow in Ralph Lauren, 1999

Photo: Kevin Mazur Archive/WireImage/ Getty
I love every last detail of this look. From the bubblegum-pink taffeta gown with simple spaghetti straps and a v-neckline to the Harry Winston choker (that GP's dad later bought her as a gift!) to the pared-back makeup and hair, it's timeless perfection through and through.
Lupita Nyong'o in Prada, 2014
Photo: Axelle/Bauer-Griffin/FilmMagic/ Getty
The powder blue, custom Prada gown Nyong'o wore to the 2014 Oscars was the stuff of fashion dreams—she literally looked like an angel floating over the carpet that evening.
Zendaya in Valentino, 2021
Photo: Chris Pizzello-Pool/Getty
I love fashion nostalgia, so Law Roach's tribute to Cher had me at "hello." Beyond the otherworldly electric-yellow Valentino gown, the flowing natural hair and barely there makeup brought balance and youthfulness to a moment the world will not soon forget.
Celine Dion in Dior, 1999
Photo: Jim Smeal/Ron Galella Collection/ Getty
I know this ensemble caused quite the stir when gowns and dresses dominated the red carpet, but come on. The giant fedora, the studded sunglasses, and the obvious backward tuxedo. Statements were made…literally. I came across this look a few years back, and my love for monotone dressing just soared. Is this the power of love?
Lady Gaga in Alexander McQueen, 2019
Photo: Frazer Harrison/Getty
The black leather gloves, strapless McQueen dress, and who can forget the 128-carat Tiffany diamond hanging on her neck? I first considered the ensemble to be simple and elegant for Gaga, but then I learned about the $30 million price tag for the diamond and quickly reassessed.
Gemma Chan in Valentino, 2019 Oscars
Photo: Steve Granitz/WireImage/ Getty
This wins by a landslide, for me at least. Chan looks elegantly beautiful, the entire silhouette is absolutely stunning. And the biggest reason why this is so high up my list is simple, it has pockets!
Cher in Bob Mackie, 1988
Photo: John Barr/Liaison/ Getty
I mean…talk about iconic. The beading, the earrings, her hair, the tasseled shawl—all scream ultimate glam goddess. Bonus points awarded for Cher's win for Moonstruck which, like this look, is an all-time favorite for me.
Laura Harrier in Louis Vuitton, 2019
Photo:Steve Granitz/WireImage/ Getty
I just love everything about this dress, from the baby blue color to the belt to the delicate beadwork. Not to mention it was made sustainably, with Harrier attending as a representative for Red Carpet Green Dress.
Saoirse Ronan in Gucci, 2020
Photo:Amy Sussman/Getty
Love a lilac moment (and the coordinated eyeshadow), and the shape of this gown is gorgeous. The playful ruffles make it such a standout—I'm fairly certain I gasped in delight when I first saw this.
Jennifer Lawrence in Calvin Klein, 2011
Photo:Alberto E. Rodriguez/WireImage/Getty
I remember exactly where I was when I saw Jennifer Lawrence stroll down her first Oscars red carpet. It was a moment, not because I was excited about her Best Actress nom for Winter's Bone (sorry, still haven't seen it) but because it was impossible to look away from this Calvin Klein gown. It was so simple, sophisticated, and slinky—a counterpoint to the Oscars red carpet's signature sea of maximalist, sequin-covered looks.
LaKeith Stanfield in Saint Laurent, 2021
Photo: Alberto Pezzali-Pool/Getty
In my opinion, style-wise, LaKeith Stanfield always gets it right. And when he opted for a '70s-style Saint Laurent jumpsuit at last year's awards, it was a risk that paid off. He walked the Oscars red carpet in a jumpsuit, y'all. It was just too good. It's kind of like if Tony from Saturday Night Fever read Opulent Tips and browsed on SSENSE in his free time. The look was inspired by Saint Laurent's spring womenswear collection and styled with a pointy collared shirt and a chunky gold chain. All that was missing was dangling chest hair.
Angela Bassett in Alberta Ferretti, 2021
Photo:Chris Pizzello-Pool/Getty
The fact that Angela Bassett doesn't have an Oscar doesn't sit well with me. But this look does. She attended last year's ceremony in an off-the-shoulder, puff-sleeved Alberta Ferretti gown, complete with a thigh-high slit and a bow at the back that trailed off into a train. She looked like a gift because she is one—take note, Academy!
Maraya Fisher, Fashion Fellow
Kiera Knightley in Vera Wang, 2006
Photo: KMazur/WireImage/ Getty
Picture this: You're in middle school, Pirates of the Caribbean is the biggest franchise on Earth, and your Neopets are wasting away, but the dial-up on your family computer only allows you to be online for a half-hour at a time. You're at your local drugstore with your mom and see this look in every magazine you quickly flip through while in line. It's the most stunning thing you've ever seen.
Uma Thurman in Versace, 2006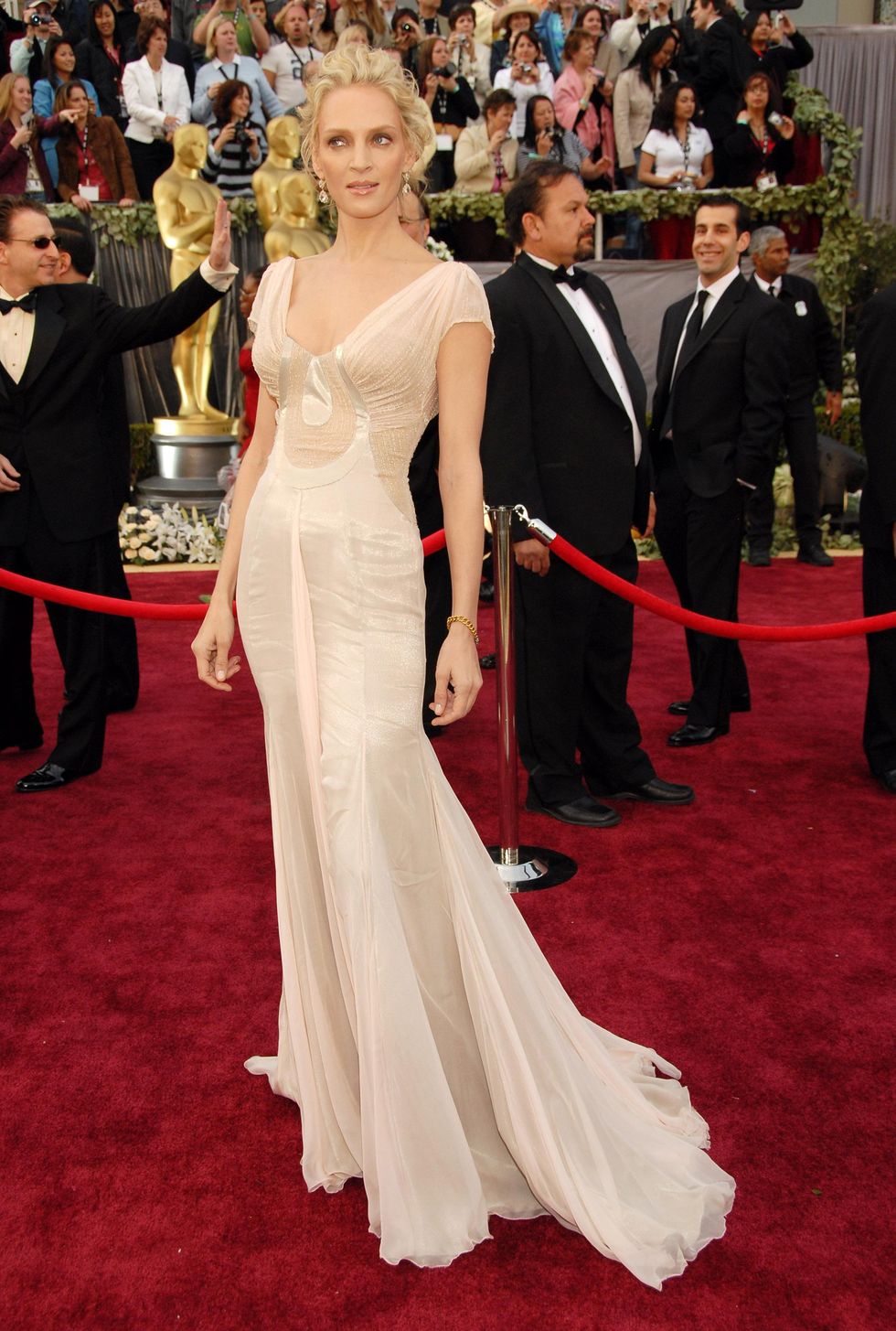 Photo: KMazur/WireImage/Getty
Uma Thurman has turned some iconic looks at the Oscars, but this one takes the cake. It's delicate, timeless, simple, yet not uninteresting. With her tousled updo and minimal makeup, she looks like she's reprising her role as Venus emerging from her shell in The Adventures of Baron Munchausen.
Lupita Nyong'o in Calvin Klein Collection, 2015
Photo: Frank Trapper/Corbis/ Getty
Lupita Nyong'o instantly established herself as a red carpet icon, and this dress is only supporting evidence. Rumor has it that it featured over 6,000 pearls. Incredibly decadent, but tasteful—a masterclass on Oscars dressing!