In 2022, Your Underwear Is Meant to Be Exposed
With all these beautiful options, it's time to stop hiding them.
Trends
Tagwalk, a platform that catalogs designer collections into a database to identify trends, said "transparent" is the leading category for fall '22—with large margins. For context, they flagged 41 pages of outfit evidence for transparent compared to 10 for the second-place trend "dominatrix." All this transparency in fashion begs the question: What do you wear underneath?
At the Vanity Fair Oscars after-party this past weekend, Kelly Rowland, Alessandra Ambrosio, Nicole Richie, Halsey, and more provided an answer beneath their gauzy gowns: underwear, of course. The selection ranged from Normani's creamy bustier to Halsey's high-rise thong.
The red (or blue, in this case) carpet is not the only place where underwear has renounced its invisibility clause. Johnny Cirillo, the street style photographer behind Instagram account @watchingnewyork has been clocking this high-exposure trend for over a year now on the sidewalks of Bushwick, in particular. There, passers-by opt for Jean Paul Gaultier mesh tops in lieu of see-through gowns, but similar layering choices persist.
Cirillo has watched as New Yorkers exhibit their undergarments in more ways than just the x-ray vision mesh. "Caught a bunch of people wearing bras and bathing suits under unbuttoned shirts and some [were] just straight rocking a bra and nothing else," Cirillo tells Coveteur via email.
Style-wise, this exposed bra is an emblem of the '80s. Madonna paved the way for modern-day Instagram style icons like Diana Bartlett and Harling Ross who have since swapped cone bras and bomber jackets for CUUP balconettes and blazers. Musicians today have bolstered the exposed lingerie trend as Dua Lipa and Megan thee Stallion have flaunted about the stage in bustiers from Mugler and Schiaparelli.
"What's so wrong about seeing your bra?" queries costume designer Molly Rogers, who worked on the sets of both Sex & the City and And Just Like That. She is partially responsible for Carrie Bradshaw's exposure of her own brassiere. Throughout the first few seasons, a backless dress frames a silky chartreuse clasp, overalls reveal the side of scarlet cups, and a strapless dress sits beneath two black bra straps. Glimpses rather than overt displays, these episodes of un-coverage arose out of practicality.
"You're more comfortable in the outfit. You feel like you look better. You've got support," Rogers states, matter of factly. On set, many members of the crew often left their own bras on in similar sartorial situations, so it seemed silly to make this quote unquote real New York character shed her own.
Guido Campello, CEO of lingerie brands and retailers Cosabella and Journelle, has noticed a trickling affinity for exposure in recent years. "I would say 10 years ago, people would come in saying, 'I don't want to see the bra. I don't even want people to know that I'm wearing one,'" he says of what they called the "Oprah effect"—apparently she was a big proponent of the invisible undergarment. "Now, people are like, 'Oh, look how beautiful all these little features are." As brands embrace exciting hues, textured fabrications, and unique embellishments, gone is the day of the t-shirt bra.
For the average consumer, bras are more palatable than briefs to reveal, but that doesn't mean some won't try. The fashion set has embraced the sheer skirt worn over bikini briefs. In the real world though, it's all about the thong—or at least the illusion of one. Twenty years ago, Tom Ford sent G-strings down his Gucci runway, creeping out of sheath skirts. Today, that style holds strong. Those "handlebars," Campello says, are reemerging, so much so that brands like Musier Paris have faked the look with threadlike waistline embellishments sans the undies.
Inversely, early 2000s streetwear influenced today's runways in the form of saggy bottoms and exposed briefs. A quick glance at the Miu Miu Fall '22 runway collection proves this trend has yet to fade either.
What Miu Miu's underwear exposures lack in representation, imagery from brands like Savage x Fenty make up for. Rihanna's aforementioned line of lingerie has developed a cult following with pieces that demand to be on display—which they are, on all sizes, gender identities, sexualities, and ethnicities. A similar sentiment applies to Kim Kardashian's SKIMS and Lizzo's YITTY, where shoppers can see those who look like themselves baring all.
In this vein of diverse representation, Campello notes that Journelle's offering now caters to maternity, offering prettier options in lieu of frumpy nursing bras. They also provide a selection for men. "Men are buying bras to show off. They're layering their tight t-shirts with open-cup bras," he says. "It's not just women who are starting to show bras."
As Rogers states, "Leave [the bra] on and it turns into some little fashion moment," but the more he's, she's, and they's that wear one [and show it off], the less offensive it becomes. "My daughter wears a cardigan with a Calvin Klein sports bra, for example," says Campello. "[Gen Z] is already thinking that way. It's more accepted, and it ties into the perception of sport apparel and streetwear." Thank you, athleisure.
Perhaps it's as simple as the notion that bustiers and bras fit their wearer better than a teeny tiny crop top. "Unless you are of a certain boob, they don't work," expertly claims Rogers. "I think when you do something out of necessity, like just keep your bra on with that dress, you're more comfortable," she continues. "And you have freedom."
"I think it's a way for people to say, 'I'm here for me, let me live,'" posits Cirillo. Just think, 30 years ago, it was scandalous to wear a slip dress.
Shop the Story:
Dora Larsen
I.D. Sarrieri
Savage x Fenty
Arq
CUUP
Parade
Fleur du Mal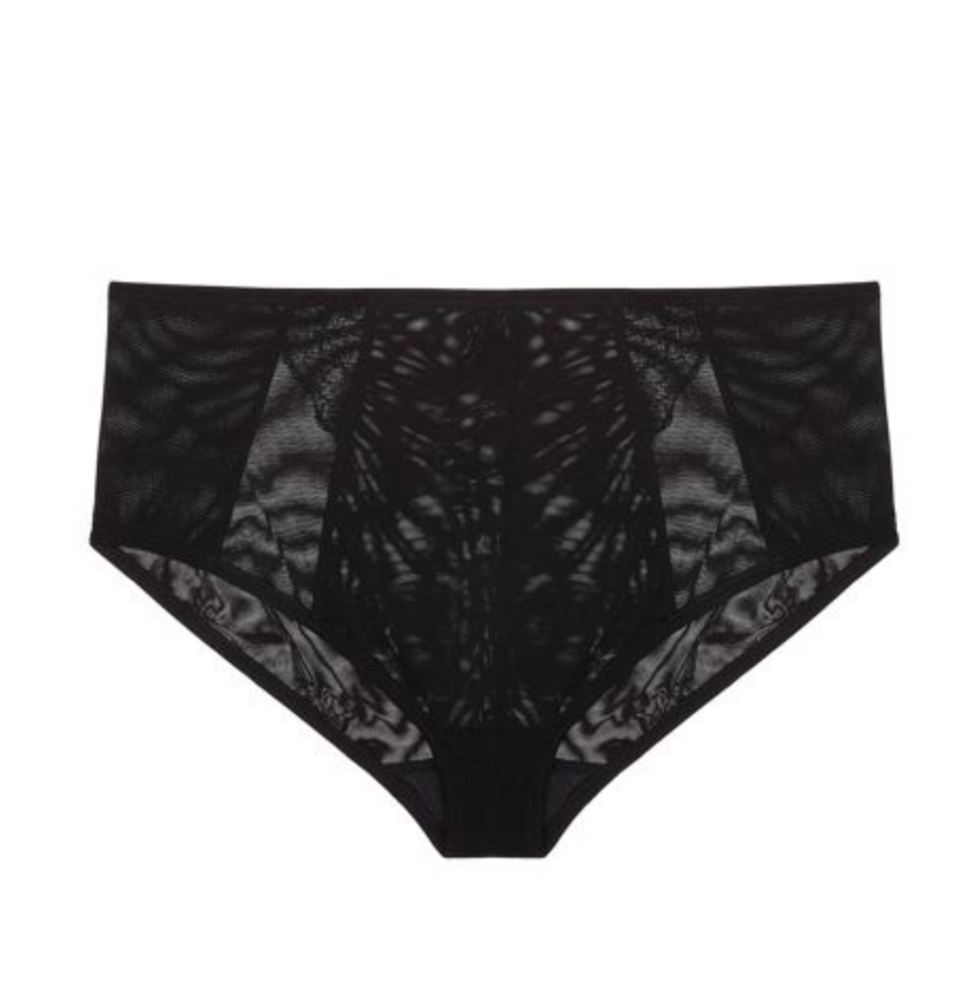 Elomi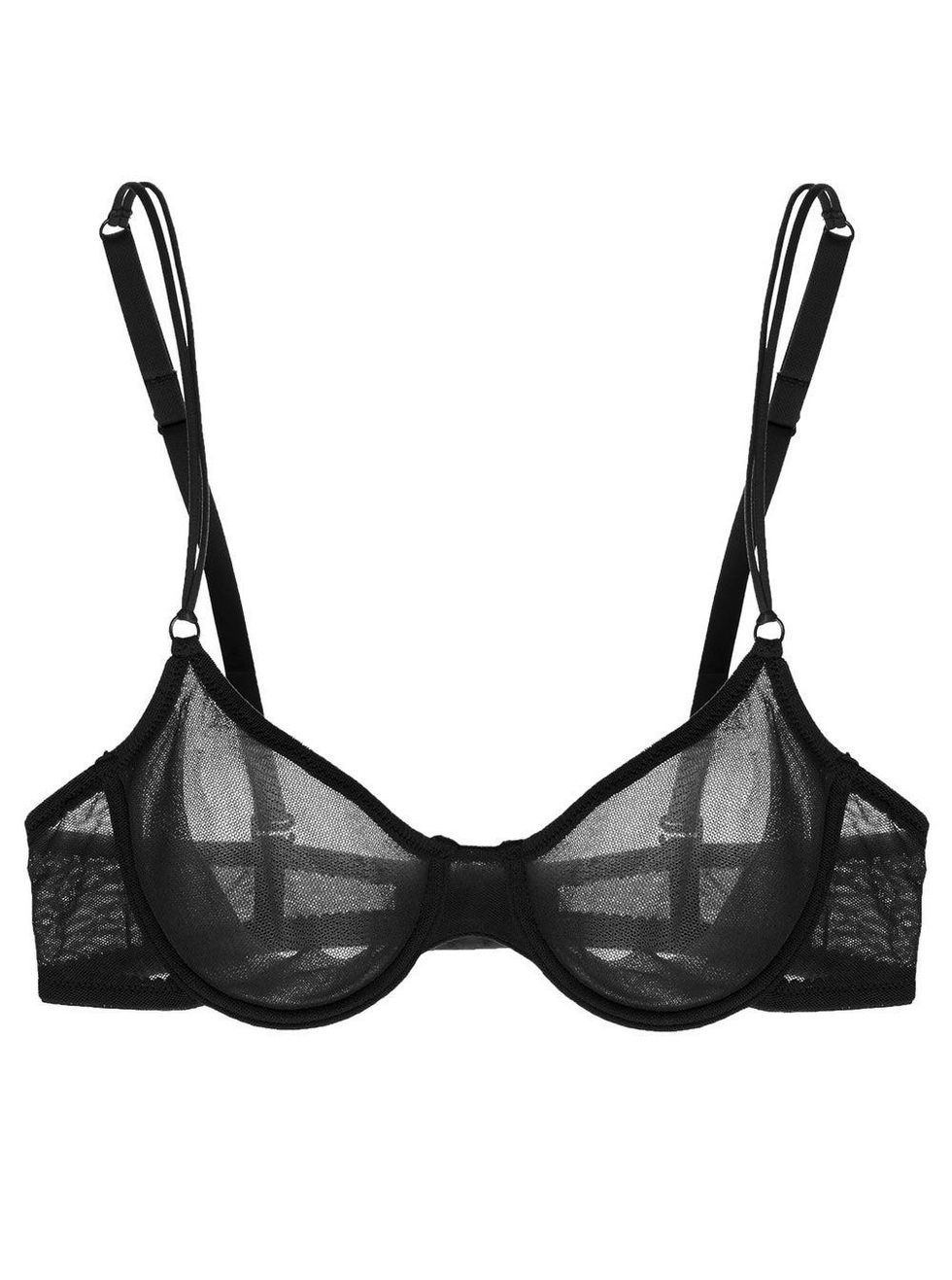 Cosabella