This Stylist's High-Low Style Is Perfectly Imperfect
Shibon Kennedy thinks the Jean Paul Gaultier mesh and Uniqlo t-shirts are literally the best.
Literally The Best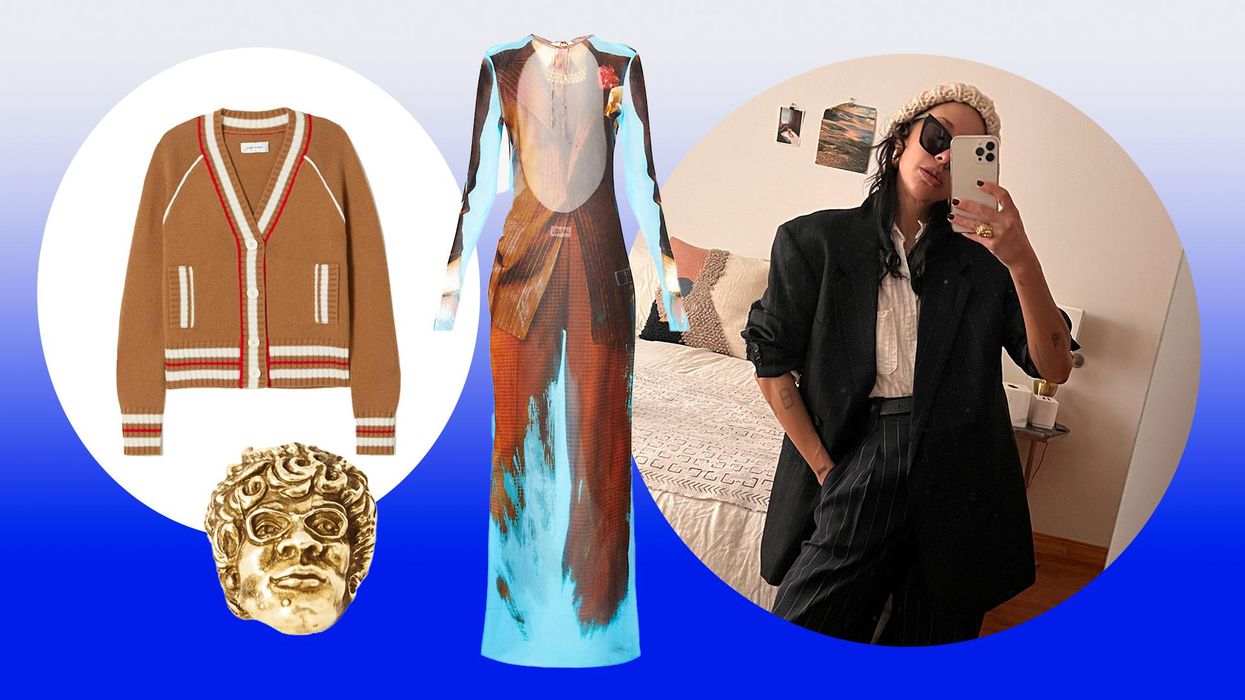 When discussing our own wardrobe and style essentials, Coveteur staffers found their feelings could often be summed up with the phrase, "it's literally the best … white t-shirt, pair of jeans, drugstore find, etc." So, in our new series, fittingly titled Literally the Best, we're asking industry insiders to reveal the style essentials they turn to over and over again and simply can't live without.
"Chic dirtbag," says stylist Shibon Kennedy when describing her approach to getting dressed. "I say dirtbag in a loving way. It's more like I love things worn in. I love things dirty. I think there's something about the story that comes with them." Kennedy's perfectly imperfect manner of assembling looks is, as she would tell you, low maintenance but high aesthetic. She's not afraid of a stain, wrinkle, or paint splatter.
So committed to her craft that when she fell victim to the NYC omicron surge this past December, the sartorial aficionado created an isolation alter ego, Quarantina Turner, who was churning out editorialized ensembles as if her life depended on it. "The thing for me is the escapism, the frivolity," she explains. No happy accident, Kennedy's closet was made for this. It's home to eccentric faux fur courtesy of Dries Van Noten and Junya Watanabe's voluminous gabardine.
"My people are [Grace] Wales Bonner, Loewe and J Dubs [J.W. Anderson], Jean Paul Gaultier, and Dries [Van Noten]," a list that highlights modern fashion's most esteemed. Among the aforementioned greats, you'll also find classic tanks from Hanro and t-shirts from Uniqlo. Below, Kennedy walks us through all her eccentric style essentials.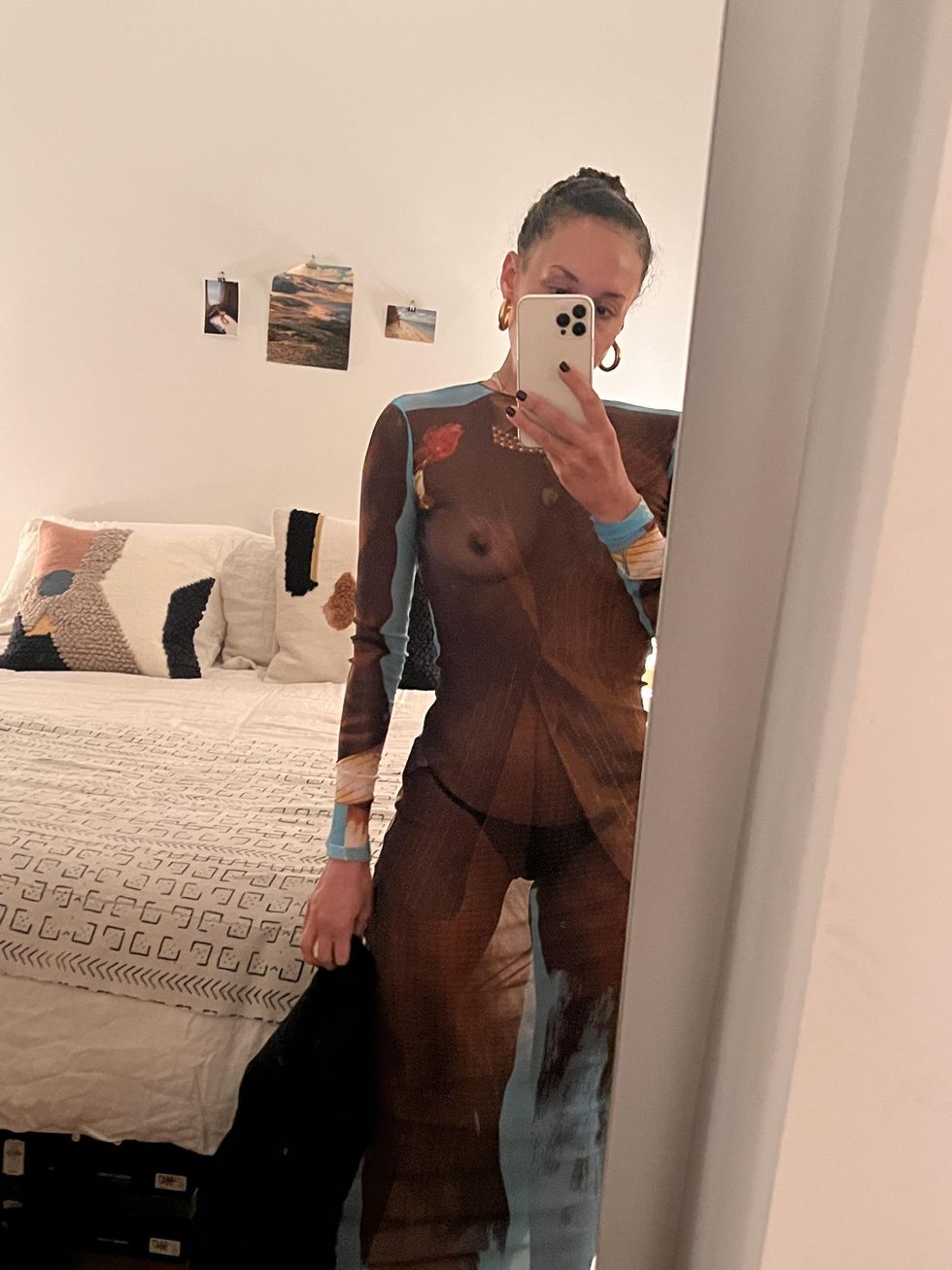 When purchasing a new item of clothing or an accessory, what are the boxes you're looking to check?
"I have always been somebody who really cares about Mother Nature and the world and the general well-being of humanity—even though humanity kind of bums me out. If I'm going to invest in anything designer at this point, then I'm really pushing for it to be vintage or repurposed. I'm really trying to be conscious of where I'm putting my money. One of the perks of the styling thing is that I get a lot of free stuff or I get credits at stores. That can't go to waste, but if I'm actually paying out-of-pocket for things, I'm really trying to tread lightly on Mother Nature. She's hurting a bit.
"If I'm talking about silhouettes and things, honestly I don't subscribe to the size scale. I will buy a double XL and cinch it like a paper bag. I'm never the person on a site looking for a specific size. I look at the shapes and then go from there. If it's a question of being too small then I won't do that, but if it's a little bit big, then I can totally make it work."
Do you find that the more eccentric pieces in your wardrobe get the most wear?
"Yes and no. I always add them into a look to make it super special, but because they are the more identifiable things, I try not to wear them too repeatedly. The novelty pieces in my closet get some good air time, for sure. Also, the classics—the black blazer, things like that—also get a lot of love because they can either tone down a look or take a dirtbag-y look and elevate it."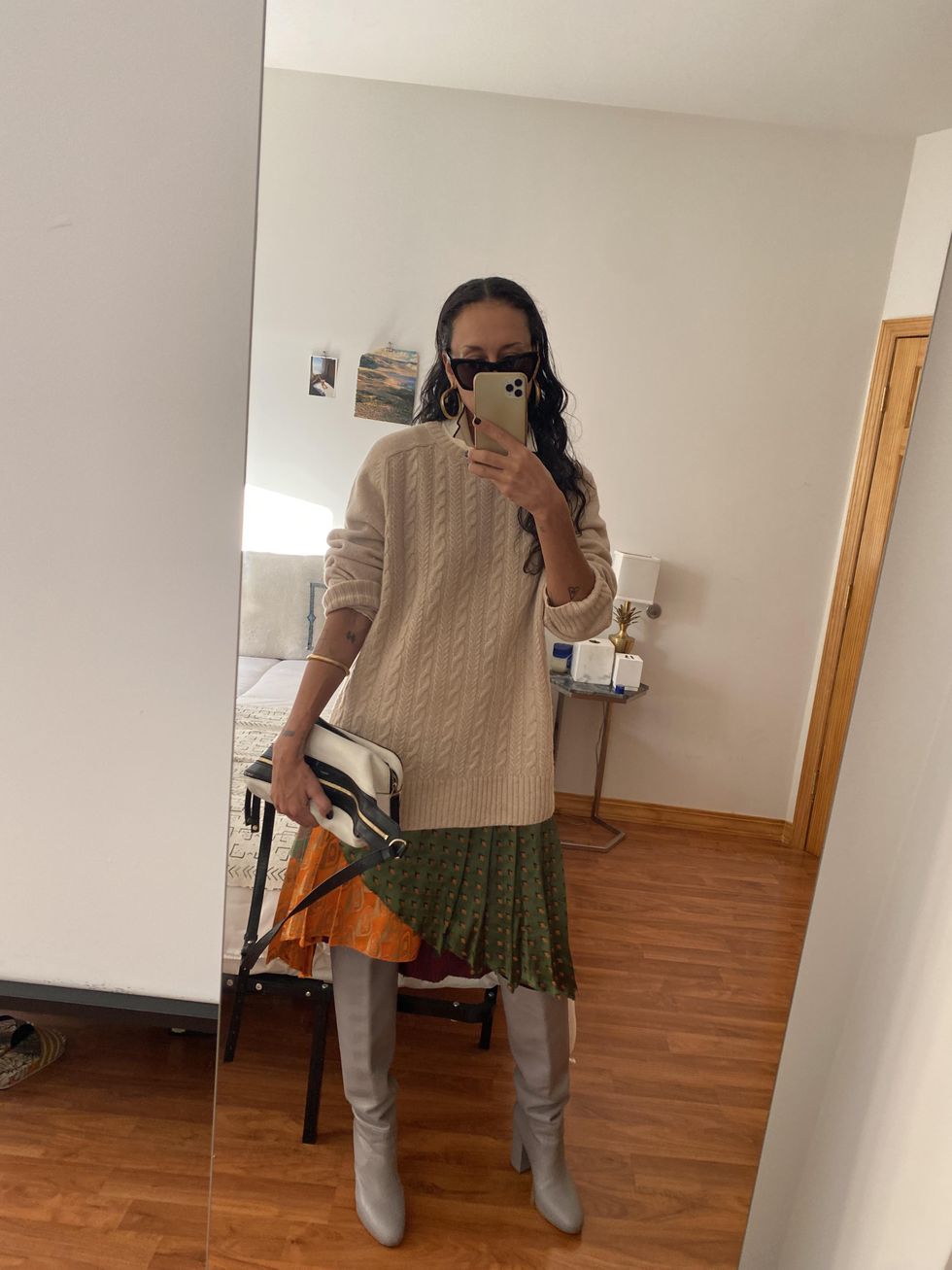 Shop Her Style Essentials:
"I love a cardigan, a cropped cardigan. My Wales Bonner is my favorite. That gets me through all the seasons because I tend to run cold, so I layer it or wrap it around my waist. I have lighter-weight cardigans for summer seasons to wear around my waist with short dresses so that I can ride my bike and not be like, 'hey world.'"
Wales Bonner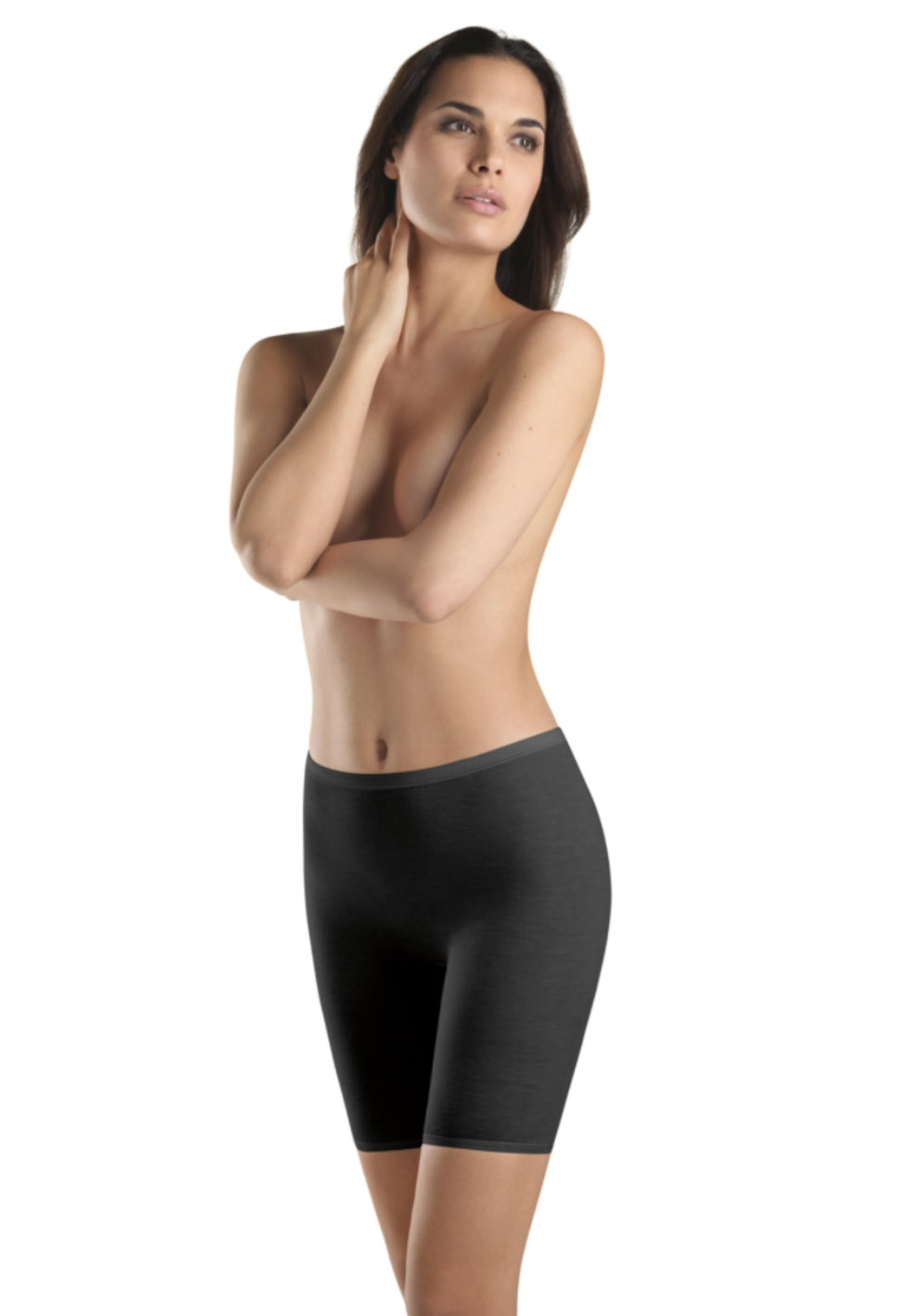 "These are shapewear, but I use these Hanro mesh shorts to hide my bits from the public eye at large. They come in several colors, but I wear these black ones. They are the jam. I bike-ride a lot and I wear them under everything in the summertime."
Hanro
"I love a white t-shirt. I have a lot of white t-shirts. I really love my Jacquemus because it's like tissue paper, but it doesn't rip. And Uniqlo. Uniqlo does a really good white t-shirt—like a really good one."
Uniqlo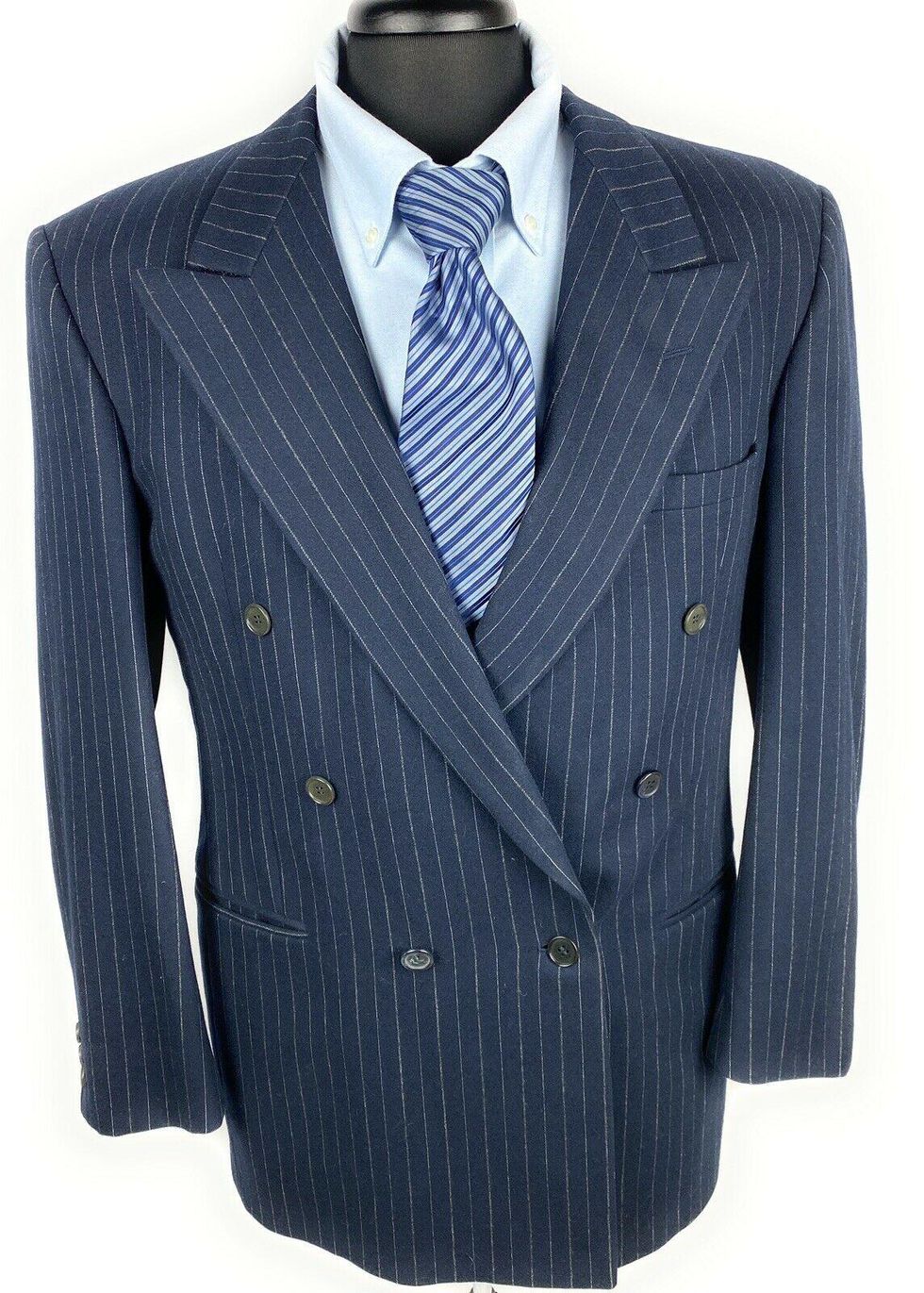 "Pinstripes are kind of my love language. That's both my mom and my dad's doing. I have this Versace men's double-breasted navy chalk pinstripe blazer. It's huge on me—very Balenciaga energy. I either wear it as a dress or with a pinstripe vintage men's navy knit vest with and then these Loewe wide-leg chalk-stripe pants. I love that trio."
Versace
"Some of my faves are things my mom has given to me because she is a huge part of my style journey. She was so chic and pulled together. She put such care into her style. I love looking at old pictures of her. She gave me this amazing gold charm bracelet. Every charm [represents] all of her travels she did with my dad—different places, vacations, and events. There's one from my graduation. There's one from my sister's sweet 16. That thing is like a photo album in the form of jewelry."
Monica Rich Kosann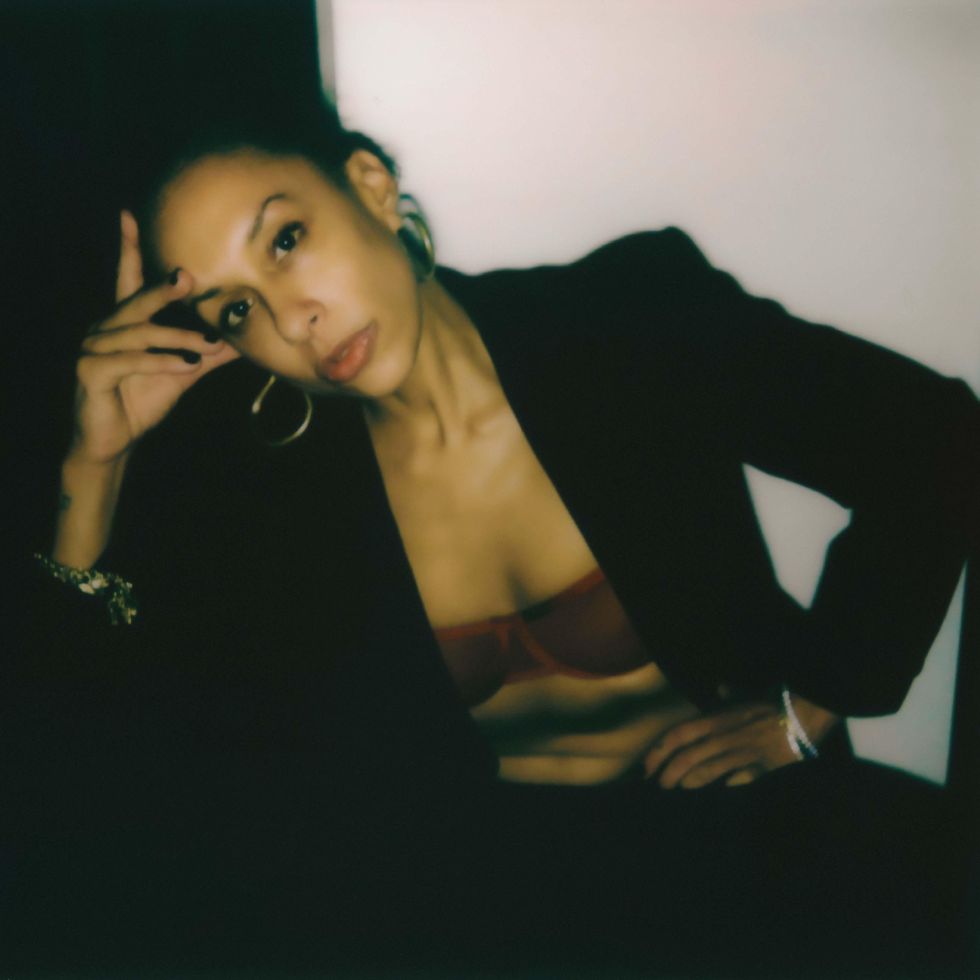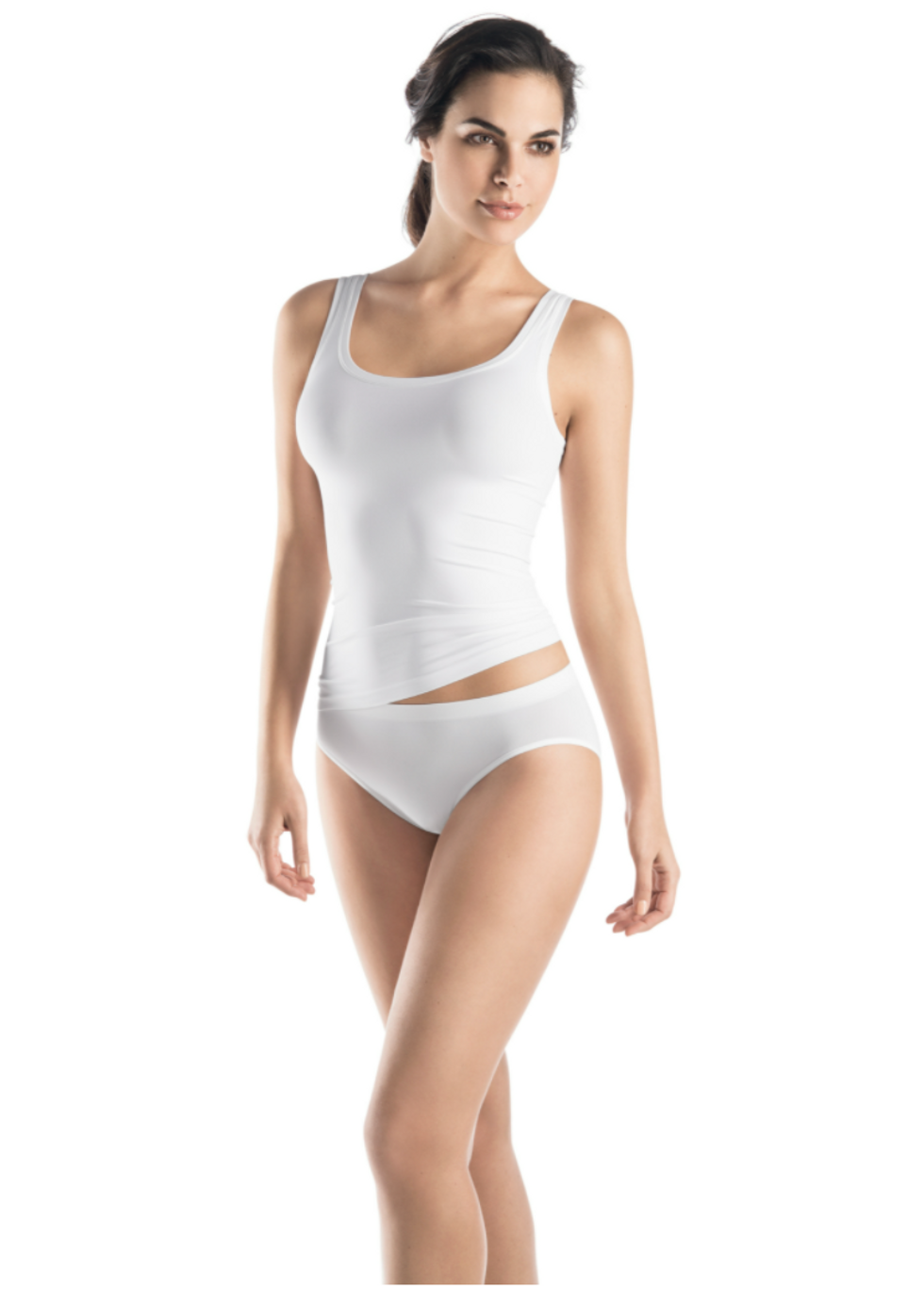 "I've got a huge stack of white tanks. I love Hanro. The [Touch Feeling tank] is smooth and delicious with a thicker strap and I wear that in white, nude, and black all the time. They're so amazing. Everyone should have one in their wardrobe."
Hanro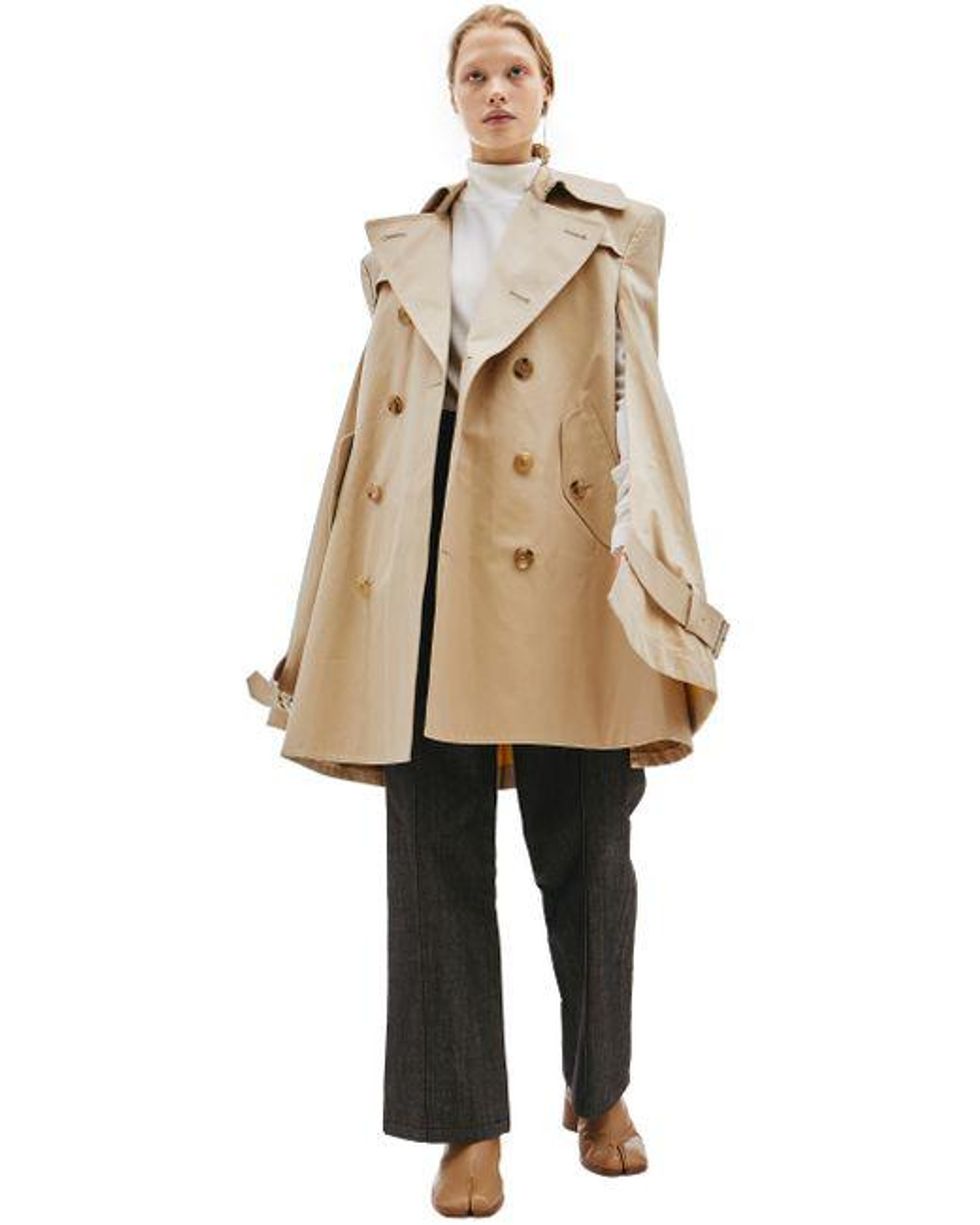 "You've got to have a good trench. My Junya Watanabe trench—I wear that trench and people stop me on the street."
Junya Watanabe
"I'm always cold, and I love to wear short dresses, but with over-the-knee boots either with a lower heel or flat. I got these Brother Vellies ones that I'm obsessed with—in a kind of neoprene material. Then I have the Prada patent leather ones that are flat with the treads. Those are sick. I've worn them a lot in the short amount of time I've had them in my closet."
Brother Vellies
"Love a mesh top. A long-sleeve crewneck is the jam all seasons long. I've definitely been in more of a braless face, going a little more racy. Do it while you can, girl. I got the Jean Paul Gaultier mesh birthday suit dress. It's so good. I'm definitely wearing it on my birthday with nothing but underwear underneath."
Jean Paul Gaultier
"Gold hoops. Gold anything. Jennifer Fisher but also Ariana Boussard-Reifel. Her hoop is really cool because it's much more earthen feeling and found object and has a beautiful quality. I'm a big Johnny Nelson fan because all his jewelry is amazing. He custom-made me these Tina Turner earrings because of Quarantina Turner that are amazing. I wear my Shirley Chisholm ring all the time."
Johnny Nelson