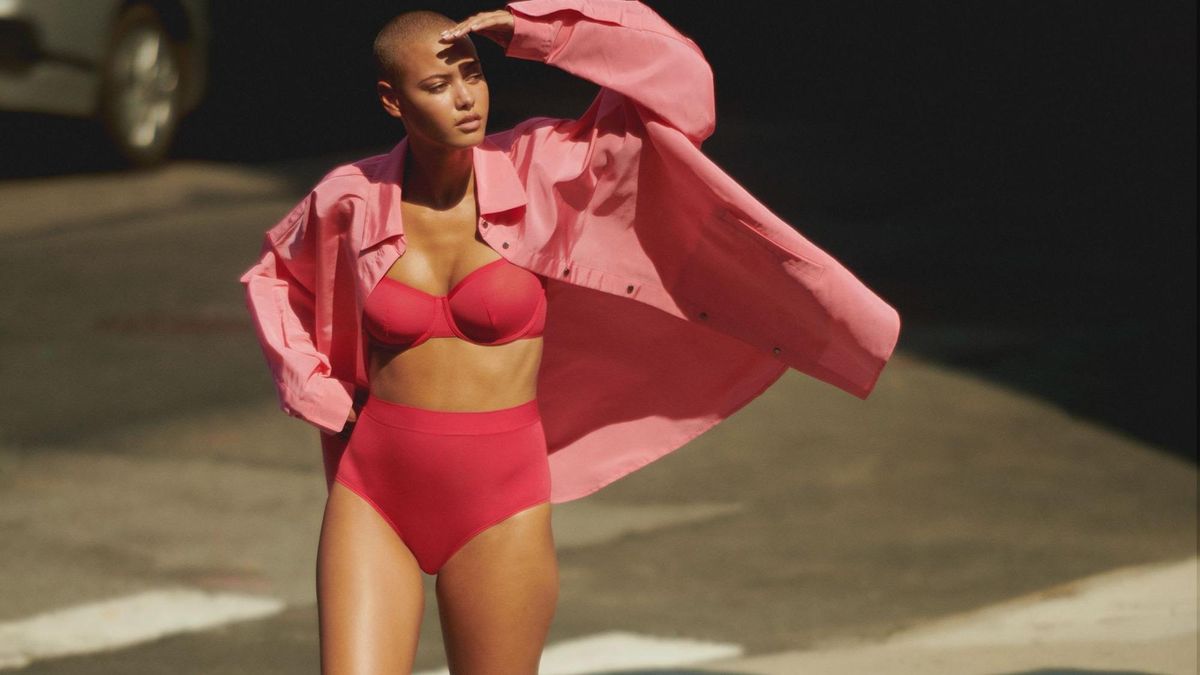 Trends
Charting the Evolution of the Color Pink
Today's hues are hotter than ever.
Few colors are more politicized than pink. The rosy shade that is often synonymous with femininity (though this practice has only been around since WWII) has gone through an evolution in terms of its hue du jour. Lest we forget the 2010s millennial pink storm. Also known as Tumblr pink, the shade dominated our social media feeds in the form of dusty rose clouds and unironic neon signage. The soft version of the color become associated with #girlboss culture (it was quite literally the background color for Sophia Amoruso's book #Girlboss). The Glossiers of the world outfitted their entire marketing schemes in the seemingly soothing hue.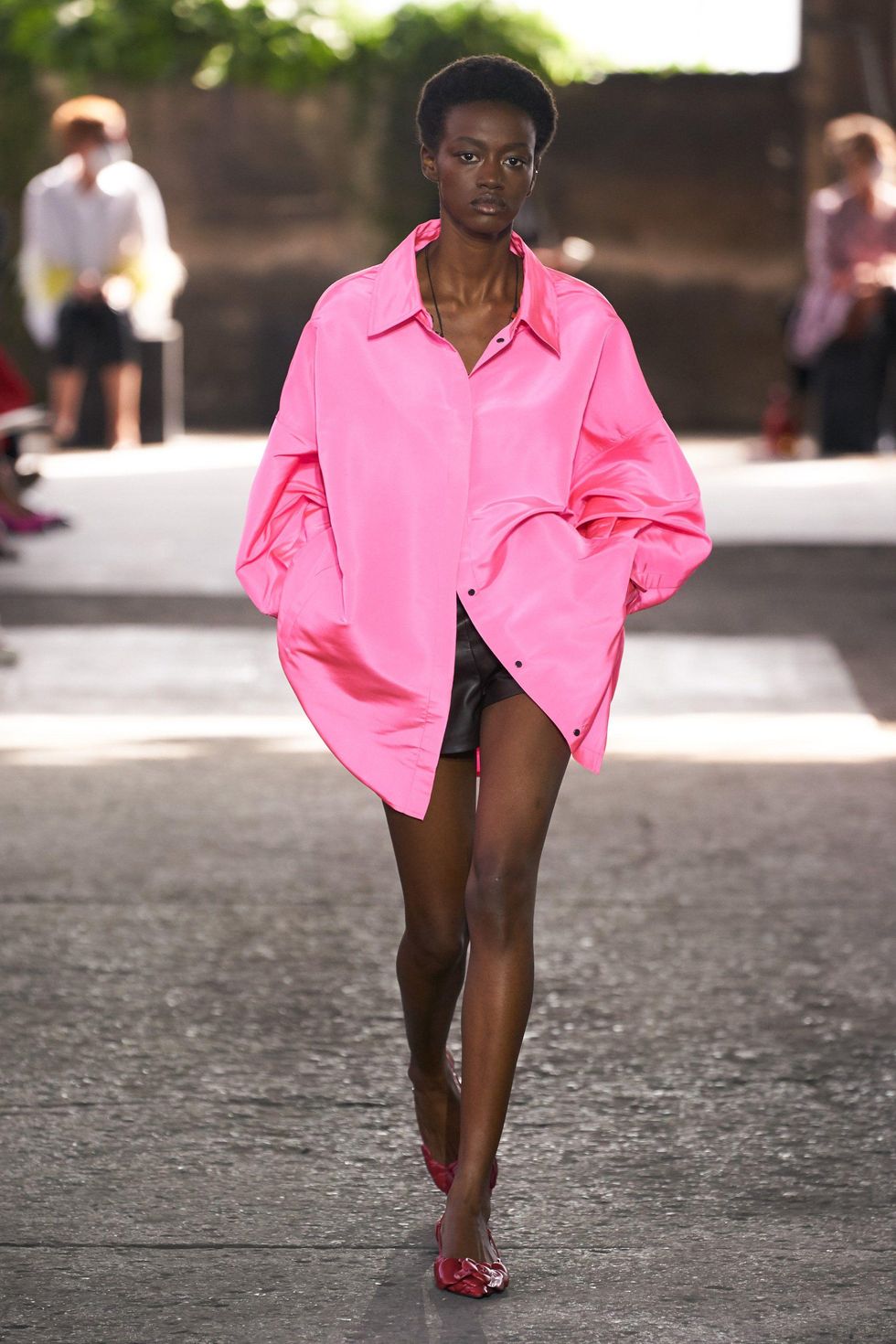 Valentino Spring '21;
Photo: Alessandro Lucioni / Gorunway.com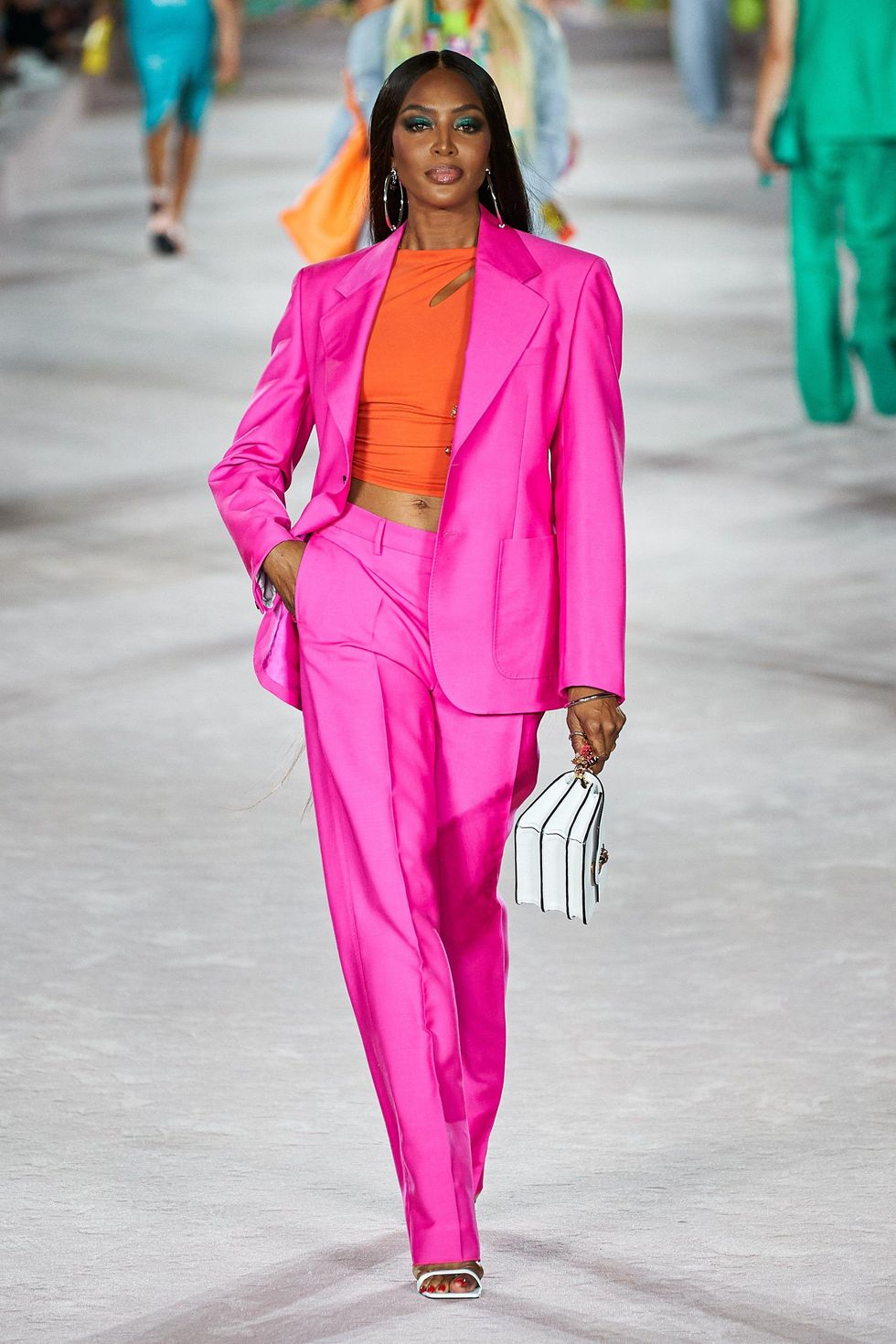 Versace Spring '22;
Photo: Alessandro Lucioni / Gorunway.com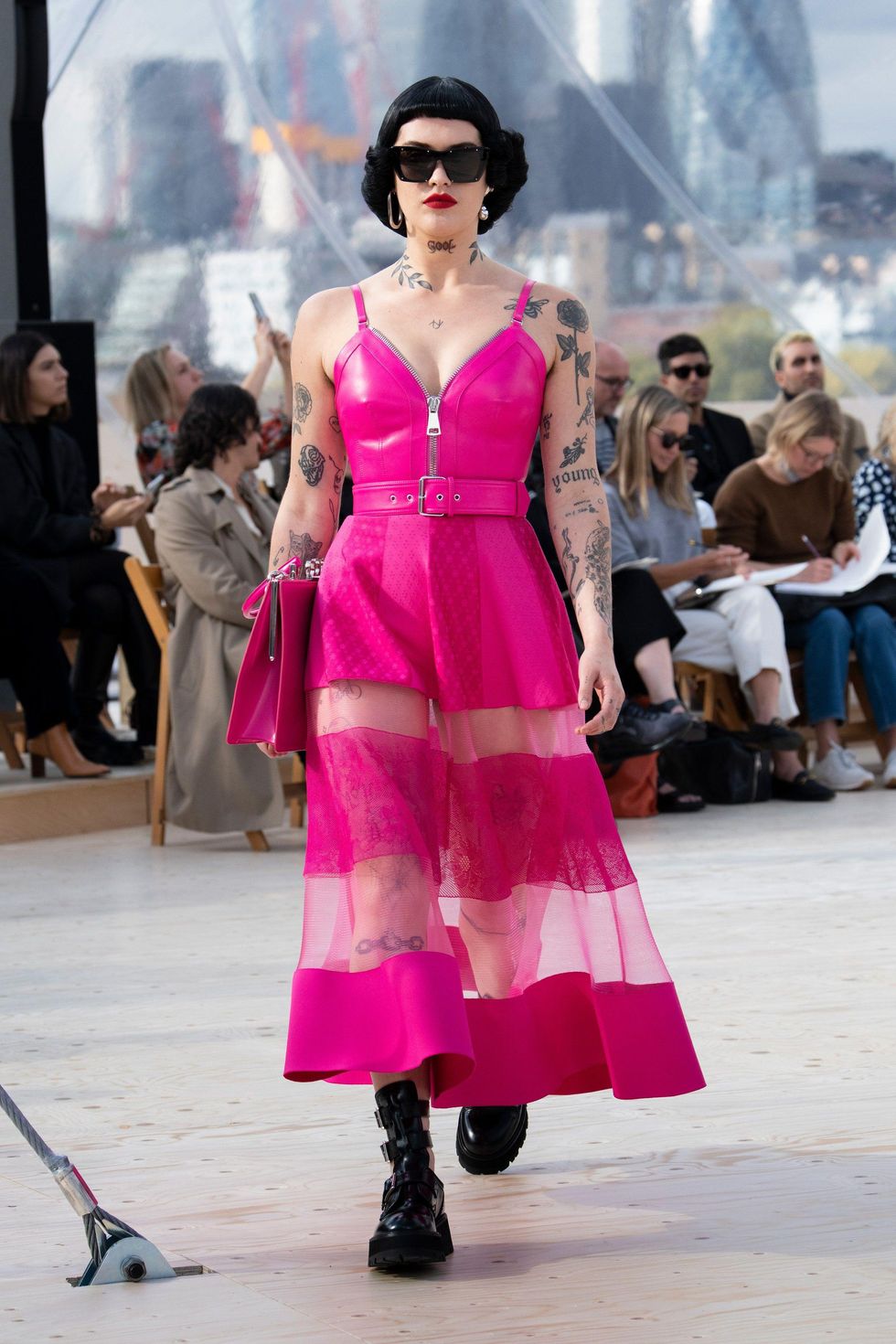 Alexander McQueen Spring '22;
Photo: Courtesy of Alexander McQueen
However, note the current pendulum swing as the era of baby pink is sandwiched between the early 2000's obsession with a brighter version—think Betsey Johnson, Victoria's Secret, Juicy Couture, even Barbie—and today's full circle return to hot pink. Thanks to designers like Christopher John Rogers, who ushered in today's affinity for bold colors, the trend cycle no longer shies away from vibrancy as it did in the normcore 2010s era. Today, hot pink is a regular on the runways of Balenciaga, Jacquemus, Versace, and Valentino. Only weeks ago Kim Kardashian hosted SNL clad in a rosy catsuit and coordinating feather boa. Only a few months prior at the 2021 Met Gala, Saweetie, Carrie Mulligan, and Nicola Peltz all arrived outfitted in the highlighter hue.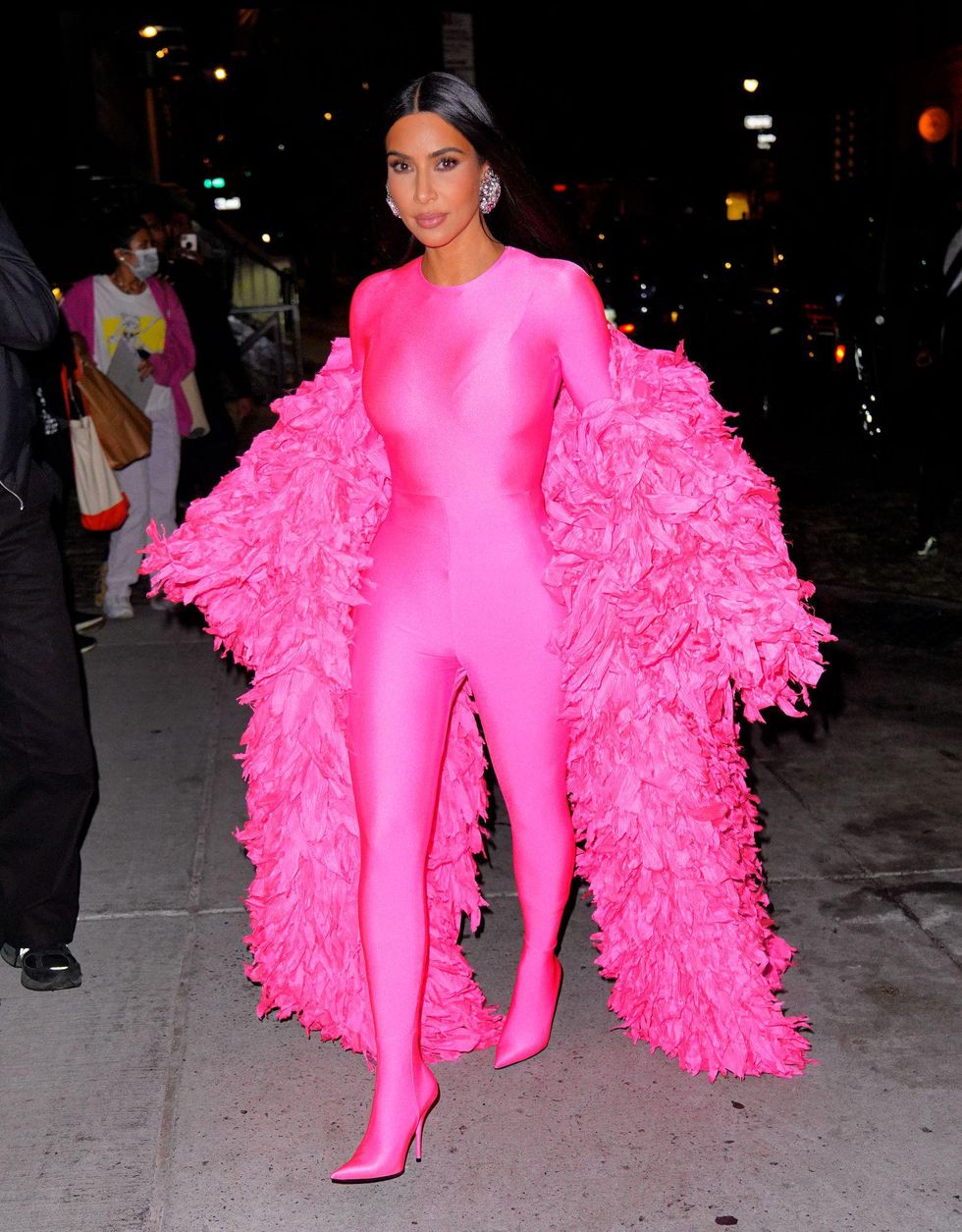 Kim Kardashian in Balenciaga as she hosts SNL.
Photo: Getty
That evolution parallels a shift in cultural commentary as we move from #girlboss to simply bosses that are girls, no longer shrouding femininity in softer versions but embracing it to the full extent. Cult favorite intimates brand CUUP recently launched a new flavor of its empowering undergarments in a hue they dubbed Dahlia. "We embraced the complexity, beauty, strength, sensuality, and underlying femininity of pink," explains Pascale Gueracague, SVP of Product & Design Innovation, "and developed a hue that is modern in its ability to be both a soft and strong color expression." Abby Morgan, co-founder and CMO continues to explain that the searing shade, "balances femininity with power." As someone who personally painted their high school bedroom Pantone's fervent 2010 color of the year (Honeysuckle Pink), I can confirm that it does.
Hunza G
CUUP
Ganni
Jacquemus
Balenciaga
Zara
Valentino
H&M