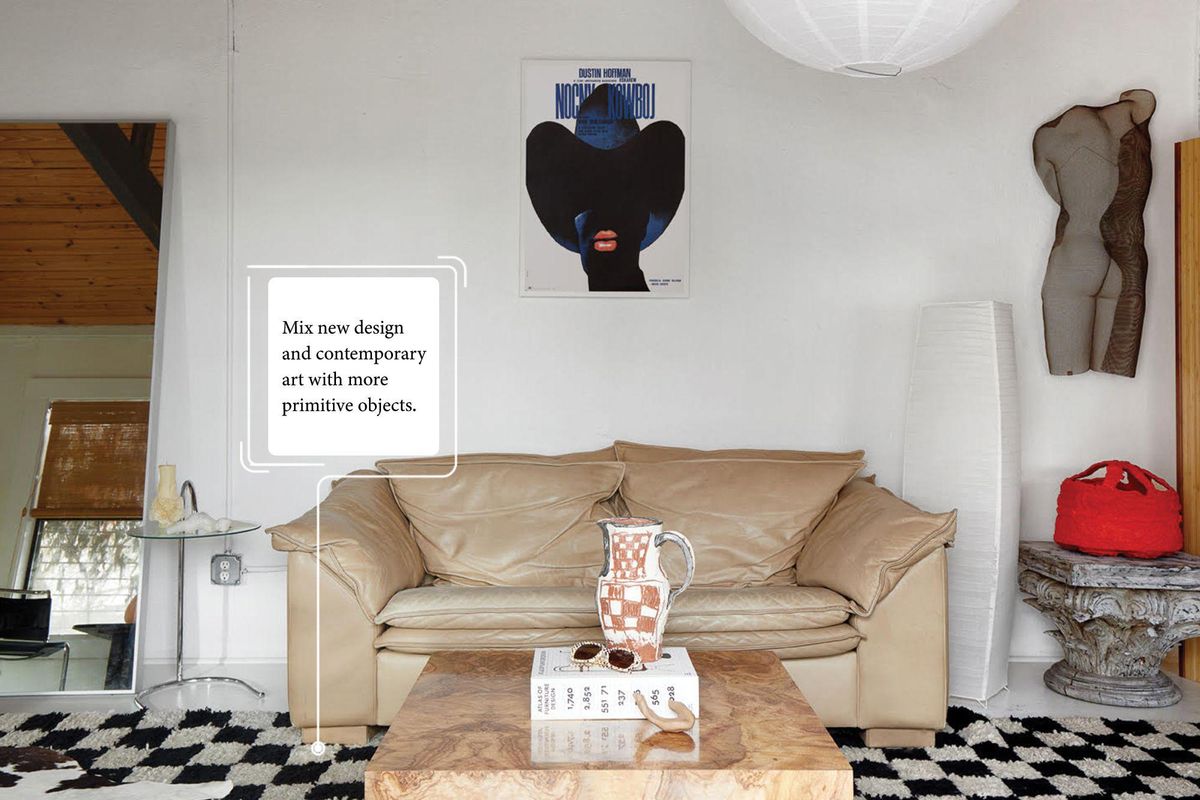 Photo: Courtesy of Vada
Anatomy of a Nook
A modern twist on Western design.
Graphics:
Stacey Toth
Comprehensive home tours are wonderful and inspiring, but most of us decorate step-by-step, focusing on (and perfecting) specific areas at a time. In Anatomy of a Nook—Coveteur's newest home series—we're dissecting specific areas of a home and asking our stylish friends to break down the process behind their favorite nook, cranny, or corner of their homes.
The design team at Vada has captured the hearts (not to mention the eyes, ears, and necklines) of the fashion world with quirky accessories that lend an air of eccentricity to even the simplest of ensembles. Between the retro pearls and square frames, we were instantly hooked. So of course we couldn't resist peeking into their new showroom and were thrilled to find the same modern approach to design reigned true. Within the space, you'll find a simple Noguchi lantern, funky works of art, and a sumptuous cream sofa—all set over a plush checkered rug. The goal was to make the room feel more like a living room and less like a showroom. Needless to say, this expert curation is inspiring the decor of our next apartment. For a little more insight, we spoke with the founder of the brand, Katie Caplener, to better understand how the space came together.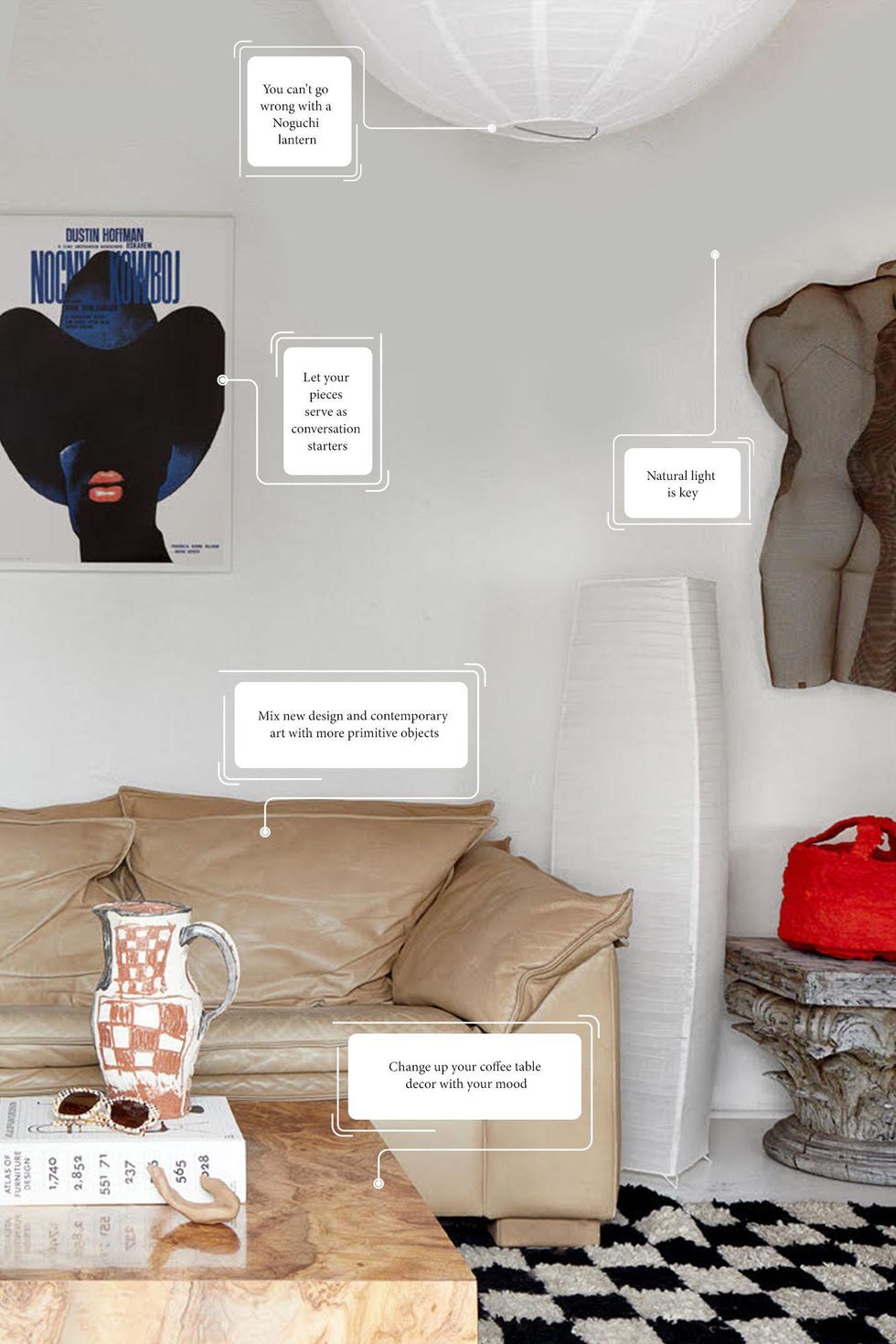 Photo: Courtesy of Vada
The Story Behind Her Process: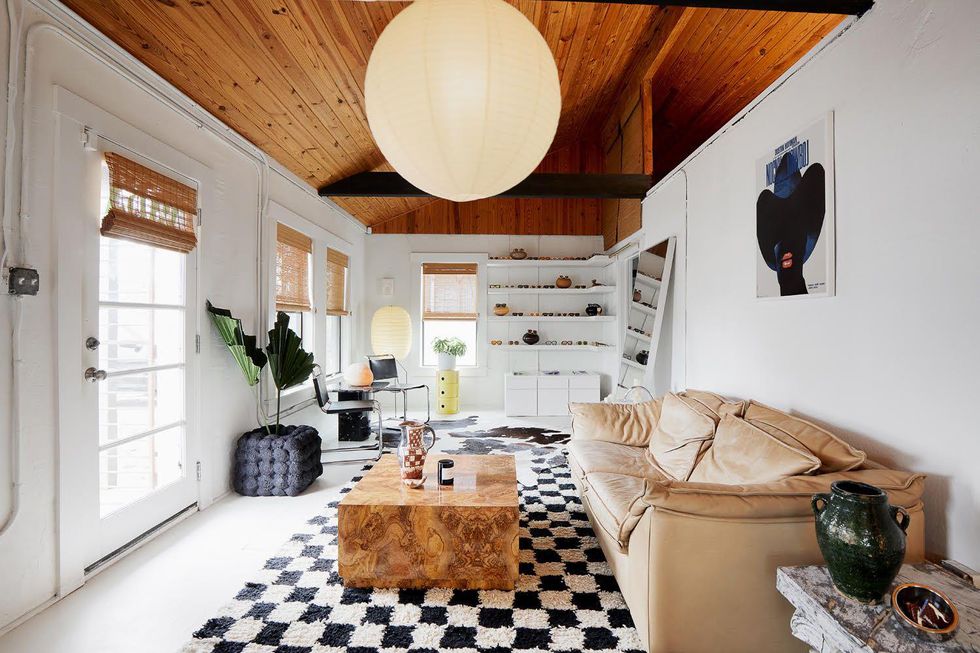 Photo: Courtesy of Vada
"We have moved studio spaces a few times, so I always start with what I have when styling the new place. The big, vintage leather sofa is one of my favorite pieces—it's as soft as butter, and every workplace needs a comfy couch, in my opinion. The large black-and-white vintage checkerboard area rug is really the centerpiece of the space. The texture and pattern ties everything together. It is from Relic Home in Nashville—we plan to do a rug collab soon! The vintage rock lamp on the table has moved around with me for years. It always gets the most questions. I want to make sure to have strange pieces that are conversation starters."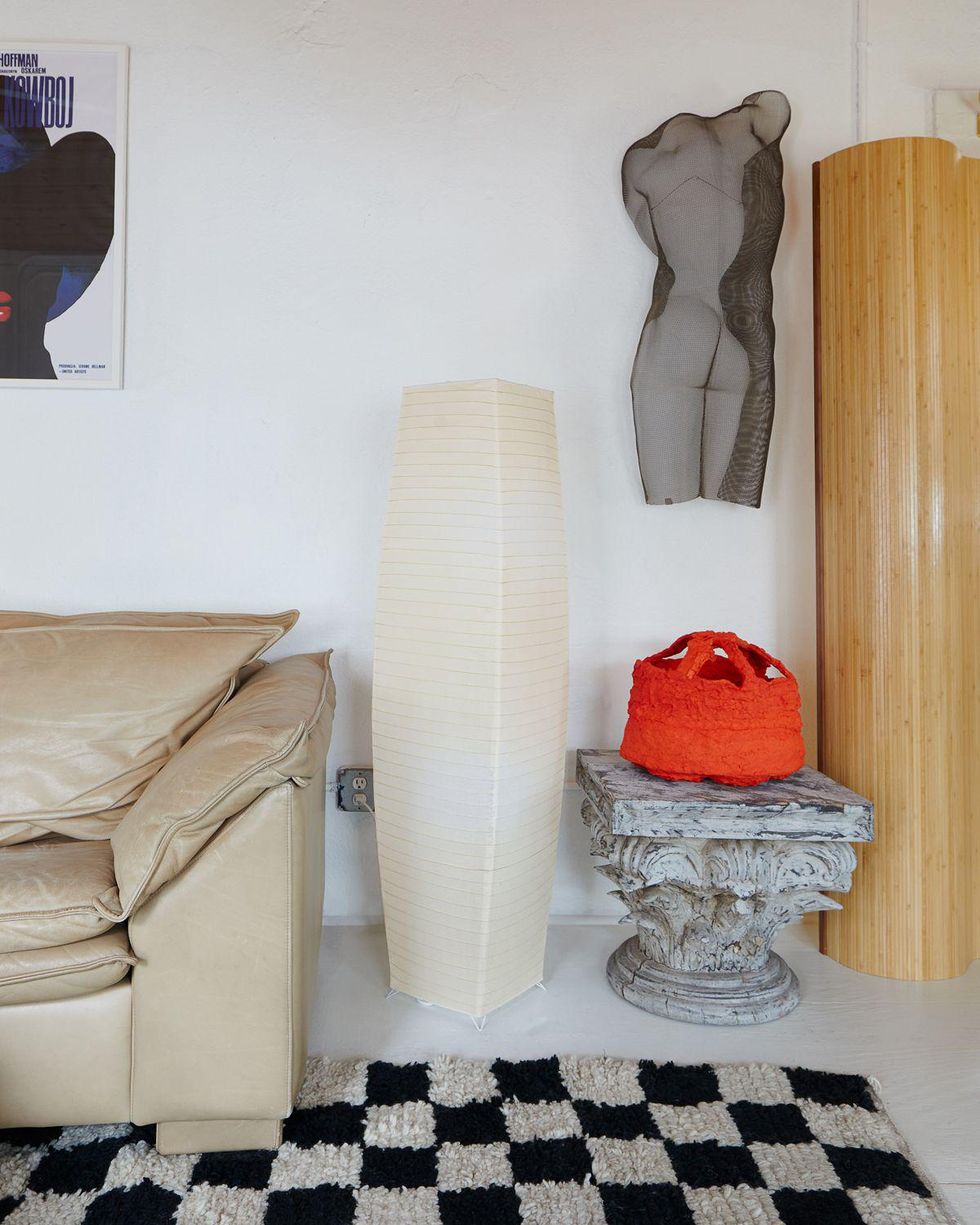 Photo: Courtesy of Vada
"I tend to play off of the brand collection colors. We launched our first eyewear collection spring 2020. The acetate colors were onyx black, butter yellow, crystal brown, sencha green, and tortoiseshell. I translated these colors into furniture and artful objects like the burlwood table, black marble console, yellow Kartell Componibili from Bi-Rite, and bright green plants."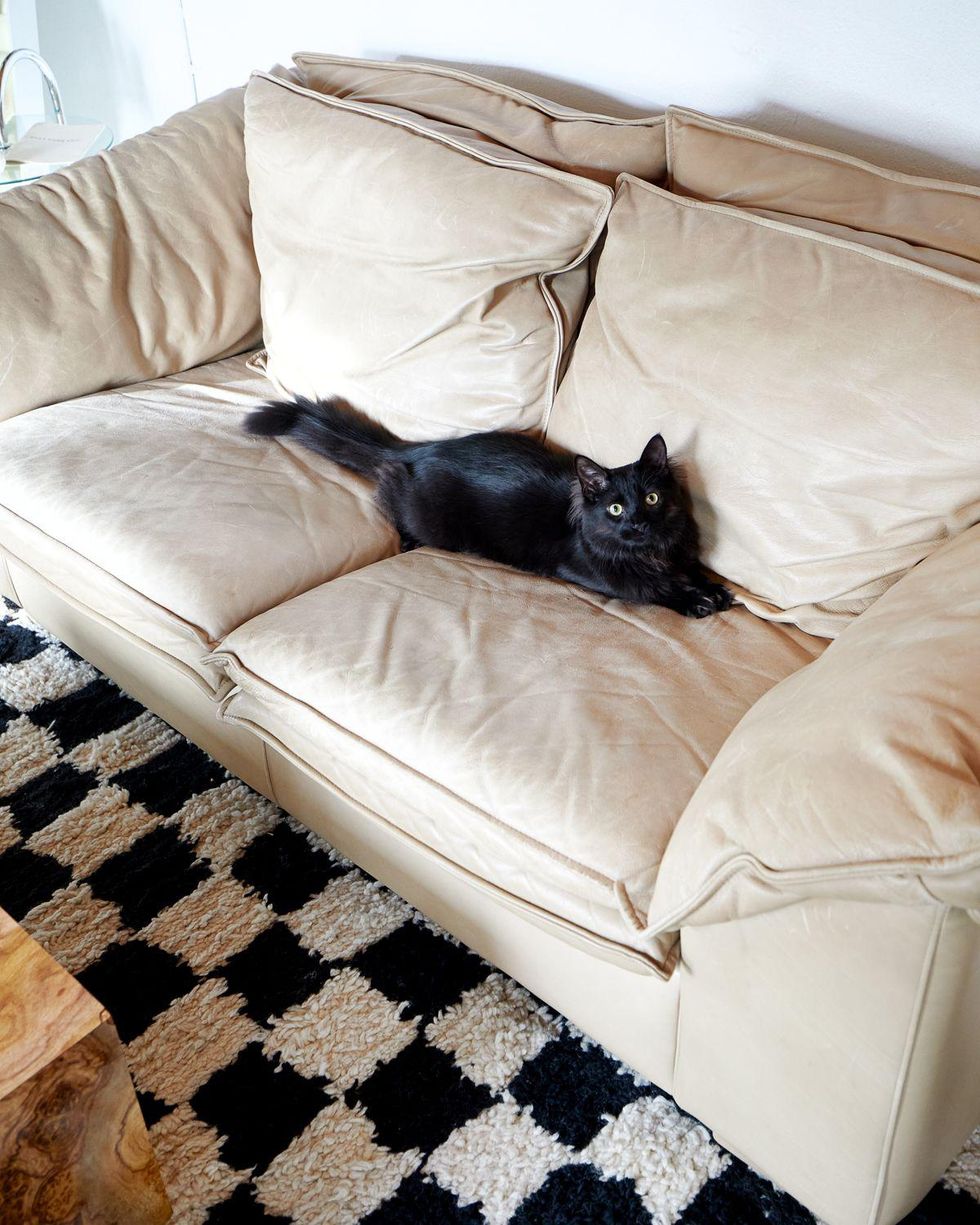 Photo: Courtesy of Vada
"Located on the east side in Austin on the banks of the Colorado River, the area definitely influenced the vibe of the space. I wanted to keep the studio warm and cozy—more of a living-room feel. We have included a checkerboard and Greek meander pattern in a lot of the graphic design for the brand, so I gravitate toward those aspects in the design of the space. I love mixing new design and contemporary art with more primitive found objects."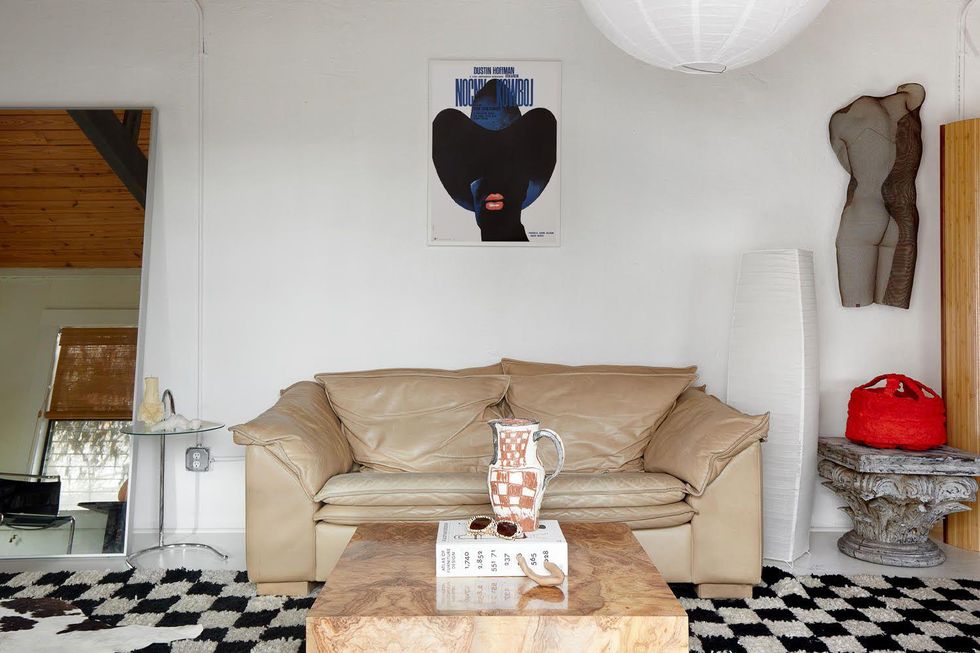 Photo: Courtesy of Vada
"The artwork is all acquired from my favorite artists and vintage dealers. Sam McCurdy and I are working on a collaboration. The Belly Button sculpture will get pierced with a gold hoop soon. Austin Fields, originally from Texas, is a glassblower currently residing in Los Angeles. She created the custom Bubble pieces seen on the eyewear shelves for our collaboration. Colors include tobacco, Texas sun, and mud. Wes Thompson made the large black planter and bright red basket sculptures out of a unique papier-mâché process. The wire body sculpture was found by my friend, Jonny, in New Mexico. The papier-mâché sculpture by Wes Thompson just happens to be my favorite color right now—the bright poppy red ignites the room. I found the Greek-inspired column table at a flea market in Texas. It was cut from a single oak tree and takes at least two people to shuffle around. All of the other pieces are vintage, collected by me in Texas or on my travels."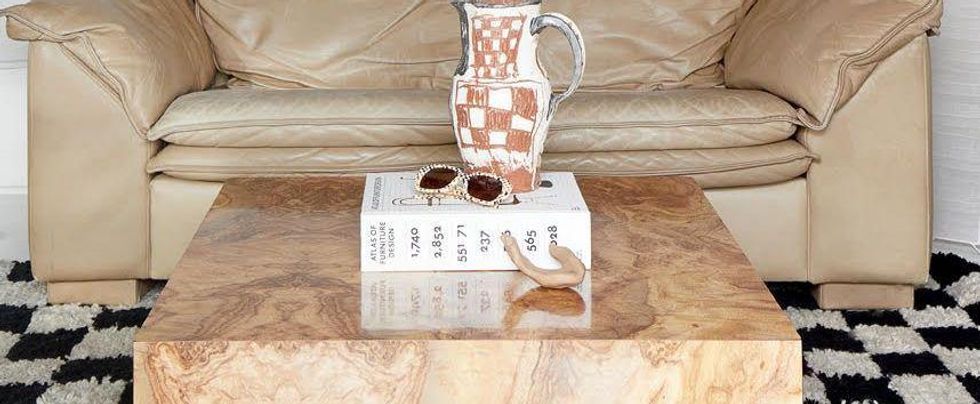 Photo: Courtesy of Vada
"The objects on the coffee table are constantly changing. I like to have nice stone and wood pieces to easily show jewelry to clients. Our latest eyewear collection includes a limited-edition checkerboard acetate, so I added a fun hand-painted pitcher gifted from a friend as the centerpiece. Byredo makes the best candles right now, so I always have one burning."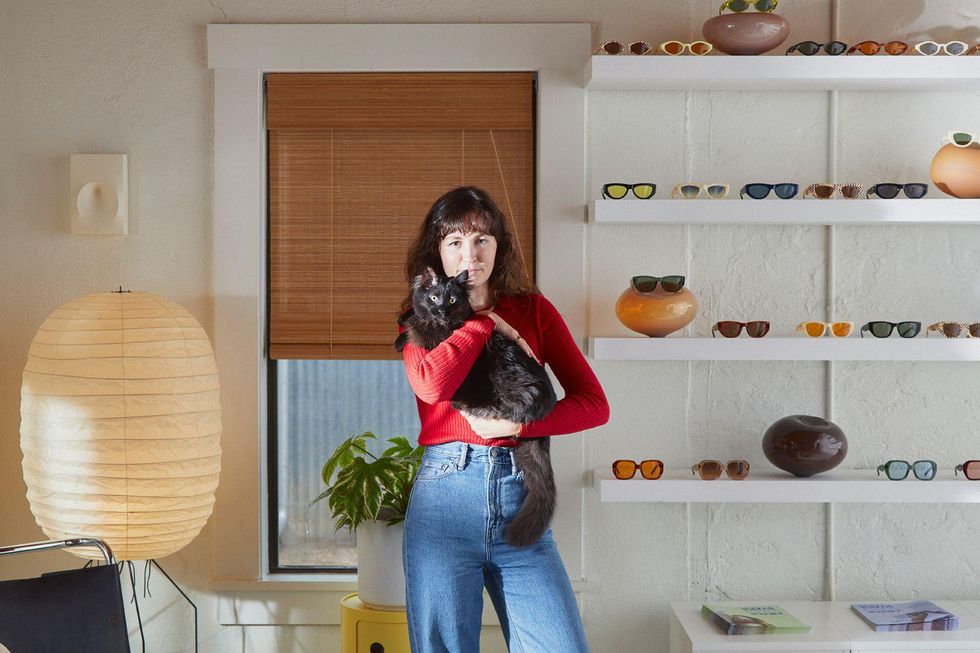 Photo: Courtesy of Vada
"I love Noguchi lanterns, and I think they provide the nicest light in the space and act as beautiful sculptures. The space gets great natural light, so I didn't need extra bright lights."