Easy Styling Tips for Your Desk Nook
This creative squeezed a desk into her living room—see how it all works.
Anatomy of a Nook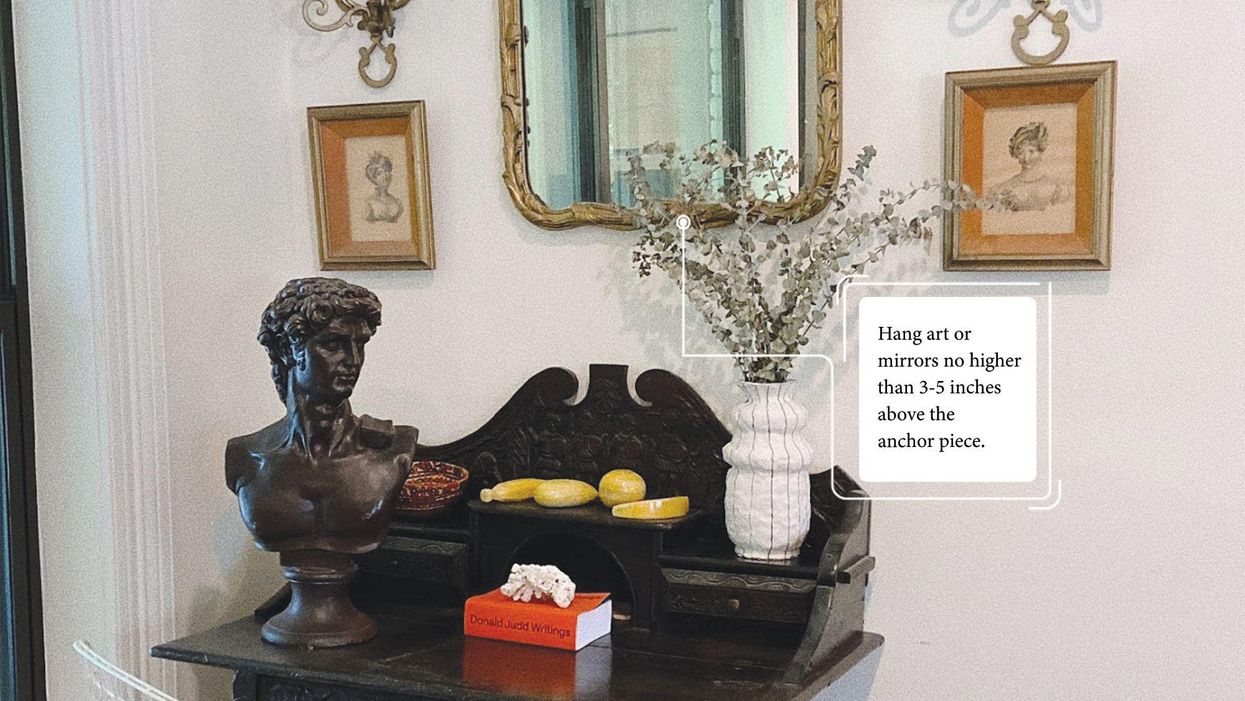 Comprehensive home tours are wonderful and inspiring, but most of us decorate step-by-step, focusing on (and perfecting) specific areas at a time. In Anatomy of a Nook—Coveteur's newest home series—we're dissecting specific areas of a home and asking our stylish friends to break down the process behind their favorite nook, cranny, or corner of their homes.
Kaitlyn Coffee, whom you may have seen on Instagram as @harrisvintage, is not only a lover of all things vintage, but also has an eye for design. She utilizes every square inch of her home in a way that will have minimalists wondering if their sparse design principles are wasteful—sure, you can fit another table in that corner! She then approaches each nook and cranny with the same attention to detail she would an entire room. Today's nook in question is layered in items of various origins, scales, and finishes. This particular corner of Coffee's living room acts as what she calls a "catchall" for her favorite personality-bearing objects—art, books, sage bundles, etc. We've asked her to share her advice on making the most out of the smallest spaces in your home.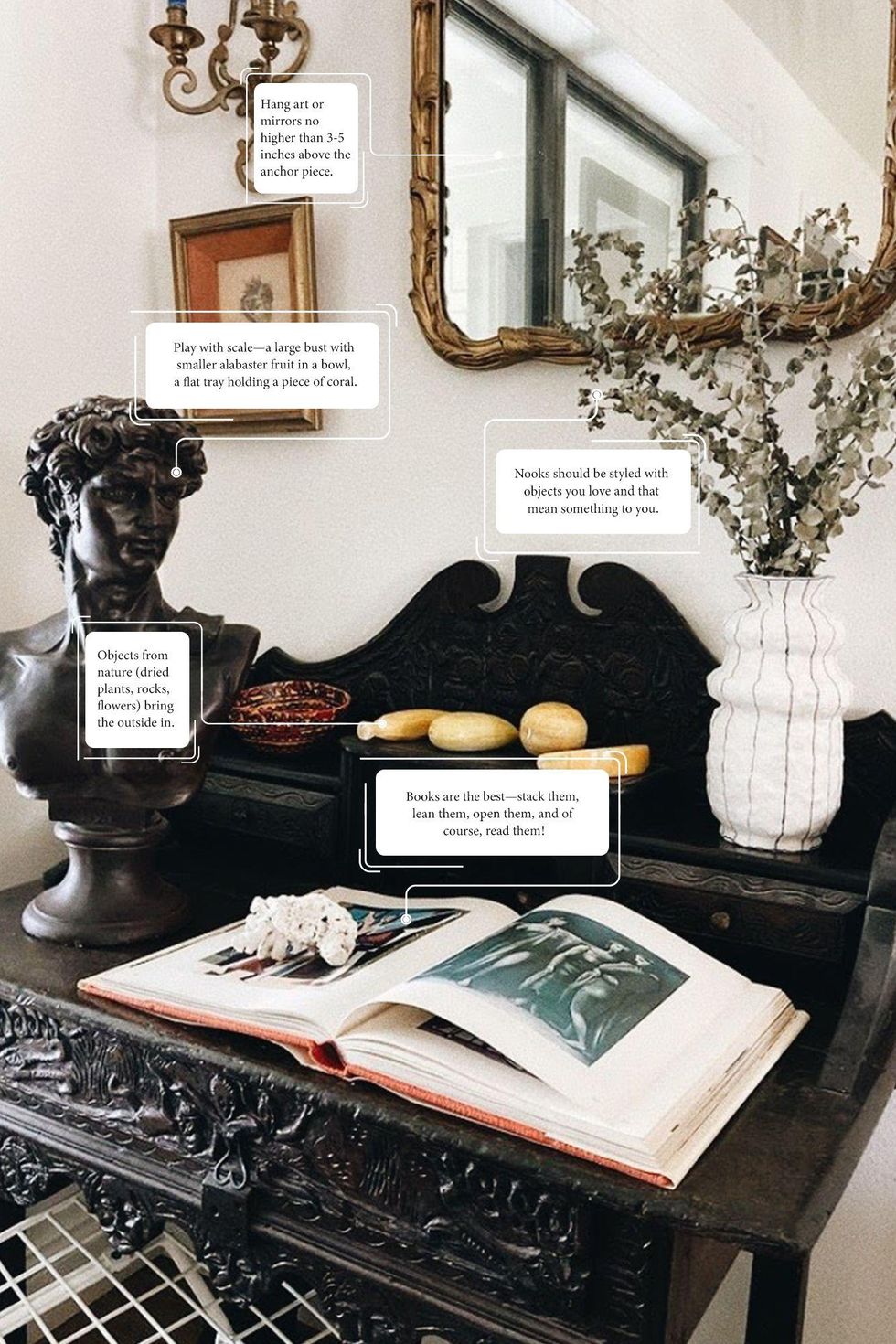 Photo: Courtesy of Kaitlyn Coffee
The Story Behind Her Process: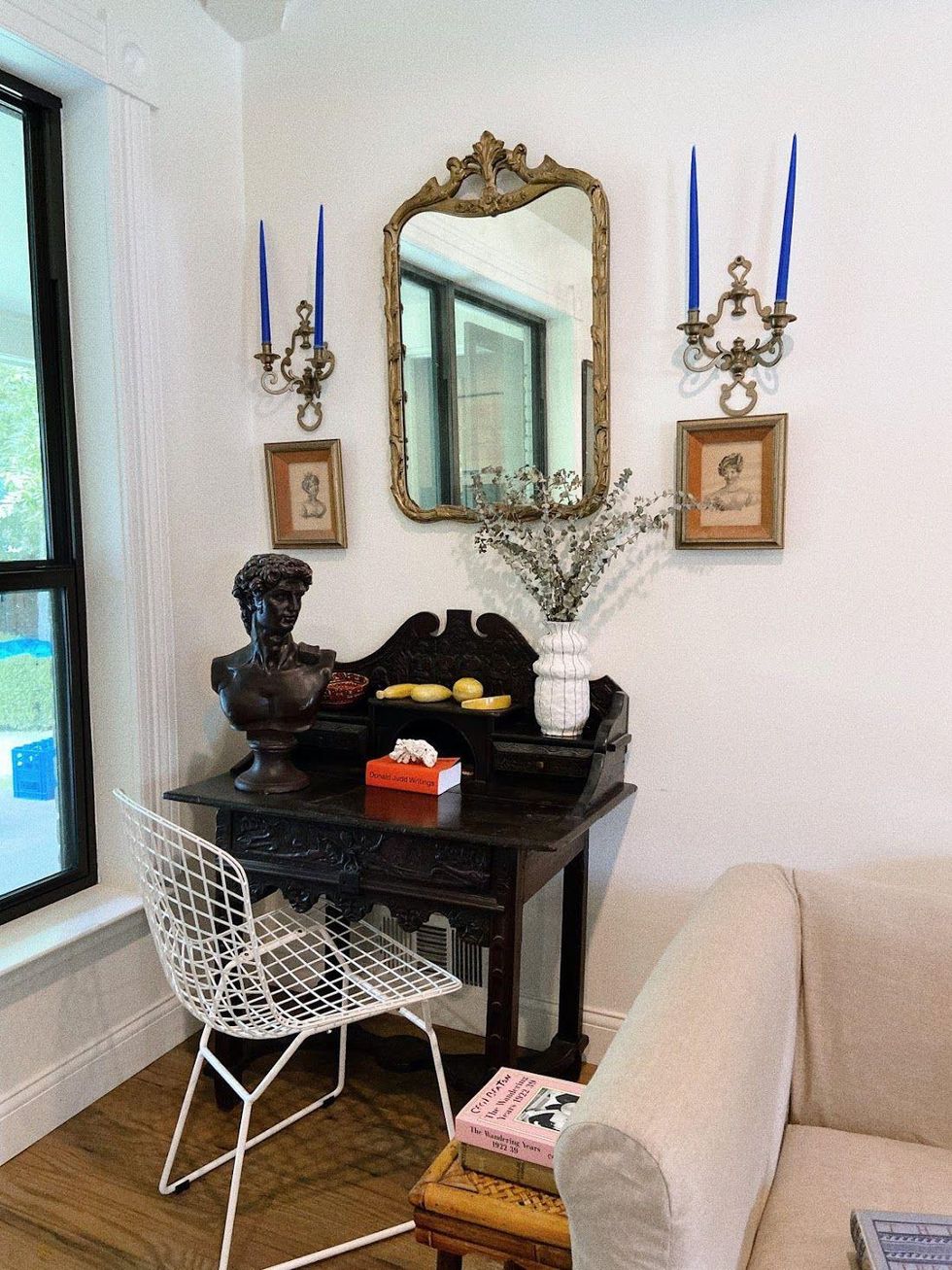 Photo: Courtesy of Kaitlyn Coffee
"This nook is in the back corner of my living room next to a big window—I use it as a catchall space for books, sage bundles, art, and objects. The English carved oak desk from the 1800s is the focal point. I won it in an auction years ago, and it has the happiest little carvings all throughout and lots of surfaces for placing 'things.'"
Photo: Courtesy of Kaitlyn Coffee
"Since I mostly use this space to read or draw, I like to style it with my favorite books and objects. Nooks are rarely formal, which gives way to loads of opportunity for playing. A trick I use is to ground the spot with a few mainstay pieces—in this case, the bust of David and/or the large plaster foot. I love David because he stands watch over the various objects that come to reside on the desk (I even decorated him for Christmas). Since David and the foot are such large-scale pieces, the rest of the objects are often smaller groupings of things that inspire me as well as things I actually use (pencils, notebooks, sage)."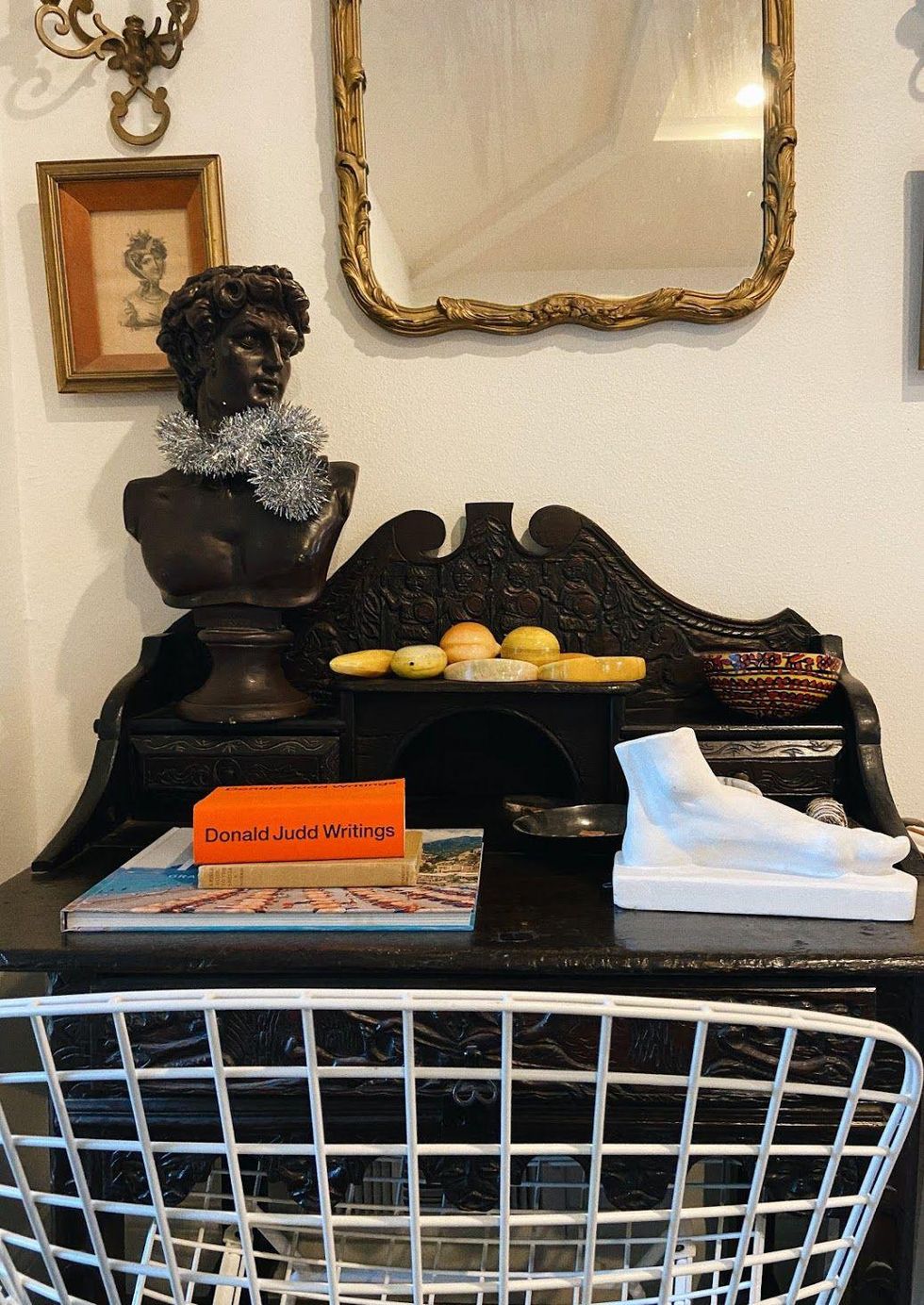 Photo: Courtesy of Kaitlyn Coffee
"Styling a nook offers a freedom that not many spaces in the home allow. It is a place all your own, so make sure to display things that serve as memories of wonderful trips, gifts from friends, or things from nature that inspire."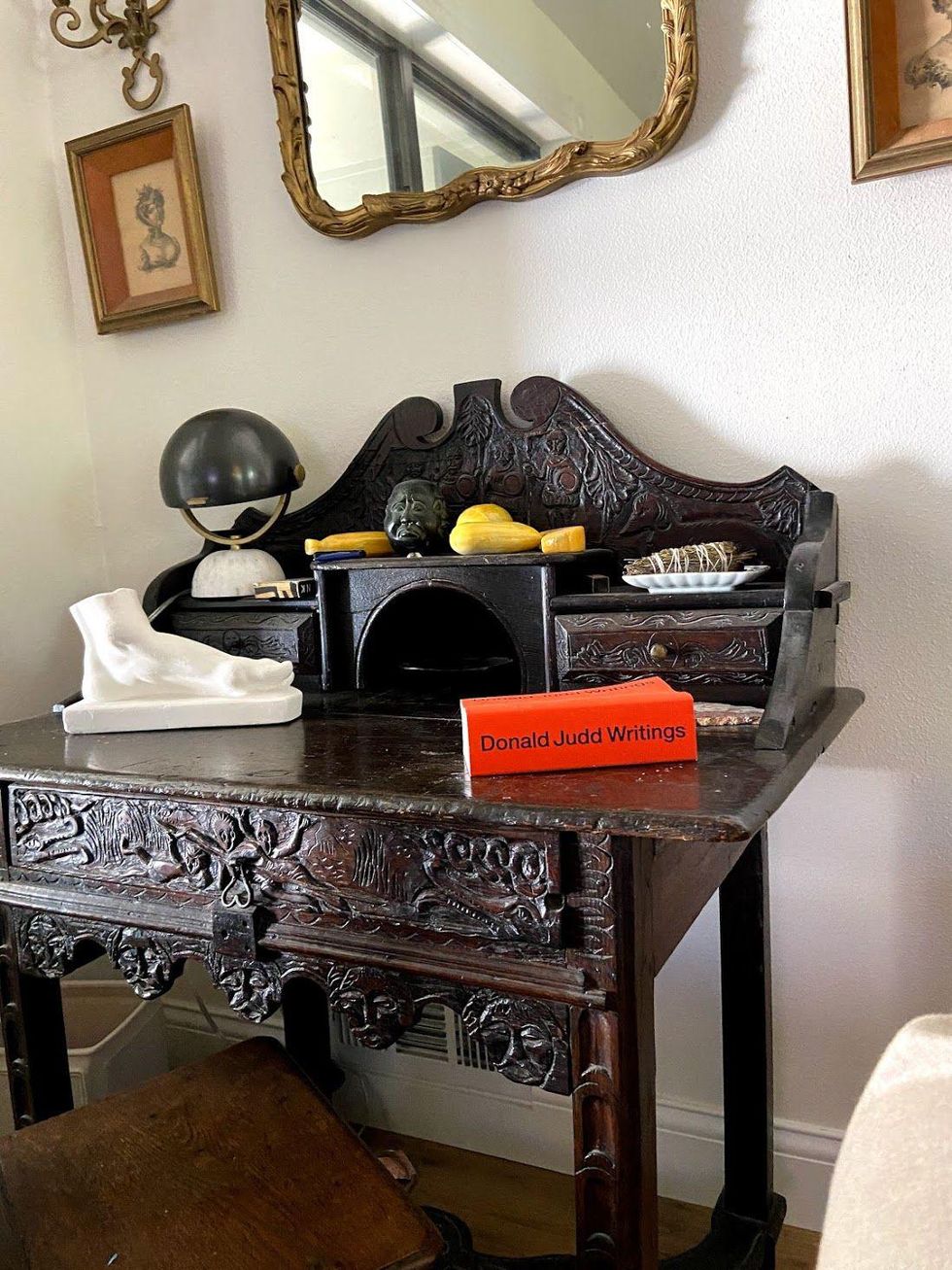 Photo: Courtesy of Kaitlyn Coffee
"I love to collect rocks from various places I visit and display them on my desk nook. I also never go out searching for things for a specific space. I avoid thinking, 'OK, today I am going to buy a bowl to style my nook.' I simply collect bowls and objects that speak to me, and that way they always have a place in my home and fit in no matter where they are displayed."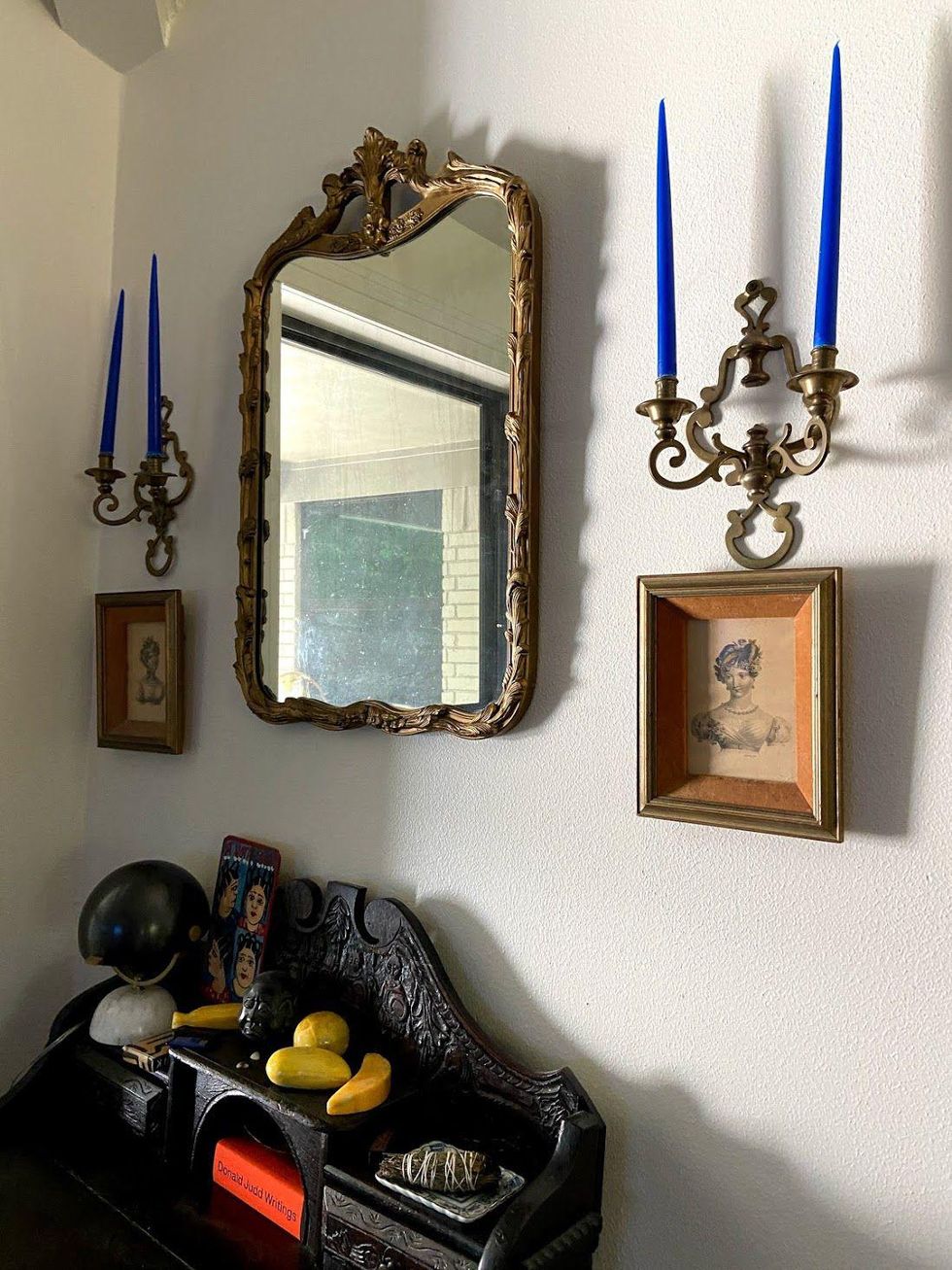 Photo: Courtesy of Kaitlyn Coffee
"Above the desk, I have an old gilded wooden mirror flanked by two sconces, cobalt-blue candles from Hawkins New York, and two antique etchings of women. I always like to have some symmetry when flanking a mirror or a larger piece of art—this creates balance."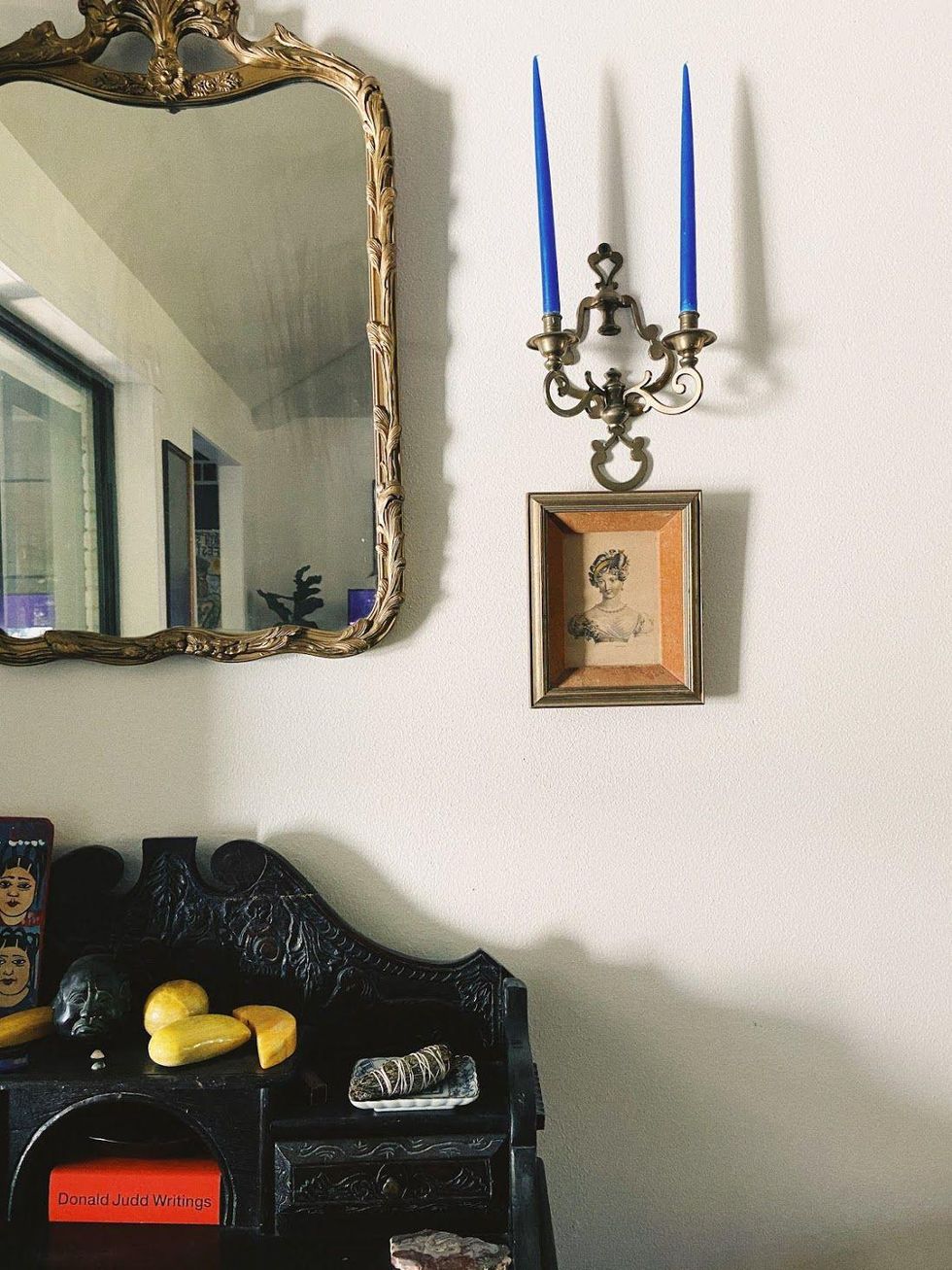 Photo: Courtesy of Kaitlyn Coffee
"The mirror is hung a bit too high. I had my handyman do it, but I never rehung it. A rule I follow (and I don't follow many) is that art and mirrors should be hung no more than three to five inches from the anchored piece (dresser, book shelf, bed, desk, etc.)."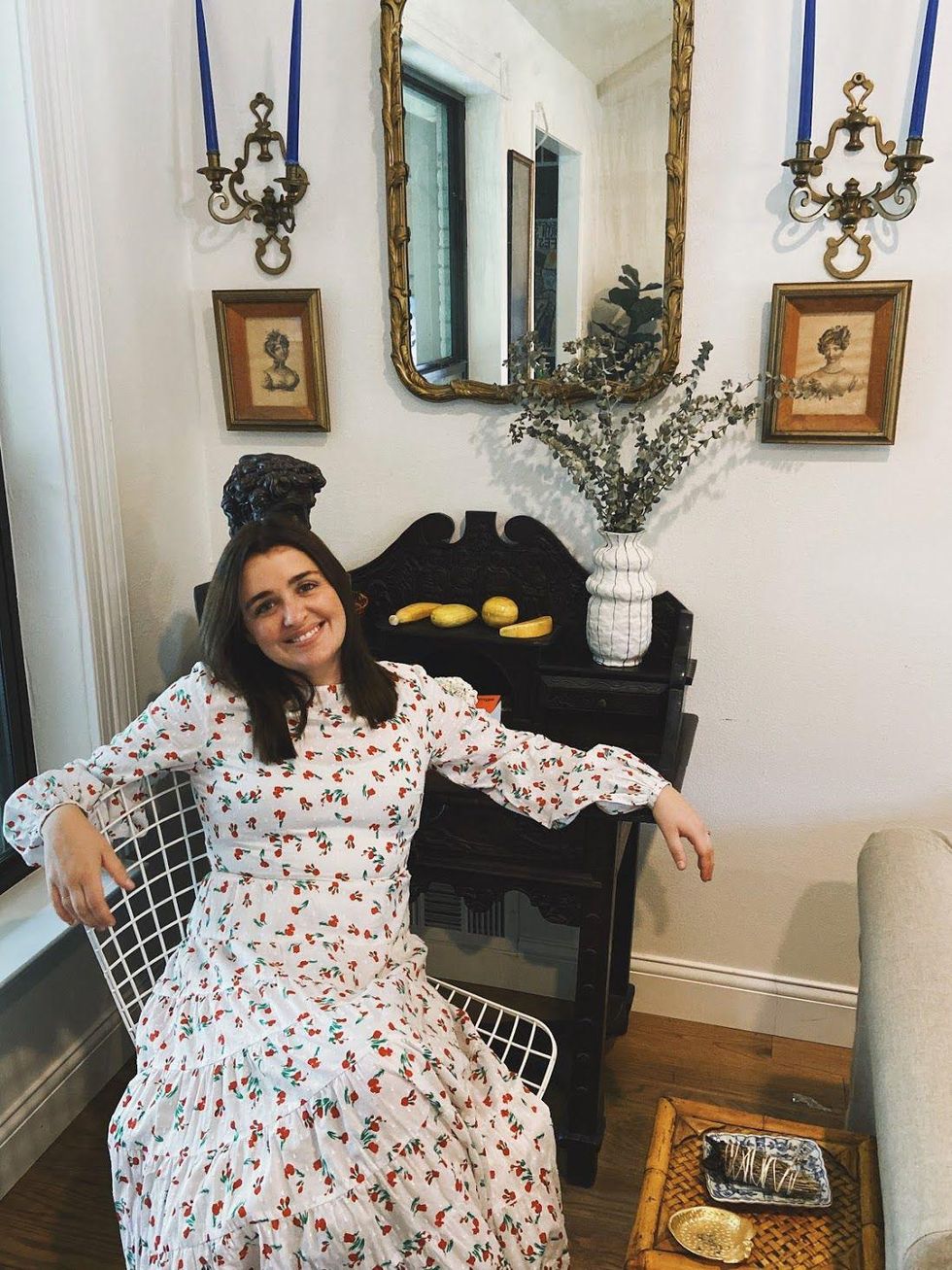 Photo: Courtesy of Kaitlyn Coffee
"The vases seen here (the tall striped one is by Brittany Mojo and the mosaic one by Memor) are constantly rotating around the house—in the kitchen one week, then back to the desk, then to the mantel or a bookcase. This gives your nook, and your home, a chance to change and evolve along with the people who live there."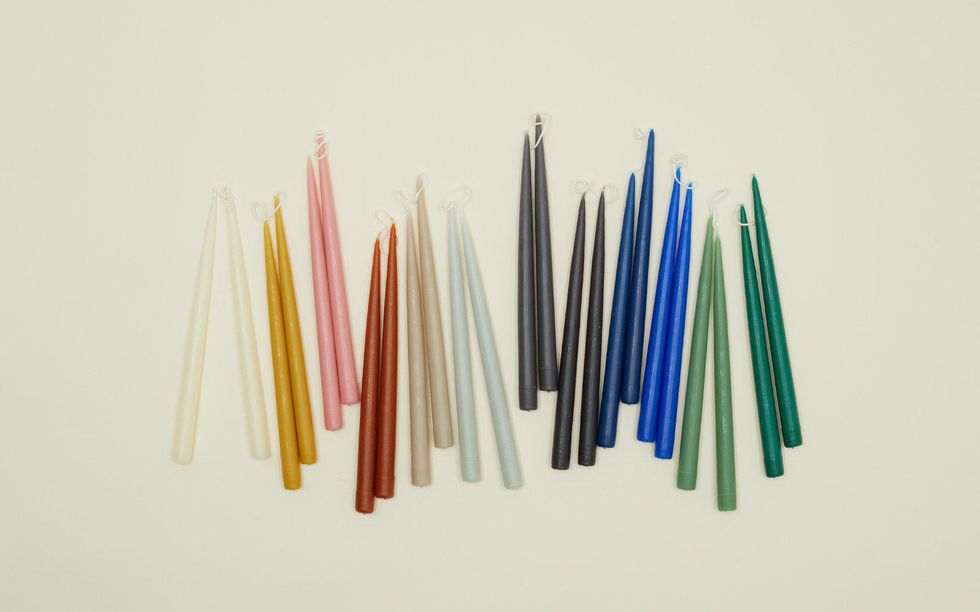 Hawkins New York
Memor