Class of '21
The Olympic Gold Medal Was Suni Lee's Biggest 2021 Plot Twist
Inside the world-class gymnast and college freshman's stellar year.
Graphics:
Ashley Combs
An appearance on the Met Gala red carpet and landing a spot as a contestant on Dancing with the Stars were not on gymnast Sunisa Lee's bingo card for 2021. But looking back, nothing compares to what Lee (who goes by "Suni") considers the most unexpected moment of the last year: winning the gold medal for Women's All-Around at the 2020 Tokyo Olympics. "Going in, I didn't think I had a shot at being at the podium," she shares with us over the phone. "That was the biggest plot twist because I never thought that this would ever happen."
In a historic Olympic year, the 18-year-old from St. Paul, Minnesota walked away with three medals in total, including a silver in the team all-around·and bronze for the uneven bars. But in honoring all she's done since impeccably sticking her landings in Japan, it's worth looking back to this past January first. "Honestly, going into this year it was a really big struggle," Lee shares. Like so many worldwide, she entered the year mourning the loss of family members to Covid, and, as far as her gymnastics aspirations, she was unsure if the Olympics would take place at all. "I was thinking I should chill for a little bit and not do gymnastics, just focus on myself because at that point, honestly, my gymnastics was very bad. I wasn't in the gym and I was just in my head too much, so it was hard for me to stay focused on the goal. There was a point where I was ready to just be done with gymnastics."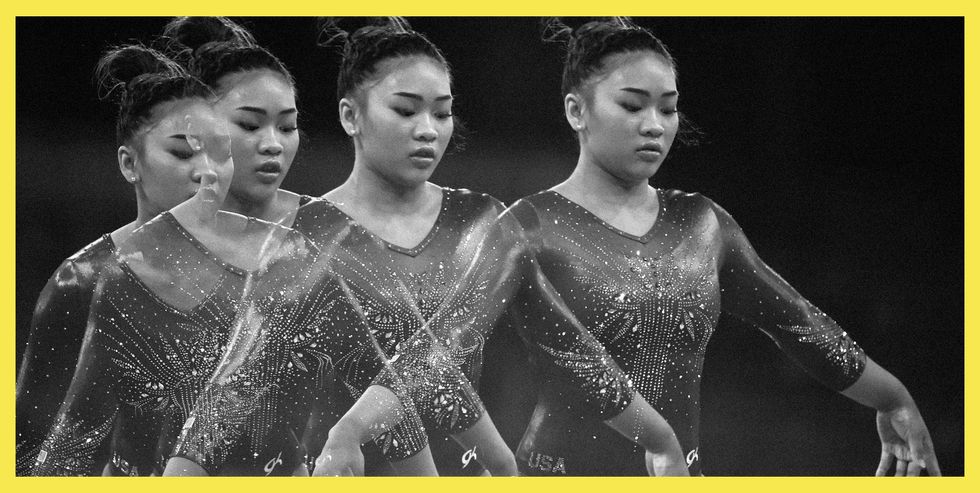 However, despite the emotional and physical struggles—including a twisted ankle injury that Lee experienced in 2020—she overcame and made it to Tokyo last July as part of the U.S. Olympics team. Any viewer can tell you the unexpected pivots continued as Lee's idol-turned-teammate and gold-medal front runner, Simone Biles, would eventually decide not to compete. Lee went on to secure the gold medal. "I'm proud of myself for being able to go through the Olympics," Lee reflects, "because that was such a hard time when Simone pulled out, plus Covid, and we couldn't do anything but go from our room to the arena and come back. That was the most challenging thing."
Lee's win also marks the first Asian-American woman to earn gymnastics gold, while she already made history as the first Hmong American to compete. "My whole goal is just to change the standard and exception for Hmong people," says Lee, reflecting on the impact of her accomplishments, "because I feel like every Hmong woman or man has an expectation that's put on them, girls especially. Girls usually don't play sports. They cook, clean, take care of the kids. A lot of people get married at 18 and I'm doing the complete opposite."
She credits her success to the support of her parents who—along with her siblings and extended family—became somewhat Olympic stars themselves, as we all watched them cheer on their young daughter from halfway around the globe. "They wanted me to be successful so they always pushed me and they were always supportive about everything."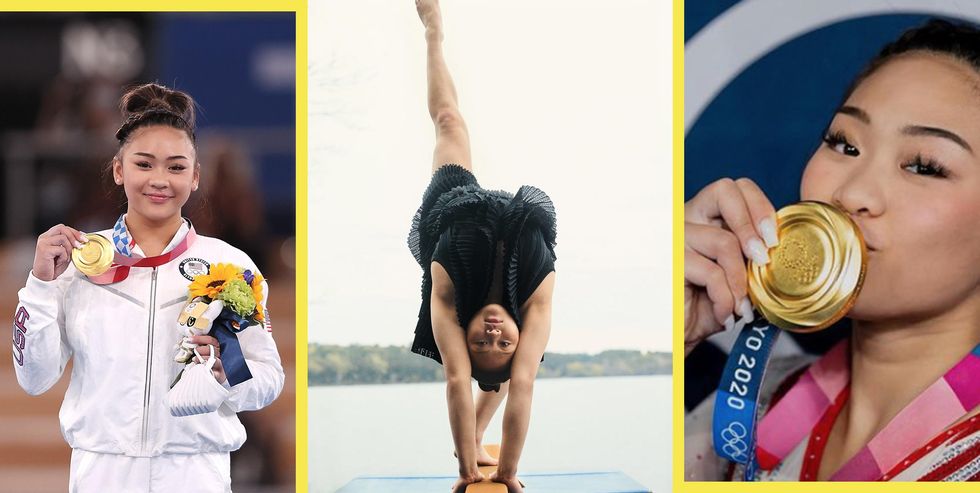 For anyone else whose eyes were glued to the screen as Lee completed her uneven bar routine—while sporting her signature long, freshly manicured nails and a full set of eyelashes that popped across high-definition televisions everywhere—you may assume what followed would include several nights of sleep and maybe a few deep-tissue massages. But that's not how the second half of Lee's 2021 panned out.
"I honestly really haven't had any downtime," she says. Lee resembles her fellow teens in some ways: she lives in streetwear and Jordan 1s, she loves the hunt of a thrifting trip. But few fellow Gen Zers are also balancing a DWTS rehearsal schedule and beginning their first year of college at the same time. For now, she's taking classes at Auburn University and training for the college's gymnastic team remotely. "People ask 'Why is she doing so many things?' But all these opportunities are not going to be here forever, so I want to take advantage of them while I can and I'll rest after."
Hopefully, the holiday season brings Lee a small respite, but there are a few goals she's added to her short-term list, too. "I want to pass my first year of college, and then I want to go for another World Championship in 2022 and 2023 and another Olympics in 2024." Considering it was less than a year ago when she nearly put her Olympic dreams aside, 2021 has changed everything. "It taught me that I'm a lot stronger than I thought," she says. "I can do anything I put my mind to and be good under pressure when I have to be."