Beauty
Inside the Technicolor World of Makeup Artist Sam Visser
The 21-year old is bringing his distinct creative perspective to Dior Beauty and using this new influence to shift the direction of the industry as a whole.
Graphics:
Ashley Combs
We habitually scroll through our Instagram feeds, our minds only partly focused on the pictures that fill our phone screens. Our eyes barely register the content; nothing sticks. Until all of a sudden, you come across a photo that grips your attention. Maybe it was the lavish leopard-printed smokey eye; or the over-lined glossy lips paired with a straight, thick, black eyeliner wing; or was it the magenta pink hue dusted underneath the eyes and atop the cheekbones that captured your eye?
Aesthetic trends, whether it's in the space of fashion or beauty, come and go; the superfluous glamour and excess of the '80s transformed into the monochromatic makeup styles seen throughout the '90s. The beauty trends of recent years have leaned heavily into barely-there skin tints and undetectable washes of color on the lips and cheeks. Sam Visser, the 21-year old makeup artist, stands in stark contrast to the no-makeup makeup ethos, with his creative pendulum swinging hard in the opposite direction. Visser's approach to makeup is all about D-R-A-M-A. It's a sensorial and decadent feast for the eyes. His more-is-more approach is composed of expressive shadows, powders, and pigments that communicate glamour and hark to an age where unbridled excess was the name of the game. It's '80s Hollywood with a modern twist, bending the boundaries of gender and pushing past traditional definitions of beauty with maximum clarity and intensity. The goal is not to hide or to conceal; rather to illuminate something from within. It's makeup that declares, "Look at me. I have something to say."
And now Visser is entering the next chapter of his already-prolific artistic career. This year, he was named Dior Beauty's US makeup artist ambassador, working under the direction of creative and image director Peter Philips, while also bringing his vision to the legacy brand. What does it mean for the iconic and influential brand to look towards this young artist to usher them into their next chapter? "My goal is to get rid of the notion that we've already done everything," tells me over Zoom. "How can we push fashion and beauty forward? How can we transform it into something else that it has never been? What keeps me motivated is that we have this infinite ability to show what beauty is and what beauty can be."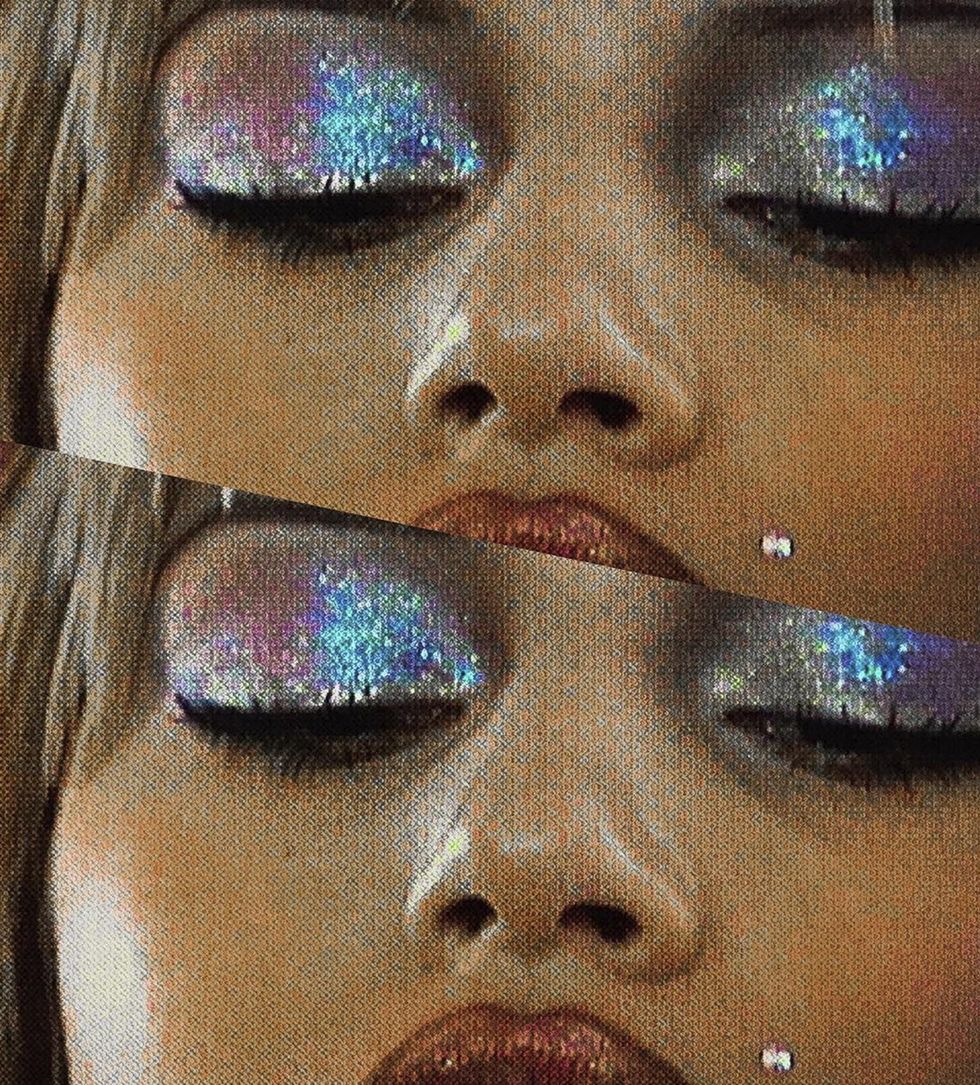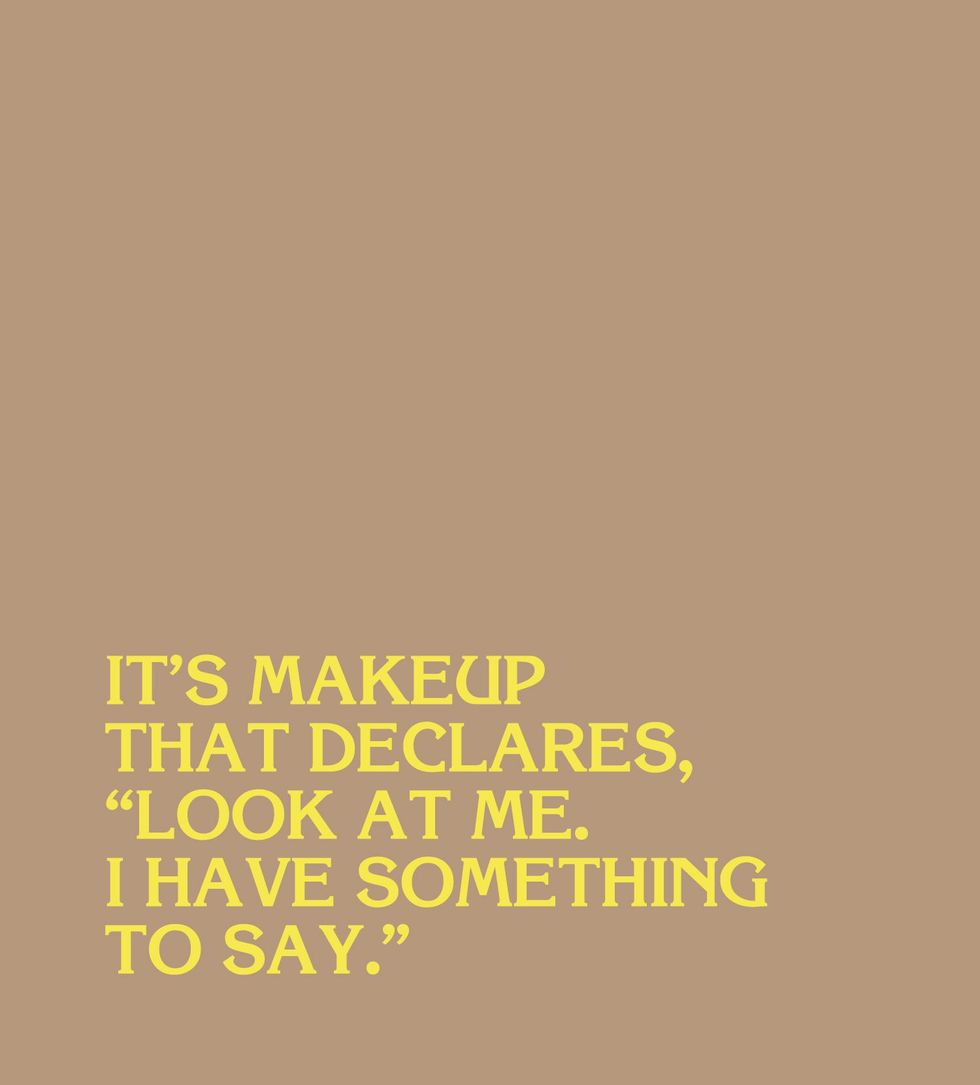 For a member of Gen-Z who's Instagram portfolio is bursting with glamorous images, Visser doesn't spend too much time on the social media app. I ask Visser if he ever looks to Instagram for inspiration and he shakes his head no, without any hesitation. While the app has allowed him to form close bonds with people he may not have met otherwise, it's not an important factor to his overall creative process. "It can become very overwhelming," he adds. "I'm not very present on my social media. And that isn't because I don't want to connect with that community, but I have to take time to myself to reflect. I think creativity comes from within; you don't need that outside noise."
He prefers to draw from the well inside when it comes to inspiration; he goes on walks, without his phone, allowing him to listen to his unfiltered thoughts and take in the minute details surrounding him. "I work visually, and as a visual artist, we soak up so much of what is present in front of us," says Visser, when I ask him if he believes the role of the artist is similar to that of a witness. "And then we see things that are not present, you know? I think that being an observer is something that's very important for me." It's a similar ethos that he uses when he's creating a makeup look; being in the moment and present with an idea is something that he needs in order to execute his creative vision. "You're developing a character. You want to know the details of how they live their life because that's going to affect the way the eyeliner is drawn on," he says. "It's going to affect the way they blend their eyeshadow or how their lipstick is applied."
That isn't to say that Visser hasn't done his homework, of course. His influences include the artistry books Makeup Your Mind by François Nars and Making Faces by Kevyn Aucoin, the 1976 film Lipstick that stars actress Margaux Hemingway and makeup artist Way Bandy, the television show Dynasty (the original version, not the reboot), and his grandmother's mirrored makeup vanity. Modern-day influences don't make the list, which makes sense. Though he admires what his contemporaries are doing, if his goal is to push the beauty into its next iteration, why look towards your peers as a source of influence? That would just result in the same looks being produced and bring any forward-thinking narratives to a standstill.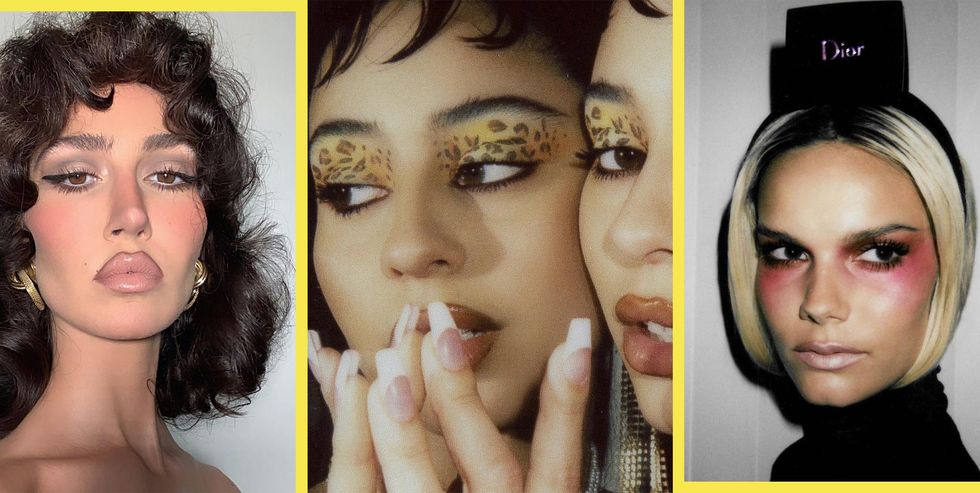 You want to know the details of how they live their life because that's going to affect the way the eyeliner is drawn on."
From an outside perspective, it's hard not to see Visser's role at Dior as something that was destined from the very beginning. Serge Lutens, Dior Beauty's image director from 1967 to 1980, also noted that he drew on an "inner connection" for inspiration. Tyen, the brand's second image director from 1980 to 2014, was known for his use of vivid color for an intense visual impact. He, too, looked towards nature as a source of inspiration. Philips, the current image director whose tenure began in 2014, has been quoted in the past saying that he takes an intuitive approach to color and believes "there are so many approaches to makeup."
Visser's work, prior to the onset of his relationship with the brand, plays with light and color with such a sharpness that it jumps off the page (or, rather, off the screen). In a previous interview, Visser calls out how his favorite color is cobalt blue, a color that, along with red, has been a staple for Dior Beauty for years. As I've written about before, the color itself has a hold on artists, both past and present. The French artist Yves Klein believed that blue had a metaphysical ability to transport the viewer beyond the realities of their existence. Artist Wassily Kandinsky wrote that blue "calls man towards the infinite, awakening in him a desire for the pure, and finally for the supernatural." Writer Rebecca Solnit considered blue to exist "at the intersection of distance and desire."
When I bring this up to Visser, he lights up, expressing the admiration he has for Philips, Tyen, and Lutens for their use of the shade to create images with lasting power. "Peter creates deep, dramatic blues and violets that sparkle; there's just a richness to the tones on every level," he says. "It's so fantastic because they love that glamour, they love that drama, and that's rooted in the history of Dior makeup."
His foray into the role was a natural progression, according to Visser, and he's appreciated Dior has encouraged him to remain authentic to his creative vision. "They've just gone above and beyond to be understanding of who I am as an artist," he says. "They've never tried to control me or anything like that, which is rare with a brand as large as Christian Dior. I feel so grateful."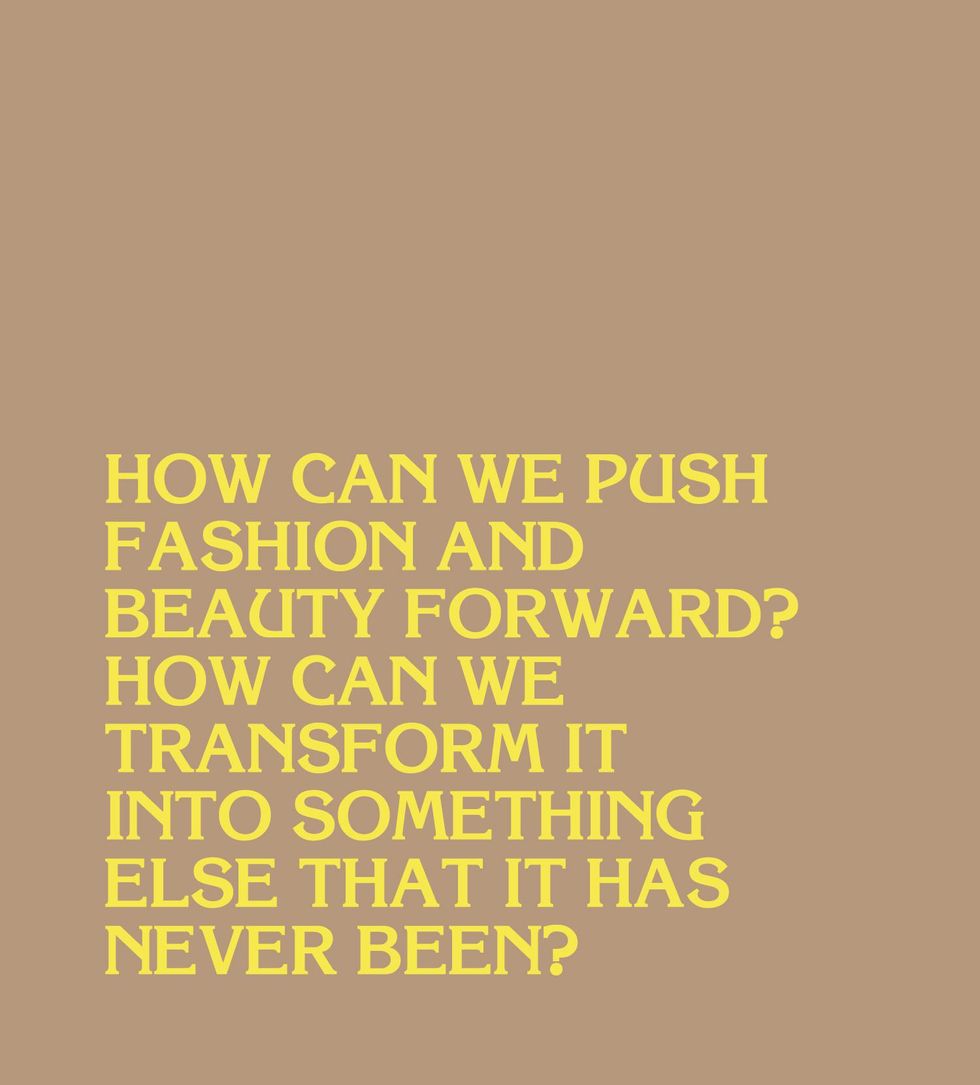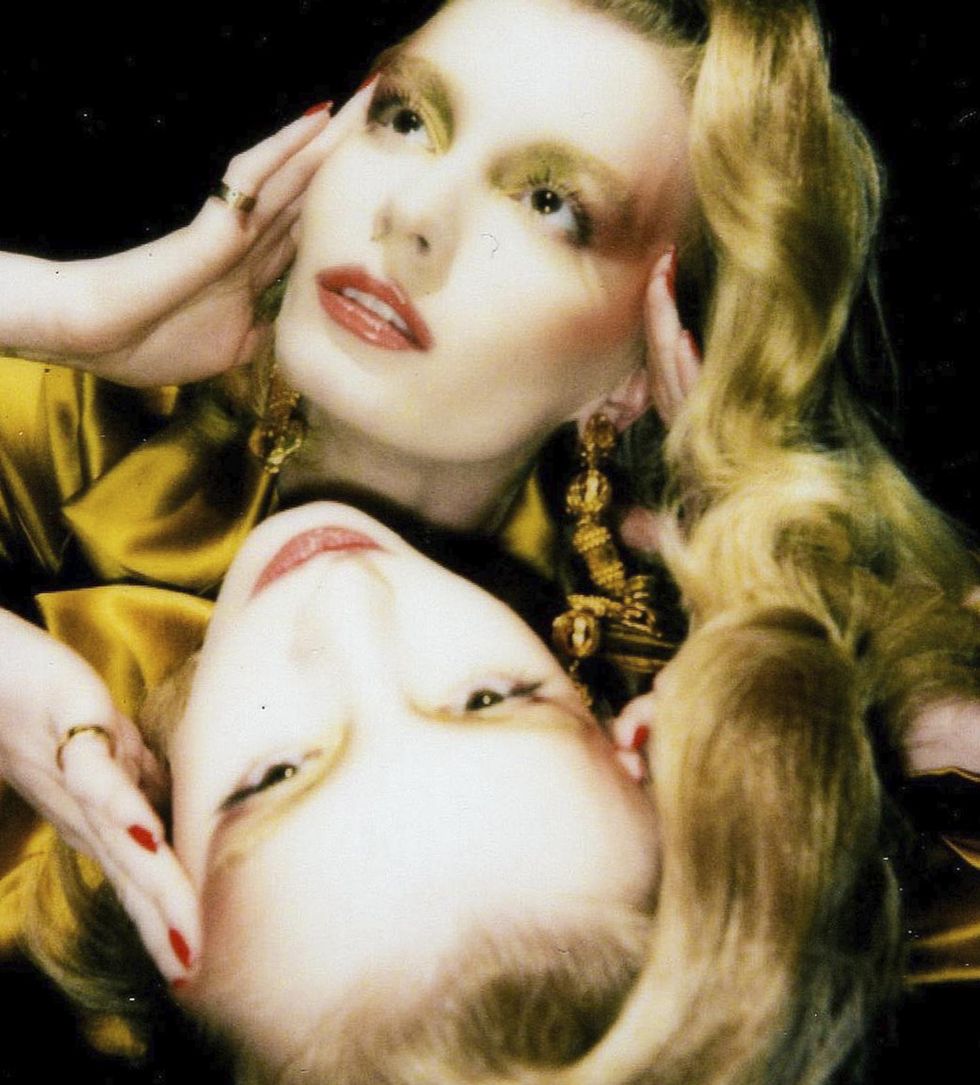 The concepts of glamour, escape, and fantasy are what drew Visser to makeup in the first place. Born in November 1999, he grew up feeling out of place in Ventura, California, surrounded by surfers and skateboarders. "I was dying my hair and wearing makeup to school. I just wanted to express myself in a different way," he says. "It was in eighth grade when I had more confidence to present myself in the way I wanted to." YouTube played a significant role in this self-confidence boost, allowing Visser to see other people who looked like him who were also experimenting with their appearance. "There was Richie Nickel; he was a British YouTuber who I loved," says Visser. "He was presenting as a male and still so expressive with makeup and fashion and beauty. He was just totally himself and that was something I didn't see in the city I grew up in." Makeup became a way for Visser to transcend the boundaries of his everyday life. His parents were supportive of his creative exploration, and since he lived near the mall, they'd let him walk there on weekends where he'd go and hang out at MAC and learn about makeup from the artists behind the counter. They'd give him face charts and pulling from his painting background, he'd sketch for hours at a time, drawing out looks that he'd create later on borrowing the makeup from the MAC team.
"They'd dress up in the most insane outfits and people were wearing latex and feathers," he says, smiling. "It was full drama, full glamour, and it was so inspiring because there was no other place like it. It was a safe space for me."
"Makeup felt a bit more temporary, which I liked," Visser adds. "I love change and I love that makeup can completely transform someone, allowing them to express themselves however they want. You can change and manipulate factors of your face just with pencils and powders and creams. There's a sense of freedom it gives you."
The years following the ones spent in front of the MAC counter have now grown into a larger-than-life story, approaching myth. When Visser was 12, he came across makeup artist David Hernandez at the Make Up For Ever store in Los Angeles, and Hernandez invited him on a shoot with photographer David LaChapelle. At 16, Kris Jenner found Visser's work on Instagram (where else?) and chose him to do her makeup for a shoot. That opportunity spurred into a more long-term experience where he worked for Kris full-time while also learning lessons in application technique from makeup artist Mario Dedivanovic. (Visser finished high school through an independent study program, allowing him to work full-time.)
Then Visser decided to move to the better coast (my words, not his) and landed in New York City, where he began working with celebrities like Bella Hadid and Kaia Gerber and collaborating with brands like Dior. While a small amount of luck plays a role in anyone's success, luck itself cannot create a lasting career or a sharp creative point of view. It's his astute technical skill set, the countless hours he has put in, and a deep historical knowledge of the industry that informs his unique perspective that has allowed Visser the ability to carve out this career for himself.
His warm personality doesn't hurt either. Visser is chatty, kind, and eager to dive into the intellectual underpinnings of his work as an artist. It was as if I was speaking to a friend—one who is really, really, really good at makeup—as we bounced from discussions on gender, developing a sense of character within creative work, and how incredible the finish is on Dior's Forever Skin Glow Foundation without missing a beat. The boundaries of interviewer and interviewee quickly dissolved shortly after our video chat began.
It's a skill that depicts the type of person he is, as well as the work that both of us do. Whether you're interviewing someone or painting their face, we're both in the business of making people feel comfortable in order to gain clarity; an understanding of who people are, who they want to be, and how to make sense of the gap inbetween.

"This is a product that was released this past year; it's a talc-free powder, so it's very creamy and light. I'll sweep it over the skin and it gives it a gorgeous luminescent glow."
Dior
"What I love about the pigment of this eyeshadow is that they're super rich and pigmented. You can use them dry, but I like to wet them a bit so that they're super vivid on the lid."
Dior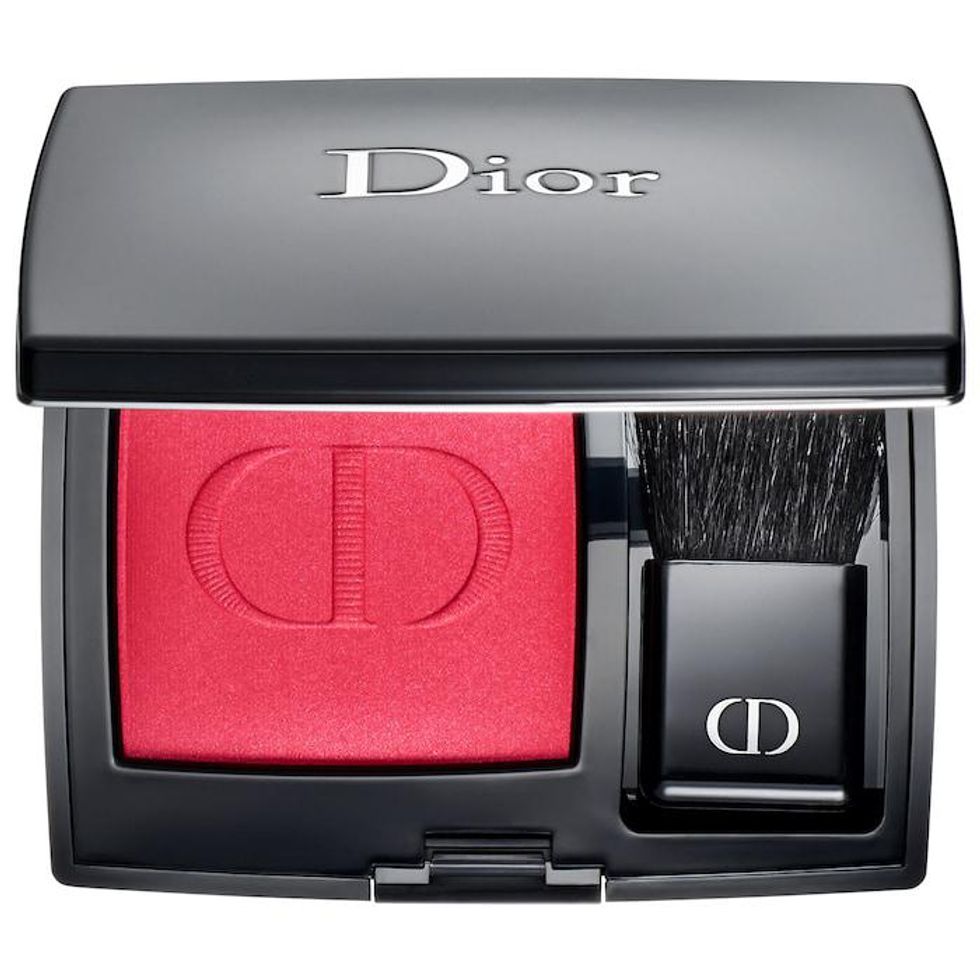 "This rich red powder blush looks fantastic on every skin tone, something that's very rare. Sweep it onto your cheeks, lids, and temples to add a fresh flush to your skin."
Dior
"The 100 nude lip liner and lipstick are both staples for me. I love the satin texture of both products; they're so creamy and moisturizing while still staying on your lips for hours."
Dior