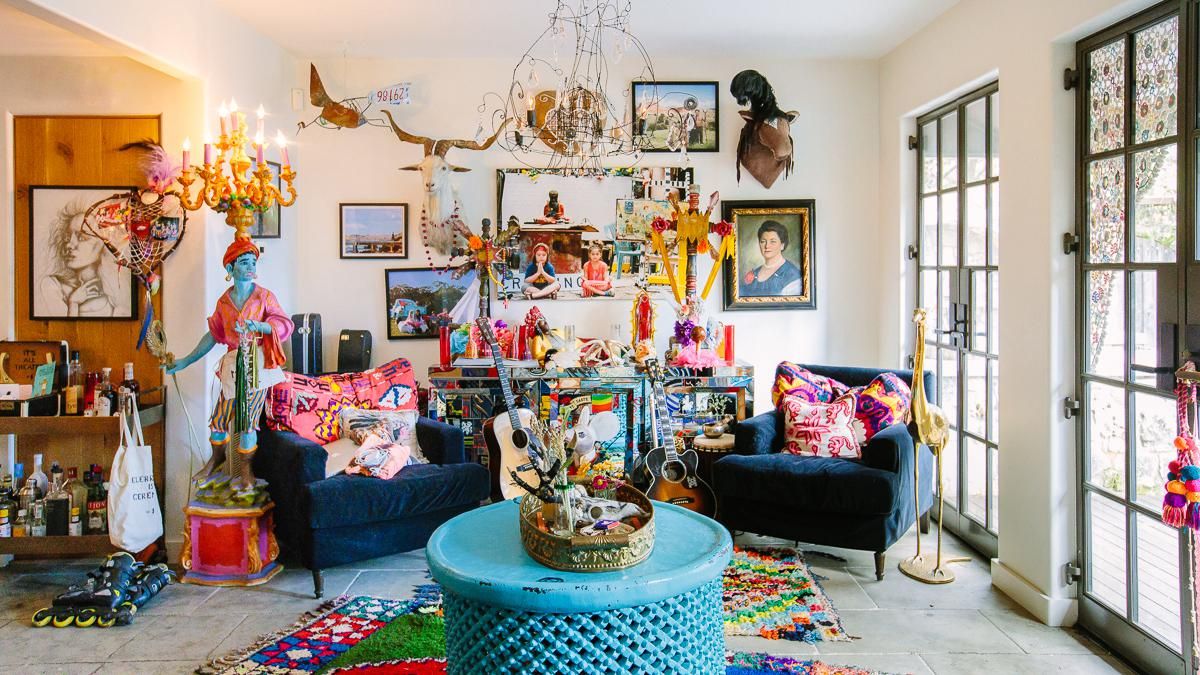 Interiors
This Colorful West Austin Home Is Full of Furniture That Doubles as Art
Sheila Youngblood's home serves as an ode to color.
Crossing the threshold of Sheila Youngblood's West Austin home is like realizing what the inside of an artist's brain must look like. What at first glance may appear as a slightly cacophonous cabinet of curiosities, actually boasts a throughline of cultivated style. That connective tissue comes not only from the head, but the heart of the aesthete.
Youngblood walked me around her home on FaceTime, bangles clanking as she knelt to show me the hooves on the legs of her entry table or the underbelly of an octopus sculpture-meets-table—more on that later. These eccentricities, along with many others around her home, are the work of local artist Barry Jelinski. They depict the inner workings of her mind and style: personality-driven eclecticism with a dash of humor.
Youngblood's personal background is rather eclectic in nature as well and includes cultivating both her creative eye and spirit by studying with Shamans, spending time on North American reservations, and collecting Latin American folk art throughout her travels. So naturally, she speaks about shopping as a sort of transcendental treasure hunt.
Youngblood is the owner of Rancho Pillow, a whimsical Texas wonderland set in the heart of Round Top (home of the lauded antiques show that occurs in October and April), which houses the same colorful eccentricities of her home and personal style. "There's just an expression of my heart through my interiors and what I wear," she explains. In a convergence of like-minded souls and tastes, Youngblood is partnering with A Current Affair for three days of curated vintage shopping later this month. Whether you'll be able to attend, continue scrolling to discover how Youngblood's otherworldly home came to be.
Kaneko Kohyo
AE Ceramics
Gregory Parkinson
Luteca
Shiprock Santa Fe