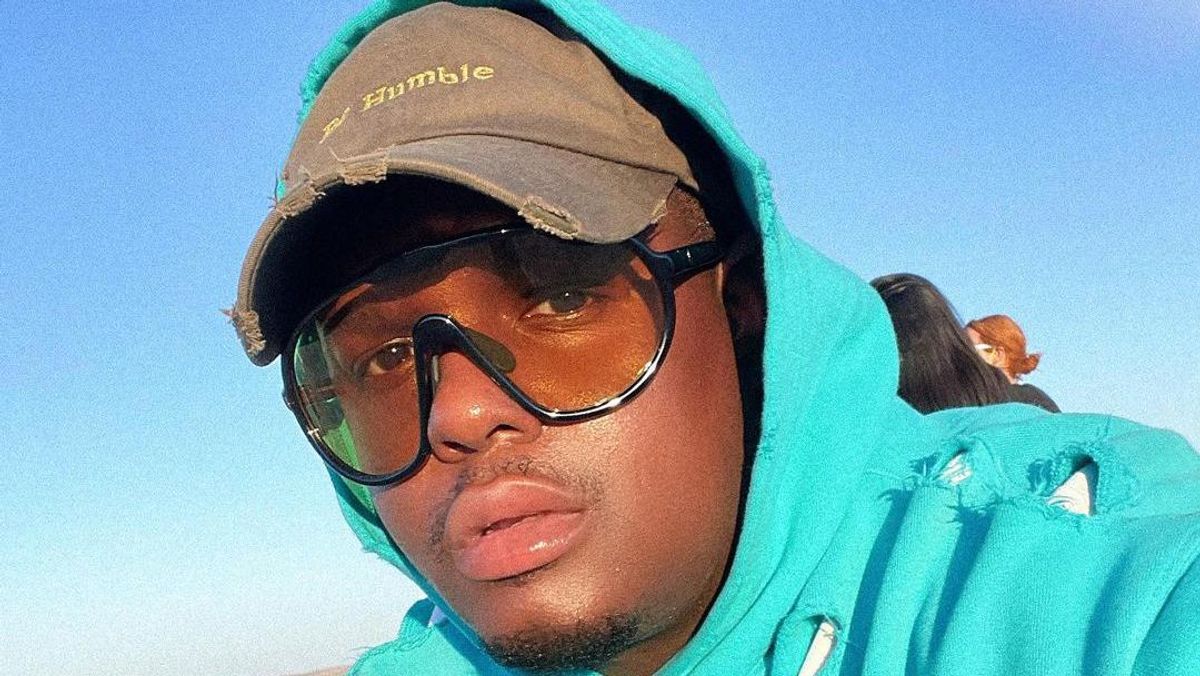 Makeup
How This Celebrity Makeup Artist Went from the MAC Counter to the Met Gala
Keita Moore opens up about his career, how he creates his signature glow, and more.
There's a reason why we refer to the talented individuals who dust on foundation and contour cheekbones as "artists"—anyone who has seen the transformative powers of a full beat with their own two eyes has no choice but to call that art. Countless sculptors and painters have long pulled their influence from the corporeal form, be it through busts or portraits that attempt to recreate one's likeness.
As an art school graduate who is now responsible for enhancing faces of celebrities like Mary J. Blige, Adut Akech, and Iman, Keita Moore understands the power that art holds. "I fell in love with art at a very young age and my parents encouraged me to pursue it," Moore says. Moore's mother played a significant role in igniting his love affair for beauty; she was a full-on glamour girl whose makeup would result in oohs and aahs from his classmates in school. "That's when I realized the power of makeup," he says. "She was just my mom one moment, and the next she was glammed up with her makeup on. You could tell that was her superpower."
Now Moore is working with some of his idols, including people who got him through tough times and served as inspiration when he was coming into his own. "It's been surreal and such an amazing experience to be in the presence of powerful and beautiful women who I've looked up to through their music, on television, and on magazine covers as a teenager," he says of his clients. "Now I'm painting their faces and it feels like a dream. It's important for me to remember how far I've come."
Here, we talk with Moore about how he creates his signature makeup glow, the upcoming Met Gala, the effect the pandemic has on makeup artists of color, and more.
On his journey into the beauty industry:
"I went to art school and I was totally into fashion. I would take Elle and draw the covers, the celebrities, the makeup, and then I would paint it. All of those things prepared me for my journey as a makeup artist. My mom was a Mary Kay director; I never thought I would do makeup. I was totally uninterested in it at first, but after graduating and working a nine-to-five job for a few years, I realized art was just not working for me and that I really didn't have an interest in it like that.
"My friend was doing a fashion show in Rochester, New York, where I'm from, and one of the makeup artists bailed on her. So with three days to go, she asked me to do the makeup and immediately I said, 'I can't'. But after a few hours, I warmed up to it, packed up some of my mom's Mary Kay makeup, and went and bought a few things. I arrived with a plastic bag full of makeup and I was shaking in my boots, because the other two makeup artists there had arrived with full-fledged kits. But as I started to do the girls, they loved it, and I looked back and there was a line of models waiting for me to do their makeup. So I thought, 'Wow, I must be good at this.'
"I started practicing makeup on my nieces, and I ended up applying for a job at MAC Cosmetics. I worked there for eight months and learned the basics."
On the power of makeup:
"When I was a child, I would see my mom and think that she had two faces; it's similar to what I see with my clients. When she walks in the room, she's Mary, and then when she's fully glammed and she's dressed up, she's Mary J. Blige. She's the icon that everyone knows her to be and she has that confidence. That's the power of makeup."
On how he achieves his signature glow:
"I'm an artist who layers, and I like to layer to the point where she's glowing and she looks amazing without it being overdone.
"I like to use emollient highlighters rather than powder ones because they're hydrating on the skin. I just tap that onto several areas of the face. When the light hits their skin, it looks like they're glowing from within.
"I didn't even know the power I possessed when it came to makeup. 'You know that's your signature, right?' people would say to me. 'It's the glow.' And I'm like, maybe it is! I just want women to feel like the best version of themselves."
On how he's preparing for the Met Gala:
"I'm doing the Met Gala next month, and I have four different girls that I'm working with. Don't ask me how it's going to get done; I'm just going to make the magic happen. I'm so excited that it's coming back in September. I already know what some of my girls are wearing, so I've actually been using Camera IQ, an AR technology that lets you virtually try on makeup, to create different looks and just show them how the makeup is going to look with what they're wearing. It makes life much easier for me."
On the lessons he learned from the pandemic:
"We did go through a difficult time in 2020, and even to this day we're battling through it. It made me realize that you have to be prepared and be ready for anything. I do have a savings account, and I was able to have money and even work through the pandemic. I wasn't working with a lot of the stars I normally work with, but I was doing partnerships with brands and I even did a few campaigns at the height of the pandemic. But it was most important to stay safe because we didn't know what we were dealing with. And we all learned that the small things in life matter. When it comes to our day-to-day life that is very much driven by social media, there's an information overload. It's important to find your peace and find your mindfulness. Those are the things that mattered to me in 2020 and continue to in 2021. I pay attention to those things now more than ever."
On his new and improved self-care routine:
"There was a time when I wouldn't say no, even when I wasn't feeling my best and probably should've gone to see a doctor. But I got on a flight instead to go to a client. In these times, I've learned to put myself first and that it's OK to say no. At the end of the day, our bodies and our peace of mind come first before anything else. When you show up for yourself, then you can show up for everybody else. In the beauty industry, it can feel like me-time doesn't exist, but taking time for yourself is essential to your health.
"Before I leave Rochester to head to New York City, or wherever I'm going, I make sure my vitamin pack and my herbs are ready. I also like to go for walks and meditate with my Calm app. I meditate every single day because in a world with so much noise, chaos, and confusion, I have to center myself in the midst of all of those things and declutter my mind so that I can recharge and go back out there."