Photo: Estelle Hanania
Fashion
Where refinement and cheerfulness combine for everyday elegance. Produced by Coveteur for Van Cleef & Arpels.
Estelle Hanania
Certain collections ascend to the top of every jewelry lover's wishlist. Those made up of iconically elegant pieces—usually enriched with remarkable history and craftsmanship—that transcend aesthetics and contemporary trends. But while timelessness entices, legacy designs boasting joy and uniqueness feel all the more thrilling, like the luminous silhouettes in Van Cleef & Arpels' Perlée Collection, featuring the Maison's instantly recognizable rounded golden bead motif. "The Perlée collection from Van Cleef & Arpels is one of those classic, cornerstone jewelry collections that never goes out of style—it's the epitome of timeless and chic," says Coveteur's Head of Brand and Editor In Chief, Jessica Teves.
These precious spheres in yellow, white, and rose gold have gleamed in Van Cleef & Arpels' creations since the 1920s, first to emphasize a design or border a stone before becoming a motif in their own right. And now, the golden bead technique is even more alluring, with a cheerfulness akin to recent nostalgia-inspired jewelry. Think: bold rings, sparkling pendant and bracelet duets, and curvaceous watches with vivid precious stones, mother-of-pearl, and coral. Plus, pavé pieces that brilliantly flicker for an everyday enhancement, whether worn minimally or layered.
Each Perlée piece is impactful yet impressively versatile and capable of anchoring any look. Ahead, Teves shares her favorites from the collection while demonstrating the incredible mix-and-match effect of each one to express her personal style.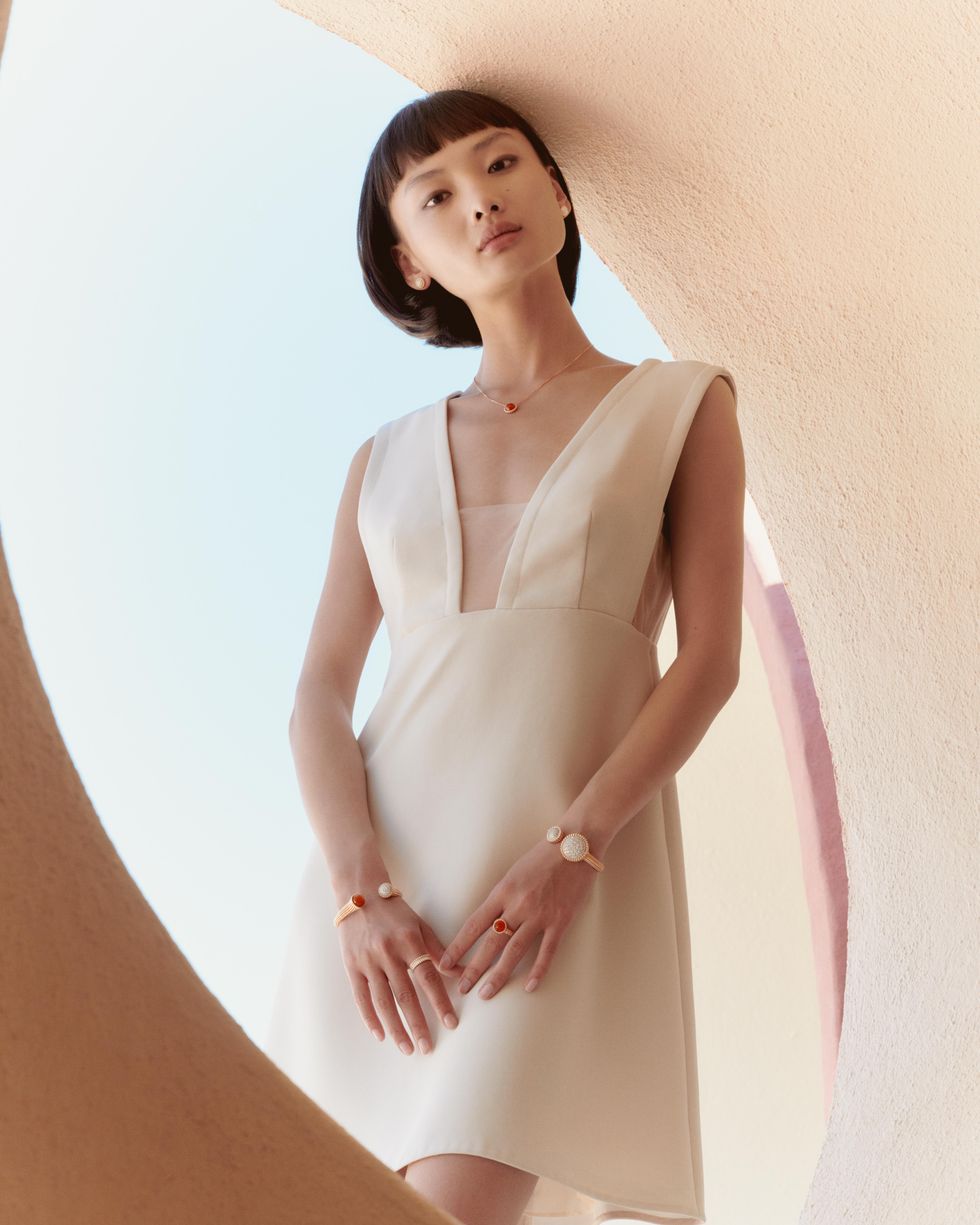 To me, the Perlée collection emits joyful energy—it's as if when I put it on, my mood is lightened, and I feel the spirit of the iconic pieces I'm wearing.
"The intricate craftsmanship of Perlée's golden bead technique, crafted with the lost wax casting method, resonates with my antique-loving side while emitting a boldness through the three-dimensional design and striking colors of rare precious materials like lapis lazuli, coral, and turquoise. There's nothing like the impact of brilliant cabochon stones and the tension created when elegantly framed by a border of golden beads. I love to layer these pieces for everyday wear, both with delicate and weighty styles, for an elegant textured look."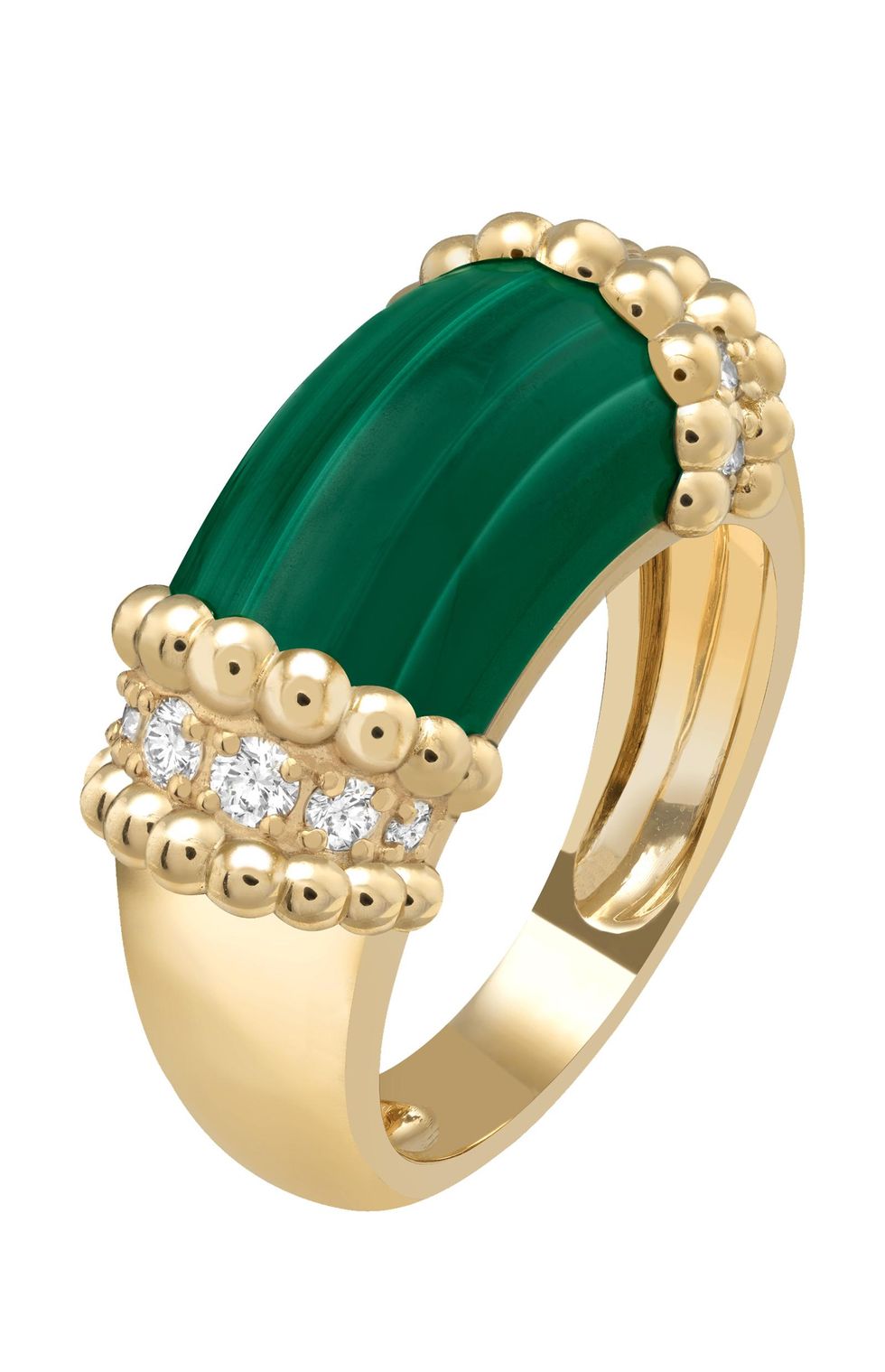 Van Cleef & Arpels
Van Cleef & Arpels
Van Cleef & Arpels
Quite simply, the Perlée collection is the ultimate personal style accouterment, especially when I'm craving a shimmering touch that's uniquely elegant and cheerful.
"I always look for exceptional details in my most-worn pieces, whether I'm styling them with casual staples like denim or more formal event attire, like the interplay of light found in the Perlée Couleurs 5-row ring with colored precious stones. Even better, these rings hit a nostalgic note, taking inspiration from Van Cleef & Arpels' Caroline rings and bracelets created in the late 1970s. The gemstone's intensity and the yellow gold's warm glow harmonize beautifully."
Van Cleef & Arpels
Van Cleef & Arpels
Van Cleef & Arpels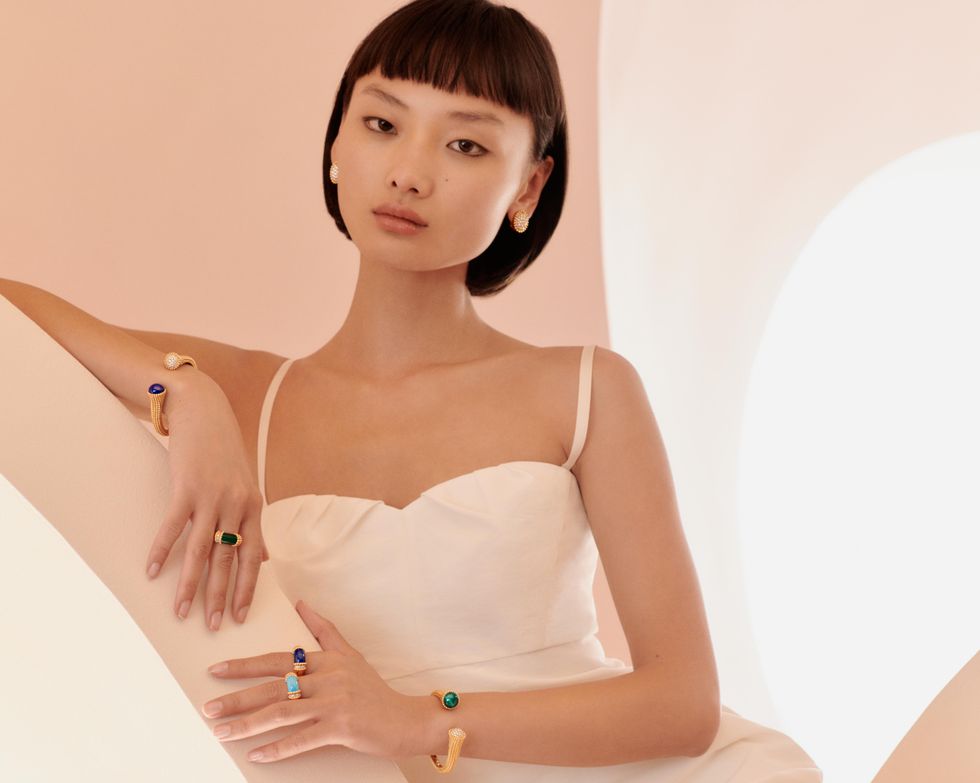 My go-to touch for sophistication with daily layers is a jewelry timepiece, so I'm thrilled that Van Cleef & Arpels has introduced the Perlée aesthetic to new watches.
"Each design combines watchmaking savoir-faire with jewelry inspiration for an elevated look that melds beautifully with any bangle, linked strand, or diamond-adorned chain."
Van Cleef & Arpels
Van Cleef & Arpels
Van Cleef & Arpels