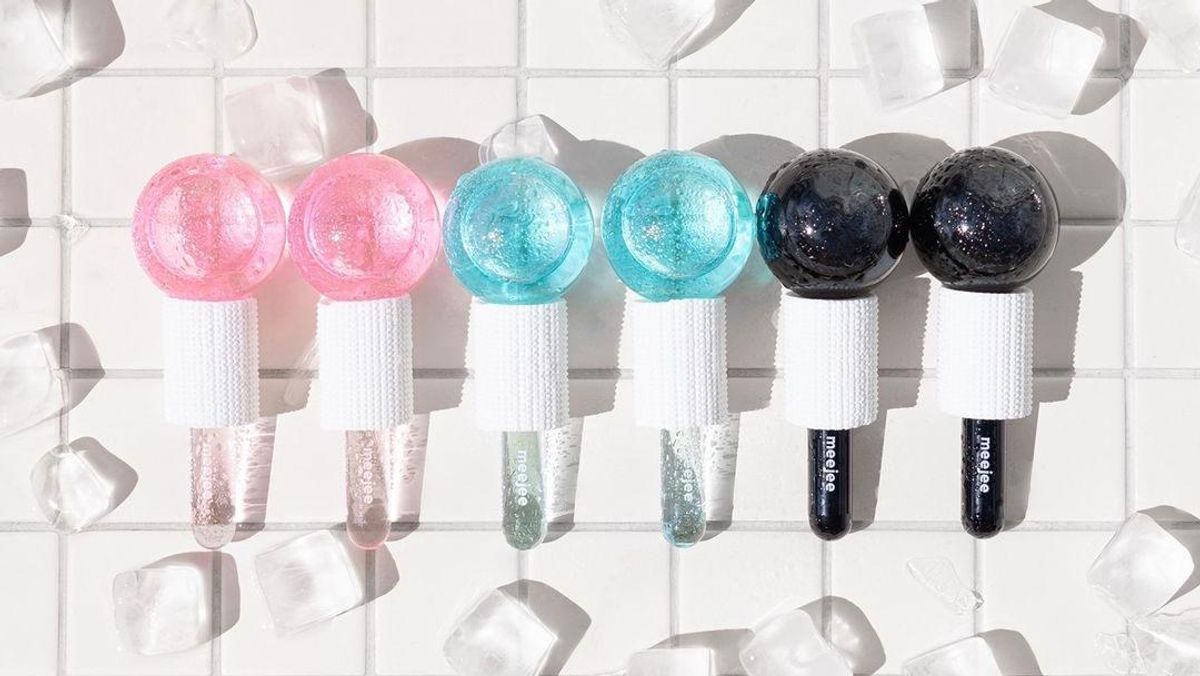 Skin
What It's Like to Launch a Sustainable Skin-Care Business During a Pandemic
Meejee's co-founders haven't even met yet.
One might think it's a bad idea to launch a skin-care company during a pandemic. But that's just what product developer and consultant Brooke Tassoul and serial entrepreneur Ben Segarra did early last year when they launched Meejee, and—spoiler alert—their silicone-based face-cleaning massager has sold out four times since then.
The best part: Tassoul and Segarra still have yet to meet IRL. Yes, you read that right: "Believe it or not, we still have yet to meet in person," Tassoul tells us. "It'll happen eventually, but for now we wear it like a badge of honor, being one of the first truly virtual companies born at the dawn of the remote work era."
Segarra was introduced to Tassoul through a mutual contact—virtually, naturally—when Meejee was just getting started. "There was an immediate fit," Segarra tells us. Tassoul leads wholesale and operations, and Segarra leads marketing, product development, and the overall direction of the business.
In the beginning, things were tricky
As one might expect, launching a company during a pandemic wasn't' exactly smooth sailing—but things turned around. "Initially, it was a challenge due to the temporary decrease in consumer spending, but this was quickly made up for with the increase in online shopping," Tassoul says.
Difficult times might have even contributed to their success. "The pandemic gave a large number of people the time to be able to invest in self-care and self-improvement," Tassoul says, "which has had a positive impact on our business and the rest of the skin-care industry."
Another plus: "We started remote, which allowed us to bypass the painful transition from in-person to remote work," Tassoul says. "Our team members love being able to work remotely and autonomously, [as well as] the opportunity to continue to do so even after other companies transition back to in-person work."
Sustainability is key for the business
From day one, Tassoul and Segarra committed to ensuring their products would be BPA-free, cruelty-free, ethically sourced, and vegan. And though that has become en vogue with many in the skin-care industry in recent years, the same can't yet be said for the skin-care device industry.
"We're the only company in the skin-care device space that places a significant emphasis on sustainability and social responsibility," Tassoul says. "It's part of our mission to be a catalyst for other companies in our space to do the same."
They're passionate about being kind to the planet. "At every opportunity, we source recycled, recyclable, or compostable raw materials, and we are constantly searching for ways to reduce our carbon and plastic footprint," Tassoul says. And they have the receipts: "For example, we recently redesigned our packaging to reduce the amount of plastic included by over 99 percent," Tassoul adds.
"Ethically sourcing materials, vendors, and packing is at the forefront of our business," Tassoul says. "Our suppliers are heavily vetted and required to submit third-party audits to ensure our strict social compliance standards are met."
The horizon is bright—and affordable
In addition to their signature face massager and cooling facial globes, watch out for new products that are designed for the whole body—and affordable. "We'll be introducing products at more inclusive price points to allow us to help even more people reach their skin-care and sustainability goals," Tassoul says.
"Sustainability will remain at the forefront of our product development and will expand into shipping and logistics," she adds. "Customers will soon be able to track the individual impact of their purchases using NFC technology. We also plan to expand our recycling program, taking full responsibility for our product from creation to expiration."

Lessons abound when launching during a pandemic
"The biggest lesson we learned through all of this is to invest more into inventory," Tassoul says. "Our customers continue to surprise us with the level of demand for our products, so we often found ourselves sold out for extended periods of time.
"This, combined with the pandemic-related delays in international freight, caused us to go through this up-and-down motion of ramping up marketing spend, selling out too quickly, then having to throttle back and spend numerous times," she adds. "If we were to go back and do it again, we would definitely overestimate our inventory needs to smooth out our sales growth trajectory."
The biggest surprise in the end? "How feasible and beneficial it can be to have a fully virtual business," Tassoul says. As we slowly emerge from the pandemic and find ourselves online more than ever, we have a feeling this won't be the last time you hear a founding story like this one.