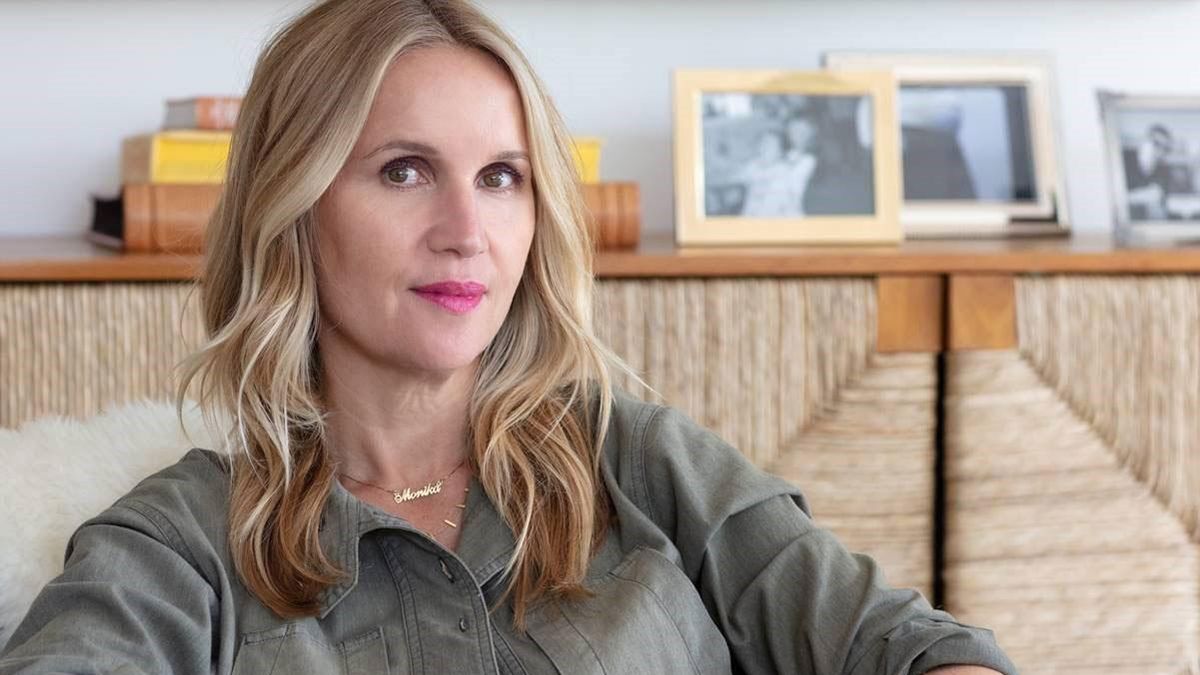 Makeup
Monika Blunder shares her inspiration and summer beauty hacks.
Austrian born and now L.A.-based celebrity makeup artist, Monika Blunder is well known in Hollywood for the flawless complexions she creates amongst her A-list clientele that includes names like Jessica Alba, Amanda Seyfried, Emilia Clarke, and Rosie Huntington-Whitely. So, when she launched her namesake brand, Monika Blunder Beauty, it was an instant hit due to its clean and conscious formulation, but also soft and gentle effect on the skin.
We spoke to Blunder on the birth and inspiration for the brand, her career as an MUA, and her beauty hacks behind her go-to summer look.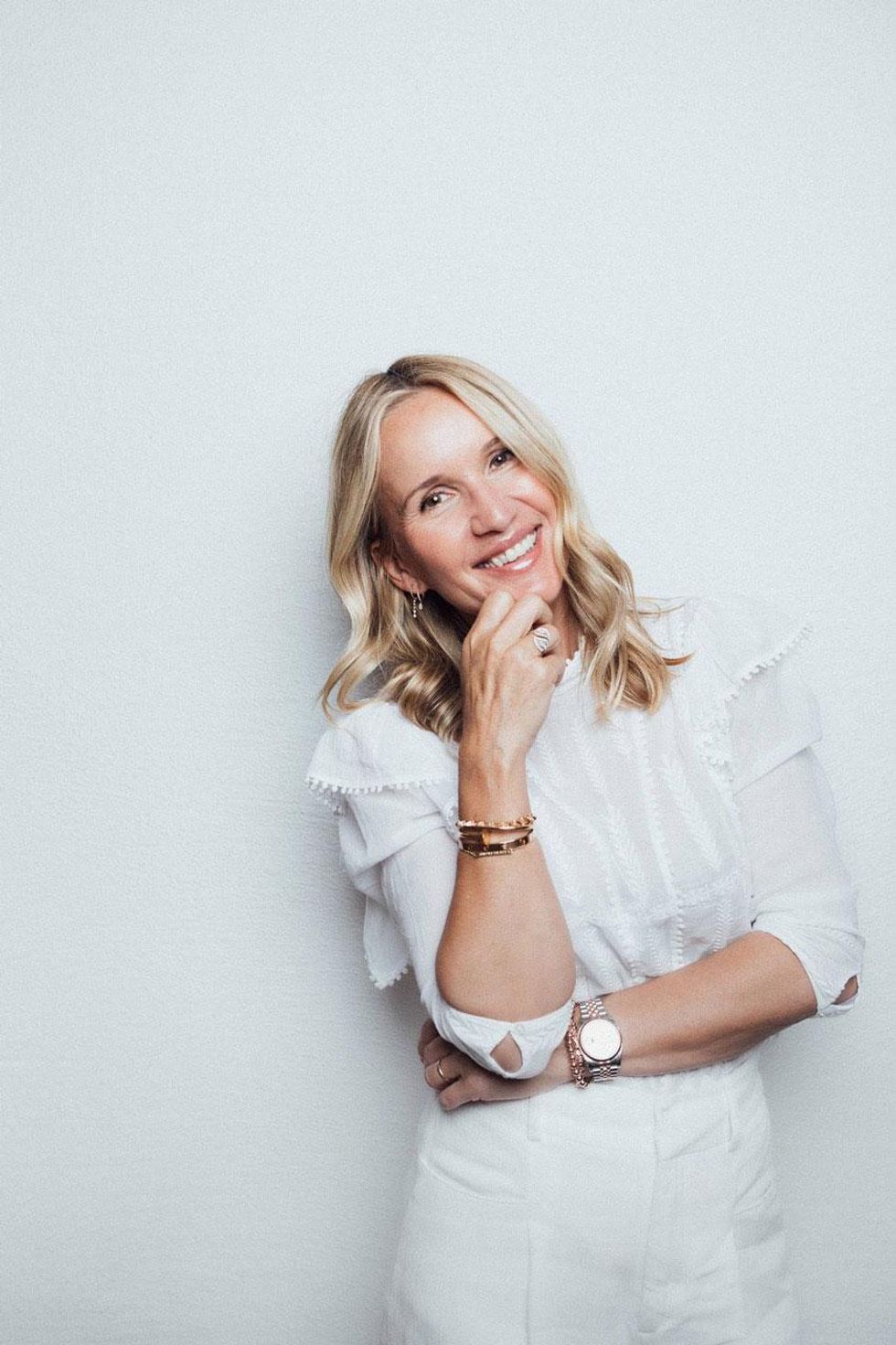 Photo: Courtesy of Monika Blunder
Clean beauty and wellness has always been a huge part of your life but where did it all start for you?
"Clean beauty is an extension of a clean life for me, and it definitely has its roots in my upbringing, as I grew up in Austria—they just do things a little bit differently in Europe. My parents really taught me about botanicals, and they used the native plants and herbs in our area for so many different things. I remember my dad made Arnica water that he would put on all of our cuts and bruises, and it healed them amazingly. He would also forage a lot for our food, he had an amazing garden and so we had a strong connection with what went into our bodies and as a natural conscious extension, what we put on our skin. The skin is a living organ, and it absorbs what you put on it. So, it's always been very important for me to be conscious and mindful of ingredients, therefore creating a clean line was a no-brainer."
Tell us more about Monika Blunder Beauty, how did the brand develop? What was the influence?
"I had so many inspirations in creating Monika Blunder Beauty. My upbringing and my roots were a very important part in something that I wanted to bring into the ethos of my brand. In addition to this, my daughter, Valentina, she is also a huge source of inspiration for me and my brand. I would love to be able to pass this down to her one day. I've been working in Hollywood now for over two decades, and it's safe to say that I've tried quite a few products in my time. My favorite thing to do has always been skin, and making somebody look natural, glowy, and healthy. I have always found products that are close to what I've wanted, but never exactly the perfect product I had envisioned (especially one with a clean and conscious formula). So, I finally decided to create it for myself and that's how Blunder Cover was born."
You mention a clean and conscious formula, how does Monika Blunder Beauty captivate this?
"A big thing is that we strive to be transparent with our ingredients, and we strive to be conscious and aware of the things that we create and put out into the world. I worked with an incredible lab, and some incredible women, who taught me a lot about formulas and packaging. We went through a ton of different options and versions before we came to the product we have today. I wanted it to be clean, but I also really wanted it to be luxurious. I've been working for so long, and I work with so many clients that I need my products to perform incredibly well. So, it was sort of a tall order, but I was not willing to compromise on those standards. And I'm very glad that I didn't. I also learned that everything takes way longer than I expected. I am literally already planning launches for 2022."
On conscious awareness and uncompromising standards, what is the mission, what do you hope to achieve?
"We are constantly striving for more sustainability and a smaller footprint, and wanting to grow into the most conscious, transparent and sustainable version of our brand that we possibly can. It's also important to maintain the luxury feeling, and the effectiveness of every single product. If it's not something that I want to use on my celebrity clients, then it's not a product that I want to put out into the world. We also donate a portion of our profits to different charity organizations every six months, and it's a program that we would really love to expand and support local grassroots organizations."
You've gone from working in Hollywood for over two decades to now branching into the world of business, how have you found the transition?
"I'm fortunate enough to still work with most of my clients, but I definitely had a huge slow down with work when the pandemic hit. It was really scary at first, but it gave me a lot of time to work on Monika Blunder Beauty. I have an amazing business partner, Sandi, and we balance each other out perfectly. All of my weaknesses are her strengths and vice versa. I couldn't do this alone."
Speaking of your incredible clients, how have you built such a concrete influence – where did it all start for you?
"I went to school for makeup in Frankfurt, and then I moved to LA in the mid '90s because my brother was living here. My brother was a director, and he did a lot of music videos at the time. His favorite makeup artist to work with was Paul Starr, who was huge, and he got me connected with him. I learned so much from assisting, and I tried to assist as much as I possibly could. I learned how to be on set, the type of etiquette that was required, what it felt like and what was required of a good makeup artist. It was the best way to learn."
How did it then blossom?
"Eventually I got the opportunity to work with a huge actress at the time, Madeleine Stowe. It went so well, and she asked me if I'd be willing to do her next movie! I learned so much about what it was like to work on a movie set, continuity, and how different it was from the editorial side of the industry. I learned that I didn't want that life, and I wanted to work in the more commercial side of the industry—red carpets and editorial. Movies are a totally different world! From there I just kept getting more clients, which led to more clients, and then led to some of my biggest clients that really launched my career like Rebecca Romijn and Molly Sims."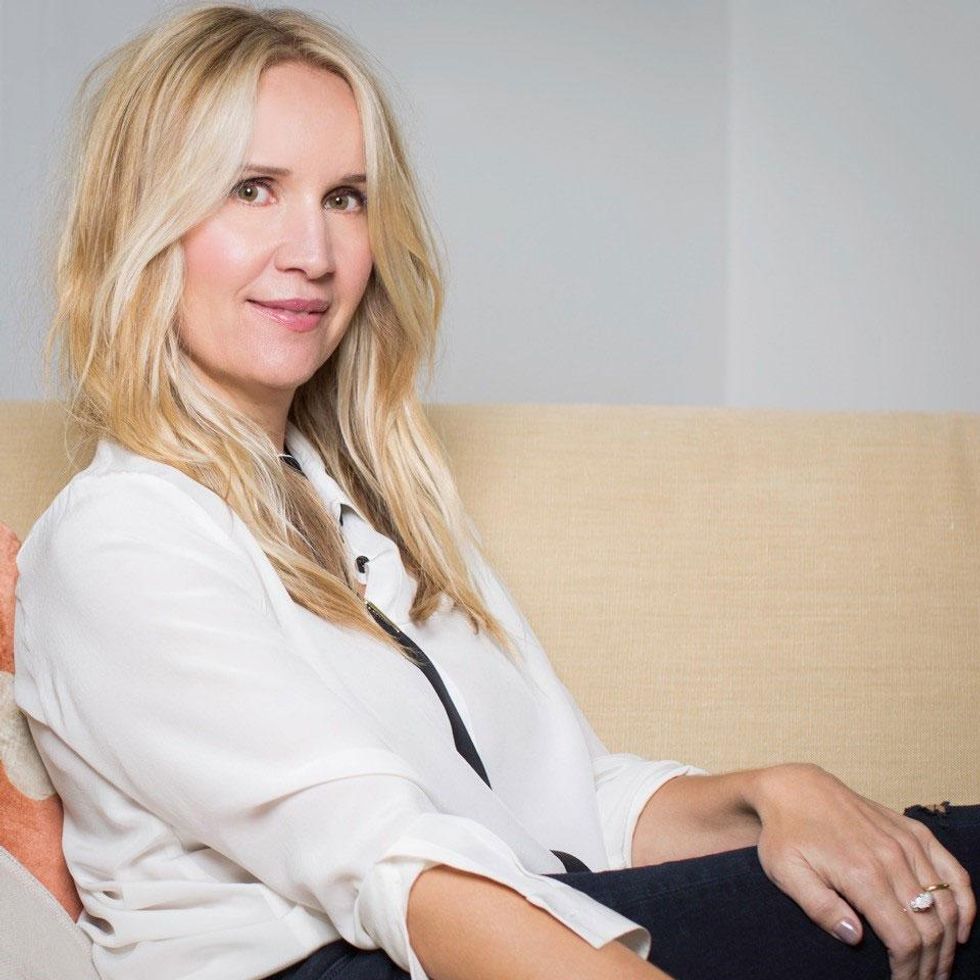 Photo: Jin-Woo Prensena
You speak so fondly of your MUA career, has there been a special moment that still makes you smile?
"I remember my first job in a different country. Everything was paid for, and we went to Japan for the first time, it was with Mamma Mia, and it was my first-time experiencing travel like that. It was amazing. We got to go to restaurants, go shopping, and it was somewhere that I always wanted to go. It was amazing to me that my work had enabled that for me and was able to give me these beautiful experiences. I'll never forget that."
What is it about artistry that you love so much?
"I get to make people feel beautiful! It's amazing to help create characters, some of the actresses that I work with are amazing chameleons. Makeup can be a type of armor as well; it is so amazing to be part of creating a beautiful, finished look. I also love collaborating with hair and wardrobe to bring a vision to life, I work with the most incredible women … I really feel so lucky."
Any tips on breaking through the ceiling as a makeup artist?
"Take every possible opportunity to learn and assist as much as you can in the beginning. You can learn so much now online and through YouTube, it's amazing, but real-world hands-on experience with makeup is also very important. Practice on as many faces, skin tones, skin types, and ages as you possibly can. Also spend time learning about business (you're a freelancer!), art, creativity, money and finances. It's in your favor to be as well rounded as possible."
For the famous #blundercover, what are your fail-safe beauty hacks?
"Multi-use products! Especially as a working makeup artist, it's so important to have products that you can use in multiple ways. It will slim down your kit, make you a faster artist, and will create a beautiful cohesion and unity to the face. You can do so much with a beautiful cream color, so get creative and think about multiple ways that you can use one product. Creams are always my go-to."
What are the products always in your makeup kit?
"Blunder Cover, of course, and then my favorite bronzer is the one from Guerlain. I also always have the Kosas liquid shadows in my kit—I use those on a ton of my clients. I also really love everything from the brand Ilia and carry 111SKIN eye and face masks in my kit."
Your favorite look of the summer?
"My go-to summer look is always a glowy, bronzy goddess look."
How would you create that in five easy steps?
"Skincare is always the first step in any makeup application, and it will vary depending on your skin type. I love a well-moisturized face, and I always make sure to take the time to really massage my face or my clients' face, just to bring down any puffiness and get the blood flowing.
"Creating a flawless base is next. I will use Blunder Cover in a very sheer layer all over as a base, and then use one shade lighter under my eyes, in my t-zone to highlight, and to spot correct. I'll use a shade two or three shades deeper than my base to contour and sculpt, and to give my face some shape. I love using the same product all over the face for the base, concealer, and contour because the texture is the same.
"I'll create a quick effortless sultry eye look; I usually work with a bronzy cream shadow all over the lid. And then I will closely line eyes with a dark brown or black liner and smudge it out. It's an effortless, sexy look. Top it off with a few coats of mascara.
"To finish the face, I will blend in a cream blush along the apples of the cheek and up the cheekbones slightly. If I feel like I need more unity in the face I will also bring the blush into the crease of the eye just a bit.
"To top it all off, I throw on the perfect nude lip. A lip liner is one of my favorite tools, and I generally use one from Kevyn Aucoin as they have a great selection of nude liners. I will overdraw the cupids bow just slightly for a little bit of a plumping effect and then fill the lips in with a beautiful nude lip shade like HIGHR Collective's Chateau lipstick."
Monika Blunder Beauty is now available & launching in the UK via Cult Beauty & Niche Beauty in the EU on June 8th.