An Immersive Guide to Adventure and Wellbeing in the Maldives
The Maldives are not just for honeymooners. JOALI's pair of eco-luxury resorts are changing the perception of the picturesque islands and all they have to offer.
Travel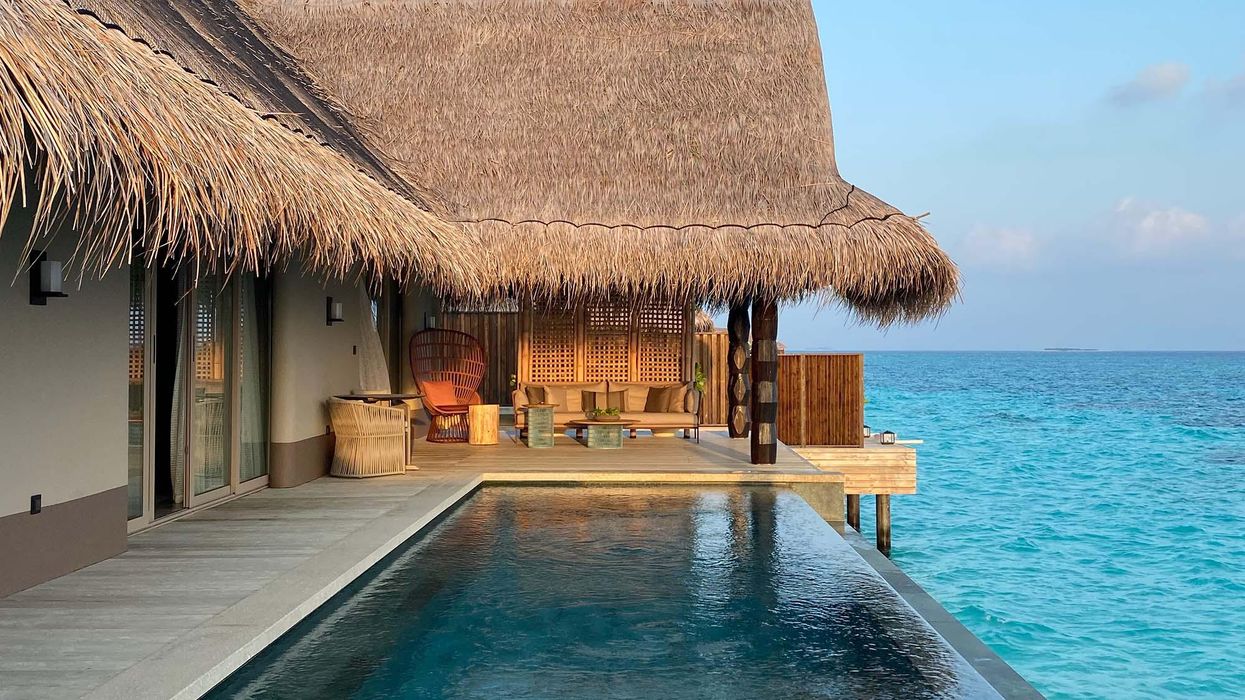 Over-water villas, private pools, personal concierge, exquisite dining, and unique spa services all sound like the perfect recipe for a dreamy honeymoon. Although the Maldives without a doubt offers an idealistic escape for lovers, JOALI Maldives, and their newly opened, wellness-focused sister property JOALI BEING, are changing the hospitality scene on their two remote islands located just a 40-minute seaplane ride from the country's capital island of Malé.
Beginning at JOALI's inaugural eco-luxury resort, as your seaplane descends onto the Indian Ocean, you immediately feel a sense of ease as you look over the sprawling boardwalk connecting the 49 over-water bungalows to the mainland where the resort's center is based along with 24 private beachfront villas. The architecture of the resort blends harmoniously with its natural surroundings featuring thatched roofs and free flowing lines that take advantage of the turquoise waters as the backdrop.
Although you may be perfectly content not leaving your private villa or beachfront abode, JOALI offers endless amenities scattered throughout the mainland of the property. Just a short bike ride along the winding boardwalk, surrounded by native vegetation and endless stretches of white-sand beach, you find the resort's four restaurants and organic garden, the main pool coupled with a bar and cigar lounge, a fitness center and signature spa, a ceramics studio, a tennis court, and a marine adventure center that has any and every possible amenity or activity guests could want—from jet skis to paddleboards, to snorkeling gear, kneeboards, boating options, and the list goes on.
With endless amenities and an incredibly remote location comes the unavoidable environmental impacts which are heightened in such a precious part of the world. JOALI completely understands their responsibility when it comes to maintaining the environment in which they inhabit and have thought far beyond their single island. The resort employs a dedicated sustainability manager who oversees the efforts across the island while also innovating their current efforts and developing new initiatives for maximum impact. From working with local fishermen who practice single-rod fishing in an effort to protect the rich seas of the Maldives to their resident marine biologists who have developed a Reef Restoration Project to nurture the island's surrounding corals, sustainability is at the core of JOALI's operation.
JOALI also recently debuted their newest property just a 15-minute boat ride away – JOALI BEING. A first of its kind for the Maldives, JOALI BEING is a nature immersive, wellbeing retreat that gives you the opportunity to experience a transformative journey of self-discovery while finding the joy of weightlessness.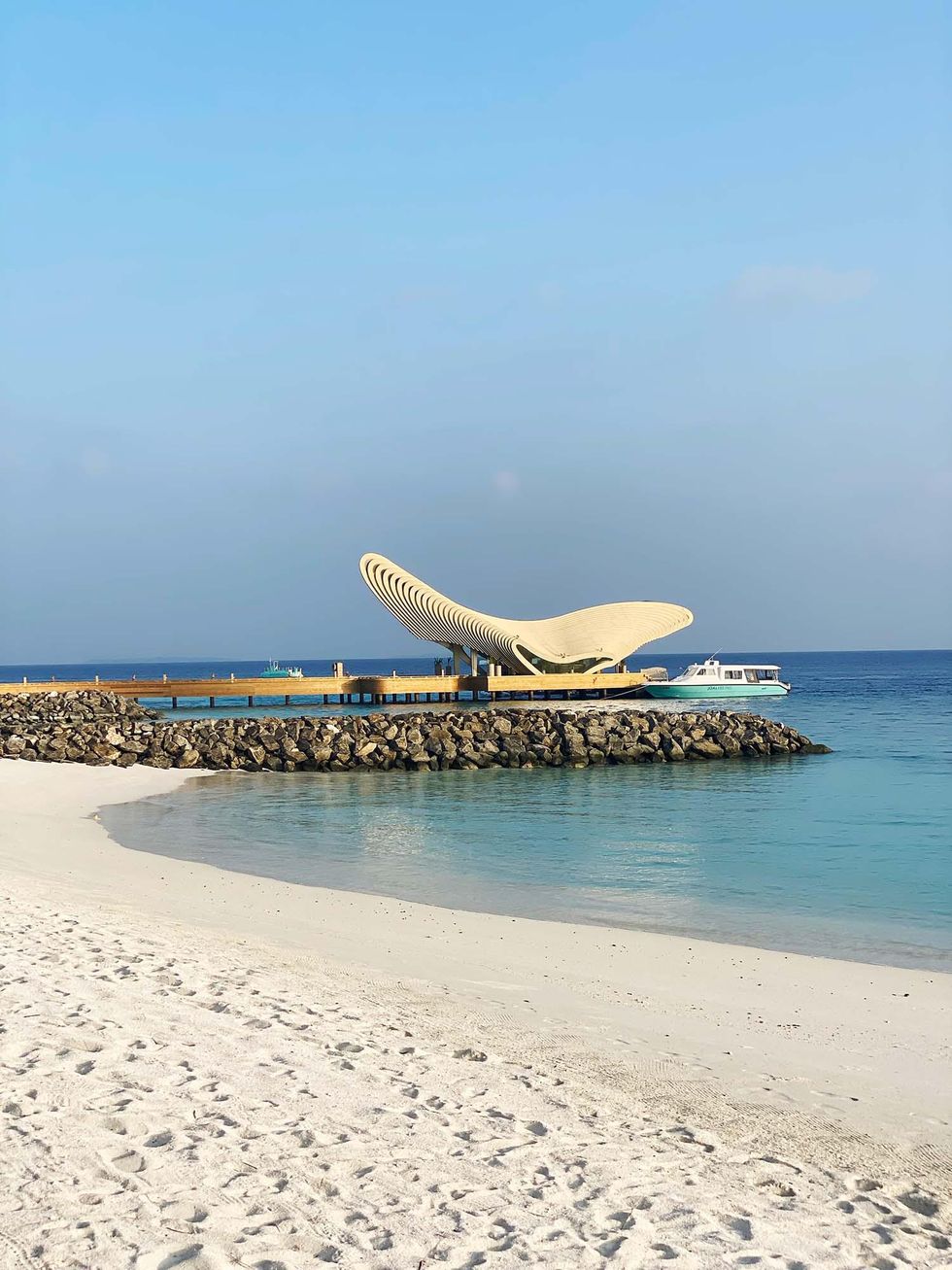 JOALI BEING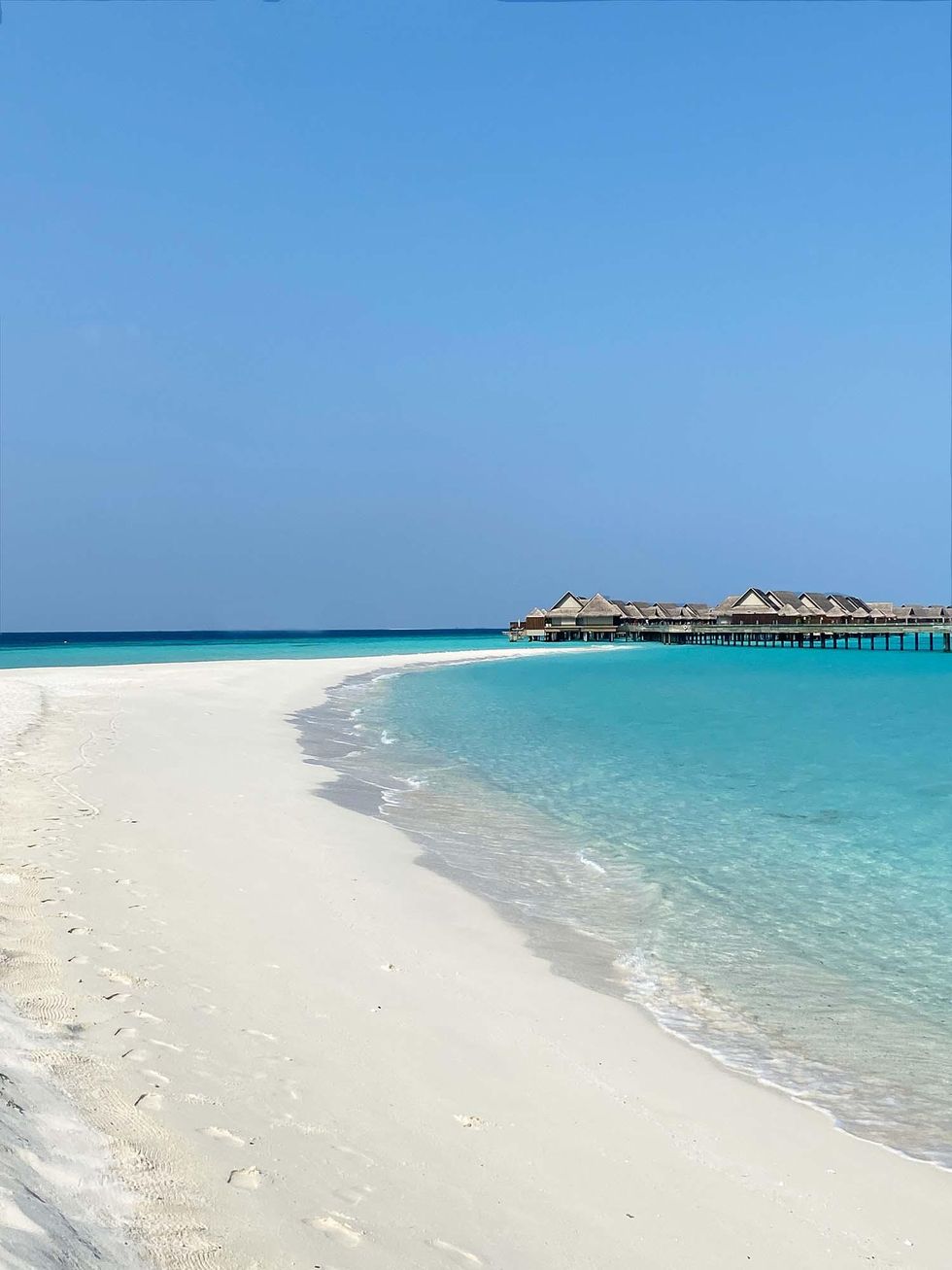 JOALI Maldives
From the moment you arrive at JOALI BEING, you can immediately sense that the journey you are about to venture on will be truly life-altering. The staff join together to greet guests as they arrive at the architecturally striking arrival jetty, Gate Zero. The structure's design draws inspiration from the skirt of a Semazen dancer, the Turkish whirling dance that is a cultural form of active meditation and spiritual trance. Egos, and the greater weight of the world, are meant to be left at Gate Zero as this moment sets the tone for the overall journey.
As you meander through the winding sand paths, thatched-roofed structures begin to appear out of the lush, indigenous plantings. At one side of the island, you find a boardwalk connecting 35 over-water villas along with 33 beach villas scattered throughout the secluded island. In the center of the resort is where you find the four various dining options, a bespoke tea bar in place of a traditional spirits-heavy bar, the country's largest fitness center, and, of course, the grandest spa and wellbeing center.
Within the wellbeing center are various 'transformational spaces' that make up the heart of the resort. Beginning at Areka, the wellbeing center's reception, you have the opportunity to meet privately for an integrative lifestyle or nutritional consultation which helps to inform and curate specific treatments throughout your stay. In addition to the integrative consultations, you can also consult with resident Ayurvedic or Chinese Medicine practitioners for a deeper look into your wellbeing.
Moving through the resort's dedicated wellness sanctuary, you will find single structure treatment rooms dispersed throughout as well as Kaashi, the hydrotherapy hall which honors the tradition of healing through water. The especially unique space features treatments such as a traditional Turkish Hammam, Watsu, Russian Baya, an Aufguss Sauna, a Himalayan Salt Inhalation room, and a sensory deprivation room.
In between treatments, and as guests look to refuel, the culinary options that JOALI BEING offers are nothing short of exceptional, focusing on an 'earth-to-table' concept. At FLOW, you find an open-plan dining space with three signature kitchens that offer vegetarian and vegan options, a dedicated pescatarian selection, and a signature JOALI BEING mix of local flavors. For breakfast, FLOW provides an endless assortment of fresh fruits, local yogurts, handcrafted pastries, and pressed juices along with a proper menu of traditional breakfast meals with a mindful spin. At the main pool, guests can casually dine at Mojo, the dedicated lunch eatery which serves up nourishing, light entrees. Each menu at the various restaurants also includes a key for guests to refer to as they think about which of the four pillars they are focusing on for the holistic wellbeing experience.
Although there are distinguished (and welcomed) differences between JOALI Maldives and JOALI BEING, a passion for curating an exceptional holiday for travelers is felt at both properties through the thoughtful attention to detail and otherworldly offerings. A truly choose-your-own-adventure type of destination paired with the remarkable backdrop of the turquoise Indian Ocean make for an unforgettable experience that hopeful guests should consider for more than only a romantic escape but to simply revel in the joy of living and experience the joy of weightlessness.