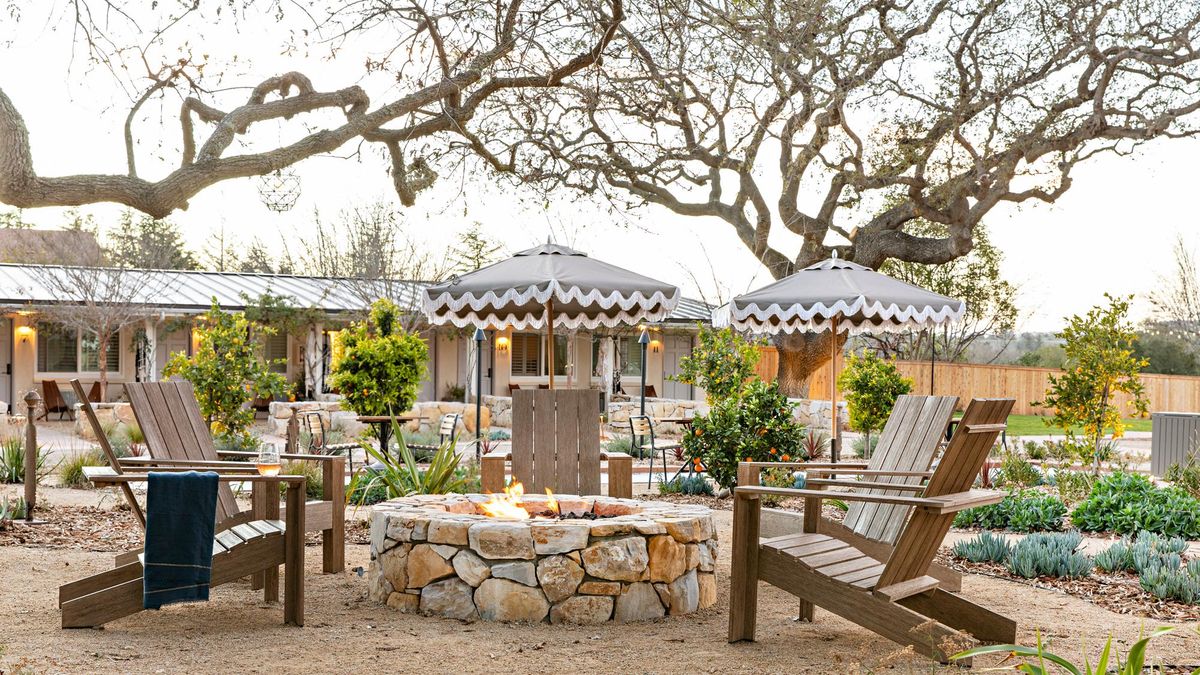 Travel
Breathing New Life into Central California's Historic Santa Ynez Valley
Thoughtfully designed motels, exceptional culinary experiences, noteworthy wineries, reinvented retail shops, and so much more.
Two hours up the scenic coast from Los Angeles, there is a settlement of six small towns nestled alongside the Santa Ynez Mountains with a budding hospitality scene—boutique wine bars, vineyard tasting rooms galore, a Michelin-starred restaurant, and reimagined roadside motels impeccably designed. Properly coined Santa Ynez Valley, these towns barely have one stoplight, and as you drive down the main streets you feel an immediate sense of ease as you are warmly welcomed by locals.
At the northern entry of the Santa Ynez Valley is the charming town of Los Alamos. Conveniently located off the 101 freeway behind an old-school fluorescent 'motel' sign, and perfectly perched atop a quaint, working vineyard, sits a re-envisioned motel, Skyview Motel. The motel was originally constructed in 1959 and now highlights its history with mid-century designed interiors, a heated pool surrounded by vibrant pink cast-metal cacti, and a full service bar and restaurant. Along with inviting amenities, the property is surrounded by endless views of the rolling hills and vineyards that the Santa Ynez Valley is so well known for. The overall spirit of the motel's spaces encourage mingling amongst guests as you spend time by the pool or at the bar or at one of the fire pits spread throughout the manicured grounds. It is the perfect home base as you spend your weekend exploring Los Alamos and beyond.
Just down the hill from Skyview is the seven block town center. Los Alamos was founded in 1876 and still carries the old western feel although new life has been breathed into it. That new life includes some of the most delicious food in the Valley as well as local wines and vintage treasures.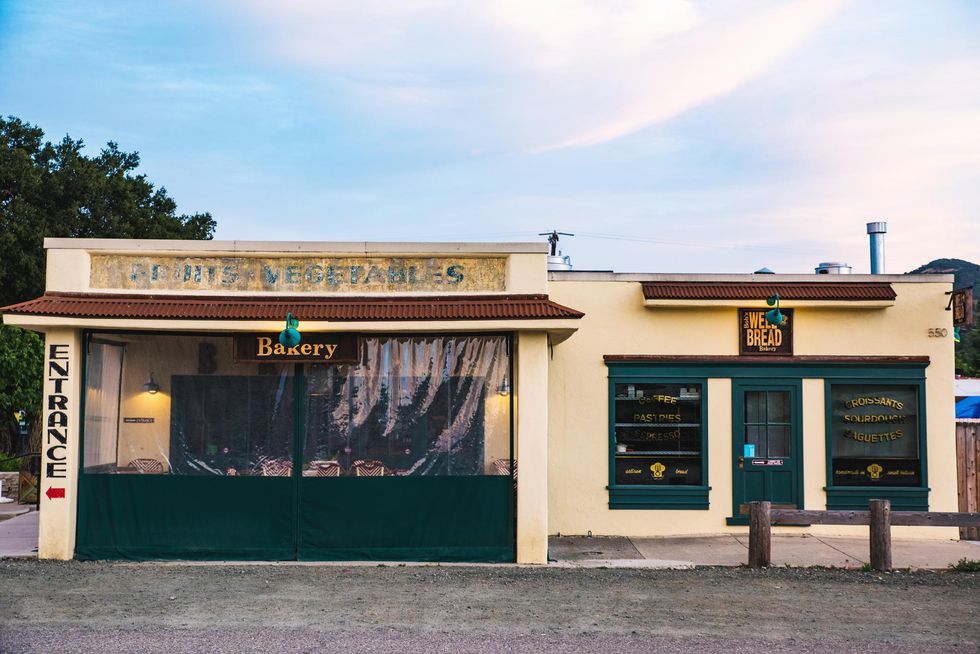 Photo: Silas Fallstich
Starting at Bob's Well Bread Bakery, set inside a service station from the 1920s, you'll find an assortment of breakfast and lunch food options. From their artisan bread loafs to their famed "egg-in-a-frame" you won't leave Bob's disappointed. The other standout culinary experience in town is the newly Michelin-starred restaurant, Bell's, which is just one block down the road. Daisy Ryan, who is the chef, owner, and a Santa Ynez Valley native (and got her start at Per Se), serves up innovative french-inspired fare paired with an impeccable wine list. Although the prix fixe menu is ever-changing based on what is available, during my exceptional visit dishes included local sea uni paired with caviar, farm fresh lettuces with a shallot and medjool date dressing, and handcut taglierini with squash blossoms. Not only is the presentation outstanding, but the space is intimate and includes an expansive patio that allows diners to enjoy the idealistic weather of the region.
In between feeding time, spend your hours sipping on various natural wines and other hard-to-find provisions at Bodega. The open air space has an authentic backyard feeling and the scene is relaxed, the people are friendly, and the vibes are unbeatable. Your day will likely turn to early evening quickly where you will find yourself cozied up around a fire pit conversing with strangers. Bodega also offers stays in their charming renovated 1920s farmhouse which is conveniently located on the same property as the wine and beer garden.
Twelve minutes past Los Alamos is Los Olivos, a town chock full of vineyard wine tasting rooms and more quaint shops stocked with local goods. Another town founded in the late 1800s, Los Olivos has held onto its charm while infusing what the area is so well known for—wine. They've turned the downtown neighborhood into a cluster of tasting rooms featuring local vineyards so you don't have to worry about the hassle of getting from estate to estate—they are all just a short walk from one another.
Photo: Courtesy of Bodega Los Alamos
The Stolpman Winery tasting room brings their consciously harvested wines to the main town of Los Olivos with innovative varietals. Their sensible farming and winemaking creates uniquely rare red blends that directly support their team of vineyard workers, "La Cuadrilla", sharing a direct profit with them. Next door you will find their 'Fresh Garage' patio where their carbonic wines are served chilled.
If you find yourself in Los Olivos for dinner (which you should), Bar Le Côté is the newly opened "it" spot. From the same team behind Bell's, this seafood-centric eatery is bound to be the next award-winning spot in the area. With a menu inspired by the daily catch of the Central Coast, the uni is probably the freshest you will find unless you go catch it yourself. The way our waiter described it to us was something along the lines of, "Stephanie catches it fresh every morning and about mid-shift she walks through the dining room, straight to the kitchen with a net of urchins, gives us a wave, and we see her again the next day." The must-have uni dish is served on a tray of pellet ice accompanied by a simple lemon wedge and, of course, the urchin shell. The immaculately designed interiors also add to the outstanding experience with rich green walls and handmade wood furniture and banquettes that build upon the overall ambiance.
Just slightly south of Los Olivos is the ever-charming town of Santa Ynez. The downtown area is lined with western-style buildings housing present-day conveniences. Amongst the various storefronts is a modern take on a general store, Santa Ynez General, which is stocked with thoughtfully-curated goods ranging from skin care to monogrammed napkins and everything in between. It makes for the perfect place to buy a nondescript souvenir (or two). Just across the way from the general store is SY Kitchen, which some describe as "a California version of a little Italian farmhouse". With that spot-on description, and a team of chefs straight from Verona, Italy, you can expect classic Italian dishes with modern flair, as well as inviting interiors and an enjoyable patio for outdoor dining. In sticking with the Valley's theme of classic California motor lodges, you will also find another delightfully inviting boutique hotel, Hotel Ynez, which leans into the relaxed yet elevated atmosphere of the area.
Although Santa Ynez Valley is also home to additional well-established tourism towns, like the Danish-American town of Solvang, there is something extra special about exploring the neighboring towns as their hospitality industries are on the cusp of a major break and well-deserved accolades. That pattern has seemed to begin as natives have willingly flocked back to their hometowns after stints in cities where they built a name for themselves but maybe felt as though their own venture could not flourish to its full potential in those saturated markets. In and around Santa Ynez there seems to be a collective excitement from locals that tourism is beginning to peak and natives are able to see their dream businesses thrive.