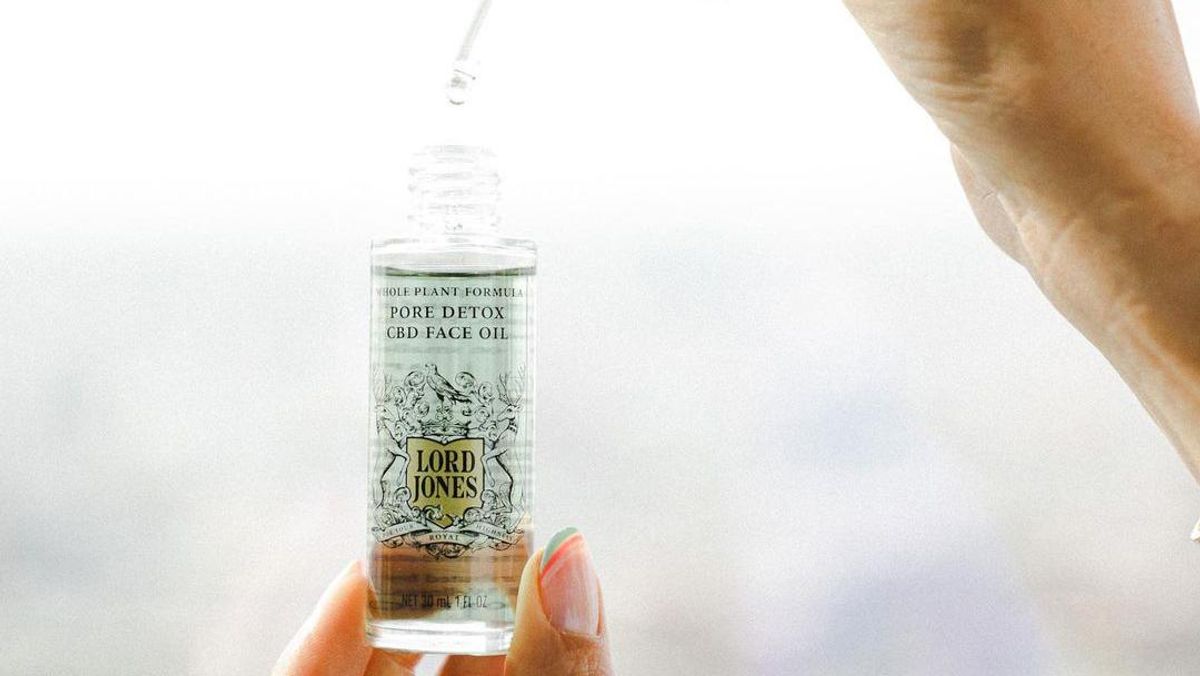 Shopping
This Lightweight Face Oil Revived My Dehydrated Skin
All thanks to the CBD- and squalane-infused formula.
The majority of my skin concerns—uneven complexion, excess oil, large pores—all stem from one thing: a lack of hydration. I have dehydrated skin (a condition), which is different from dry skin (a skin type). It can be a little confusing, so let me explain. My skin type is combination skin which means that I have both dry patches and oily spots. In order to prevent my oil production from revving up and my dry patches from looking even more thirsty, it's important for me to keep my skin hydrated.
Outside factors, like the weather, can suck the hydration out of your skin, leaving it dehydrated. When your skin becomes dehydrated, it overproduces oil to make up for the deficit, which can leave you with greasy skin, stretched-out pores, and breakouts that you didn't ask for. Introducing a face oil as the last step in your skin-care routine can help lock in the hydration from your serums and creams and prevent moisture from escaping your skin's barrier, leading to a reduction in your oil production and more balanced skin. So, yes, while it might sound counterintuitive, using a face oil can actually help decrease your sebum production and reduce the appearance of large pores.
Lord Jones
To help combat my dehydration, I introduced this face oil into my skin-care routine to see if it would aid in maintaining hydration, minimize the appearance of my pores, and even out my skin's complexion.
What ingredients are in the formula?
Tea Tree, Jojoba, Niaouli, and Blue Tansy Oils: This blend of oils restore lost moisture and remove acne-causing bacteria from your skin while also improving the appearance of its tone, texture, and firmness.
Squalane: Derived from olives, this lightweight hydrator works to repair and soothe your skin's moisture barrier.
Full-Spectrum CBD 300 mg: When applied topically, this high-quality, hemp-derived form of CBD has anti-inflammatory benefits.
What concerns does it address?
Whether you have acne-prone skin or you're looking for a product that can offset redness, this face oil is worth including in your skin-care routine. While more research still needs to be done in regards to CBD's topical benefits, initial studies have shown that it can help decrease oil production, reduce inflammation, calm the skin, and soothe redness. There's more: CBD also has antioxidant properties, which means that it helps prevent free-radical damage that can cause premature aging.
How do you incorporate it into your routine?
Using the dropper, I'd apply a few drops of the oil onto my skin as the last step in my morning and evening routine and then use my fingers to blend in the product. Normally, I'd skip using a face oil in the morning because most formulations wouldn't mix well with my makeup, but because this oil's formula is instantly absorbed by the skin, leaving no trace behind, it eliminated any previous concerns.
In just a short period of time of using the product, I've noticed that my skin looks balanced, more hydrated, and less stressed. The application process is a breeze, thanks to the precise dropper applicator which makes it easy to target specific areas of concern without making a mess or overusing the product. The face oil also has a light pleasant herbal scent that I found to be relaxing, especially when I used it before bed.
Whatever your skin concerns, there's a very high chance that this face oil helps to address them. Thanks to its CBD-infused formula, it prevents hydration from evaporating from your skin, regulates sebum production, reduces the appearance of large pores, and keeps breakout at bay, making it a perfect fit for basically every skin type. I can confidently say my skin has reaped the benefits from including this face oil into my routine.