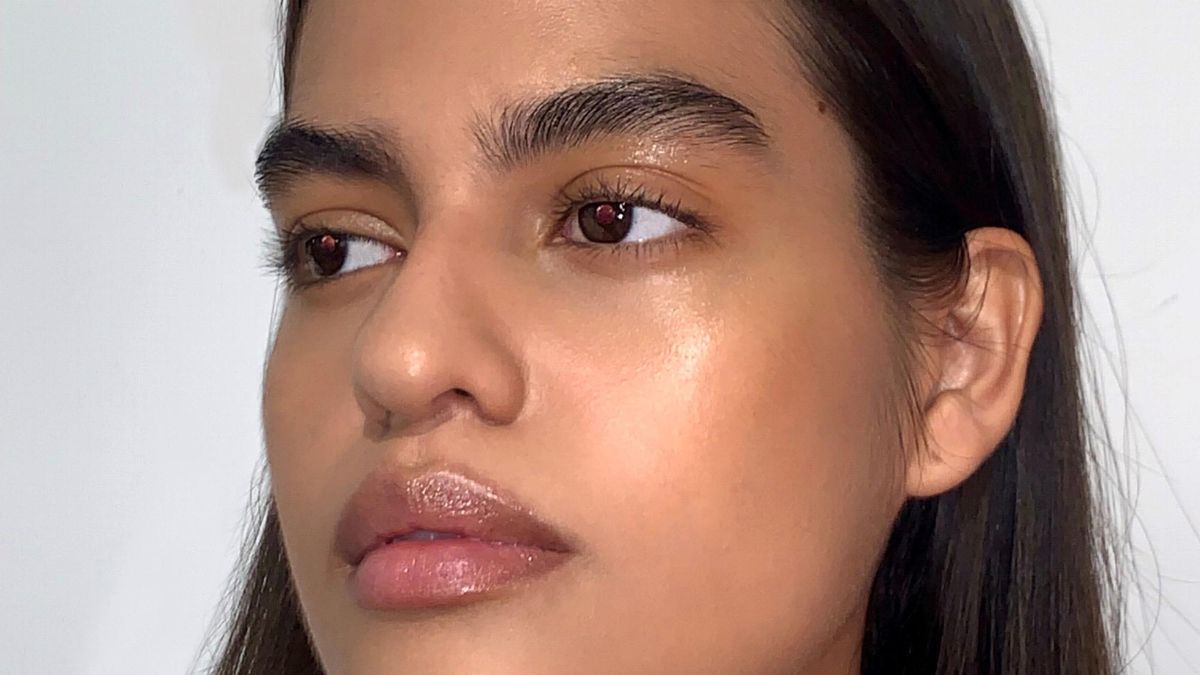 Skin
Meet the Device That Starts Rebuilding Collagen in One Week
The treatment requires basically zero downtime.
When I first heard about Sofwave, it almost sounded too good to be true. The new non-invasive device uses high-intensity ultrasound wave technology to boost your collagen production which improves the look of wrinkles and fine lines, while also tightening your skin in 45 minutes. Yes—only 45 minutes. After learning about the device and this technology, my interest was immediately piqued and I had so many questions: how exactly does it work? Is it painful? How long does it take to see results? To help answer these questions, and more, I reached out to several dermatologists to break it all down.
What exactly is Sofwave and what makes it special?
What's unique about Sofwave isn't the fact that it uses ultrasound technology—there are other devices that fall in the same category—but it's quicker, more comfortable, and safer compared to older ultrasound-based technologies, says board-certified dermatologist Dr. Arash Akhavan.
As we age, there's a significant decline in the amount of collagen and elastin that our bodies naturally produce. Sofwave works using ultrasound wave technology to heat the skin and trigger collagen production. "These waves go 1.5 mm into the skin," says Dr. Blair Murphy-Rose, a board-certified dermatologist based in New York City, "which causes an immediate contraction, bringing your skin's fibers closer together and boosting your collagen levels."
Ulthera, a common, older tool that also uses ultrasound wave technology, goes deeper into your skin, says Dr. Murphy-Rose. Not only does this make for a more painful procedure, but there's a greater chance for negative side effects. "You're at greater risk for nerve damage and there's a chance that you could destroy the fatty tissue on your face," adds Dr. Murphy-Rose. Additionally, even though Sofwave's ultrasound technology heats the skin, it's treating the dermis, says Dr. Murphy-Rose, not the epidermis, so there's no risk of hyperpigmentation, making it safe for all skin tones. Plus, a Sofwave treatment is faster than an Ulthera treatment because the handheld device is able to treat a much larger surface area.
Dr. Shereene Idriss, a board-certified dermatologist based in New York City, makes a point to note that even though Sofwave is marketed as completely painless, that's not the case for everyone. "It still packs a punch," she says.
I was able to test out the device with Dr. Murphy-Rose, and you do still feel some pain, even after having a topical numbing treatment applied to your skin. The level of pain you feel will depend on your tolerance, but for me, it felt like a needle pricking my skin and the sensation passed fairly quickly.
What places can be treated with Sofwave?
According to Dr. Kevin Sadati, a board-certified dermatologist, because Sofwave doesn't go deep into the skin, it leaves the rest of the surrounding tissue unharmed, meaning that it can be used on places on your body other than your face. "Because it stimulates collagen production, Sofwave can be used on any area: your stomach, your neck, even your knee," says Dr. Murphy-Rose.
How much does Sofwave cost?
This number depends on where you live, the dermatologist you visit, and what area of the body you choose to treat. But, according to Dr. Murphy-Rose, it'll cost you around $3000 to get Sofwave's collagen-boosting results on your face. It's also worth keeping in mind that you'd only need to do this treatment once a year to maintain the results.
What does the recovery process look like for Sofwave?
Me, immediately following a Sofwave treatment on my face and neck.
Photo: Courtesy of Ama Kwarteng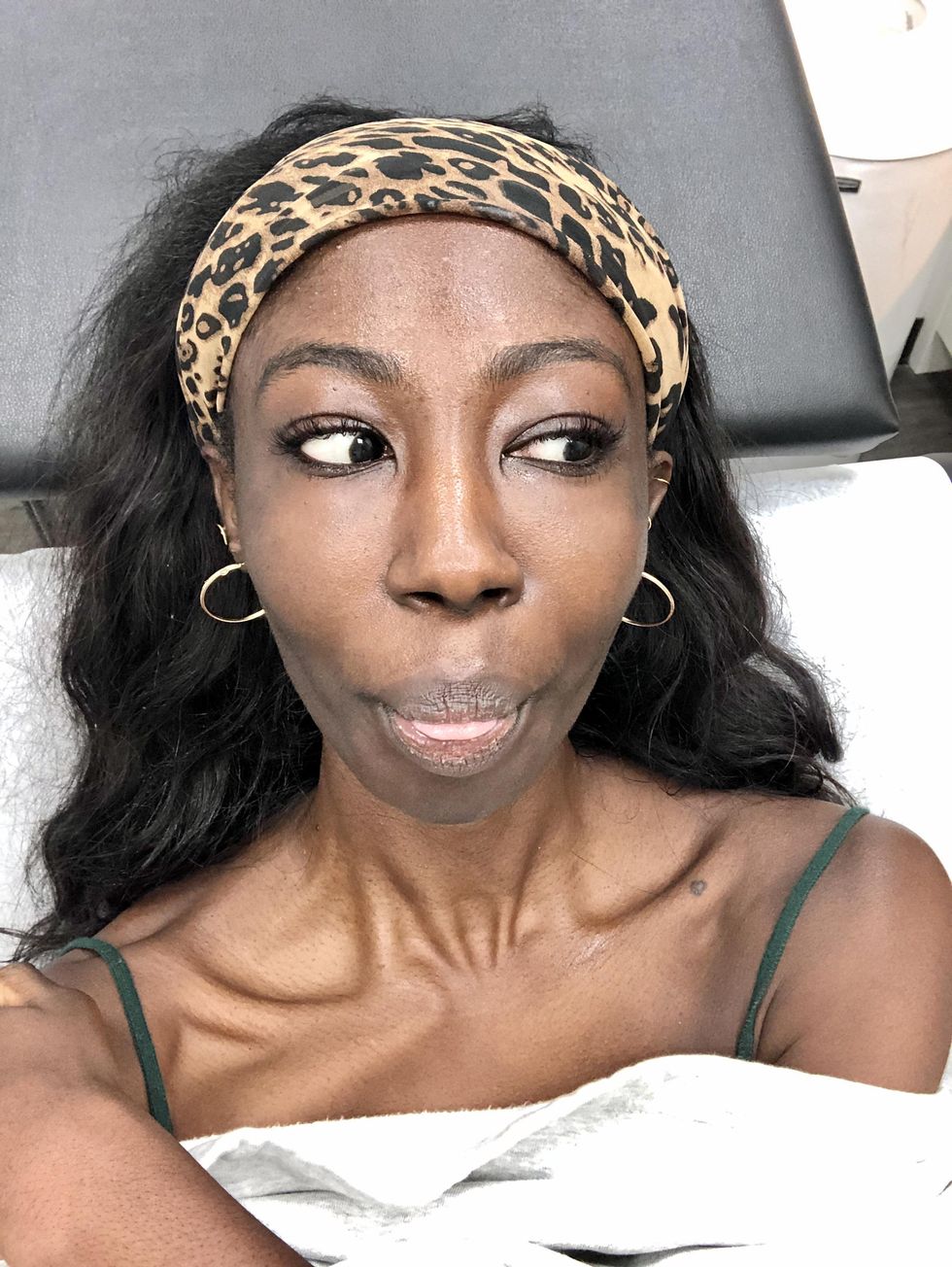 Photo: Courtesy of Ama Kwarteng
There's barely any downtime necessary with Sofwave. "Sometimes patients will leave with a little bit of pinkness," says Dr. Murphy-Rose. "But most people leave with a glow." And most people see results pretty soon after their treatment. For me, I didn't feel any pain or see any redness following my treatment with Dr. Murphy-Rose. "Some results are seen in as little as a week but significant collagen generation can take up to 12 weeks," says Dr. Akhavan. "Most patients would only need a single session to see significant improvements."