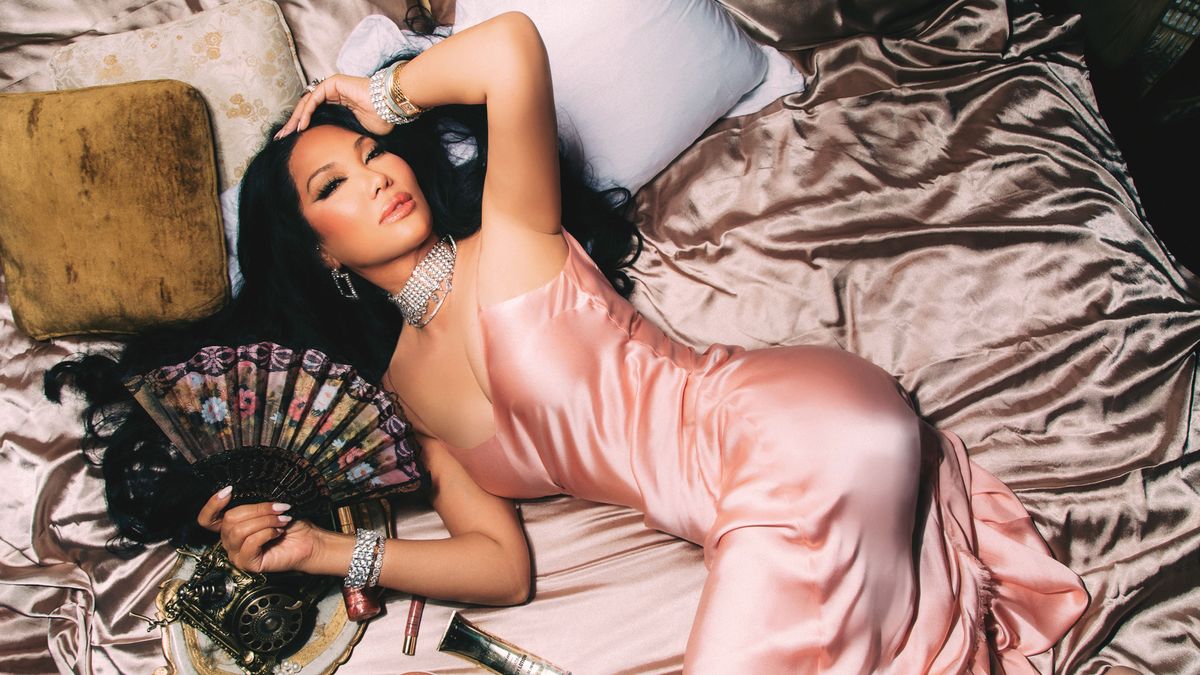 Celebrity
The Baby Phat Beauty founder on building a brand with her daughters, her approach to self-care during lockdown, and how her company is helping to fight voter suppression.
In the midst of a global pandemic, a racial uprising, and a climate crisis, speaking with
Kimora Lee Simmons
feels like a salve. I last talked with her four years ago for the launch of her KLS collection, and
wow
, what a difference four years makes. At the time, we hadn't yet cast our ballots for the 2016 election, and thus, the future still seemed promising, with another historical moment for women ahead of us. But even though the world has been bleak this year, Lee Simmons wants us to hold on to hope if nothing else. "If you talk about Black Lives Matter, or even if you talk about beauty, fashion, and business, it is a good time for us," the mogul states. "Even in all of the sadness and madness and craziness, we are survivors."
Since starting her career as a runway model at 13 years old, Kimora Lee Simmons has yet to slow down. Her latest endeavor is a family affair—the launch of
Baby Phat Beauty
with daughters
Ming Lee Simmons
and
Aoki Lee Simmons
, a collection of products that includes shimmering, plumping lip glosses, illuminating body sprays, and body lotion (all of which are sold as trios). This next step in the decades-long course of her iconic brand comes after a sold-out revamp of Baby Phat's fashion collection that celebrates our current nostalgic obsession with
all things '90s
.
"They have certainly seen it from beginning to end in terms of runway, products, beauty, skin care, [and] fashion," Lee Simmons says of working with her daughters. "I think that, for the Black and brown girls, they need to continue clearing space for themselves and one another as entrepreneurs and founders. From the beginning to the end game, they need to have a seat at the table."
Ming and Aoki represent an entire generation of beauty lovers who shop like them and think like them, and are also expanding their voice and power. In doing so, their point of view is vital as Lee Simmons continues to forge her legacy into the future.
Read on for more of my chat with Lee Simmons about how her pared-down but still fabulous quarantine beauty routine, why Baby Phat is partnering with
Stacey Abrams' Fair Fight voting initiative
to end voter suppression, what she's teaching her children about beauty and self-esteem, and more.
---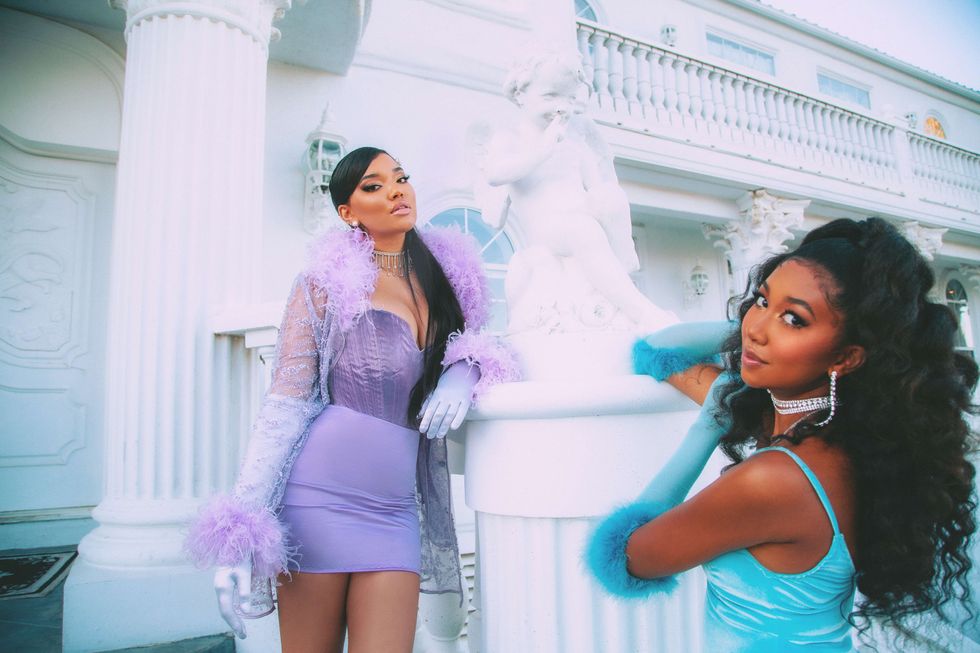 Photo: Courtesy of Baby Phat Beauty
On how the idea for Baby Phat beauty came to be and what it's like running a company with her two daughters:

"In many ways, the girls are representative of the new generation, which is claiming space for themselves in this kind of hectic marketplace as entrepreneurs and founders. Since I started to model at 13, I've been championing people that look like us and brands that are coming from us and are made by us. From people of color. From women. And if you look back 20 years and 50 years, you see the same story again and again, with us having been left by the wayside. A lot of times the big brands don't want to acknowledge us. So from the beginning to the end game, Black and brown girls need to have a seat at the table and keep a seat at the table. These two young ladies represent that new generation and many countless others that look like them, and shop like them, and spend like them, and think like them. That's very important.

"So in that sense, it seemed like the right time. We've had the fragrance and color cosmetics and skin care [before], so this is a return to the beauty space, and we're bringing Ming and Aoki into the entrepreneurial side. But they have certainly seen it from beginning to end in terms of runway, beauty, skin care, fashion. They've been there. Not to mention, we're just big supporters of beauty in general. We know what we want. Also, we're at home and people are doing things differently now in terms of how you use things, how you create, how you shop. Everything is a little bit different. So even though it's a crazy time, I think it's also a good time."

On how she's approached beauty during lockdown:

"For me, like many people, it's been a step back. I have five kids at home, and everybody's going to school on the computer. So I'm at home, but I'm working and I'm doing the Zoom calls. Recently, some things have begun to open up, but you still have to kind of stay to yourself and keep some distance. It's a more pared-back time and an important time for beauty, self-care, and self-awareness.

"You don't have to spend a lot of money and go broke to take care of yourself. Take care of your psyche and your mental health. Make yourself feel good with a little beauty, a little skin care, a little fragrance, a little lip gloss. That's why we made our little trio pack. A little goes a long way. Find the joy wherever you can."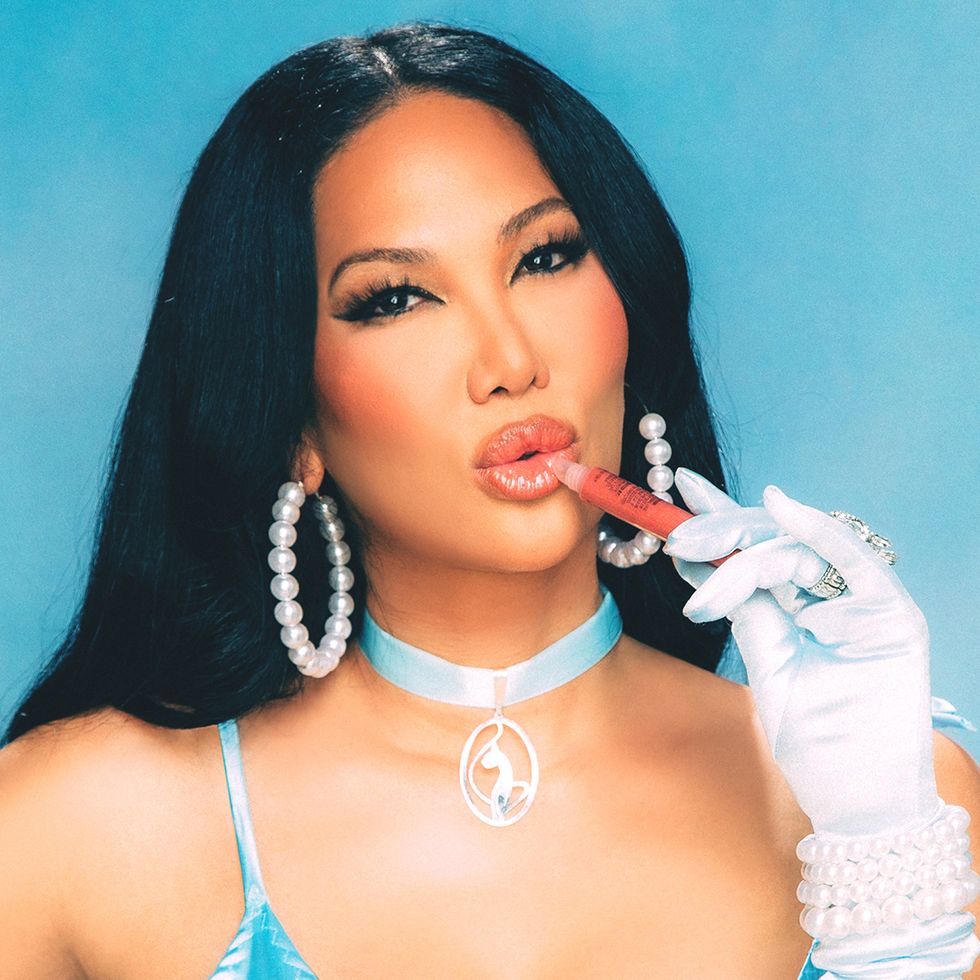 Photo: Courtesy of Baby Phat Beauty
On what she's teaching her children about beauty and self-esteem:

"You can't avoid having these kinds of conversations. I now have three boys at home, two are 11 and one is five. But even they now say things like, 'Oh, I need to go on a diet' or 'I need to lose weight' because they hear the older girls saying that, you know what I mean? So constantly, it is a struggle. Ming is 20, so I've been working on this for 20 years. That idea of self-love and self-care and you come first, being strong for yourself mentally. It's a constant thing."

On plastic surgery and *that* social media face (you know the one):

"I had this conversation with my adult friends and this stuff came up. They do a lot, so I've learned so much about procedures and treatments and just all kinds of crazy things. I believe in the idea of aging gracefully. For the younger girls, you're 16, and 18, and 20, and believe me: You have time. And everybody was not meant to look alike. Things happen in trends, and I get that. They were doing lip injections in the beginning, and then everyone was doing a boob job. Now it's from the eyebrow down to the nose and the contouring and the lips. This idea of this generic beauty that's always plumped and pumped...you know what I'm talking about. All the Botox in the same place and filled in the same place. We're not all meant to look like that. Maintain a little bit of your own originality. Be unique and own what you have.

"I think it makes girls do a lot more crazy things at an earlier age. Some of these things are not reversible, whether they're laser treatments or plastic surgery. Some of these things are kind of wearing you down as you go, so you want to be careful and pace yourself."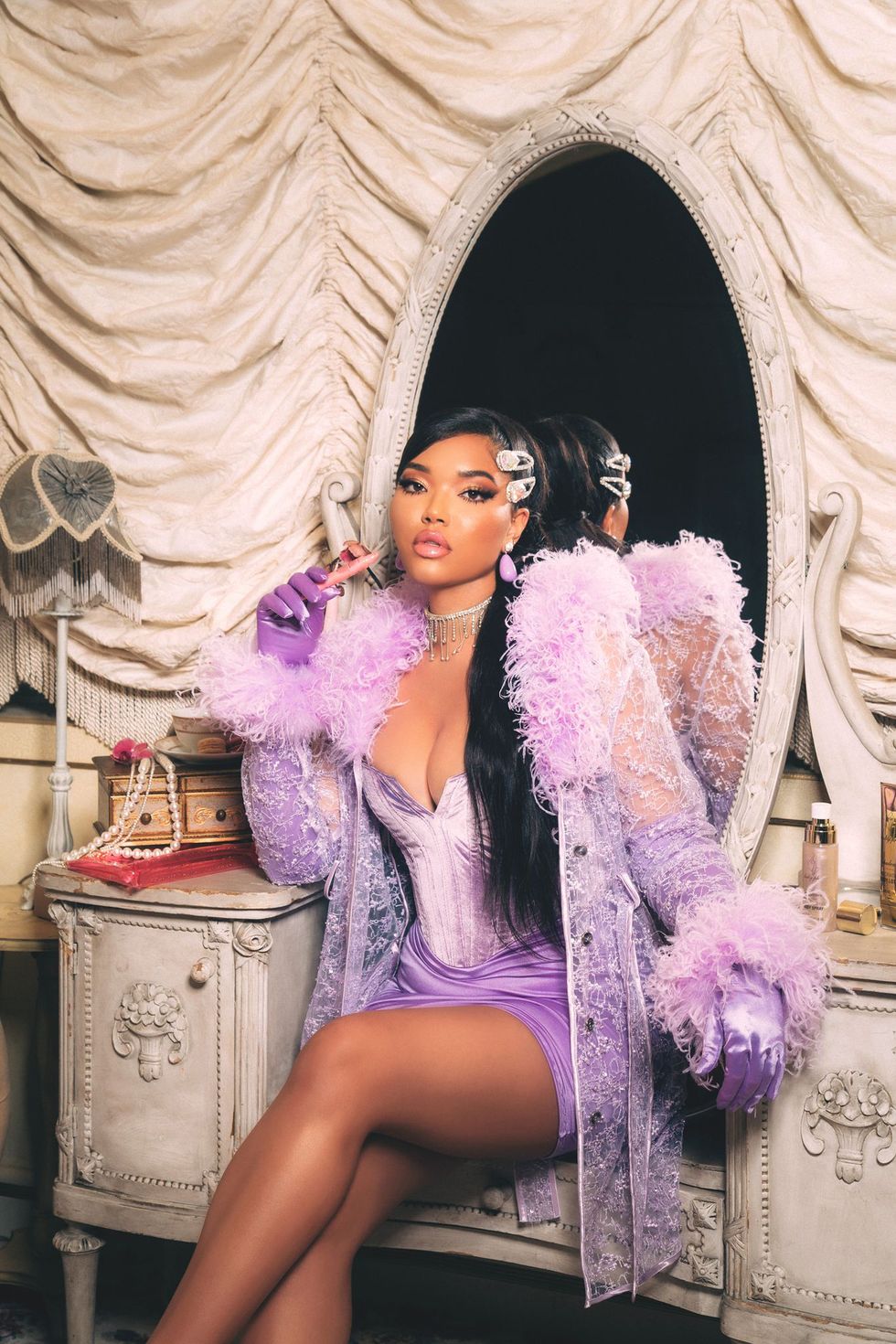 Photo: Courtesy of Baby Phat Beauty
On the Black business boom that has come along with spring's racial uprising:
"It's a difficult time, but I think things are shifting. It's about keeping your finger and your ideas on the pulse of those changes. Can you make your product in your kitchen? Can you pick, pack, and ship, as opposed to needing to do your inventory out of a factory? Can you do it yourself? With social media, if you can get out there now, you can do your own thing. You can build your own business and you can use resources that are available to use. For example, we are mostly only online at
babyphat.com
, and it's been doing good. For many Black business owners, things are selling out and it's a great time to be listening to your customers to see what it is they want, what they need, and how they shop. How you're able to adapt is very, very important.
"And I'd actually say, 'Don't blow all of your life savings on creating this brand or this business.' It's OK to take small steps. Also, educate yourself. That doesn't have to cost a lot of money or even mean a university education, but educate yourself in life. Look into what it is that you want to do so that you don't make mistakes. Educate yourself as much as you can on your own about all aspects of the business. Right now is an exciting time to be able to grow and build. If you are able to adapt, great things can happen because people are shopping, people are home, people are on the computer a lot more and on their phones. So in a lot of ways, there are silver linings on these clouds that we're experiencing."
On her Korean and Japanese heritage and how cultural beauty is taking over the globe:
"I'm half Asian, and I'm Korean and Japanese. I had a line before called Shinto Clinical Skincare, and it had all of the things I was handed down from my mom and a lot of innovation and cutting-edge technology that Asian beauty is known for. It's very popular now but has been around forever—especially for a girl like me growing up with my mom and my grandma. I love it and I've always been a big supporter of it. I've always tried to infuse those ideas into my own products in terms of formulations and ingredients. As Black and brown women, we're very concerned with hyperpigmentation and discoloration of the skin [for] anti-aging. So it's a parallel universe in that respect because [Asian women] are concerned with the same things and target those concerns. Then, in other areas, they're just miles ahead. It's always fun and innovative, though, like a snail slime mask and all the way up to a cutting-edge laser. It's very popular right now, but it's not new. There are old ideas and wisdom at play there, as well."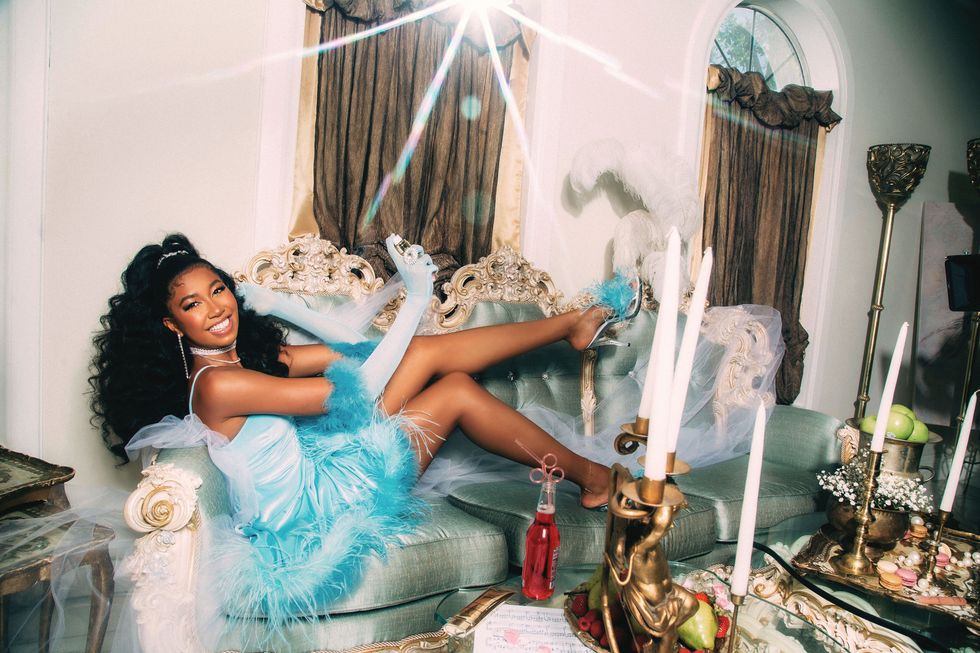 Photo: Courtesy of Baby Phat Beauty
On partnering with Stacey Abrams' Fair Fight initiative:
"Every little bit that we do, something is helping our community. It's a way to engage young people as well, by changing how we frame spending. By spending, you are helping yourself and your community. So it's important to have that awareness, but we're also trying to activate the Black and the brown voter and people of color again. We want to educate them about voter suppression, prepare them for their voting experience, and encourage them to cast the ballot. Voter suppression is real, and Stacey Abrams is showing us that, so we want to make sure that kind of thing doesn't continue to happen. And how? By electing progressive leaders. That's how the organization got its name, because we need a fair fight. We need to be supported and protected at the state level and up. So we are giving a portion of our proceeds to this group and working to educate the voters and get people out there to vote, but also to give support and to get donations so that people understand not to quit—to keep going and to help our democracy. To insist that all people are represented and to insist that people that look like you and me, that women are there and that we have a seat at the table.
"Whether it's politics, voting, beauty, business, fashion, it's all the same. We need to make sure that we are represented and our voices are heard in the boardroom, from the ground level of creating and behind the scenes, all the way to the end game. We now know some of the numbers in terms of our power as consumers. So it's very important that we use our voice to be seen, to be heard, to be innovators, creators, and owners of the process all the way through."
On what she's looking forward to as the holidays approach and 2020 comes to a close:
"I feel like I've lived this year three, five, ten times over. 'We're the hell up out of here' is what I'm looking forward to saying. We've lost people and family and friends and leaders, and it's just been a crazy time. But if you're reading this, there's hope. That's it. What else can you say? We're making it. Let's get the hell out of here and go on and take care and remember self-care, self-love, and to build and grow and flourish and be fabulous. So upwards and onwards, and let's look to something bigger and greater.
"If you talk about Black Lives Matter, or even if you talk about beauty or fashion or business, it is a good time for us. Even in all of the sadness and madness and craziness, we are survivors. And not just survivors, but we also flourish and we're fly, which is what Baby Phat represents."
Photos: Courtesy of Baby Phat Beauty
Want more stories like this?
How to Transition Your Hair Care Routine from Summer to Fall
Our Favorite Beauty Looks from the S/S '21 Runways
Are You Applying Your Mascara Wrong?