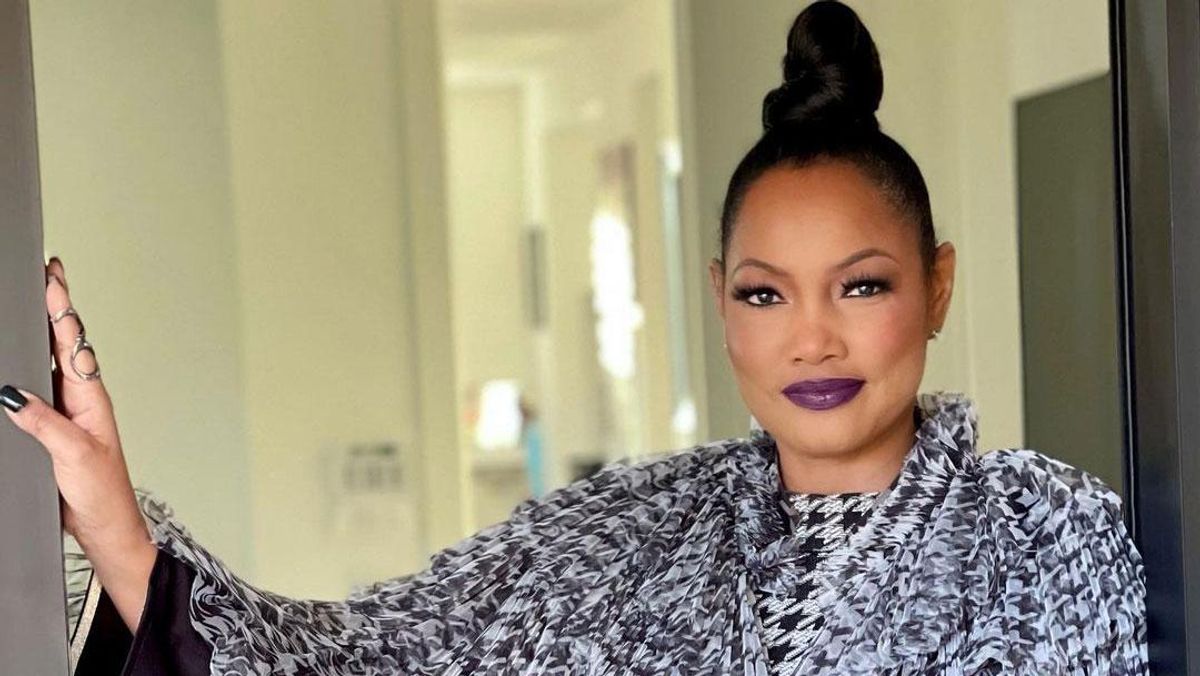 Celebrity
Garcelle Beauvais Knows a Thing or Two about Longevity
The actress, host, and Real Housewife knows a career in Hollywood is a marathon, not a sprint.
With a career in Hollywood that has spanned more than 30 years, Garcelle Beauvais is a study in longevity and the everlasting power of the switch-up. Almost 25 years ago, she was broadcast into households everywhere as Francesca "Fancy" Monroe on The Jamie Foxx Show as the gorgeous, ambitious, and classy counterpart to Jamie Foxx's eccentric, talented, and albeit thirsty protagonist. A love for all things nostalgic has people watching the series for the first time and revisiting it after its last episodes aired in 2001. That is coupled with the rise of throwback photo-centric Instagram feeds like @90sanxiety and @hellosfrom90s that have posted vintage photographs of Beauvais on the red carpet or at the airport and thus introduced her style to a whole new generation.
"It's been so interesting because many times I get tagged in videos and I'm like, 'What is this?'" Beauvais jokingly tells Coveteur over the phone. "Even today, someone posted a JCPenney commercial I did I don't know how many moons ago, and someone had a photo of me at the Playboy Club in New York City back in the day. I can't believe people are finding these things. It's beautiful and flattering."
Beauvais' plate is more than full with her second season as a Real Beverly Hills Housewife airing on the small screen now, her podcast Going to Bed with Garcelle taking off with guests including Tiffany Haddish, Chelsea Handler, and Margaret Cho, and her appearance as a cartoon version of herself on HBO Max's The Prince. The star's latest endeavor is a collaboration with jewelry designer Roni Blanshay on a collection of statement-making bracelets, earrings, necklaces, and rings that range from $98 to $850. "When the opportunity came up with Roni Blanshay, it made sense because I loved the pieces they already had in their collection," says Beauvais. "I was like, 'Absolutely, let's do it right now' because wearing masks doesn't stop us from wearing jewelry."
Here, Beauvais talks about what her iconic character Fancy meant to representation, her beauty approach, how she celebrates her Haitian heritage, and more.
On nostalgia and how it's led to her recognition with Gen-Z:
"As an actor and someone who has been in the public eye for a long time, you want what you do to resonate with people. It's almost like getting my flowers now. Because with so many people, after they pass, the public realizes how much they've been touched by their work and how much they love their work. So it's really nice to get that acknowledgment in the moment."
On playing the iconic Francesca "Fancy" Monroe and what she represents in an industry that is still struggling with representation:
"I think Fancy was ahead of her time and she was both empowered and empowering. She knew who she was and she was not about to give into Jamie's desires right away. Fancy knew her worth, and it's really nice to look back on her as a character, but also to see how she's been received throughout the years."
On how she's been getting dressed (or not) throughout the pandemic:
"For the last year and a half, other than when I'm on The Real Housewives, I was just dressing from the waist-up, like everyone else in the world. We shot 170 episodes of RHOBH from home. I'd have Uggs on, or I'd be wearing sweatpants and sometimes even pajama bottoms. I just made the best of it.
"It's taught me that accessorizing is still something we can all do. If I'm on a Zoom call or FaceTime, it's been great to be able to still dress up in that way. Accessories make it all feel a little more normal, even though it's been a very abnormal time."
On how she approaches her beauty routine:
"For beauty, I try to keep it simple because I have eczema and I tend to have dry skin. So moisturizing is definitely a must for me. What I've learned through this past year and a half is that you don't necessarily need to go to a spa. Obviously it's nice to do that, but I think we've all learned how to do our own self-care, treatments, exfoliating, and putting on a mask. I've learned that I don't have to go and spend hundreds of dollars unless I just want the experience. It's been nice to do certain things at home.
"What I'm learning to do more and more is give myself a break. On the weekends, that might be by not wearing makeup and going easy on my skin. I think that's what we've all learned: Be easy on yourself with everything else going on.
On how she practices self-care:
"The thing that has helped me is making sure I make time to take care of myself, because I feel like we work more now that we're working from home. You're not taking a lunch break, you're not meeting friends for drinks after work, so it really feels like we're working longer. There are days when I hit a wall and I think, 'I can't do anything else and I can't speak to anybody else.' And if I'm not good to myself, I can't be good to anyone else. That's when I will shut things down and turn off my phone. If my boys are with me, I'll say, 'Guys, I just need an hour.' I'll take a bath and I'll listen to music just to recharge and feel like myself again. I don't want to have to hit a wall to know that I need to be taking better care of myself."
On how she celebrates and honors her Haitian heritage:
"For me, my roots are everything and they're what makes me who I am. I love the fact that I still keep some Haitian traditions in my home, in terms of speaking Kreyòl with my sisters and cooking traditional dinners. All those things keep me grounded, which is why I'm able to show up in the world the way I do."
On her podcast Going to Bed with Garcelle:
"Once a month I used to have friends come over on a Sunday and we would laugh, talk, vent, and it always became an interesting conversation. Every time people would leave, they'd walk out the door saying, 'This could be a show, you should create one.' And so finally, my producing partner and I sold the idea and then the pandemic happened. So they decided to incubate the concept as a podcast and create buzz for it that way. It's been really great and very liberating. On the show I always have a celebrity guest and then one of my real girlfriends or friends. We pretty much just talk about the same topics we discuss when we get together in real life. It's not about shaming anyone or making anyone feel uncomfortable. It's about sharing stories and laughing, and it's been so much fun. We've had Tiffany Haddish, Chelsea Handler, the Bella Twins, Kandi Burruss, Jamie Foxx, and so many other people on so far."