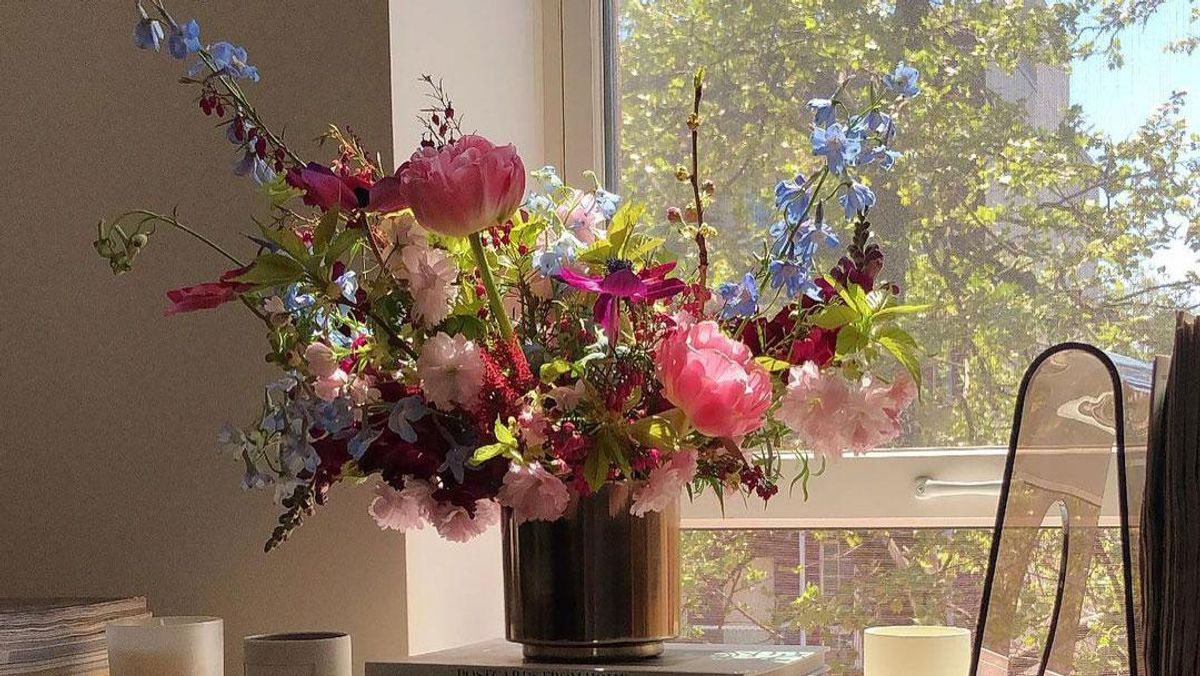 Decor
How to Bring Flowers into Your Home This Fall
The easiest tricks of the trade from Olivee Floral founder Karla Smith-Brown..
In more ways than a few, flowers have a way of *setting* the mood. To lush parks they bring bright bursts of color. To busy city streets they bring quick moving commuters joy, and to the home they bring warmth. Though their abilities to uplift are seasonless, we often limit their time to just spring and summer. But there is something intriguing and beautiful about the flowers that bloom in the fall. The vibrant yet earthy shades of reds, soft oranges, and golden yellows lift their surroundings in a way that feels hearty and homey—and exactly the way we want our home to feel during the crisp days of autumn.
While we all can attest to the accomplished feeling of neatly trimming our grocery store bouquets and placing them in the vase just right, it takes an artistic eye and thought to create an exquisite floral arrangement. Enter Karla Smith-Brown, florist and founder of Olivee Floral design studio. You may recognize her eye-catching arrangements from the studios recent collabs with brands like Dior Beauty, or Kate Spade, or even just from a quick scroll on Instagram. And with several years of pushing the boundaries in floral design, it's safe to say that she's the artistic eye to bring the warmth of fall florals into your home. Ahead she talks shopping, flowers, and shares her tips on how to create your own piece of beauty in your home.
Photo: Courtesy of Olivee Floral
Why is fall your favorite flower season?
"Choosing a favorite flower is like choosing a favorite child, I think it's best to avoid it altogether. Since my favorite flower is so dependent on the season, I can safely say that my favorite flower season (on the East Coast) is fall. The warm, rich hues and fascinating texture is what I look forward to seeing in the NYC Flower Market each year. I love being surrounded by dahlias, amaranth, chrysanthemum, berry branches, and bunches of burnt grassy foliage—the feeling is unmatched!"
How do you shop for fall flowers?
"When decorating your space with fresh florals this season, don't be afraid to go wild and really embrace the endless variety of elements available. In addition to shopping at your favorite flower shop or grocery store for seasonal stems, try visiting the local Farmer's Market for some edible foliage and fruit to provide depth to a tablescape or arrangement. Farmer's Markets definitely keep it interesting with hyper seasonal and local options to play with! In fact, I recently designed a beautiful baby shower arrangement featuring dahlias, pepper grass, and fresh Shiso Basil from one of my local farmers."
Photo: Courtesy of Olivee Floral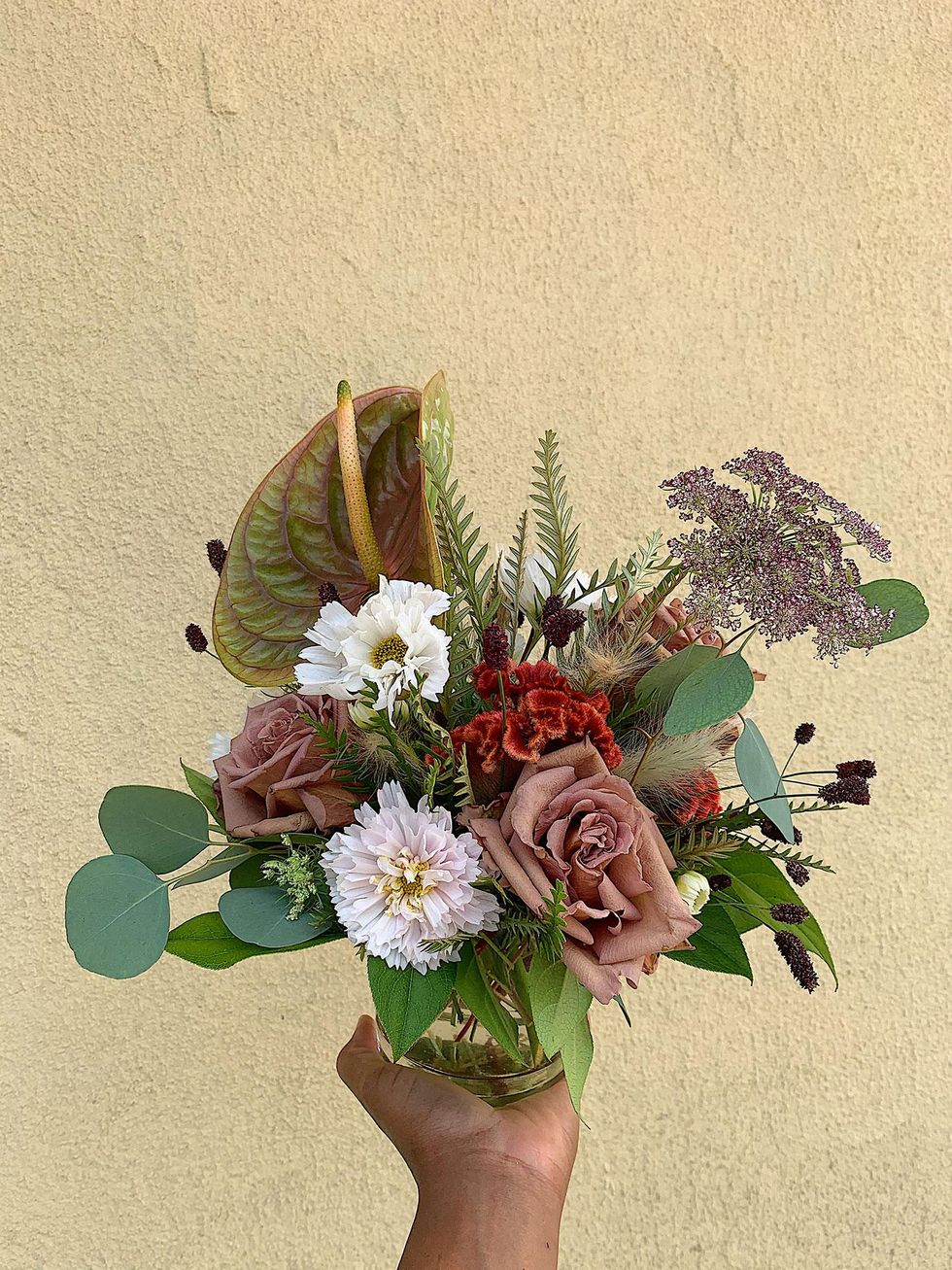 Photo: Courtesy of Olivee Floral
What kinds of vesicles do you like for building fall arrangements?

"When determining the best vessel to use, start with understanding the occasion, space and story being told. For example, if we're creating a welcome or entry arrangement for a dinner party then it will be larger and impactful, maybe in an ornate vessel to compliment the occasion. Lately, I've been having fun with bud vase arrangement clusters instead of large centerpieces for dinner parties—it's allowed me to highlight different blooms in a moment and really extend the concept or color palette. Using cut fruit or candles to enhance the experience is always a bonus!"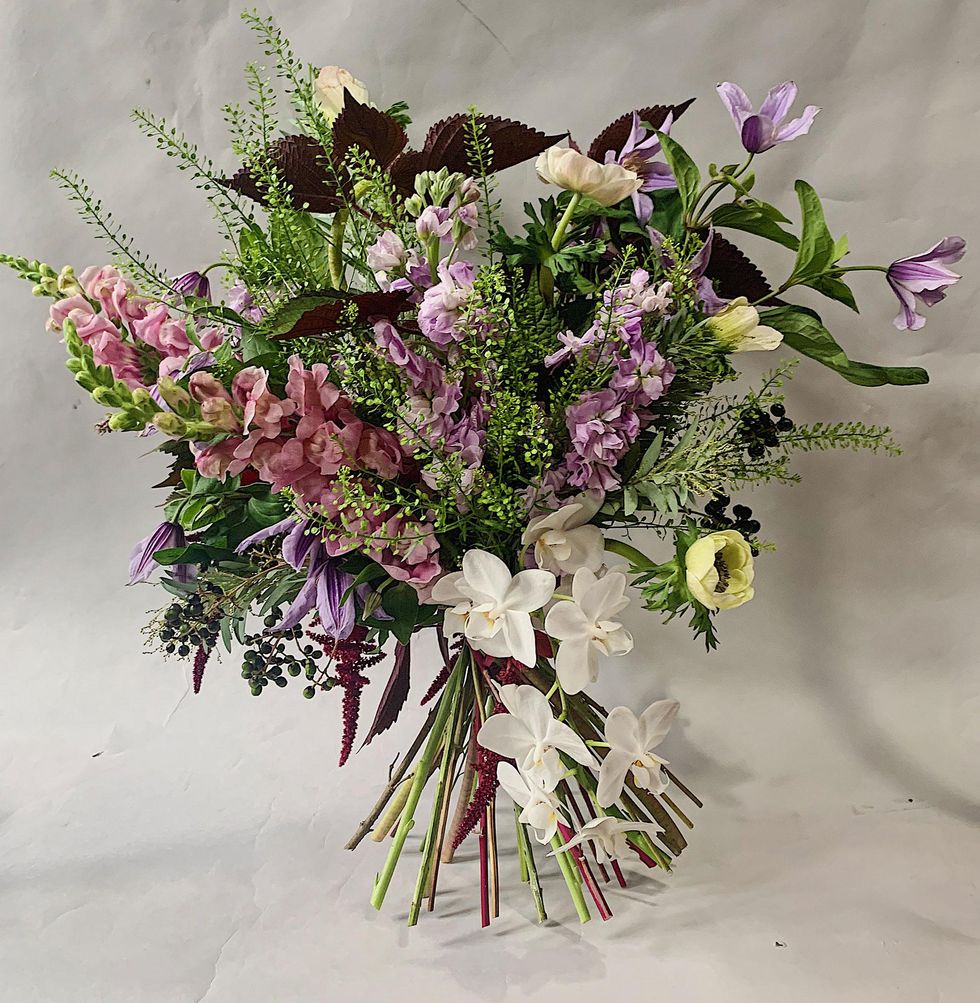 Photo: Courtesy of Olivee Floral
What are your tips for styling and creating unique arrangements for the home?
"Keep it simple and trust your instincts! Everyone has their own style, preferences, and taste. Create something that you enjoy looking at and chances are others will enjoy it too. Focus less on the final result and try to enjoy the process of collaborating with nature to create an arrangement, the meditative process may be even more rewarding than you'd expect."