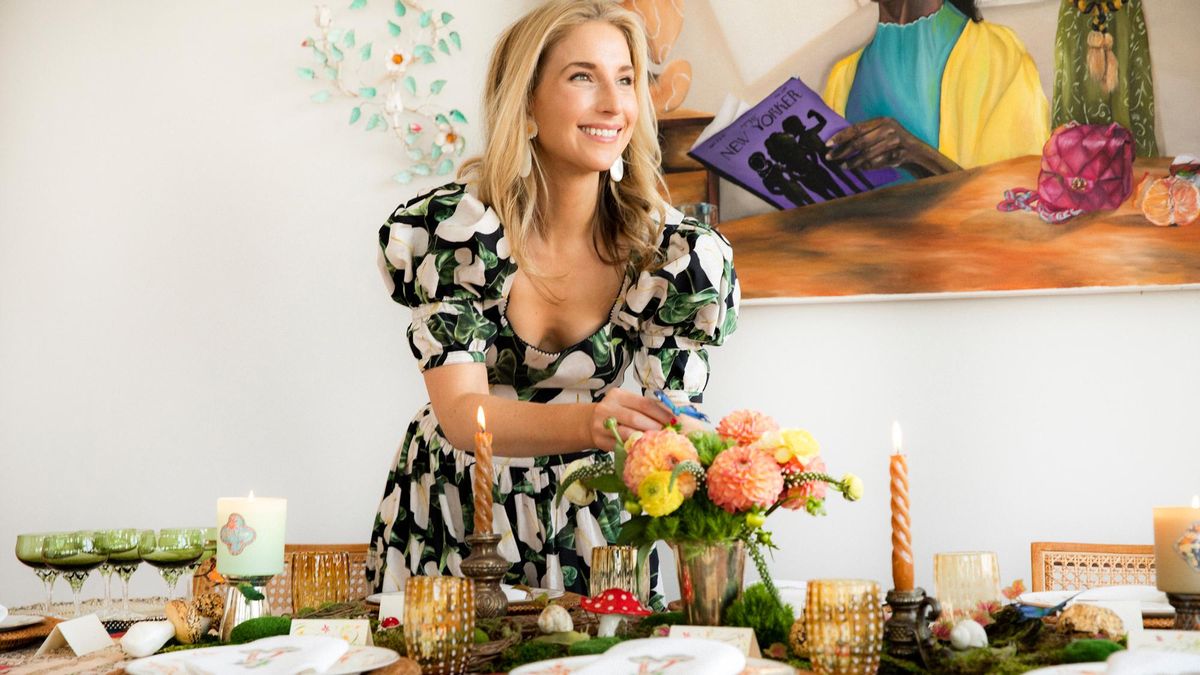 Entertaining
Abigail Cook Stone's high-low entertaining style is chic yet approachable.
Martina Keenan
Many of us discovered a newfound penchant for entertaining this past year, or rather the creative process leading up to entertaining as parties looked a bit different. The more immersed you allow yourself to become, the more you realize how much work actually goes into the often superfluous connoted act of party planning. There's the tablescape, the food, the drinks, the music, the ambience—where to begin?
To help clear things up, we've asked Abigail Cook Stone, CEO and co-founder of clean candle company Otherland to walk us through her entertaining process. Let's just say the woman knows what she's doing. From freezing edible flowers in ice cubes to her favorite elevated martini to her go-to playlist, the seasoned hostess is sharing all her tips for a fall-themed soirée. "Adding those special touches takes it to the next level so it doesn't feel so stiff and formal like the dinner parties of our parents," Cook Stone explains. "It's all about creating an experience at home, this kind of multi-sensory immersive experience that's going to be memorable and fun." Discover every minute detail of her creative operations below.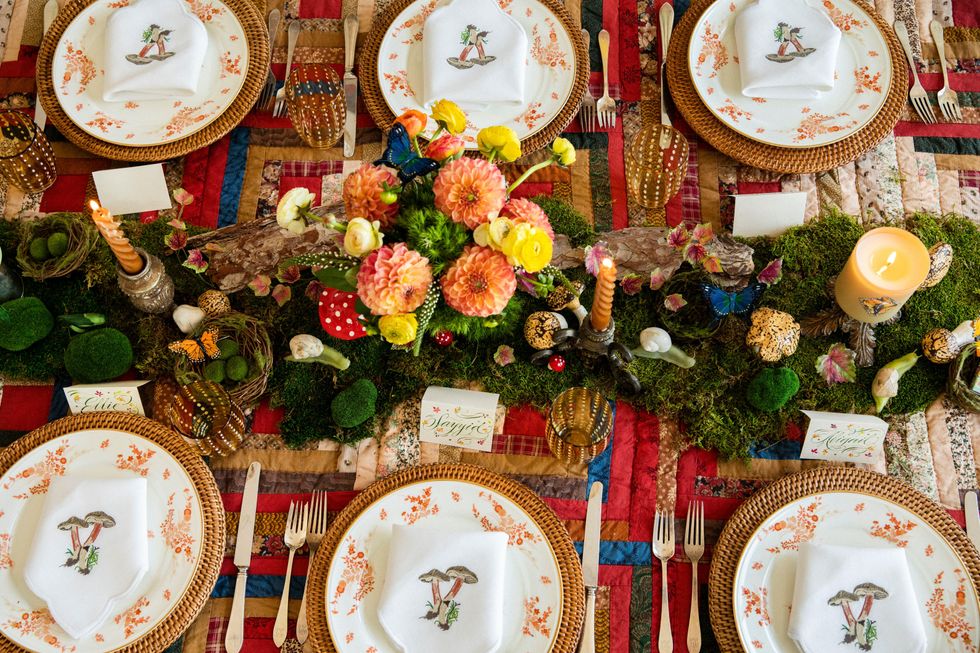 How do you begin?
"I am definitely a theme person. I love to have that be the inspiration and frame the whole evening. I love to create these little mood boards whether it's on Pinterest or Instagram. Rebecca Gardner's Houses & Parties shop is a source of endless inspiration and admiration. In the last year, I've done a Valentine's sweetheart dinner, I just threw a bachelorette party for my best friend in Jackson Hole, and we did a 'Cowboy Glitz and Glam Rodeo Disco' which was so fun. We did 'Midnight in the Garden' for Halloween, or even a harvest table for fall. For me, it's all about creating an experience at home—that includes everything from the food to the smells and candles and the whole environment."
It sounds like you take a lot of inspiration from the season and location. Obviously, with fall coming up, how do you let that inspire your evenings? Also hosting in New York, does that make a difference, as well?
"Absolutely. There are so many great motifs and inspiration points for a fall dinner. One can just be a 'Fall Harvest' dinner. There are lots of flavors—all those beautiful spices and squashes and so forth that just blend perfectly. Even for the tabletop, those burnt oranges and reds and the fall foliage, bring that inside and add little bits of whimsy on your table, whether it's actual fall leaves or little toadstools, ceramic snails or even some little decorative bugs. These elements of whimsy can help build up the table. Last year, I had a calligrapher add some little fall flourishes to place cards. (Suggestions: Open Ink Stand, Patmos Plume, Letters by Landa) Then, of course Halloween can be so fun, getting into some of these spookier elements with a witchy theme. John Derian has a lot of great stuff; they even did a collection for Target last year. We've had everything from dripping black candles to a fake crow. I found these little cement gargoyles on Etsy for like $5, so I nestled them in there. Fall is just a wonderful opportunity to create your table and experience. Especially in New York, it feels like people are back and getting together. So bring that into the home and, of course, add a signature scent, to highlight some of those spices, the woodiness, to create those cosy vibes that you want."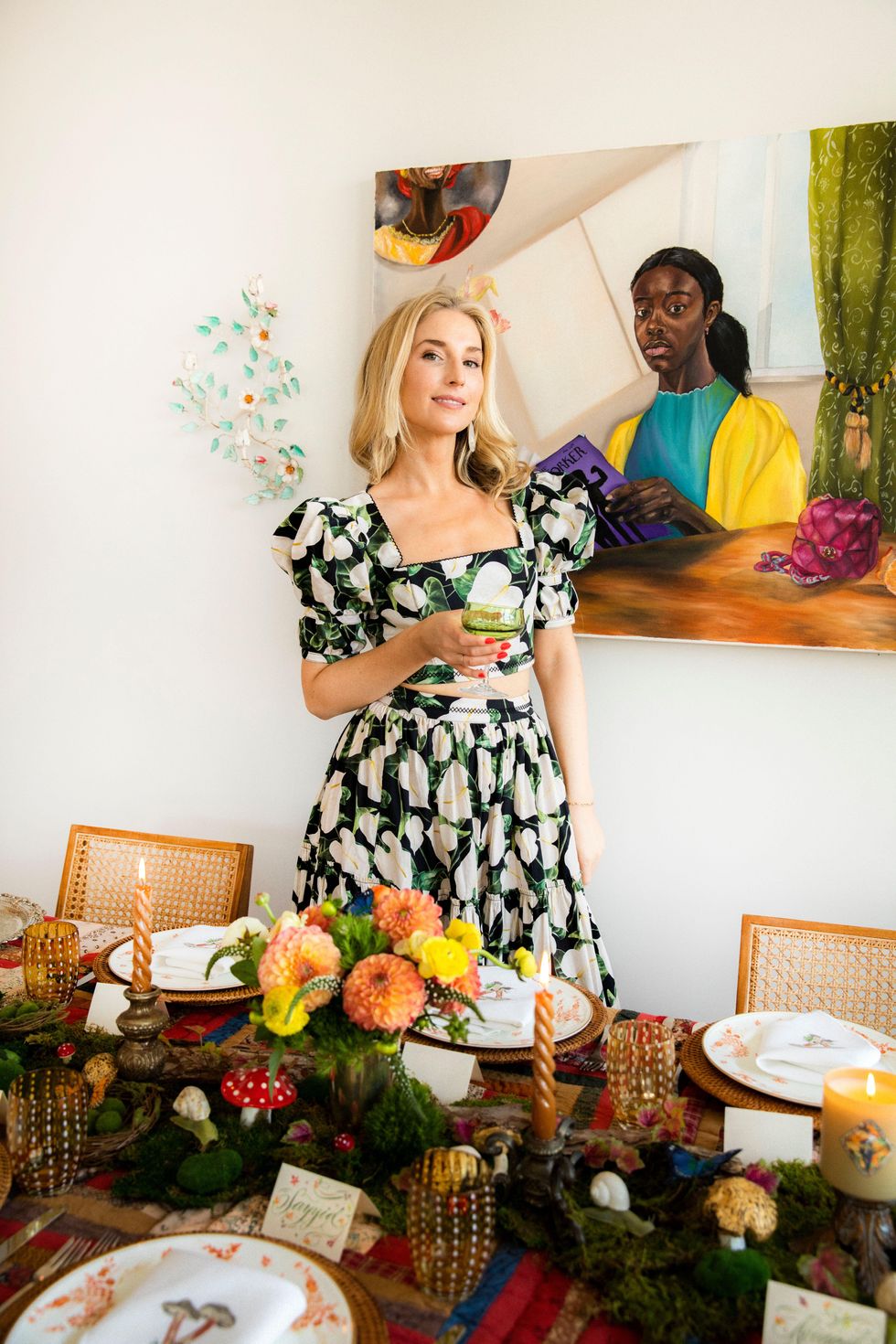 Painting by Ekene Maduka
Walk us through your tablescape. Do you like a traditional place setting?
"I start with the theme and pick out a few colors; it really begins with the tablecloth. Once I've got that locked down, then it's about building up. Decide whether or not you're using a charger, then select your dinner plate. In terms of the plates and dishware, I don't typically do a full setting. If you have a full setting, that's great but I don't think it's necessary. Even a rattan charger or just a place mat underneath a dinner plate can look really, really lovely. I actually ended up getting quite a few things this year from eBay, Etsy (try the Tinsel Trading Shop), and Housing Works in NYC. Some are in more complete sets and some aren't. I think mixing and matching is great. This isn't the dinner party of your grandparents. Nothing has to perfectly match and in fact, I think it's a little more chic not to do so. Building up from the plates, layer on the napkins and glassware. I love to do a pretty colored water glass. Estelle Colored Glass is a great company that has these really pretty glasses. Then, I move to florals and create a few low bunches across the table. You don't want them to be so big that you can't see across. The fun part is really building out your little scene. Use things like moss which you can get in the floral district (try B&J Floral Supply on 28th St.). For fall, add decorative squashes to the table. I've got some little fake mushrooms and snails. It can really be anything. I've done little dishes of candy for Valentine's Day, little gummies and baskets of chocolate eggs for Easter, and so forth. Even for the bachelorette, we had disco balls and dried florals all down the table. Adding those special touches takes it to the next level so it doesn't feel so stiff and formal like the dinner parties of our parents."
It all sounds pretty inexpensive, too:
"I follow a lot of people who are into tablescaping on Instagram and I definitely felt a little overwhelmed, wondering if I had to have this full setting of plates that are so expensive. I've learned there are so many tricks and it's about really knowing where to look. It does take a little bit of time but you can find the most magical things. Keep your eye out for something like that John Derian at Target line. You can reuse things. Even something like Baby's Breath works if you do it in great volume. I got some a couple weeks ago that was 49 cents a bunch so I did like 20 bunches. You can create this incredible texture with a really cheap filler flower. My grandmother would always have a centerpiece, but she would do a bowl of lemons which can be beautiful. Decorate with fruit or squash or whatever."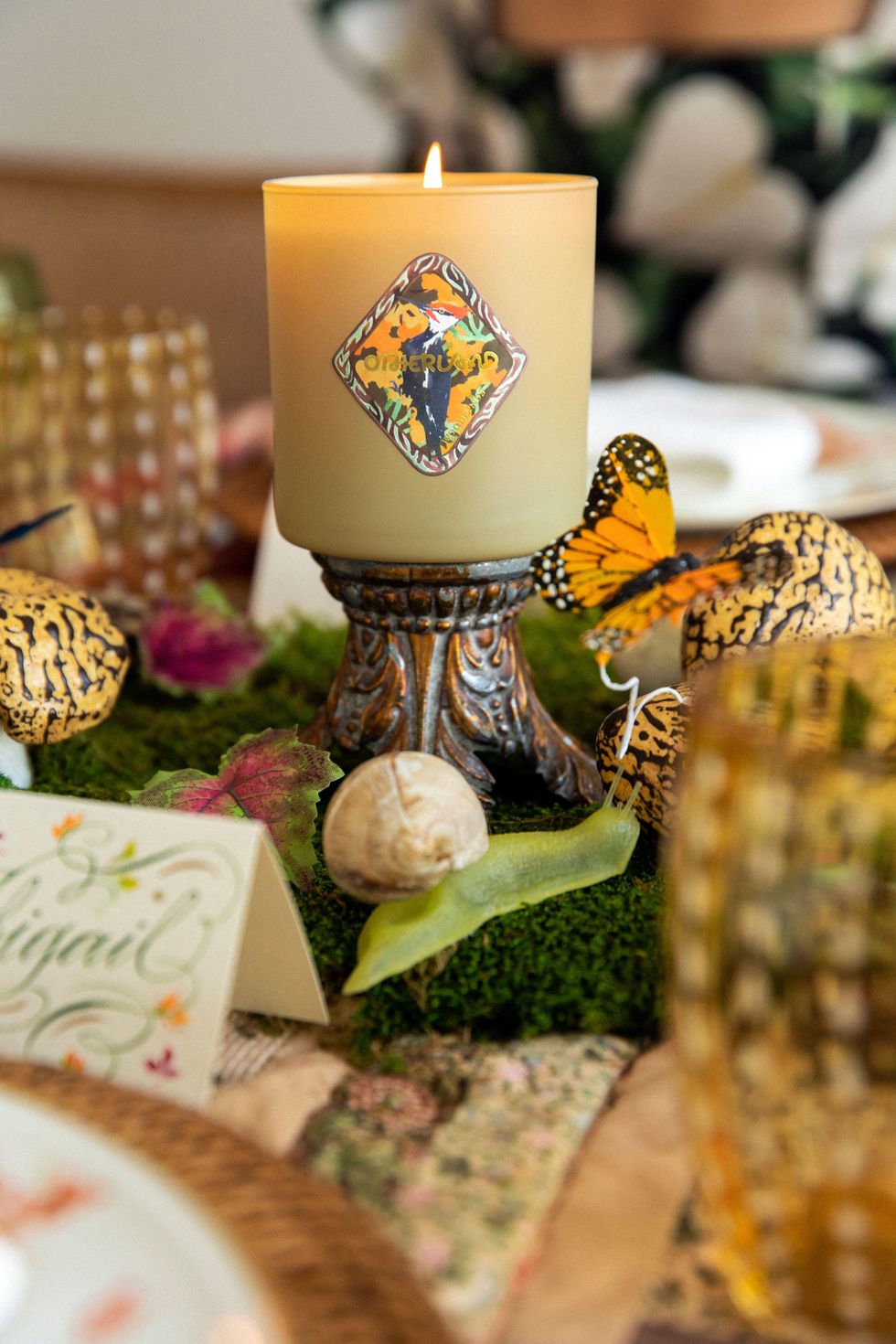 How would you describe your job as a hostess for the evening?
"I think your job for the evening is very much about being focused on your guests, making them feel comfortable and welcome and facilitating the environment for everyone to let loose, have fun, and let conversation flow. Maybe you even end up having a dance party towards the end. A big part of that is planning ahead. Have yourself ready, have the food ready, have all the details ready so that you're not panicked and stuck in the kitchen. That was something that took me a while to figure out. You have to plan out well in advance. The day of you should under no circumstances be buying the ingredients. Do that a couple days before. Day-of, your table should be set and you should really just be focused on prepping ingredients, doing any make-ahead menus, and then getting yourself ready. Having everything done in advance makes all of the difference for the host to be in the best mindset to facilitate fun."
This past year so many people discovered the fun of putting together a tablescape but also your guests were limited. Is there anything that these weird circumstances had you experimenting with?
"Even if it was just a table for two for me and Sayyid, my boyfriend and business partner, our restaurant/dining-out budget was redirected towards creating an experience at home. So, we went for it. Let it be a creative outlet. If you have a significant other and they want to participate, make that a fun activity. We really pushed the boundaries. We wouldn't just have takeout sushi. We got a sushi boat and really made an experience out of literally everything we could possibly think of. Sayyid picked up DJing during the pandemic so we would have a little dance interlude. We had a friend who did a virtual cocktail-making course and then taught us some of the recipes. So really going to the nines with the cocktails, the food, and all of these little touches.
"Edible flowers are also really great. They just make me happy on a dish or in a meal so that was a little luxury during the pandemic. There's a website called Gourmet Sweet Botanicals. They have the most beautiful things. You can even make ice cubes with petals inside, dress up salads, soups, cheese boards, and more. I created this cheese board using a plank of found wood and decorated the cheeses with amaranth leaves and pink peppercorns from Gourmet Sweet Botanicals. Their 'Tiny Veggies' are also the cutest things I've ever seen. If you order by 12 P.M. they ship overnight that day. For hors d'oeuvres, my favorite is a mix of high and low—caviar, a dollop of creme fraiche, and squeeze of lemon atop a thick Ruffles potato chip from the bodega."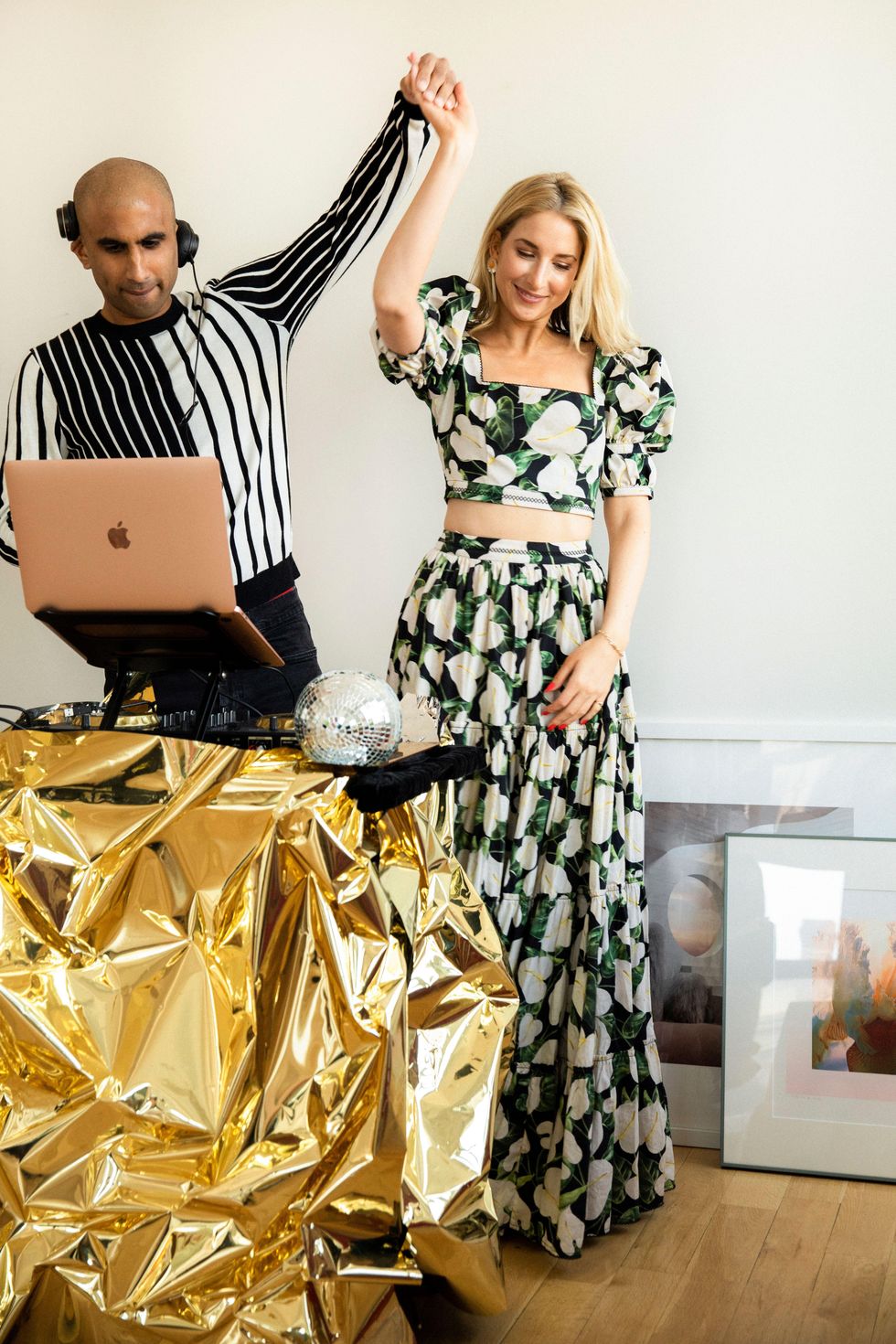 Do you cook yourself or do you like to order out?
"Catering can be great. If you have the money for that, it's awesome. There are so many talented caterers. You can focus on other aspects of the party and it's a huge relief to not have to deal with the actual cooking. But it can be really great to cook, as well. The thing with cooking is again just to plan your menu so carefully so that you don't get stuck in the kitchen. Ottolenghi the chef has this cookbook called Simple. He has all these tips for which parts of this recipe can be made ahead and then assembled at the end. Look for recipes like that. The winning rule is really to go for simple dishes that are cooked masterfully and with the best ingredients in your budget. it doesn't need to be the most elaborate thing. Also, don't be afraid to incorporate store bought or pre-made items, as well. You can dress them up with garnishes and little things like that. Some of my go-to recipes are things like harissa carrots from the Ottolenghi cookbook; those can be made ahead. I love making beef tenderloin with horseradish sauce. We always do that for Christmas. Then, one of my secret recipes is Julia Childs' rack of lamb (which I get from Trader Joe's) with herbed mustard coating. It's so easy it's almost a non-recipe. It's so good. Find these simple recipes and do a dry run if you can."
What's on the drink menu?
"I do love to have a signature cocktail but you absolutely have to create a batch of it. I've made this mistake. Individual shaken cocktails take way too long. My favorite at the moment is this tomato martini which sounds really weird but is actually delicious. It's not completely necessary for a dinner party, but if you can get it together and do something that's seasonal, it can be really fun. Maybe it's a spiked cider or something with elderflower around the fall.
"Then, there's another important thing to note, both on the food and the drinks. Sayyid's family is from Sri Lanka and they have this saying and belief over there which is that the worst thing you could possibly do when you're having people over is something called 'cooking short,' or not having enough food or drinks. There couldn't be a bigger cultural sin than cooking short. They even have this expression like 'family hold back' or FHB, which means that if things are looking low, the family holds back. It's a great lesson. The point of a dinner party is a little bit of this abundance, so make sure that you carefully planned for that. Also check in with your guests to see if people have certain preferences for what to drink or eat."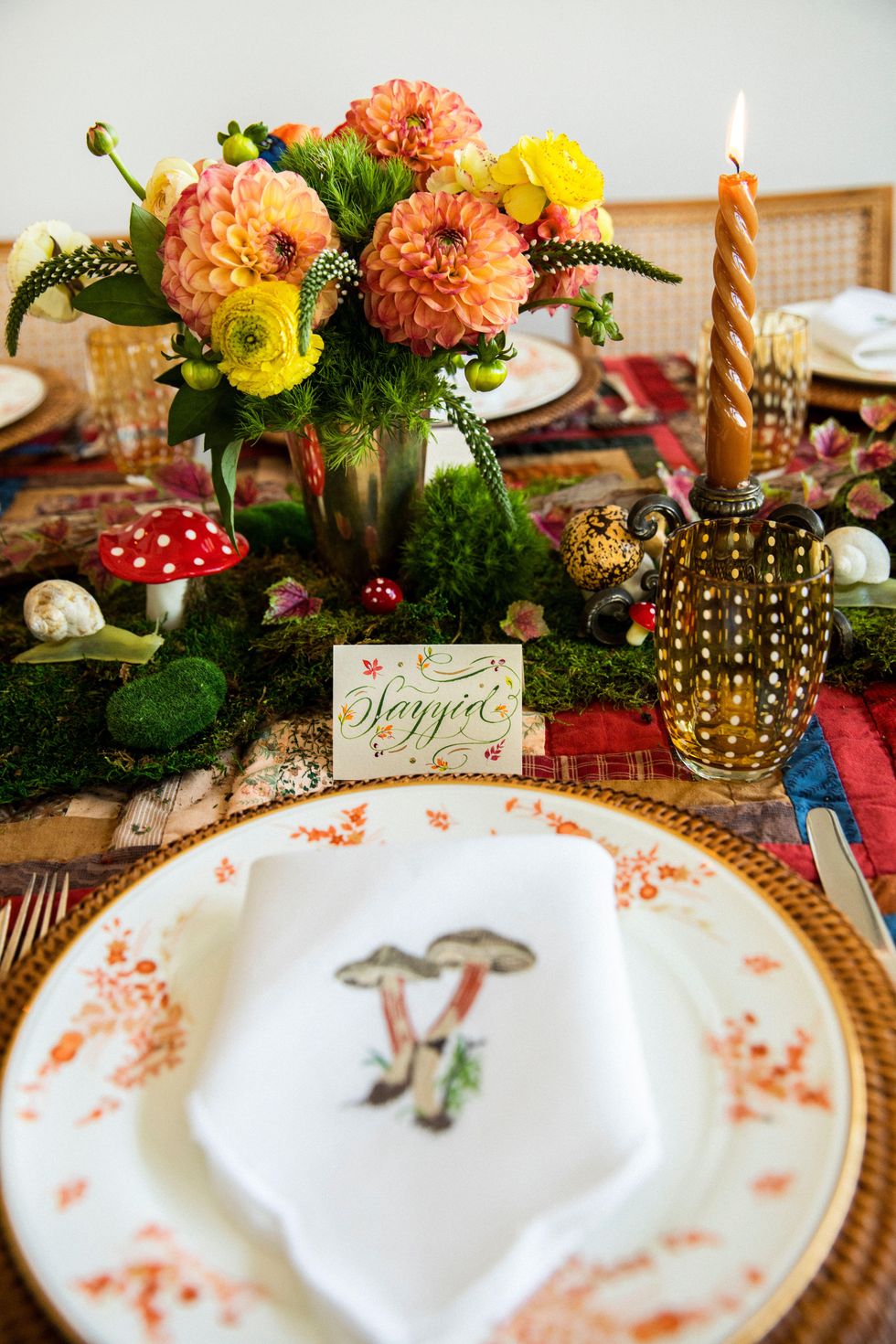 How do you approach lighting?
"It's so important. There is nothing that compares with a candlelit glow. It's the most flattering lighting. That flickering flame creates some magic, reflecting off of different surfaces. So the more candles, the better. For everything else, a dim light will do."
What about the playlist? Any go-to's?
"There's a Latin jazz playlist on Spotify that I really love. It's upbeat, jazzy, and reminds me a bit of Miami. It's got a nice lively energy to it and a modern feel. That's one of my favorites but it depends on the party. It could be reggae. It could be whatever."
Julia Childs' Rack of Lamb with Herbed Mustard Coating:
Whisk together a mayo-like consistency 1/3 cup Dijon mustard w/ 3 large cloves of pureed garlic, 1 tbsp soy sauce, 1/2 tsp ground rosemary & 3 tbsp light olive oil.

Scrape off/trim any fatty meat between the ribs & from top of bones. Score the fat side of the ribs lightly & paint w/ mustard coating. Roast for 10 minutes at 500F, sprinkle 1/2 cup fresh bread crumbs over the meat & drizzle on a little melted butter. Roast 20 minutes more, or to internal temperature 125F for red rare or 140F for medium rare. Let rest 5 minutes before cutting into chops.
Bitossi Home
Jamali Garden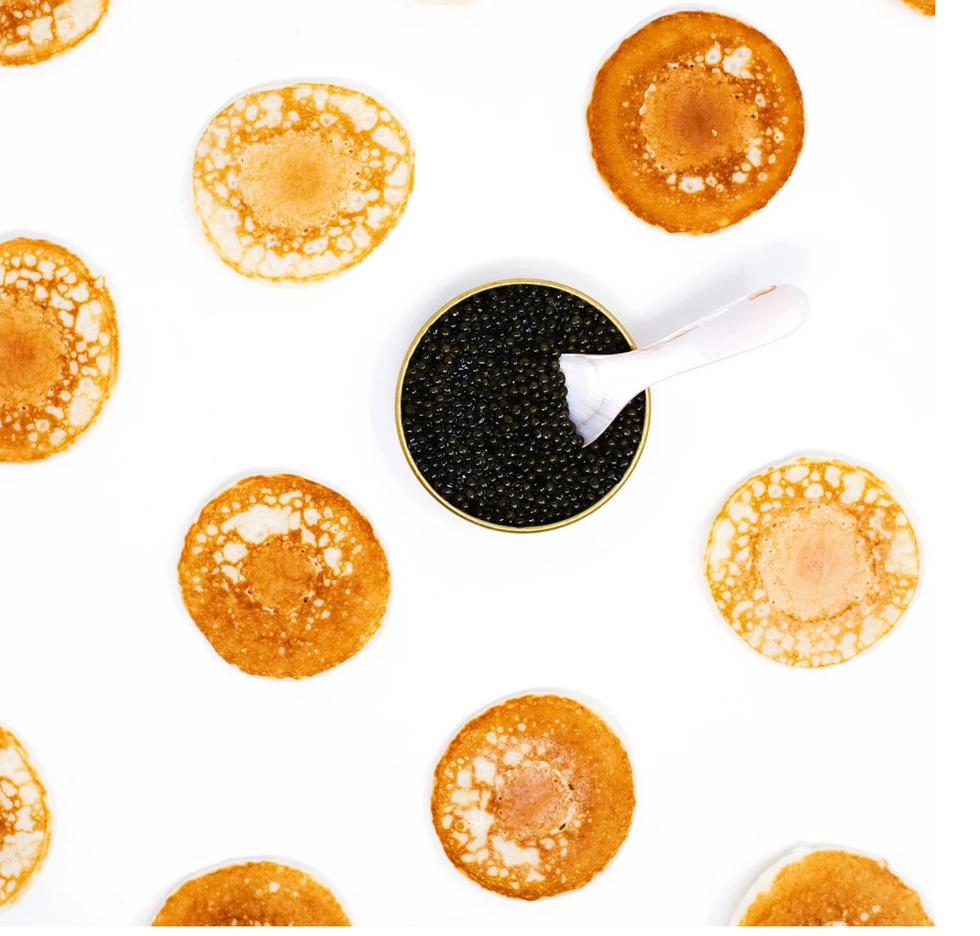 Portage
Otherland
Sabre Paris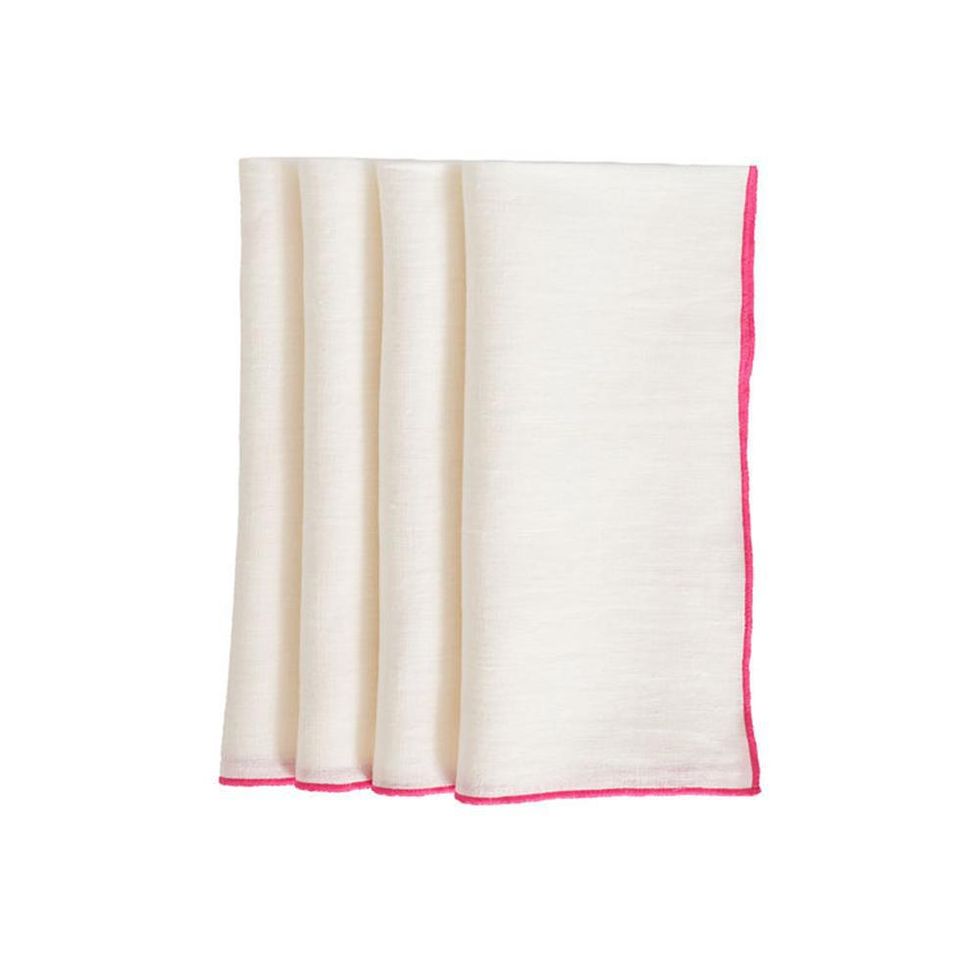 Linen Way
Gourmet Sweet Botanicals
Otherland