Plant Obsessed? This Woman's Decor Influence Is Partly Responsible
Meet home decor maven Justina Blakeney.
Decor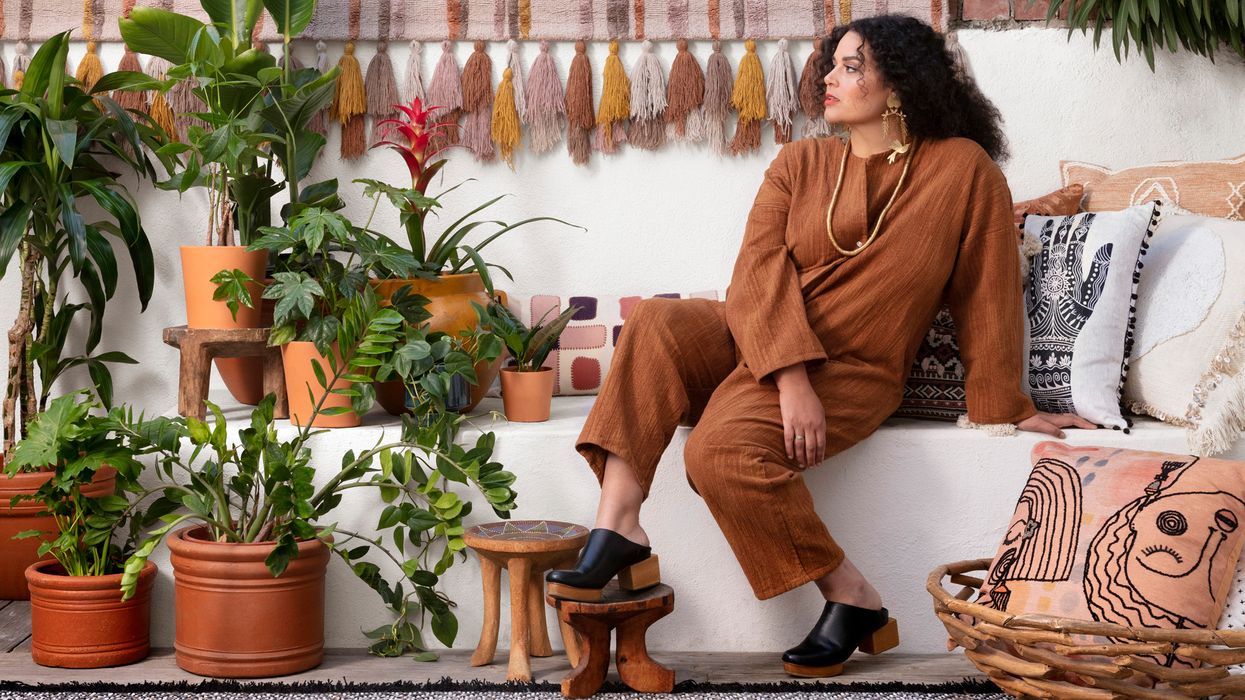 When it comes to home decor and interior design, few people are as trusted and influential as Justina Blakeney. With over 2M followers on
Instagram
alone across her three accounts and rooms that are popping up on Pinterest boards by the hour, the
Jungalow
founder may be one of the reasons you bought a plant for the first time during the pandemic.
"Because my work is in home decor, I've been really busy, which is both a double-edged sword and a blessing in so many ways," Blakeney tells Coveteur. "Working from home and balancing work life with family life, working with my team remotely, and seeing a real increase in sales with our online shop, it's been nonstop and it's been crazy." That's not counting the collaborations Blakeney has launched during this year, including clean deodorants and body washes with
Native
and a rug collection with
Loloi
. She attributes it to a year that's been spent indoors for most and has resulted in not only desiring, but needing a space that does much more than a home used to. "It's given people a real opportunity to seek out the beauty in the space that they have and figure out how to do a lot with a little, with increased creativity and ingenuity," she says. "Just investing in your home to really create a place that works really well for yourself, for your family, for your work, your goals, and your dreams."
Blakeney is going through a huge transformation herself, having recently purchased a new home and starting the demolition process with her husband. "We have a long way to go with the new house," she says. "It's a total fixer, and it's about 100 years old and hasn't been updated in the last 40 years. We have a lot of both structural and aesthetic changes that we want to make in the home." It's exciting and fun work for the couple, which has been a salve during this time of unexpected change and chaos.
Here, we talk to Blakeney about her forthcoming book, inclusivity in the design community, advice for those looking to reinvigorate their living spaces in the new year, and more, plus some of her favorite places to shop for home decor and what she's investing in now. 
---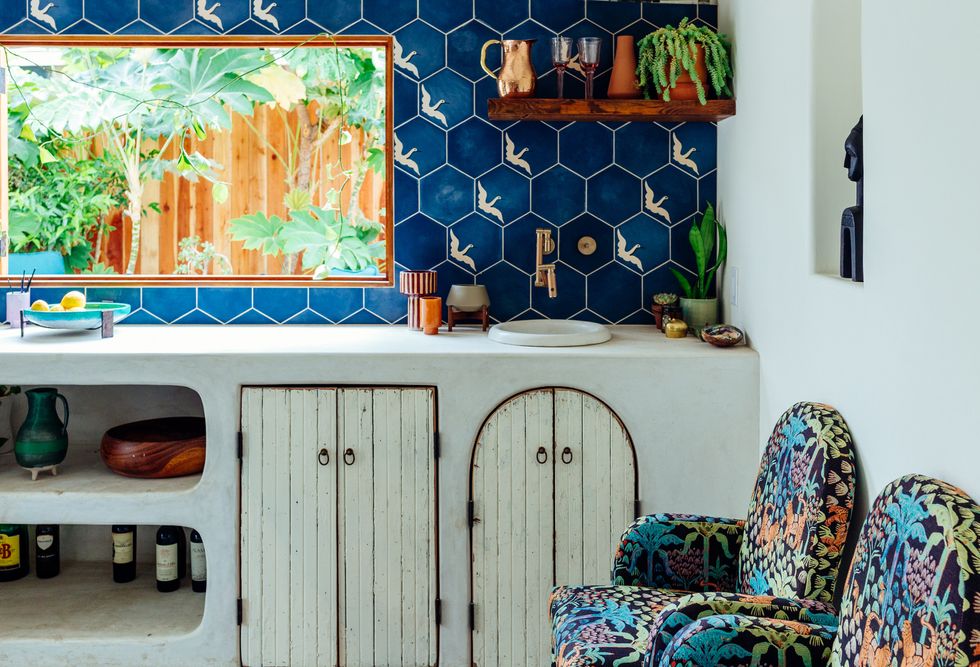 Photo: Courtesy of Jungalow
On how she's coping and working in the pandemic:

"Working from home and balancing work life with family life, working with my team remotely, seeing a real increase in sales with our online shop, it's been nonstop and it's been crazy. Working from home, for somebody like me who is an entrepreneur and really passionate about my work, it's sometimes hard to turn off.

"But that having been said, this time has given people a real opportunity to seek out the beauty in the space that they have and figure out how to do a lot with a little. Just investing in your home to really create a place that works really well for yourself, for your family, for your work, your goals, and your dreams. That's something I've always tried to preach and always tried to help my community with: helping people think about how they can use their spaces in different ways and really make the most out of this really difficult time."

On her new home and what it's like to begin remodeling during the chaos of 2021:

"It's like every remodeling project, stressful and expensive. The pandemic has brought a lot of unique supply-chain-issue challenges as well, with very slow and expensive timelines for getting new appliances and other materials like lumber. It's a great reminder to enjoy the fun parts of the process, the creativity, and connecting with my husband around making these decisions for how we want the new home we're going to be in for many, many years to come to be. Trying not to focus on the more stressful aspects of it and instead focusing on the fun and creative aspects has been one of my goals."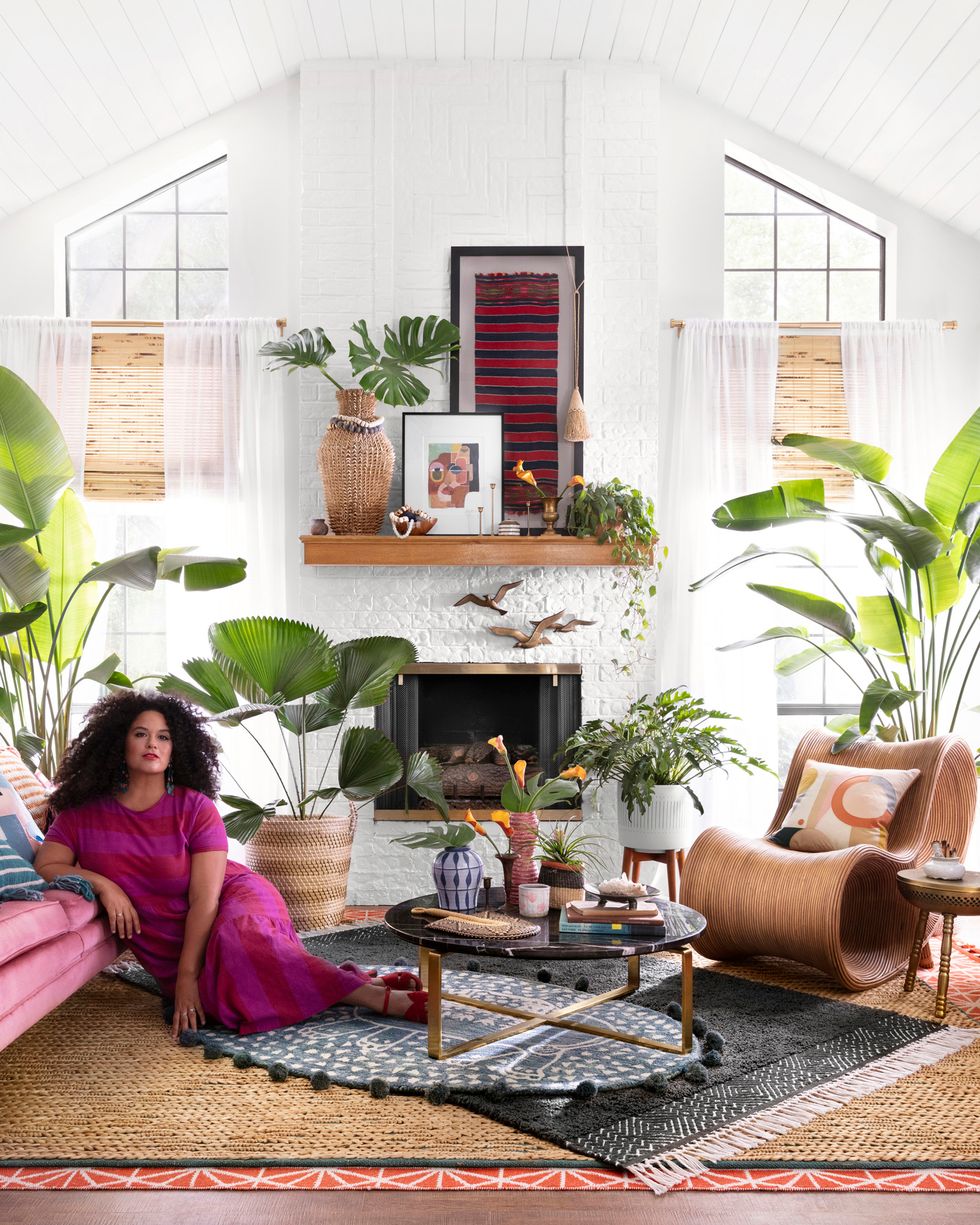 Photo: Courtesy of Loloi Rugs
On what she's hearing from her customers and followers about their current living experiences:

"So many people are moving and considering home in a new way. People who now are working from home or balancing WFH with school from home are using our homes in such different ways than we were even just 12 months ago. In Los Angeles right now there is a huge boom happening with real estate. Customers are emailing and reaching out to say, 'We've got new houses; can you recommend a new rug for this room?' Working from home is changing where people can live. People are saying, 'Oh, I guess I don't have to live this close to my office building anymore because my office building doesn't exist anymore,' and 'I'm going to get a larger place further outside the city.' Between the fires and other natural disasters that have been happening in the Bay Area, plus the cost of living skyrocketing, people are getting out of dodge. For people who were already contemplating a move, the pandemic has just sped up that process."

On the small changes we can all make to give our homes some added pizzazz:

"One of the things I always like to frame out when I'm talking about homes right now is a conceptual shift I think is really helpful for people to take in: the idea of a flexible home. One thing that tends to happen—and I think it's also because furniture is expensive—is that painting rooms feels daunting, and moving furniture feels the same way. But the fact of the matter is that in order to really figure out how to best create a space that works for you, you have to try things and you have to experiment. One of the things I like to recommend is dedicating a weekend where you and your family decide to try some new stuff. It isn't going to be a permanent change necessarily; it's just a way for you to play around, experiment, and have fun with your space.

"I live by the idea that a room doesn't have to be the space it was traditionally dedicated for. You can delineate different zones in your home with paint, area rugs, and lighting. You can create different areas of your home that make them dedicated for certain types of activities that you're hoping to facilitate in those spaces. Just shedding yourself of those preconceived notions of what the 'intended' idea for a space is versus 'What's the best way for me and my family to use this space right now to facilitate the activities that we want to be doing?' Even just rotating your sofa onto a different wall or pushing it out to create a passageway behind it between the sofa and the wall is a change. You can try that out for a week.

"Allow yourself the experimentation and then the time to try it out, see how you like it, and see what you learn. From those learnings, you can start to figure out how to best use the space and what types of furniture and accessories will help you facilitate the activities that you're hoping to have in the home. You may also decide you're not getting enough connection with nature right now and need to figure out how to invite more sunlight and more plants into your space, if that's what you're really craving."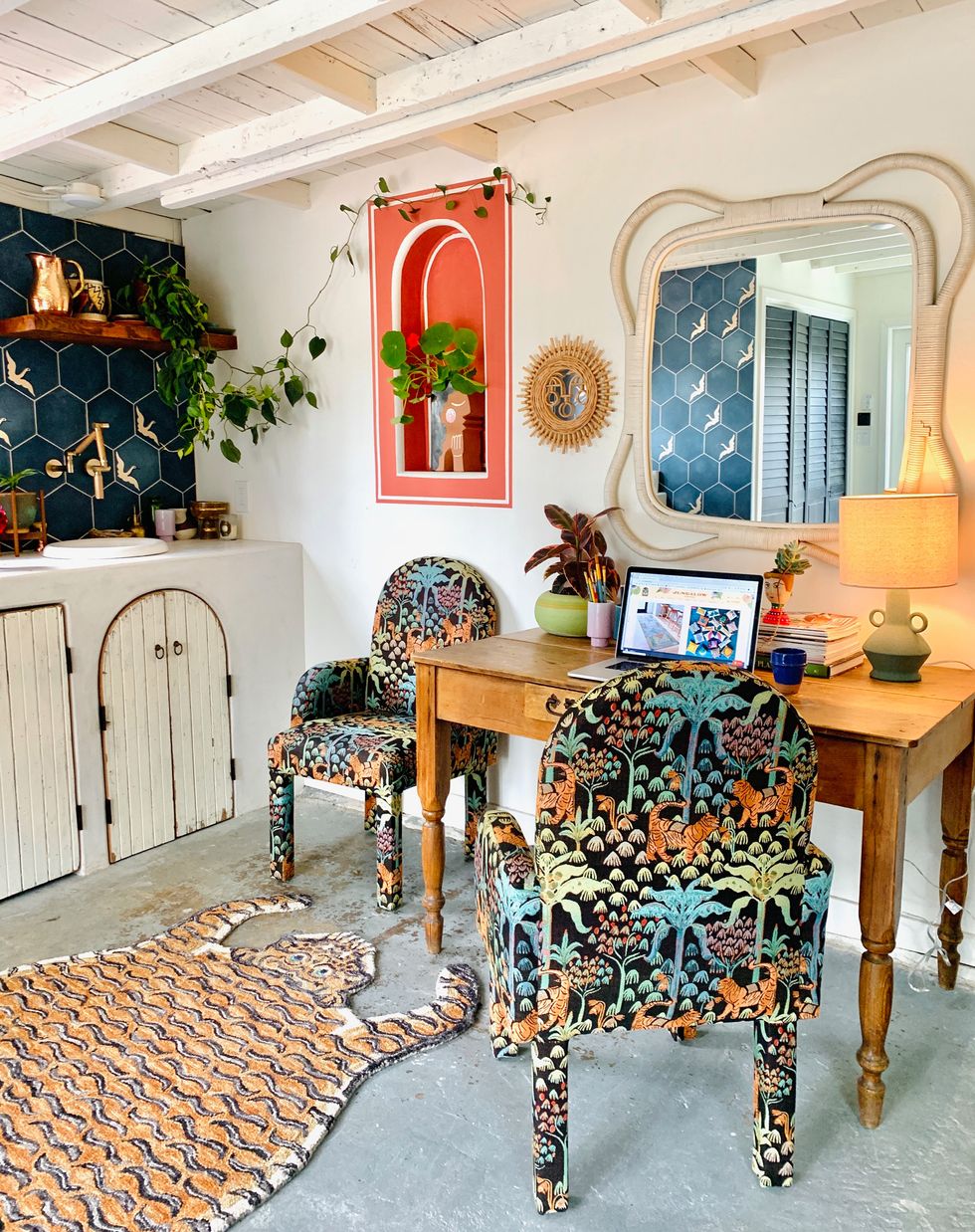 Photo: Courtesy of Jungalow
On how our plant obsessions will play out in 2021:
"Plants have gone mainstream again in home decor over the last few years, and I think they will continue to be an absolutely vital part of interiors and creating spaces that are not just beautiful and functional, but also healthy. One big trend we're seeing in home decor now is the intersection of home decor and wellness. I think for so long home decor was more correlated with the fashion industry
—
the idea that there are trends at all, that certain things are beautiful that season, and what patterns are in. What I see now is people connecting personal wellness and health especially, in light of the pandemic, with having an extra focus on the health of their homes and making sure unhealthy stuff stays outside the house.
"We're starting to see a lot more people make connections between how much natural light is healthy for us to have and what it means to be stuck in a dark apartment all day and what that means for your mental health. Your home can help support your mental wellness."
On the role of technology in design:
"We are already seeing so many smart technologies enter into the home space in different ways, but I think that that is going to increase. It's funny because I'm a maximalist and I love having material culture around me like art, objects, plants, and flowers. I hate the bulkiness of ugly tech, like big televisions. We're now seeing easier ways to go in and out of your home, with smart locks to televisions that look like art hanging on the wall, for solutions that help you simplify your home while making it more beautiful and more functional."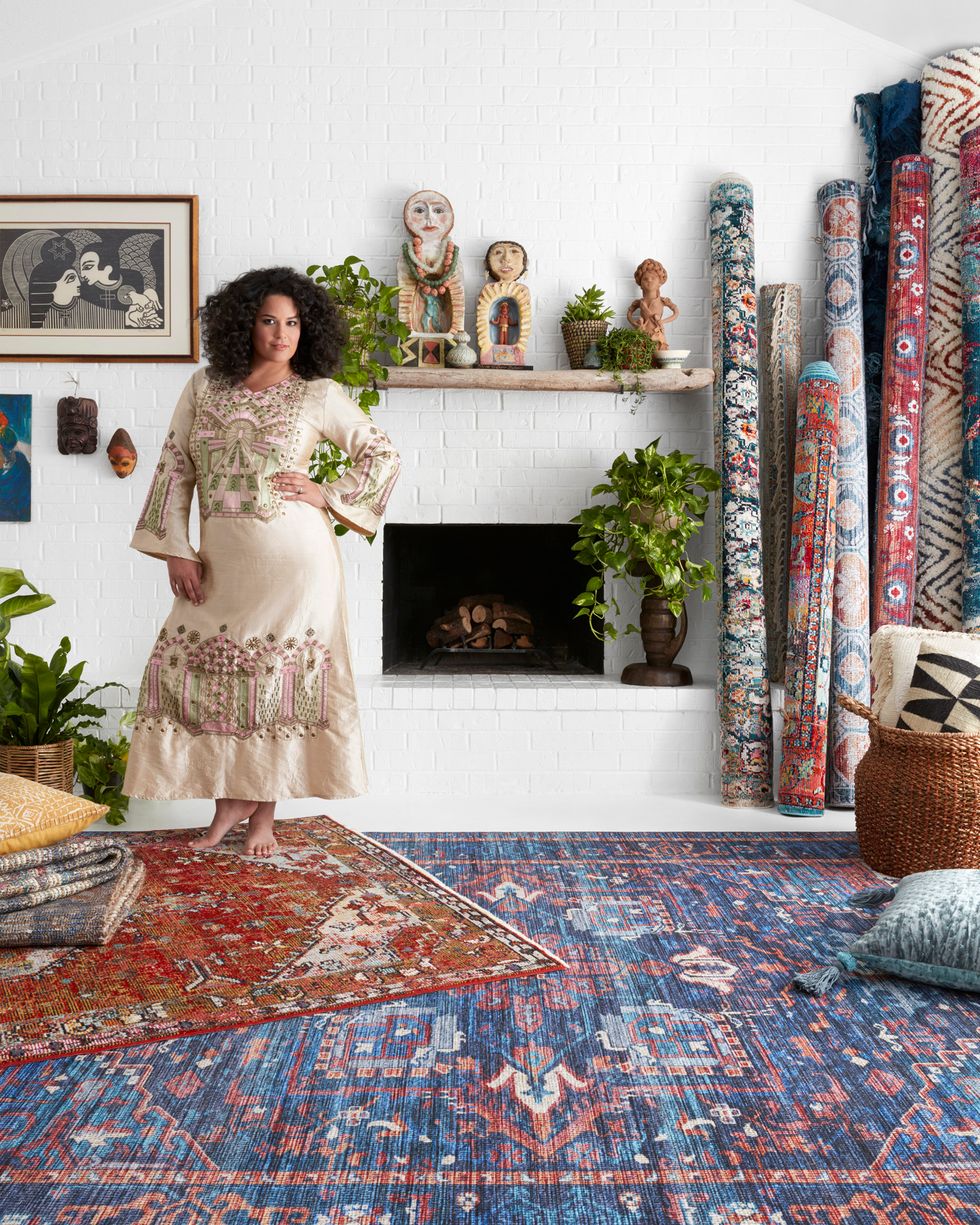 Photo: Courtesy of Loloi Rugs
On how she sources for her spaces and clients alike:

"So much of it is just intuitive: Something will speak to me or call to me. I think there's an ephemeral nature to that, which is hard to explain because that's the magic of design, right? You never know exactly why you think something is amazing, but it just speaks to your heart and it calls to you, so you invite it into your space. But in general, for me, the process of sourcing has changed dramatically. I was already a hybrid of an in-person and online shopper before the pandemic, as one of my very favorite things is thrifting, antiquing, and going to flea markets. I miss that so much.

"You can definitely mimic the experience a little bit with shopping on sites like Etsy or eBay, though. It isn't totally the same, but it does scratch the itch somewhat. When I'm looking for vintage, I hit up Chairish and 1stDibs and eBay. I'm just all over the map there looking for cool, old, inspiring stuff. Also on Instagram, there are so many great resources, from mom and pop vintage shops to people that have incredible eyes. I don't know where they find the stuff, honestly. It's not in L.A. because I feel like L.A. has been so picked through. I've also been hearing so much more about Facebook Marketplace. Five or six years ago, when people were looking for something that was gently used or to get a better price on something, it was Craigslist. Now it definitely feels like that has shifted onto Facebook Marketplace."

How her language skills help with her global home shopping:

"I've figured out how to say different things I'm looking for in different languages so I can search in different countries, especially on eBay and Etsy. Most of them do ship to the US, thankfully. Especially for things like vintage rugs and quilts that tend to get really expensive when you buy them from places here in the States and can be a lot more affordable when they're coming from their native countries. It's the substitute for travel right now."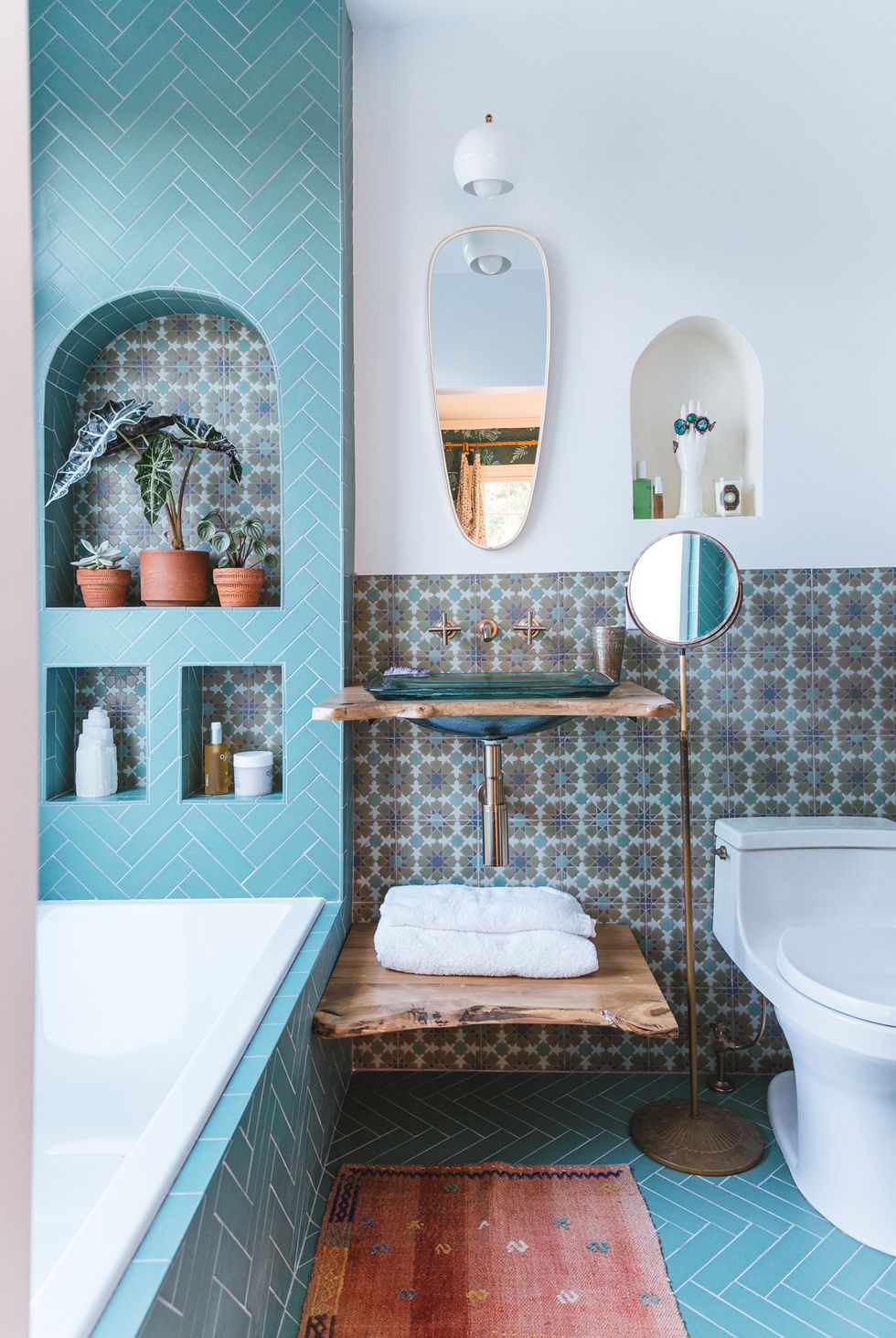 Photo: Courtesy of Jungalow
On diversity in the interior design world:

"The design industry is extremely homogeneous. Having worked with a lot of the larger brands in this country over the past 10 to 15 years, how homogeneous it actually is continues to be shocking. Since June I have seen a shift, but time will tell how sustainable the shift is and how meaningful it continues to be. For so long it felt like a token kind of situation. Like 'OK, we have posted 15 white women on our feed, so maybe we'll throw one person of color in here.'

"That's how it's been for a long time. Now I do think people are starting to notice. When you look at a feed that's that homogenous as a person of color, it's the first thing you notice. You think, 'Oh, I'm not represented here. This is not for me.' What I'm hoping is that the breadth of representation changes. Not just the models that people are choosing or the influencers that they're choosing to work with or feature, but also in the creative rooms and on the corporate level because that's really where the change needs to happen. That kind of change takes longer. I haven't seen that start to happen in a major way yet, but I have hopes that the design industry has had a bit of an awakening and that things will begin to change for the better."

On completing her forthcoming book in a pandemic:

"I'm always nervous before a big project like this. When you work on a book, it's a mammoth undertaking before you send it out to the world. I've been working on this Jungalow book for the past two and a half years, but really it's one of those momentous things in my career and in my life because it's really been brewing for more than a decade. The process was really fun and hard. It got especially difficult last March, when we were starting to finish up a lot of the photo shoots and writing the manuscript, but then the world shut down and we had to figure out how to finish the book during lockdown. It was very, very challenging.

"The pandemic coincided with maybe three or four more photo shoots scheduled that we ended up canceling, but we had so much more time to work on the editing and the writing. I'm really proud of the stories we tell in the book. It's so different from my last two, which were much more about tips, tricks, going into the homes of other creatives that I admire, and pulling out a lot of ideas from those spaces, as well as my spaces. But this book is really my story and my aesthetic journey. It's very personal. It's part memoir and then part travel diary, as well as including new ways of thinking about your home and my design philosophy. I'm excited to see how it's able to help people with some of the stuff that we've been talking about—that mindset shift around thinking about your home in a new way and really being able to make it a space that's personal, that lights you up, and that really works for you and your family."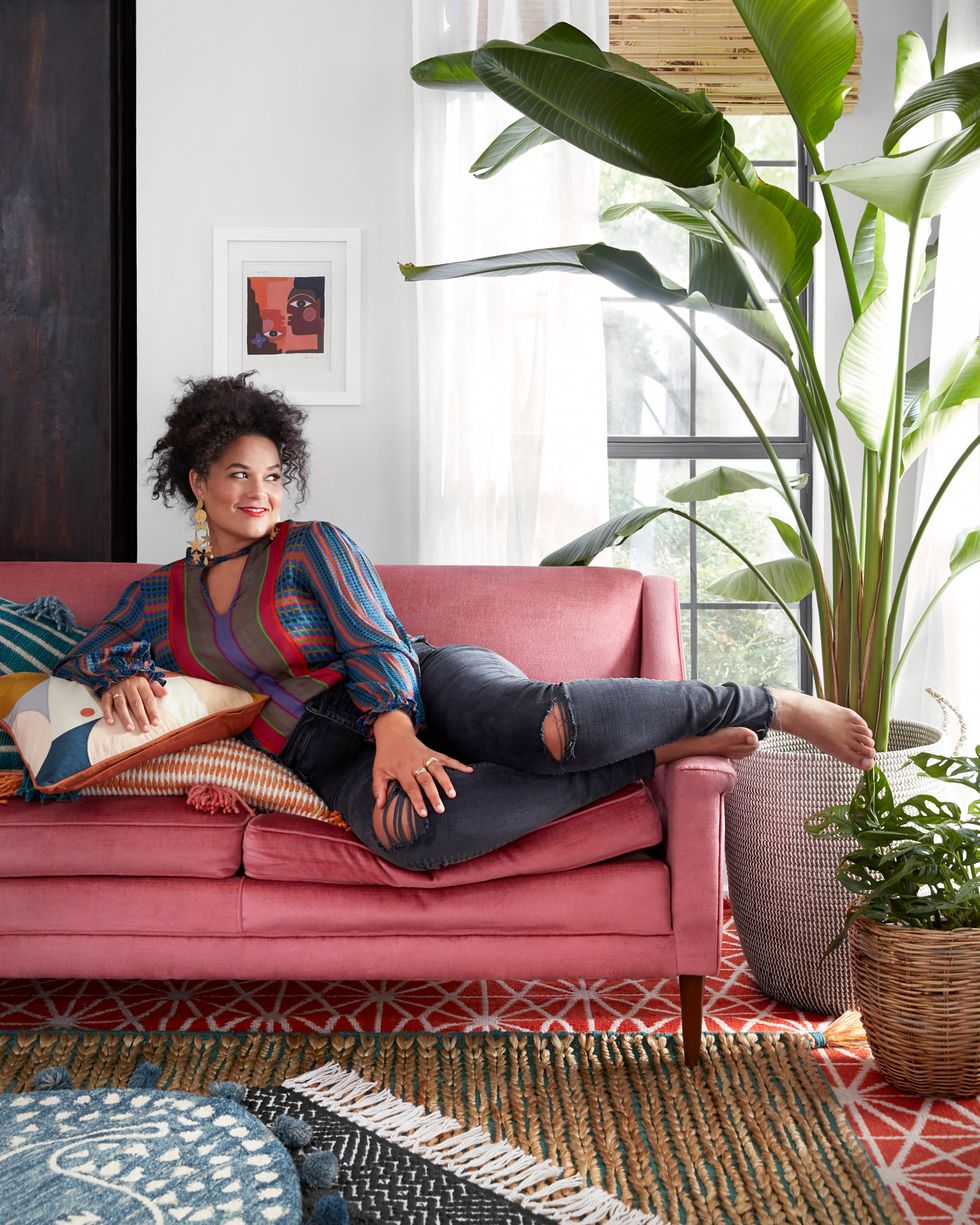 Photo: Courtesy of Loloi Rugs
In case you're in the mood to shop like Blakeney, here are six of her favorite places to get great home finds:
Blakeney's own e-commerce site, visit Jungalow for unique finds in home decor, fun planters, eye-catching art, and great gifts for creative loved ones.
Have you really lived if you haven't spent hours in Target, shopping for things you absolutely do not need? Whether you want to pick up a storage bin or a couch, the shopping juggernaut has it all, and Blakeney loves it for unexpected discoveries.
From the founders of Want Les Essentiels, artisans from all around the globe sell their ceramics, handcrafted furniture, and more on this site. Upcycling is part of the brand's ethos, as are transparent sourcing and waste reduction.
Blakeney serves up total bohemian vibes, so it's no surprise that her energy aligns with this artisan-centric home goods site.
It's all about the curation for Jayson Home, which has an eclectic blend of vintage and modern accessories, plants, furniture, and lighting.
If you're as obsessed with Marrakesh as Blakeney is (so are we), then you'll love all the handcrafted rugs, textiles, and ceramics this brand has to offer from the incredible Moroccan city.
The Home Pieces She's Investing In Now:
With more time spent indoors (especially in colder months), everyone can use a bright pop in their home that brings them joy. Enter this hand-painted terracotta clay vase that will work in most rooms, no matter their color palette.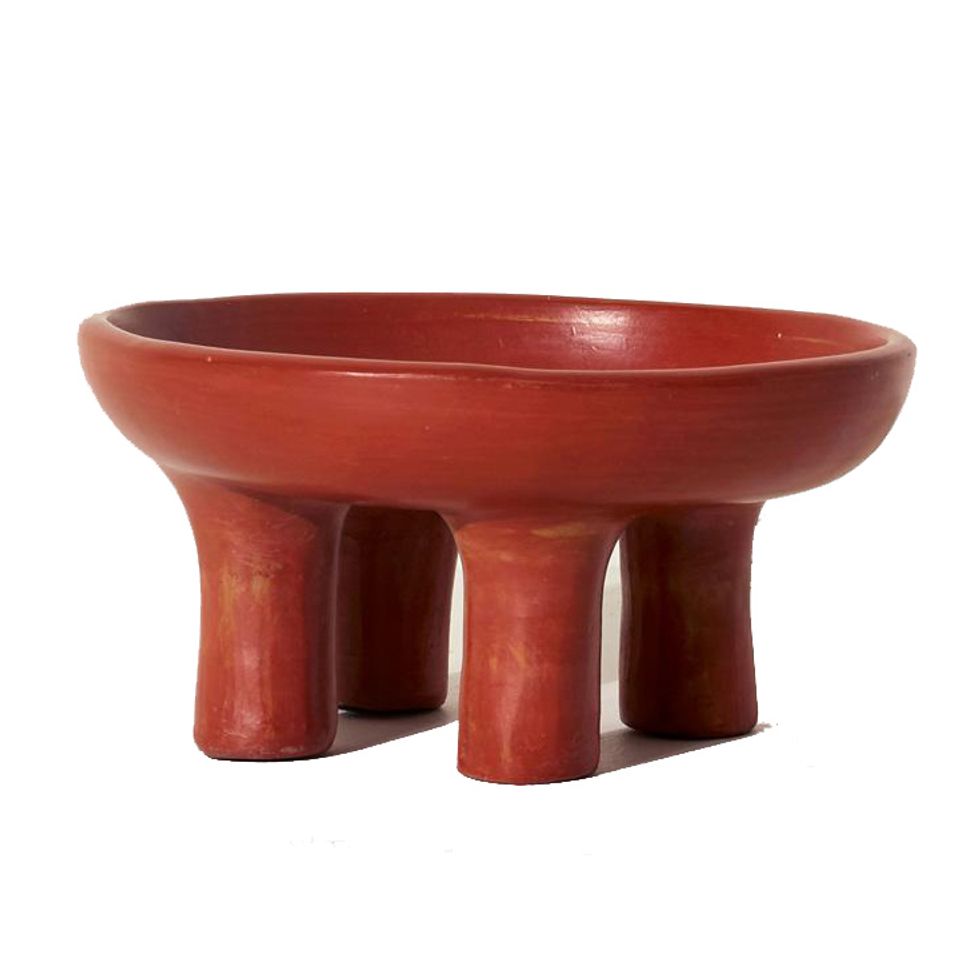 Handcrafted in Colombia by Sebastian Herkner, this tray is an ode to the Andean tradition of clay pot making.
One of the easiest ways to reinvigorate your living room is by switching up the coffee table you've probably had for a long time. This set features a great round version to change up your decor, as well as a matching side table.
Since we can't go to a bar IRL, our at-home bars are taking on an all-new level of importance. These stools will take any cocktail situation up a few levels in the decor department, so you can pretend you're out and about until you're actually able to be.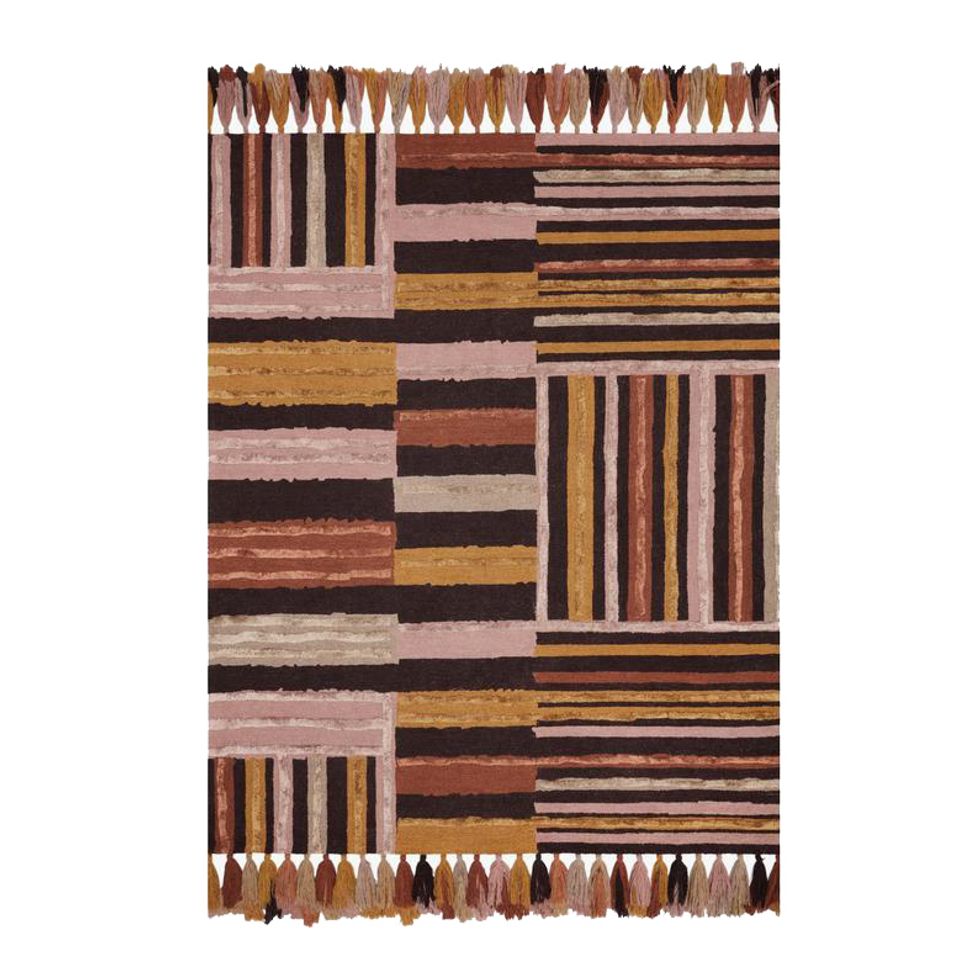 Part of one of many of Blakeney's current collaborations, this rug is handmade by Indian artisans and is the perfect touch of bohemian vibes.
If you're looking for a new plant to add to your home, look no further than this beauty. Known for its red undersides and spotted leaves, it truly brings the drama from an aesthetic point of view.
The Emuna sun is one of Jungalow's signature motifs, meant to evoke sunlight and joy. Blakeney recommends filling it with a colorful dry flower arrangement or your new favorite plant.