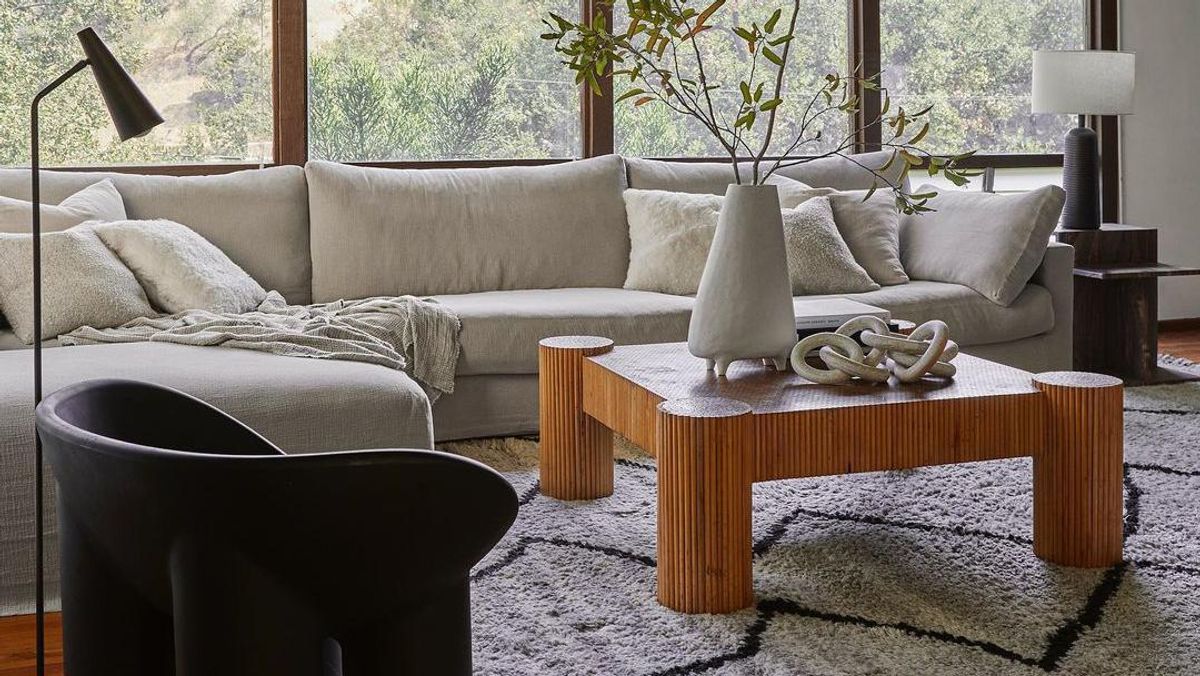 Decor
How to Navigate Facebook Marketplace Like a Pro
Design experts share the crazy deals they've scored.
These days, the benefits of shopping pre-owned goods across all categories are so evident, it's hardly worth explaining. The pro's—environmental effects (or rather a lack thereof), attainable pricing, and guaranteed individuality—speak for themselves. In a perfect world, we'd be executing all of these shopping endeavors on platforms like 1stDibs and Chairish, but most wallets prefer the likes of sites like Facebook Marketplace, Craigslist, and Apartment Deco. The difference between the former and the latter is curation and, quite frankly, expertise. While Chairish prides itself on authentication and curation, Facebook Marketplace is a free for all, a notion that sounds like a con but can actually be used in your favor.
The beauty of Facebook Marketplace specifically is what founder of home and garden website 'A Glass of Bovino' Alisa Bovino calls "gold for the price of dirt," which means sellers "don't know that they have a treasure so they unknowingly sell it for a ridiculously low price." Creative director at Bobby Berk Brady Tolbert, who has snatched many a designer find on Facebook Marketplace, expertly vocalizes the opportunity as one that's more approachable, reiterating how "people are really trying to offload things quickly vs. resell for profit."
DIY expert, interior designer, author of House Homemade blog and How to House Homemade ebook, Jessica Nickerson is both a buyer and seller on Facebook Marketplace. When she sells she isn't sourcing items for her page but instead simply looking for a mechanism to move pieces out of her home when she wants to replace them—yet another example of sellers' need to flip items quickly. Not to mention, "almost everyone is willing to negotiate," continues vintage dealer Hannah Richtman. She sourced all of the items for her enticing new retail concept store, The Break, from Facebook Marketplace. "Be friendly but firm," she advises.
I have personally had experience on both ends, as well. During a mid-pandemic move out of my East Village apartment, I was quite literally giving things away. Anyone who came to pick up a piece of furniture left with an extension cord or stack of hangers in hand, as well, as I slashed prices (to levels that sometimes broke my heart) to move everything out in a timely manner. I've also been able to glean some major deals all within walking distance of my apartment—I recently snagged a Mitchell Gold + Bob Williams floor lamp for $50. To answer all of our most pressing questions, we've asked four design experts to recount their tips for navigating Facebook Marketplace. Below, discover everything you need to know from how often to check the platform to how to frame your search terms.
Photo: Courtesy of Jessica Nickerson
A Double Edged Sword: There's No Consistency in Pricing
Brady Tolbert: "As is always the case with any online marketplace that resells items, it really runs the gamut. I have found items that are way below market value, and I have found some items where the seller is delusional asking the price that they are asking. But overall, Facebook marketplace seems to be one of the most approachable when it comes to price points as people are really trying to offload things quickly vs. resell for profit."
Alisa Bovino: "On Facebook Marketplace, there are always sellers listing what I refer to as 'gold for the price of dirt,' meaning they don't know that they have a treasure so they unknowingly sell it for a ridiculously low price. Whereas on other websites like Chairish and 1stDibs, everyone knows what they're selling and what it's worth. So as a buyer, it's crucial to train your eye and recognize gold for the price of dirt when it shows up—and you have to act fast! I've been able to score so many of these deals that combined, I could probably re-sell for what these items are actually worth and pay for a semester of my future child's college tuition!"
Jessica Nickerson: "If I'm unsure about pricing, I'll search for that specific item beforehand and see what others have listed it for. If a current posting is listed for a high price, check and see how long it's been listed. Do you want it gone quickly or do you want to make as much money as possible? I'm usually way more interested to get something out of the way. Be reasonable and fair. You can't always take into account what you bought it for when it was brand new. You used it and appreciated it; it's secondhand now."
Hannah Richtman: "There is a huge variety on Facebook marketplace of new and experienced sellers. Some people need to get rid of things quickly and price pieces to sell, others are using the platform to promote their resale brands and are less flexible (you can usually tell by the quality of the photo). When I see something I love, I think of the price I'm willing to pay and offer a percentage of that. If we reach an agreement, I always send a deposit so they know that I'm serious and don't sell it to someone else. I've been able to score so many amazing pieces, one of my favorites being two lamps from the MOMA that I drove to New Jersey to pick up. They're worth thousands each and I don't think the owner realized—I bought them both for $100. Almost everyone is willing to negotiate! Be friendly but firm."
The Money is In the Larger Items
BT: "Larger pieces of furniture and lighting are where you can really score some good finds. A lot of people just want to get rid of things and don't want to have to deal with a large piece of furniture anymore so that is when you can get in and find the good deals."
AB: "Personally, I've had the most success with furniture and some lighting, and rarely look for small knick knacks unless I'm looking for something specific."
JN: "As a buyer, I like to stick to the bigger furniture items or statement pieces. The lighting over our kitchen sink and even the lamp shade in our living room were Marketplace finds. But in terms of being willing to drive farther for something, I'd rather it be a bigger piece. I know I can find knick knacks at a thrift store. That being said, I know there are lots of people that don't have time to thrift. I never hesitate to list things that are small on Marketplace. Just be very clear where you're located so the buyer knows before they reach out."
HR: "You can literally find anything you're looking for on Facebook Marketplace. Right now, I'm looking for an antique tub to put in The Break—there are hundreds. I personally search for furniture the most, because they tend to be the pieces that are most negotiable as they're hard to move and people need to get them out ASAP."
When You Score, You Score
BT: "[I've bought] bookcases for $100 (which should have been $750+ each), a vintage coffee table for $140 (which should have been over $1k), and a bed frame for $100 (which should have been $500+ and is no longer made)."
AB: "The first that comes to mind is a pair of vintage Henredon faux tortoiseshell cabinets for $250—I've seen them being sold on Chairish for $7k+! I currently don't have a place for them in our home, but I tell myself that I'll have a place for them someday, maybe in our next home. I will never ever pass up a deal or something that I truly love just because I don't have a place for it. My husband calls it hoarding but I like to refer to it as collecting."
HR: "I found almost every piece of furniture in The Break from Facebook Marketplace in less than a week! There are incredible pieces to be found if you're motivated."
Local is Typically Better
BT: "Always local, but I have seen some amazing pieces that are available for shipping, but they are usually smaller pieces (accessories, art, lighting, etc. vs. furniture)."
AB:
"Because I consider the area I live in (northern NJ) to be a good one for finding treasures, I rarely look outside an 80 mile radius. Sometimes, I'll see something that I really like that's past my radius and will ask the seller to ship it if it's small enough (I offer to pay extra)."
BT: "I follow sellers and I also search among all the products. I have found that over time as I have followed sellers and added certain types of items to my 'saved' categories, that the FB marketplace algorithm starts understanding more the type of items that I want to see and it serves them to me in the feed."
AB:
"I don't really follow sellers. I've had the most success by training my algorithm and 'saving' items that are similar to what I'm looking for. That way, the next time I refresh marketplace, my feed will be more tailored to me."
Be Flexible In Your Search Terms
BT: "I keep it broad when it comes to search terms or just search within their predetermined categories. If you're looking for a deal, you're going to have better luck finding someone that is selling a 'chair' vs someone that is selling a 'vintage mid century chair.' Sometimes people don't know what they really have and end up selling designer pieces or antiques way under market value purely because they didn't label the listing with what they are."
AB: "I have a lot! It depends on what you're looking for but I tend to use variations of words for something I'm looking for. For example, if I am looking for a set of Louis XVI dining chairs, I will try: Louis XVI chairs, Louis style dining chairs, antique dining chairs, vintage dining chairs....the list goes on. But variations are important because it trains the algorithm to eventually show you what you're looking for."
HR: "I search by term! Designers, eras, vibes… I actually think less specific is better, because sometimes people don't know what they have, so they won't name it. Try describing the look of what you're interested in, and see what gems come up!"
BT: "Daily… eek. It sounds insane but I usually wake up and check it in the morning for a few minutes just to see if anything new has popped up. The good stuff can go quickly—sometimes within a few hours so you have to beat everyone else to the punch. Or at least that is what I tell myself to justify my addiction!"
AB: "Honestly, about once every hour or two. On busy days it's every few hours but since there are constantly new things being listed, you have to stay on top of it."
HR:
"[I browse] daily!"
It's A Marathon, Not A Sprint
BT: "Facebook marketplace requires a lot more digging than a curated online marketplace like Chairish or 1stdibs so I primarily use it for myself vs. clients. Yes, you can find affordable items on Facebook marketplace but then you'd be billing your clients for multiple hours trying to hunt for those products so your time (and their money) is better spent in a more streamlined marketplace where you can get exactly what you need in a shorter amount of time."
HB:
"If you buy several pieces from one person, they can usually give you a better deal, so if you like one piece, always look at their other offerings. Organize your saves by category in their "Collections" feature."
Buy Items On the Cheap, Then Add Your Personal Touch
AB: "I scored a set of chintz chairs for $25 and got them reupholstered in a beautiful green velvet. I encourage people to buy vintage upholstered furniture instead of new, because furniture is not made how it used to be, and it's much more sustainable and less expensive to buy vintage and reupholster instead of buying new, low quality furniture that will just be thrown out in a few years."
BT: "The buying and communication process is a lot easier via Facebook marketplace than Craigslist. Facebook marketplace uses Facebook messenger to send messages directly to people so it is a lot quicker to communicate and receive responses. It also links up your actual Facebook profile with your seller profile (while keeping a lot of the personal info private) so you don't have to worry about people being a waste of your time or fake listings."
AB: "Besides creating a home that's unique to you while saving a ton of money in the process, I think it's special to buy secondhand because you're creating a home with items that tell a story. When I look at something that I found on Marketplace, I remember the person I bought it from and any history they provided about said item, which may have been special to them at some point too. And buying secondhand is sustainable and good for our planet!"
JN: "I love that Marketplace has so many active users so things sell quickly. It's also easy to share your listing to your profile or buy, sell, trade groups to get even more eyes on it."
Though the Deals Are Rampant, There is Some Money in Selling
JN: "Marketplace is at the fingertips of so many people. Things I post on Marketplace are seen quickly and, if priced right, sell quickly. I was able to makeover a whole room using only the money I made from selling things on Marketplace. I consider that profit."
Here's What Everyone's Searching For Right Now:
BT: "'De Sede' (I am looking for a vintage loveseat or sofa for our living room), 'Tree' (sounds crazy but I am on the hunt for a mature indoor tree and you can find some really gorgeous ones on Facebook marketplace for really great prices), and 'Vintage Chair' (I am always on the hunt for sculptural and interesting chairs. They can really be used anywhere and, in my mind, are an accessory)."
AB: "It really depends on the room I'm working on. Lately I've been searching for vintage oushak rugs, which are hard to come by."
HR: "'Postmodern,' 'Modular,' 'Travertine,' 'MCM,' 'Scandinavian,' and 'Vintage Leather.'"