How This Emerging Art Dealer Turned a Corner of Her Studio Apartment Into a Dining Room
This nook is sophisticated, yet youthful.
Anatomy of a Nook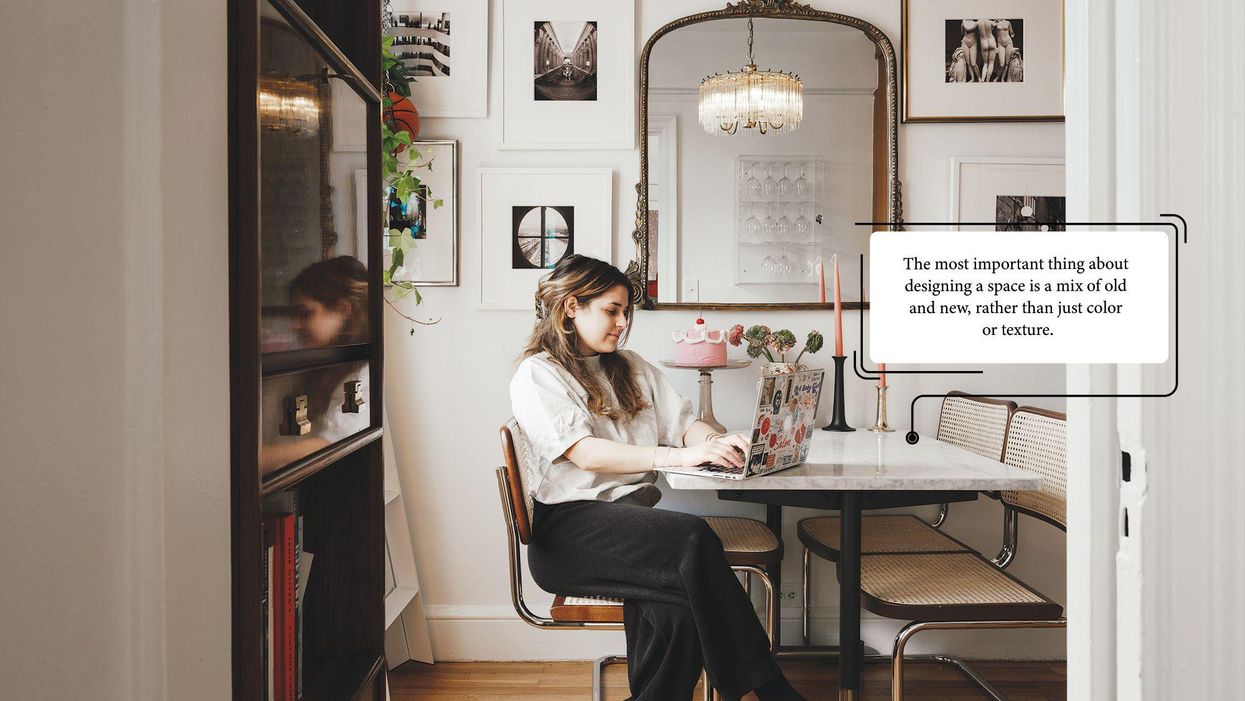 Comprehensive home tours are wonderful and inspiring, but most of us decorate step-by-step, focusing on (and perfecting) specific areas at a time. In Anatomy of a Nook—Covetuer's newest home series—we're dissecting specific areas of a home and asking our stylish friends to break down the process behind their favorite nook, cranny, or corner of their homes.
Alex Bass founded Salon 21 as an education and commerce platform to inspire younger generations to interact with the art world, so naturally, curation is the binding fabric of her résumé. Her studio apartment in the West Village reflects the same idea behind Salon 21: a traditional concept with a youthful infusion. The entrepreneur used creative staging to section off her studio into designated spaces which in most homes would be sanctioned by walls. Inside her dining area, specifically, you'll find a marble table and Cesca chairs in front of a gallery wall and antique mirror—to make the room feel larger, of course. Instantly intrigued, we asked Bass to divulge how this nook in particular came together.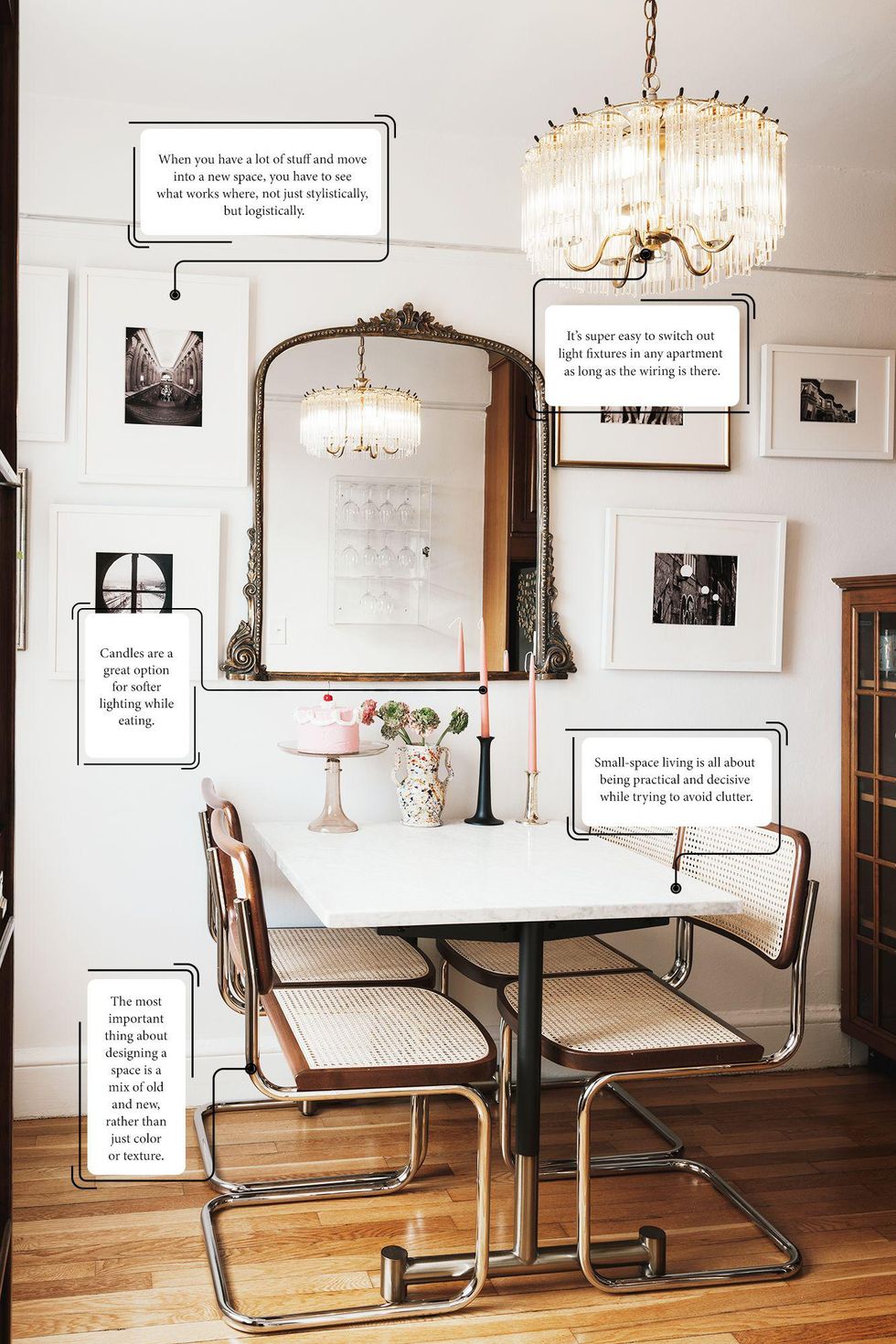 Photo: Maxwell Swift
The Story Behind Her Process: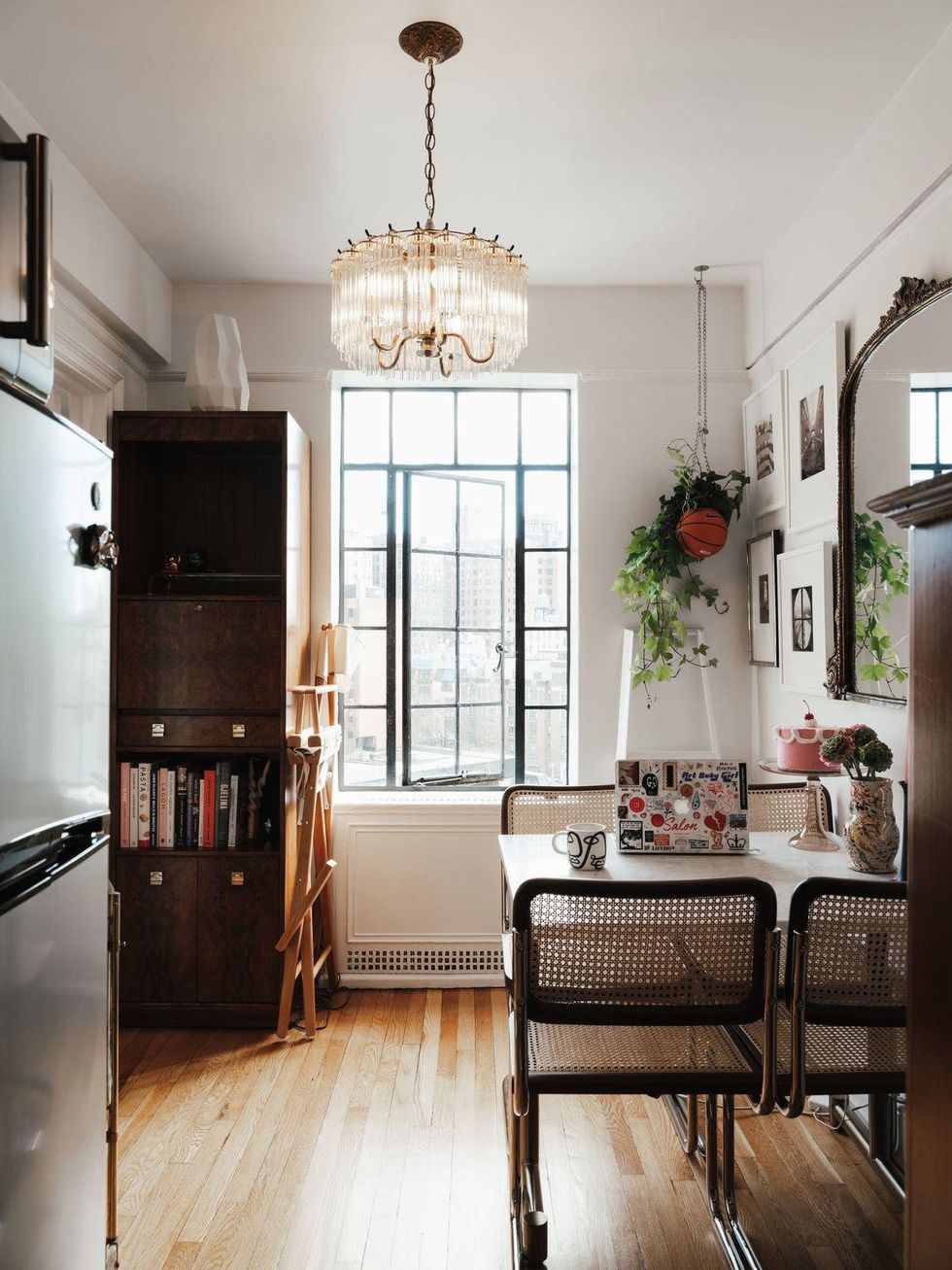 Photo: Maxwell Swift
"I was fortunate to find a studio with a lot of natural light and pre-war classic touches like archways that make the unit feel like there are separate rooms—leading to this unique nook. The iron-paned windows in this space are gorgeous, so I wanted to enhance their look by incorporating furniture and pieces with the same level of sophistication. I played more with color in the living and bedroom with throw pillows and artwork; this nook is a bit different and really represents me. It is a space where I work (at the drop-down desk) and also eat. I'm able to focus and relax within the neutral color palette. I set out to make the space not only stylish, but also practical because I need to be able to do multiple things in here depending on the time of day. Small-space living is all about being practical, decisive, and making the most of space without leading to clutter."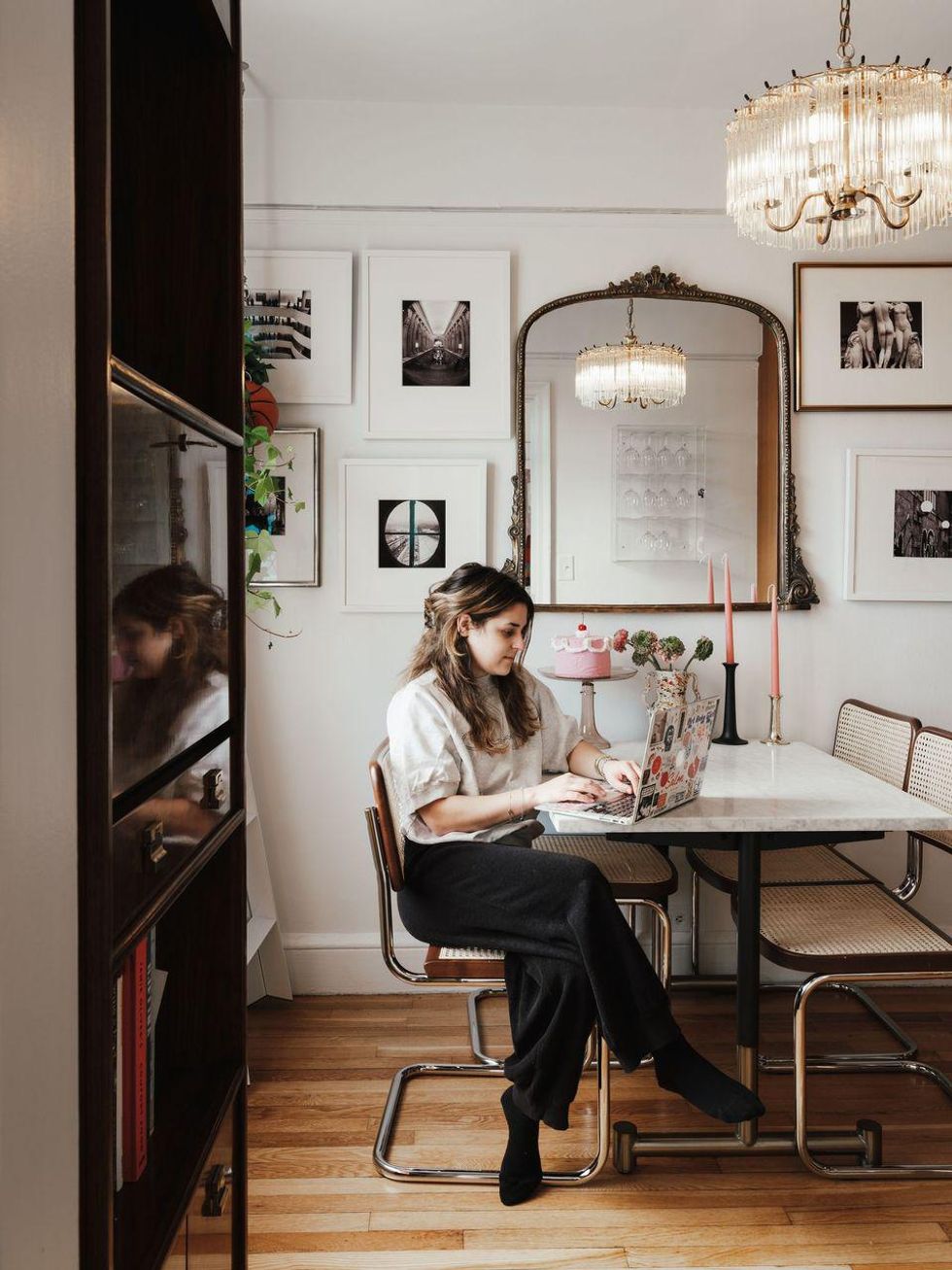 Photo: Maxwell Swift
"In every space you want a mix of colors and textures. Specifically, in this space, I kept the color palette neutral and warm to reflect the use value of this area and also work from the integrity of the building and the natural light. Mixing color is less apparent in the nook, although there is a pop of orange from my @originalrose basketball planter, which I love and is a focal piece, and also picks up on the pieces on my bar cart. The overall muted tones, rusted golds and browns work together and feel classic luxe. The most important thing about designing a space is a mix of old and new, rather than just color or texture. I mixed mid-century modern metal, wood, and cane chairs with a simple white marble slab table for a modern look. Juxtaposition in art and design is the key to achieving intrigue and balance."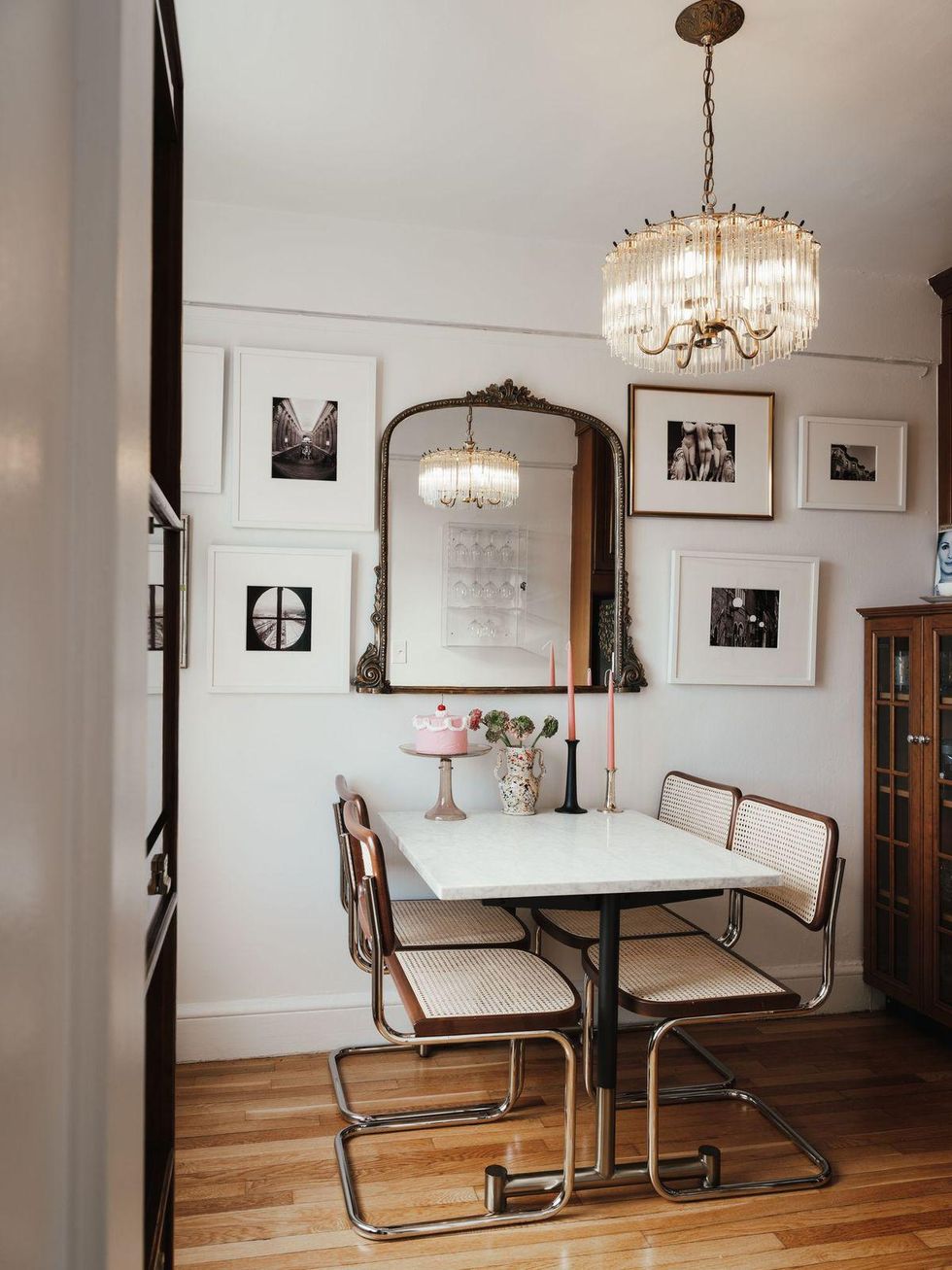 Photo: Maxwell Swift
"Initially, I purchased the four dining chairs because I had been swooning over the variations of cane and metal chairs inspired by Marcel Breuer that have taken Instagram by storm. I actually really love these pieces not because of the hype around them, but because they remind me of old-fashioned kitchens. I swear we used to have similar chairs growing up in our home, and I always thought they were an eyesore. I've grown to appreciate 'older' design and incorporate it with modern twists. The rest of the color palette and vibe came from the chairs, like the burl wood cabinet which I'm obsessed with—it literally fits perfectly in the space."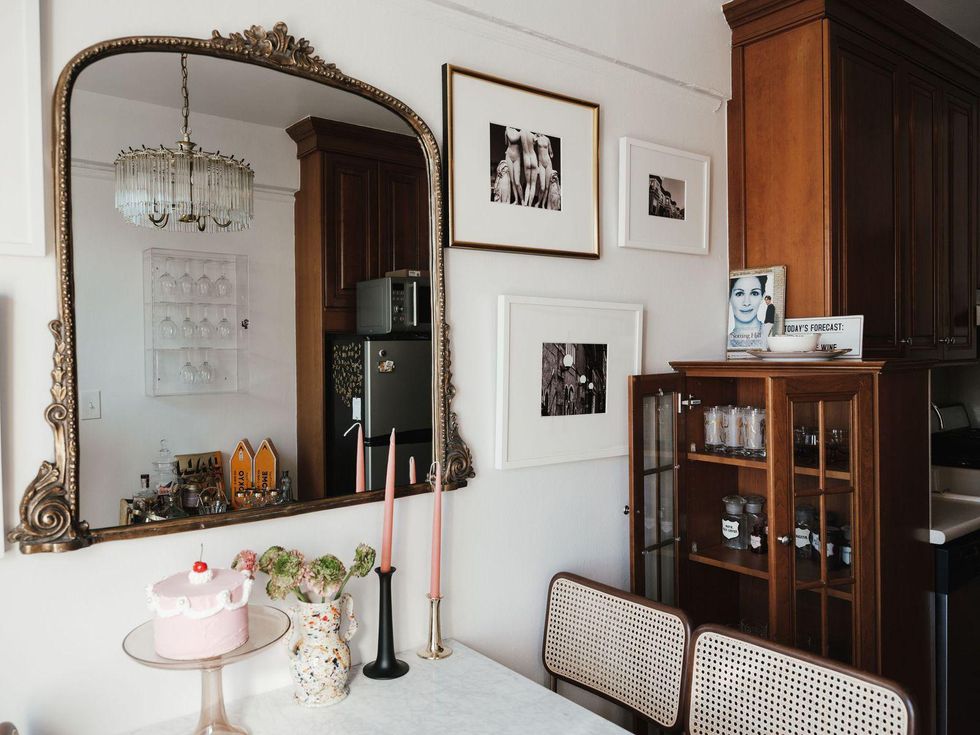 Photo: Maxwell Swift
"These seven photographs were actually a surprise gift given to me by my mom—they're film photographs I shot. They were a gift for my first apartment, and I've kept them ever since. I'm not sure if I would ever actually frame my own photographs (I shoot film for fun), but coming from my mom, they're even more special. I wanted to put more of a statement piece over my couch, and so these photographs ended up fitting in the nook surrounding the mirror, and the brushed metallic frames work well together. When you have a lot of stuff and move into a new space, you have to see what works where, not just stylistically but logistically."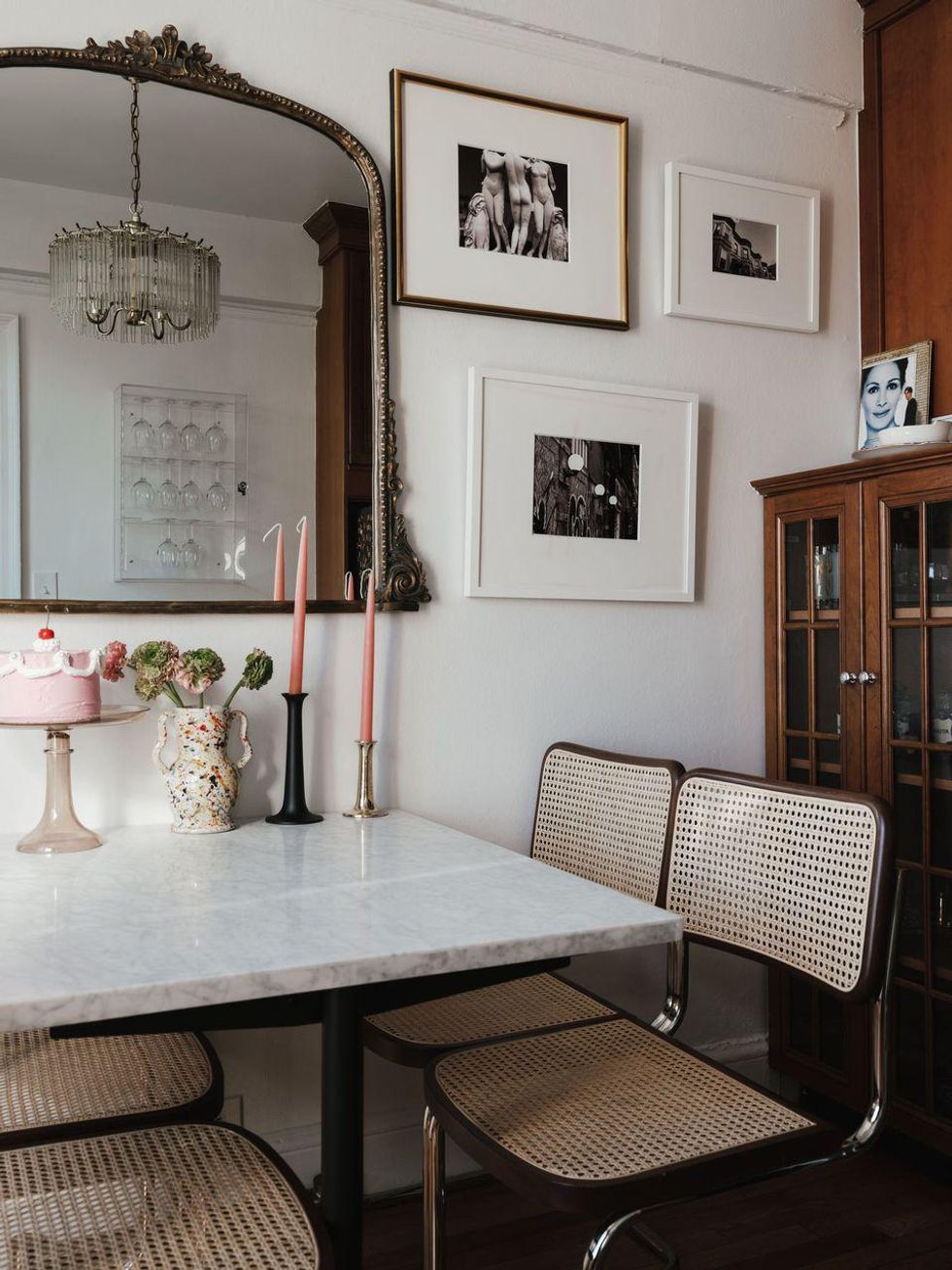 Photo: Maxwell Swift
"First and foremost, I source everything myself. Sometimes I ask for second opinions, but I scour the internet and design independently. It's something I truly enjoy. And I love the hunt for vintage or when someone tasks me with finding a very specific piece. I like to say I'm a master of online shopping. The chairs are Breuer Chair Company Cesca Cane dining chairs in Chrome and Walnut from Overstock.com. Shockingly, I've only had good experiences with this site and use it when I'm looking for a good deal. The 'bar cabinet' with glass windows is actually a built-in! The drop-down desk/armoire 'thingy,' as I like to call it, is from Etsy—I cannot stress enough how many high-quality, vintage pieces are on Etsy. I feel like people don't know this, but it's super easy to switch out light fixtures in any apartment as long as the wiring is there. I took out every single ceiling sconce and replaced them with vintage fixtures I found...again...on Etsy! And these will move with me."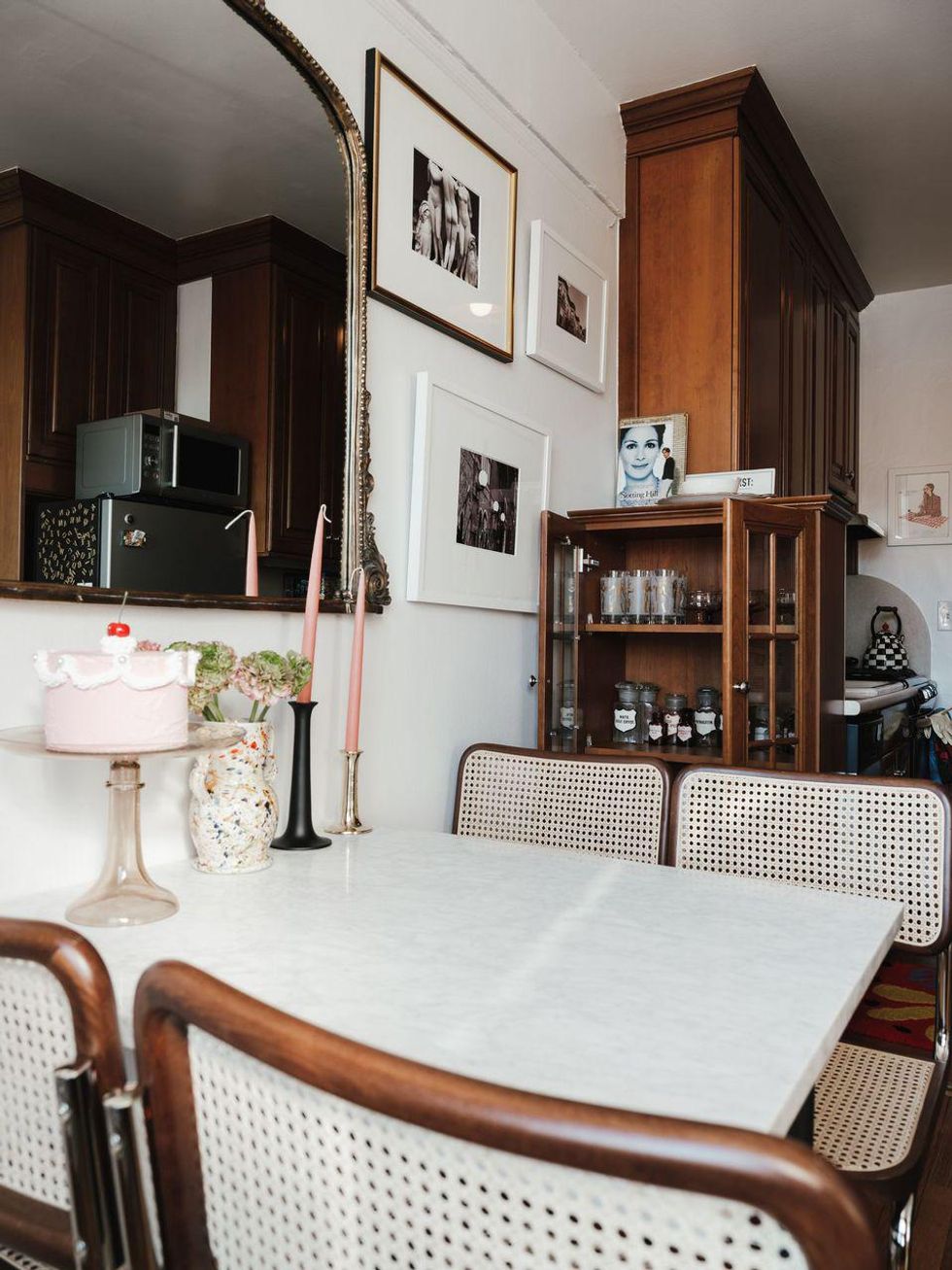 Photo: Maxwell Swift
"I normally like to keep the table free of anything and work solely at my desk. I have two candlesticks (which I actually use—I hate harsh lighting when eating); a cake stand with a fake @prettyshittycake my friend Jasmine made, which reminds me of home where my mom always has something freshly baked, and always fresh flowers. Being indoors so much during COVID, flowers have become a friendly reminder of the outside world. I think part of why I've committed to a clean space is a memory from high school: I remember my 12th-grade English teacher telling us not to work in our beds because that should remain a relaxing space where we turn off our brains, and that stuck with me. I apply that ideology to other aspects of my home. The work gets done at the desk (sometimes the couch), the bed is for sleeping, and the table is for eating. Am I showing my age?"
Breuer Chair Company
CB2
PB Teen