Dressed to the Extremes: The Return of Day & Night Styling
It's time to have fun with fashion again.
Fashion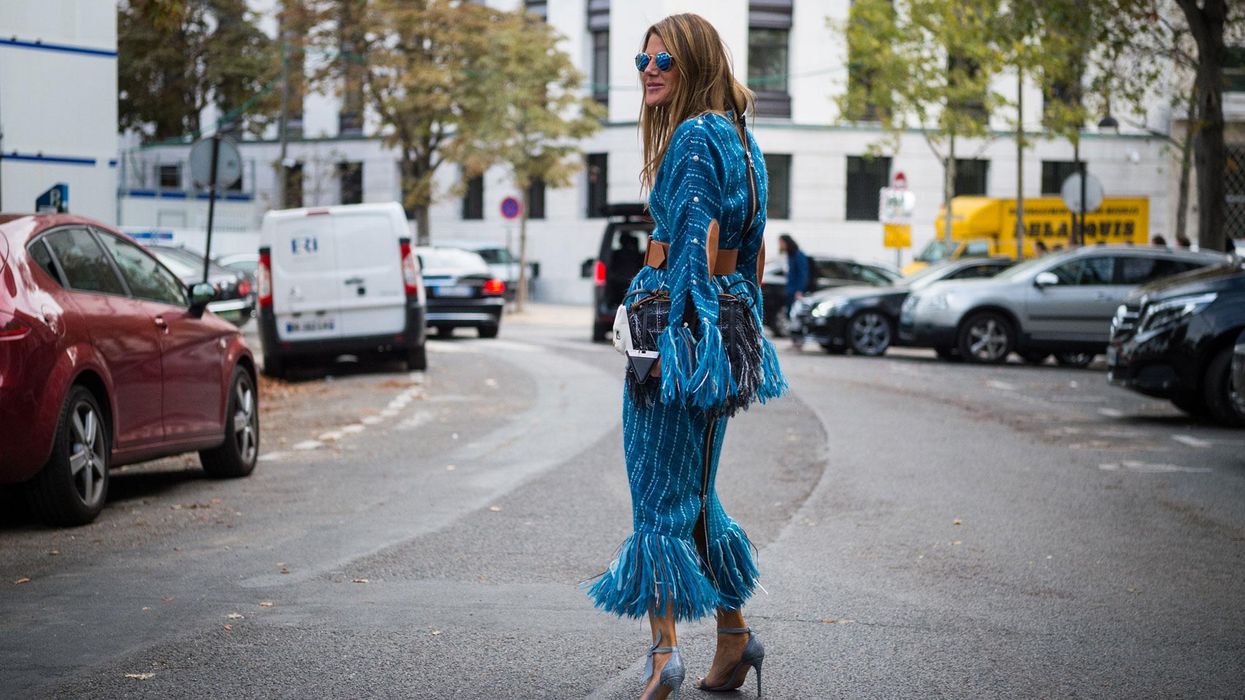 If I see one more DIY tie-dye sweatsuit, I may just go insane. Is that extreme? Sure. But with our slow return to "normalcy" and the styling notions that follow, it looks like that'll be avoided—for the sake of our sanity and Insta feeds.
As vaccination distribution steadily continues, booking "vaxcations" and rooftop reservations seems to be all anyone can talk about right now—leaving us with the sense that the collective mood has finally received an injection of positivity (pun intended).
Yet this is nothing new—as they say, history repeats itself. Roseanne Morrison, fashion design and creative specialist, outlines 2021 and the years to come as a parallel to the 1920s: "Post-WWI and the influenza epidemic, revelers embraced parties, dressing up, and a newfound freedom." As we know, clothing is a necessity, but true fashion is an emotion-driven art form, so it only makes sense that a shift to energetic and elevated fashion would occur after the year (and some change) that we've endured.
In fact, these emotional shifts are already showing in our purchasing decisions. In recent weeks, dresses and jumpsuits have been top performers in terms of sell-out rate in comparison to other product categories. Plus, another key indicator—and maybe one of the most telling—is that the sell-out rate of heeled footwear has doubled over the course of 2021, according to StyleSage, an e-commerce analytics company.
So what's next in this "new normal"? As sick as we are of our WFH attire, I do find it hard to believe that we'll be rolling up to the coffee shop around the corner or reopened office in full glam, or even pre-COVID standard office-wear, after a year-long love affair with loungewear.
While we're certainly moving away from sweats, sacrificing comfort is out of the question—and we'll be holding on to this casual sensibility as compared to our prior way of "daytime" dressing. All in all, our reframed approach leaves us with a stark sense of extremes as we differentiate the functionality of day with the opulence of "after-hours" attire.
When it comes to what to wear for work-from-home, moving forward, we'll require ease and comfort accompanied by a sense of personality and elevation—in contrast to much of what was acceptable in 2020—and this can be a tough combination to come across. You can certainly say goodbye to the old office dress code, but presentability is essential as our desire to actually "dress to impress" is renewed.
So how can we achieve this coveted balance? Brands are getting creative, and we're already seeing this emerge in a multitude of ways: Classic workwear pieces like trousers may include a chicly hidden elastic waistband (who would've ever guessed "chic" would be used to describe an elastic waistband?) as well as innovation when it comes to fabrics that feel more comfortable than they may look. There's also been an increased focus on knitwear, even well into the warmer months, which is quite unusual for the traditional fashion cycle. "The fact that we're seeing these knit items for summer assortments attests to their influence, and we expect to see this continue for fall/winter with even more variety and chunky cold-weather knits," says Melissa Moylan, VP of womenswear at Fashion Snoops, a trend forecasting agency.
The restrictiveness of a garment is another key factor to consider: Will we be sitting around in pencil skirts? Probably not. According to Arielle Siboni, Bloomingdale's RTW fashion director, her shoppers are resonating with "straight-leg silhouettes in denim" (if you haven't heard, skinny jeans are dead according to TikTok, too) as well as seeking "blazers in a roomier fit and classic oversize button-downs." Brands like Jonathan Simkhai , Khaite , Acne Studios , and Roksanda 's creative use of luxe knits and modern-approach to suiting do this well.
Another way to achieve the coveted "elevated comfort" combination is through "set dressing." Say goodbye to the athleisure-style suit, and opt for a coordinated pairing of tops and bottoms in silk/satin, knit, or linen instead to achieve a transversible 'fit that feels just as good as it looks. Michal Kurtis , fashion buying consultant, explains her personal philosophy: "I would rather wear a polished, grown-up alternative to a sweat suit during the day, a matching set that doesn't look like something I would sleep in. Now that it's warmer, this looks like a linen blouse with matching flirty shorts that I'll dress up for evening with a swap of footwear and bold jewelry." We (ironically) love Sleeper for this, as they punctuate their sets with a signature feather trim, in addition to designers like Roland Mouret and Drom e, who included this notion in their FW21 collections.
Aside from comfort-driven fabrications and pairings, we're also craving personality-showing elements when it comes to dressing. Psychedelic prints (see Eckhaus Latta and Chloé 's FW21 collections or Fendi's Summer Vertigo capsule) are already claiming space in our wardrobe rotation alongside geometrics at Jil Sander and bold animal prints as seen at Kim Shui , R13 , and Anna Sui .
While happy hour or brunch with friends used to be a norm, it's now an occasion that feels special and new again, and this excitement for "life as we knew it" is translated into our after-hours attire, too. After an overwhelming amount of Friday nights spent on the couch bingeing Bridgerton , the spirit of celebration has sparked a "why not" attitude in the way we dress. Hallie Spradlin, director of accessories at Fashion Snoops, explains, "Consumers are searching for a much-needed mood boost and a reason to indulge in the unserious by way of uplifting colors or occasion-based options." What once may have been seen as tacky or over-the-top is now simply met with a "why not?". Elbow-length opera gloves for a bodega run? Sure! A maximalist minidress for galavanting to your local dive bar? Of course!
Designers leaned heavily into this on the fall 2021 runways. According to fashion search engine Tagwalk, out of their top 10 most cited trends of the season, night-ready notions make up over half: silver , bold colors , sparkling , lilac , catsuit , and transparent . From eye-catching details to blatant sex appeal, optimism and owning your je ne sais quoi was key from the runways of New York to Paris. " Schiaparelli , Paco Rabanne , and Lanvin made a case for party-ready attire complete with over-the-top sequins, 'revenge' hemlines or minis, and feathers. We also saw new eveningwear labels like Del Core and Markarian emerge with offerings that ease into the notion of dressing up again with separates like tailored jackets and bra tops as an alternative to dresses," notes Moylan—and who isn't excited to pull out their favorite LBD from the back of their closet or shop for pieces with high-shine appeal once again?
But not all celebrations must occur after hours, per se; as mentioned, "vaxcations" are another day-to-night occasion worthy of shopping indulgence. Saks Fifth Avenue 's SVP, Fashion Director, Roopal Patel, noted her shoppers are craving "vacation-inspired crochet tops and dresses as well as straw and raffia accessories." And according to the 'Gram, it's clear that showing your sun-kissed skin à la the Cult Gaia Serita Dress and basically anything Orseund Iris and Jacquemus is the perfect answer to bringing a sultry, dressed-up approach to your wardrobe rotation, no matter what your coordinates may be that week.
At first glance it may seem as though the extremity in our evolving style can be wasteful; on the contrary, it's anything but, if done right. This is the chance to shop for items that you truly love and that embody your personality, support up-and-coming talent, and invest in the perfect pieces to take you from day to night and from city to coastline. So let's have fun with fashion again. Carry that new embellished clutch to the bodega—and maybe ditch the tie-dye sweats.