4 Asian-American Founders on the Future of the Fashion & Wellness Industry
"The Asian stereotype of being strictly academic has got to go."
Fashion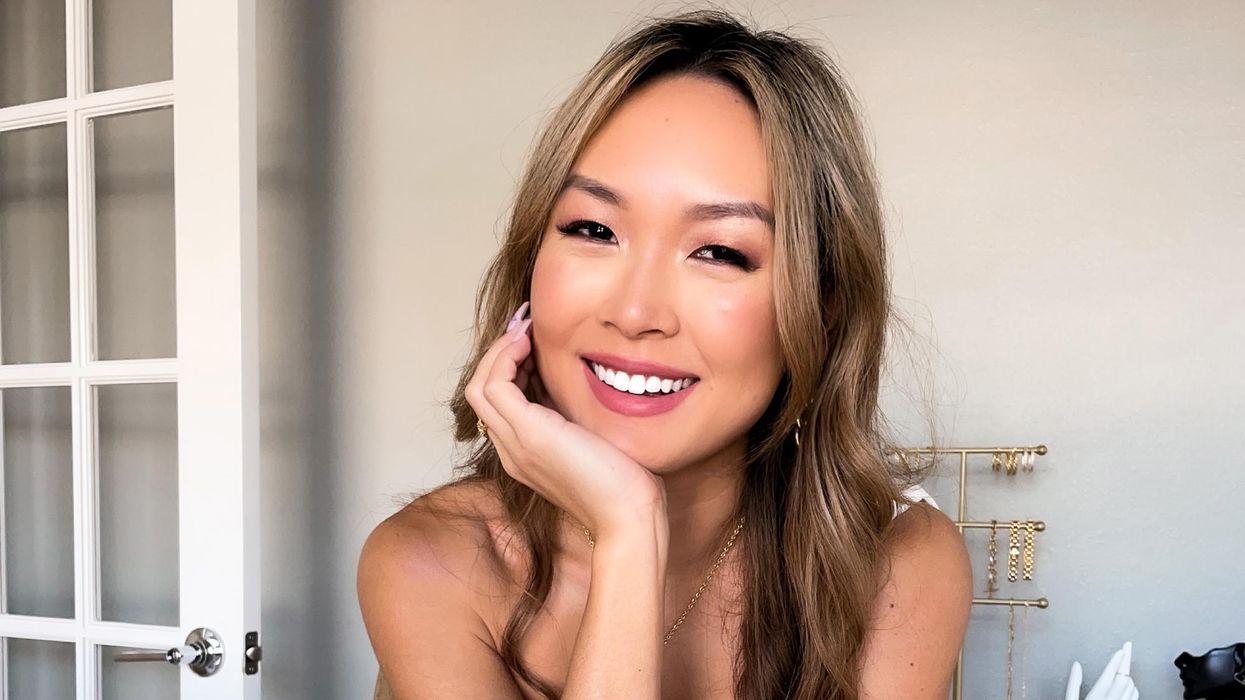 In honor of Asian American and Pacific Islander Heritage Month this May, we spoke with several founders of fashion and wellness brands we love and support to find out how they're opening the conversation for growth and change and pushing the envelope to encourage more diversity and inclusion, both within their own companies and in their industries as a whole.
In a time of serious trauma—in the first three months of 2021, there was a more than 164 percent increase in anti-Asian hate crime reports in 16 major cities and jurisdictions in the U.S. in comparison with last year—we wanted to give the mic to women we respect to find out how they hope their industries will look going forward and how they're participating in inspiring a cultural shift.
To donate in support of Asian-American communities, you might consider Asian Americans for Equality, Stop AAPI Hate, or the AALDEF, though there are many more resources and worthy causes.
Lillian Tung
Co-founder of Fur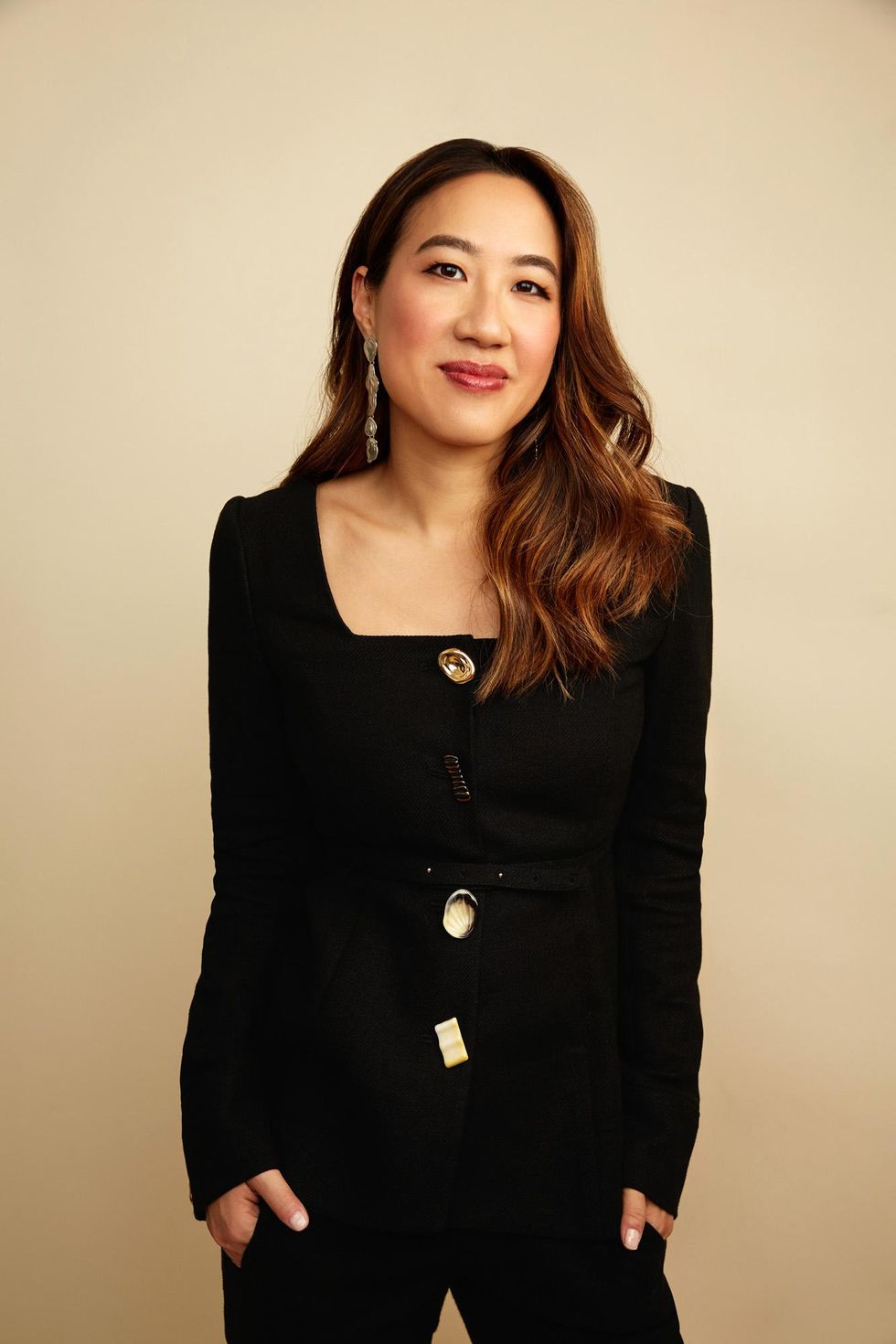 Photo: Courtesy of Lillian Tung
"When we first founded Fur, when people thought about body hair the conversation was solely about removal or body hair as a problem to be dealt with—with zero concern around keeping your skin healthy in the process. People felt like it was risky for us to offer products that not only catered to those who removed their hair, but also those who choose to keep it.
"I do feel like the industry has come a long way from that thinking in the past few years. The same people who thought we were taking a risk now see that we are catering to legitimate skin and hair concerns and are beginning to see all grooming routines as equally valid.
"But I continue to face shock from people when they hear that Fur is a brand focused on dismantling the outdated stigma around all bodies and body hair. People usually just assume when I say I co-founded a beauty company that it has its roots in Asian culture. This assumption is inherently a one-dimensional view on what an Asian American can contribute to the beauty landscape.
"I co-founded Fur on the core belief that everybody deserves to feel safe and cared for in their body, and the best way I know to foster this is through honest conversation. In some ways, that's been harder for me because of the myth that Asian Americans shouldn't risk speaking out or going against any established order, because we're meant to be the model minority.
"Asian women in particular are expected to be quieter or more subservient. That's why I'm proud to dismantle the status quo by being an Asian-American woman out to dispel the taboo around body hair."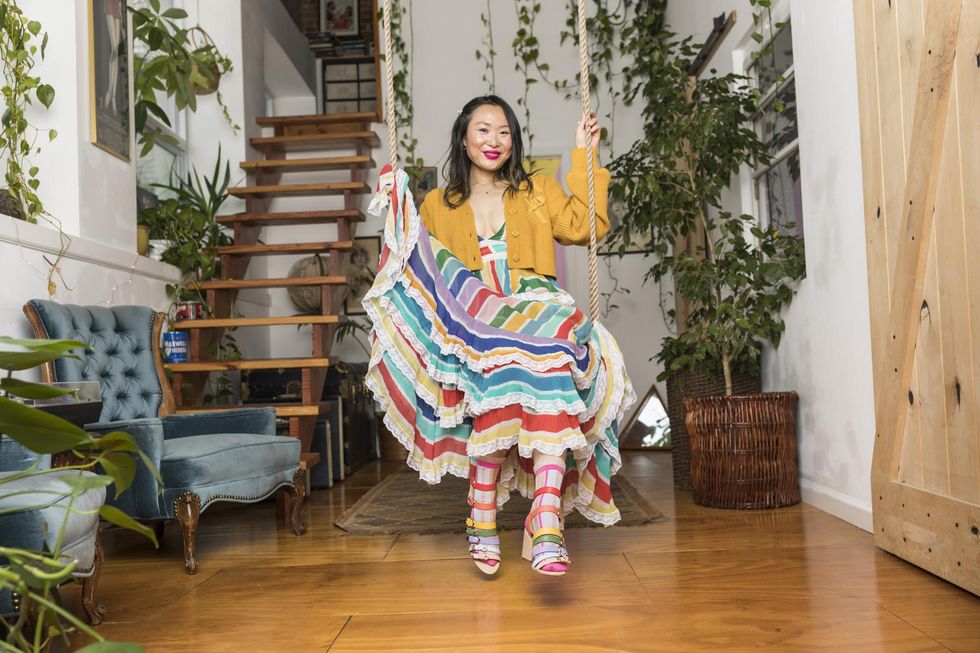 Photo: Courtesy of Mary Gui
"My hope is for the fashion industry to become more accessible, both for individuals who want to break into it, and for consumers who want to partake in it. Growing up with an Asian mom with traditional values who immigrated to the U.S., I always felt that the fashion industry was unapproachable.
"Expressing myself through clothing is innate to who I am, but I never thought I could actually work in the industry, and it took me until my late twenties to break in. My style was also not considered trendy for girls my age in high school and college, and it wasn't until the rise of influencers that I started to see my style reflected in the industry.
"I hope for young women now, who hope to break into the industry, to have more opportunities and for women who have quirky and non-trendy style to see themselves reflected in the industry.
"From a consumer standpoint, my brand, Sock Candy, is all about embracing the individualism of personal style and encouraging consumers to dress the way they want and buy what makes them happy. As the brand grows, I hope to develop a program to give women in high school and college opportunities to work in fashion, even if their résumé doesn't reflect fashion experience.
"So much of fashion is personal and intuitive, and I want to help shift the hiring process in the industry to be more open to individuals who don't have the traditional fashion school experience or industry connections."
Cathy Tran
Co-founder of Huppy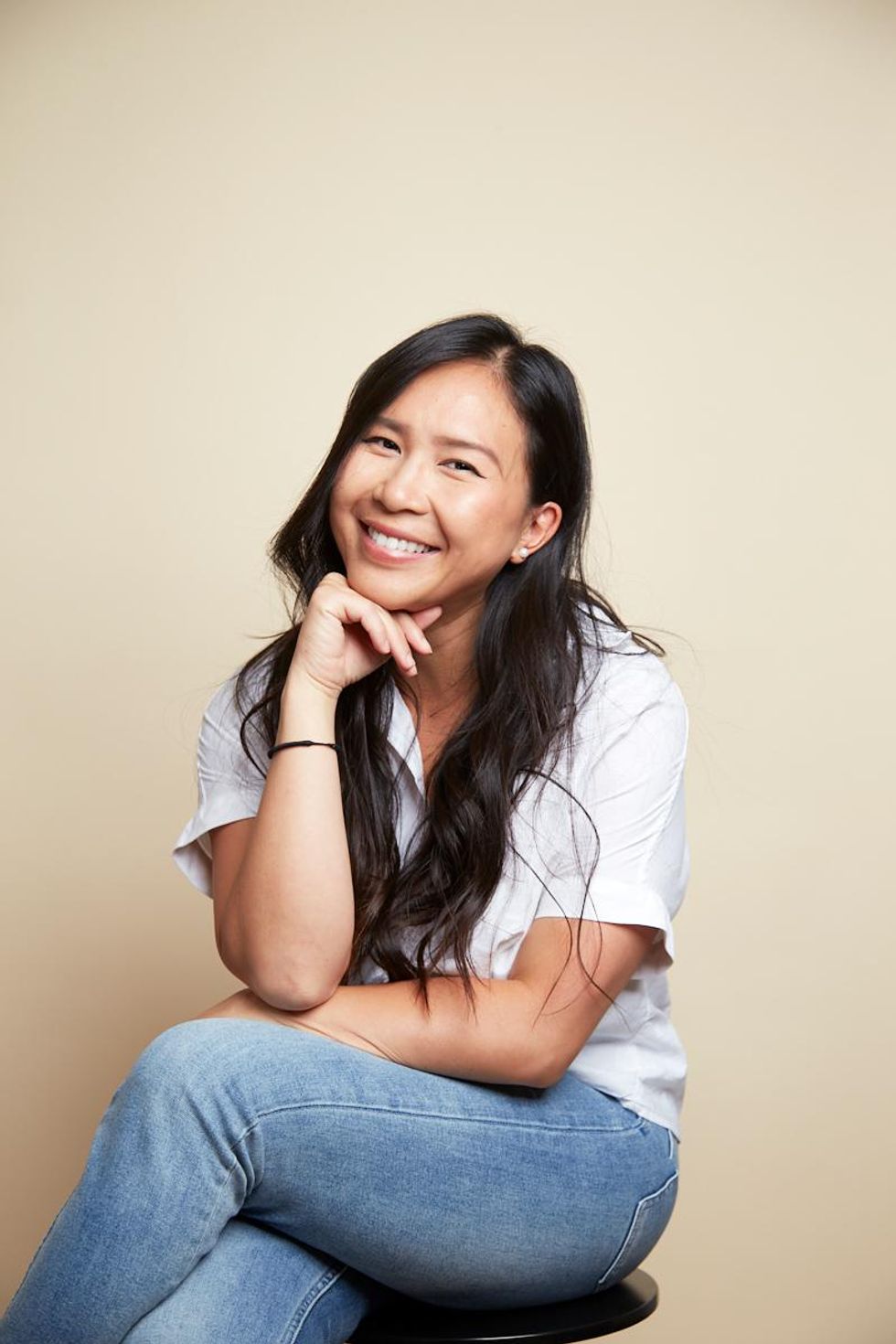 Photo: Courtesy of Cathy Tran
"When Huppy was first started, I knew that I wanted the brand to be inclusive, representative, and most importantly, relatable to those we serve. As a female Asian-American founder, it feels lonely sometimes when you're in a space that is dominated by founders, VC investors, and execs who don't look like you or can't relate to you.
"My hope for the beauty and wellness industry is for it to not only market diversity to its consumers, but also to embrace diversity in its internal team so they can take their experiences and build thoughtful products that have inclusive messaging. The goal really is for the industry to understand the experiences of BIPOC, people with varying height and weight, people of socioeconomic backgrounds, and be able to serve their eclectic user base. Embracing diversity is the first step!
"At Huppy, our mission is to make our product accessible to all and to make our message clear: Representation, solidarity, and support matters. We hope to move the needle by purchasing from diverse and sustainable suppliers from where our ingredients are sourced, and in return, help support their ecosystem and continue our giving model of donating proceeds to underrepresented communities.
"By designing products and a brand for an audience that reflects the world we live in, we hope we can help others embrace and celebrate our diversity."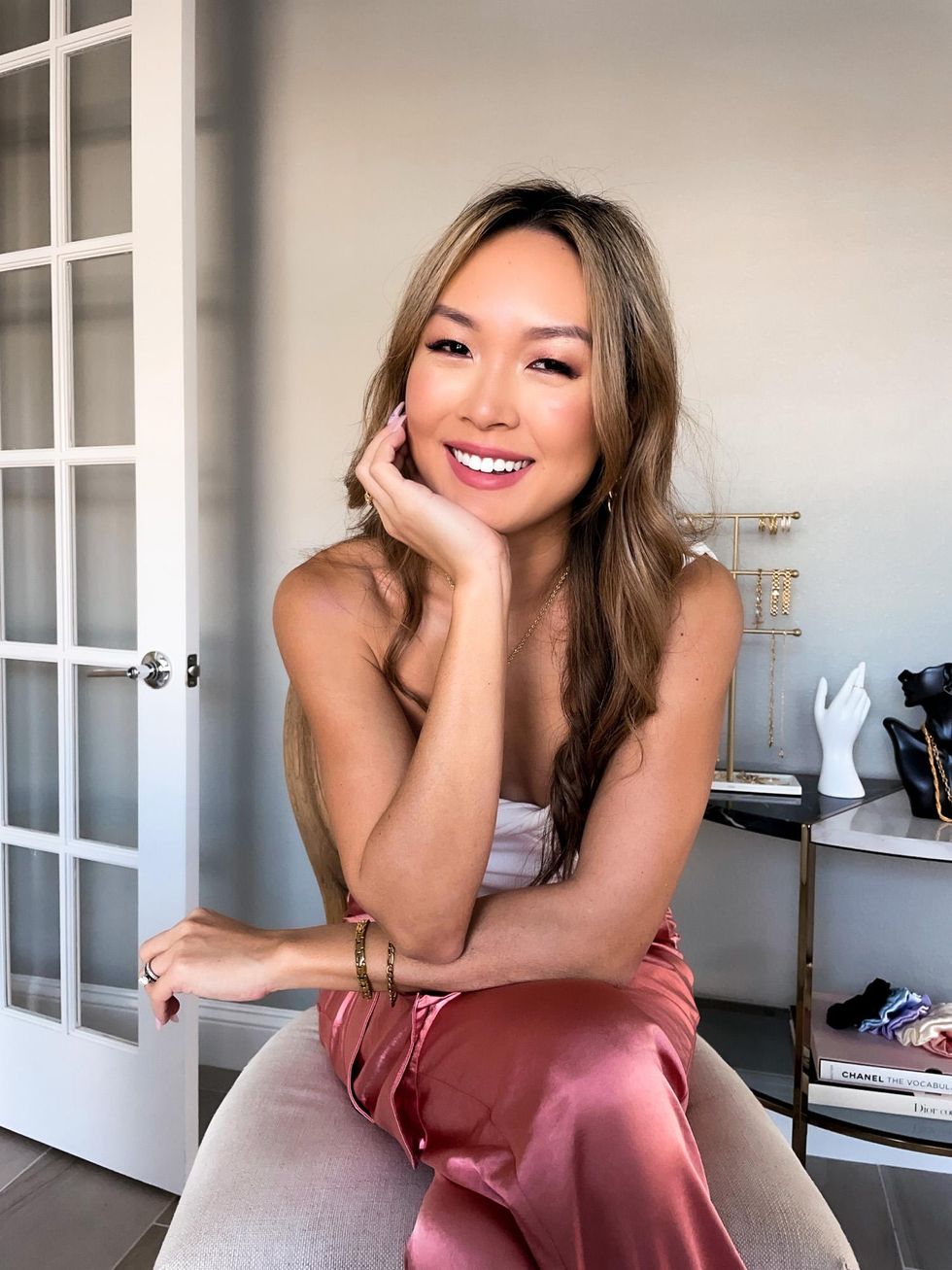 Photo: Courtesy of Alicia Sandve
"While it's heartening to see more Asian representation in the fashion and beauty industries, it still doesn't feel like a comfortable, natural inclusion. Photo shoots seem to include an Asian model just to tick the women-of-color box, especially in fashion. My hope is that there will be genuine inclusion and representation for Asian Americans who are celebrated, rather than added in to fill a quota.
"In today's day and age, where consumers are looking for a deeper connection with the brands they support, lending their platform to Asian Americans to share their experiences and tell their stories can bridge that racial gap and foster a deeper understanding for the Asian community amongst non-Asian consumers. Brands and businesses have the power and influence to shift mindsets and reverse biases.
"As a first-generation Asian immigrant, I feel a huge sense of social responsibility to use my platform to share my experience as an Asian American. For the first few years after moving to America and working in fashion, I found myself having to tone down my "Asian-ness" to fit in.
"I've come to learn many years later that I did that out of fear from the few racist experiences I endured when I first arrived. Now, with many thanks to all the loud voices who have spoken up on behalf of all Asian Americans, I feel like I have also found my voice.
"As an Asian business owner in the fashion industry, I believe that being here and taking this space is helping shift the culture forward. When I first started my business, 95 percent of my customers were Asian, perhaps due to the fact that it was difficult for other ethnic groups to resonate with an Asian-owned brand.
"We've worked hard to boldly share the Asian experience, build a personal connection with our customers, and bridge the gap between our non-Asian audience and who we are as a brand. We now have a much more diverse customer base, and that is proof of how open dialogue and communication can break down walls, biases, and the fear of the unknown.
"We aim to be a strong, fearless Asian-owned business that our community can be proud of. HEYMAEVE has been donating a portion of proceeds to various stop-Asian-hate initiatives like Cafe Maddy Cab, AAPI Women Lead, and several victim GoFundMe fundraisers.
"We're actively working with Asian creatives to highlight their talents. The Asian stereotype of being strictly academic has got to go. Asian creators need to be given more credit and exposure, and I want to be able to hire more Asian creatives on my team as we grow. We also donate one dollar from every sale to a handful of charities of our customers' choice that support and empower young girls and women in Asia."