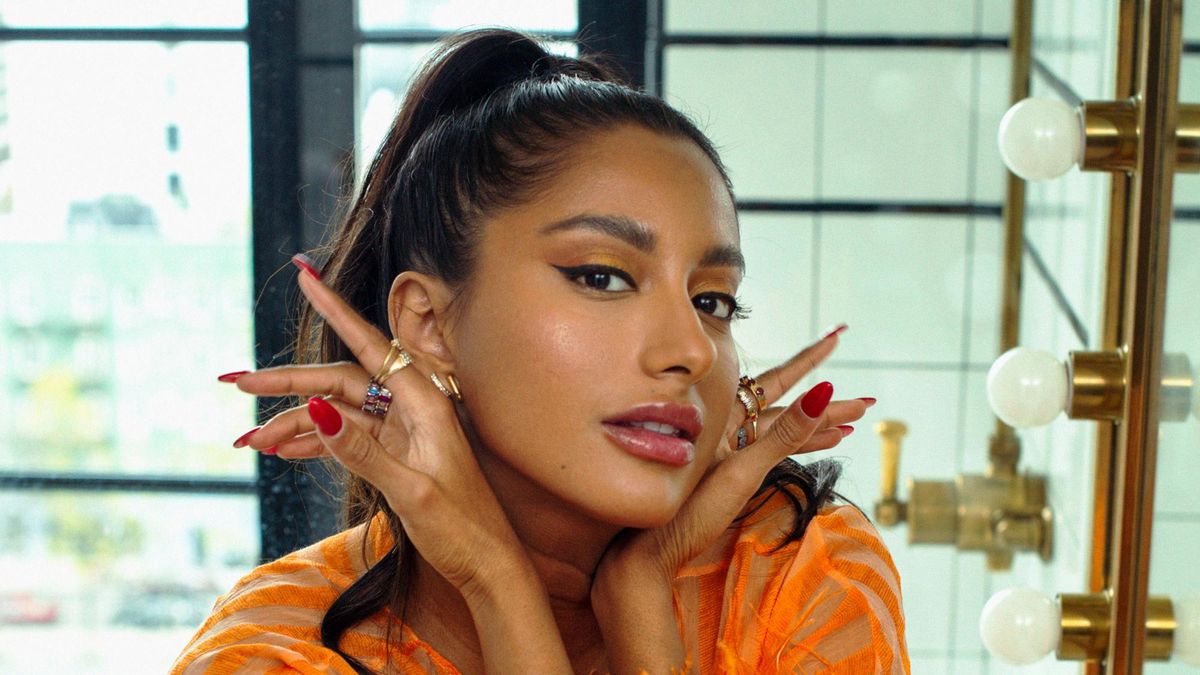 Love And Sex
Amrit's Love & Dating Tips for Impending Hot Girl Summer
How to navigate relationships and sex, according to the newly minted dating show host.
Can you hear that? That's the sound of "hot vax girl summer" approaching. After a year of being at home, a season of potential dates, hookups, and love matches is on the horizon, and DJ-turned-dating-expert and host Amrit is here to help us navigate these times. On both the NTWRK show Unhinged and her IGTV series "Ask Amrit," Amrit shares dating tips and the best pickup lines and elicits incredible stories from her viewers.
We spoke to Amrit about how pandemic boredom led to the creation of Unhinged, her dating deal breakers, and the number one thing you need to do when you get back on the dating scene this year.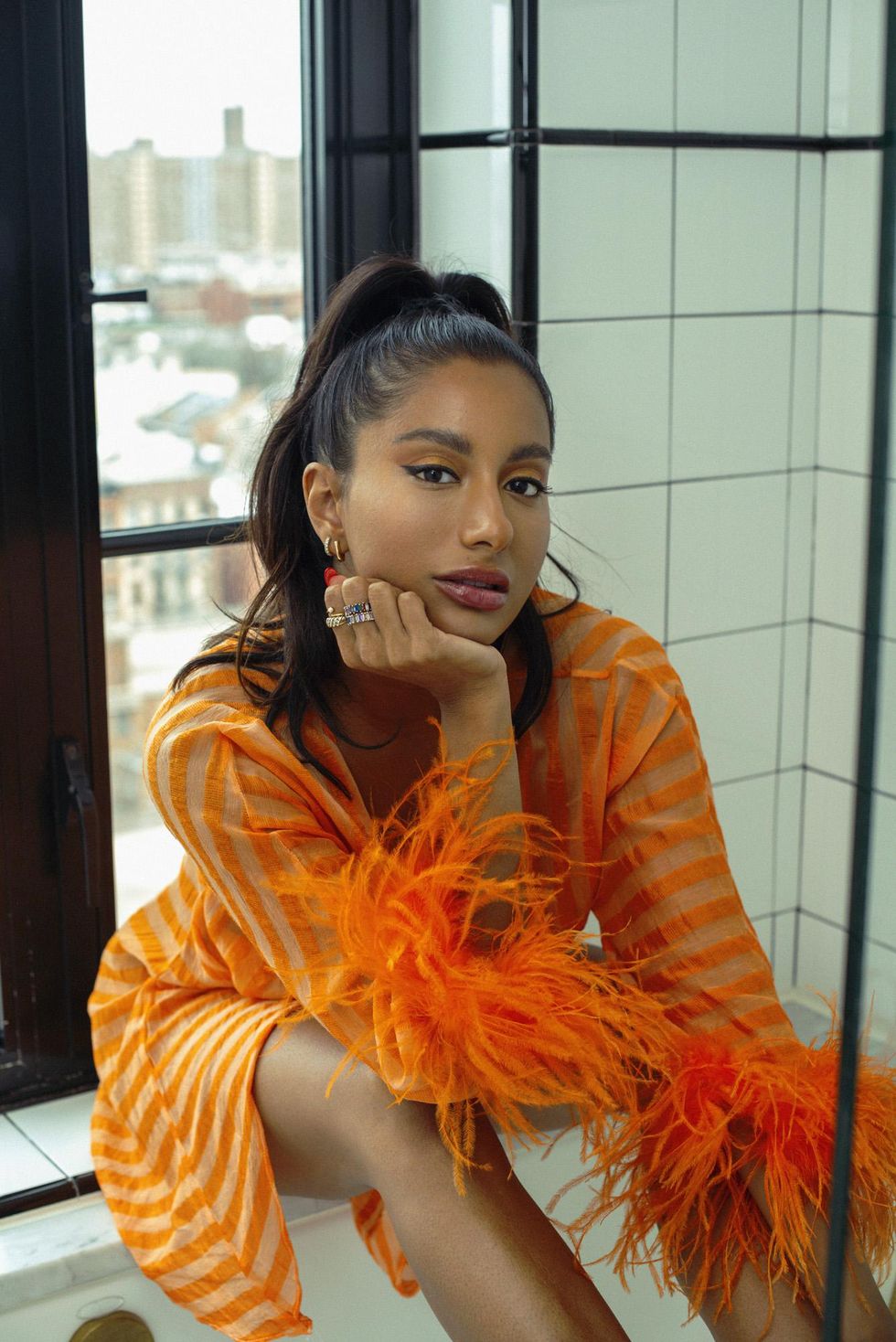 Photo: Abeera Khan

How did Unhinged come to be?
"Very serendipitously. I was in my apartment, lonely because I had lost my creative outlets because of the pandemic. I started talking to my small but very loyal Instagram following. I posted a lot of love-related memes, and people would always respond, getting really personal with their messages. I was getting so many responses that I started doing 'Ask Me a Question' boxes, and they would all be about dating. Then people started asking for dating advice, and people were sharing really intimate things with me like affairs, hookups, or divorces. I had been in conversations with NTWRK prior, and then they really enjoyed the content and wanted to build it out together. Now it lives on two verticals, the NTWRK show Unhinged, which is 30 minutes and is their first piece of original content. While I'm on air, people are in the chat asking questions and sometimes even shooting their shot using my advice. I love being people's friend—it's hard to be vulnerable, and I love that people share their love, sex, and dating stories with me."
Why do you think that people open up to you?
"I think initially the anonymity of Instagram DMs helped. Also, I post a lot of jokes and memes, and humor is a great way to connect because people's defenses are down when they're laughing. We have a lighthearted approach, but people talk to me about serious things—for example, dating when both people have different religious backgrounds or questions like 'When should I share [that I have] an STD with a partner?'"
What have been some of the funniest/most memorable moments on Unhinged?
"I love when people come back and update me on their love life. Everyone always asks, 'How do I slide into someone's DMs?' My opinion is that you don't have to do too much, you just need to break the ice. Most people want to be approached! I tell people to just say hi, and people send me screenshots being like, 'It worked!' I also like seeing men being vulnerable, asking things like 'Does height really matter?' or 'Is it OK to not be athletic?' It breaks down some aspects of toxic masculinity, which is nice."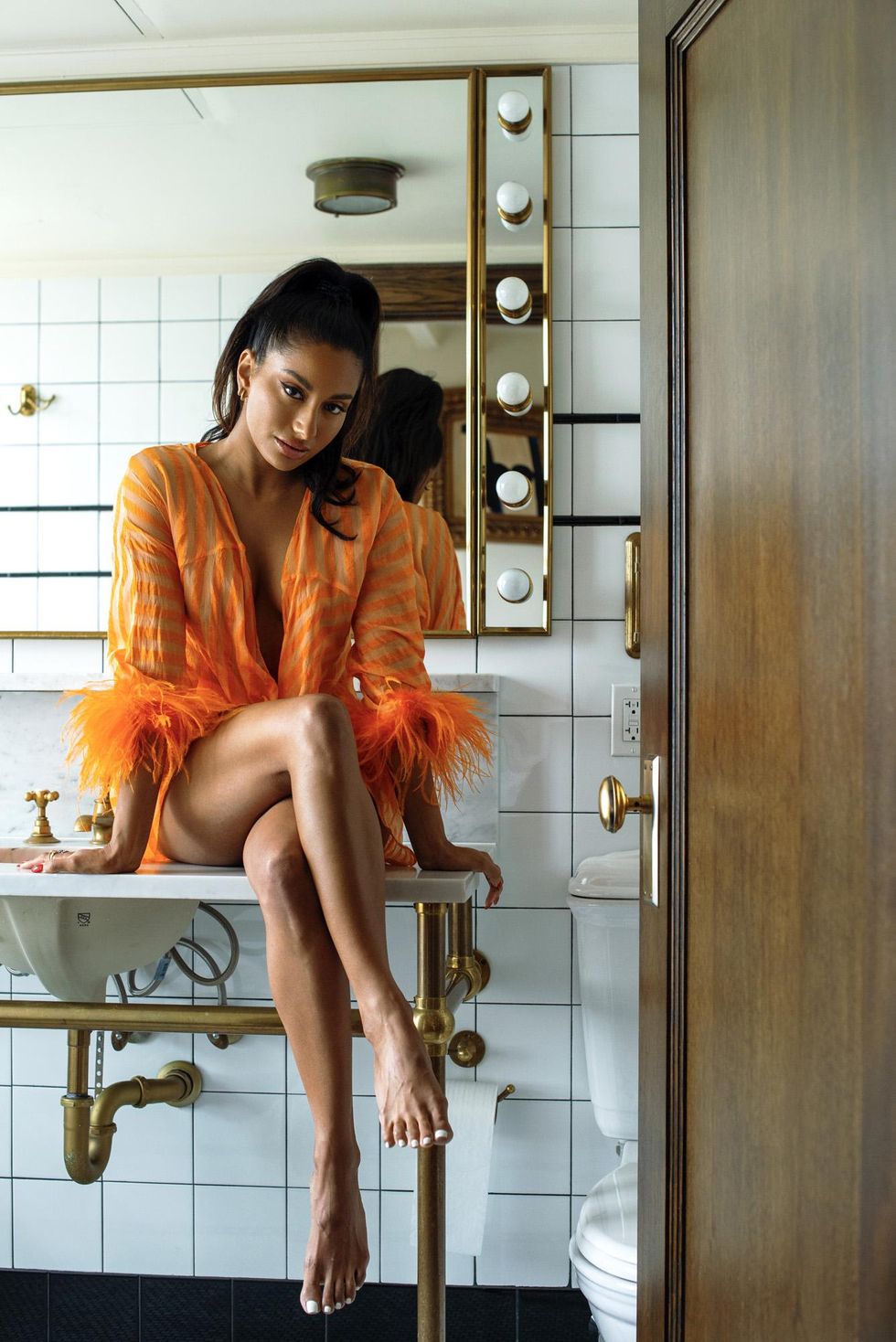 Photo: Abeera Khan
How has the pandemic made dating better or worse?
"I would say both! There was an explosion of people using apps, and people were going stir-crazy during the pandemic. A lot of people were anti-online dating, but people don't realize that if you have, say, Instagram, that's a dating app! Have you ever responded to a random DM? That's online dating."
What's been your experience dating during the pandemic?
"This is the first time I've dated! I was normally either on a plane every week or in a long-term relationship. I've learned a lot. What's helpful in dating is finding out what your wants and needs are. I always prioritized love last, which is something that happens in big cities a lot. In NYC you can easily have Peter Pan syndrome—the pandemic gave us a sense of accountability."
What's the best pickup line you've ever heard?
"Hi. Literally, 'Hi.' There's no such thing as a good pickup line. It's more about thoughtfulness and attentiveness. People want to know that you care. That's why we laugh at blanket pickup lines like 'Did it hurt when you fell from heaven?' because you could use that on anyone. When someone shoots their shot at me and talks about something they know I like, like music, then I'll consider them because this person is interested in me as a person. I recommend responding to a story or something they're doing; it makes them feel like you're interested in them personally. Pickup lines have also turned into what's the first thing you say when you match on a dating app. I love to start the conversation with something like 'Finally,' or 'Took you long enough!' It's funny, lighthearted, casual, and just starts the conversation."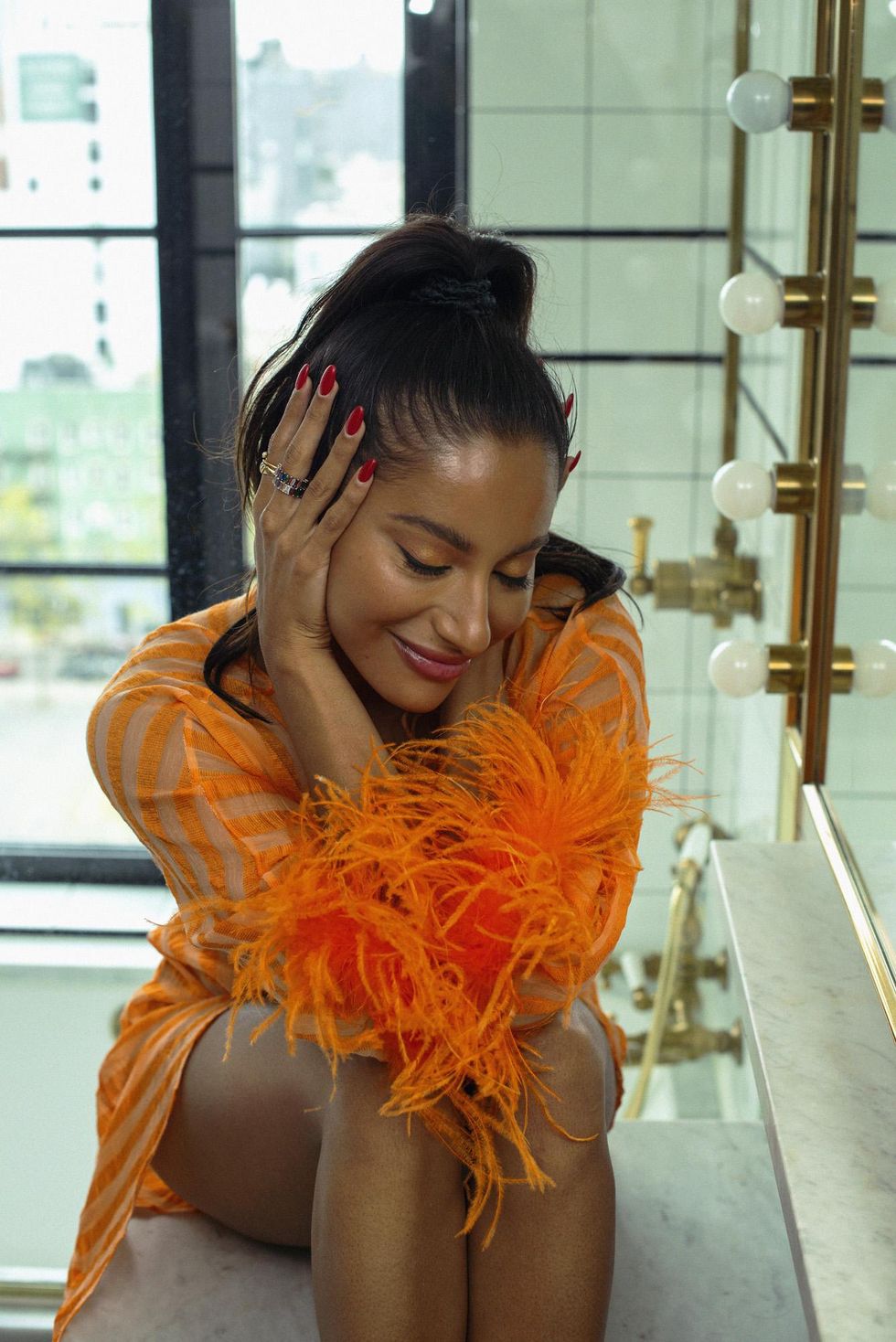 Photo: Abeera Khan
What are some spots that you think make the ideal date?
"We all had to get really creative about dates in the pandemic, so I hope that continues when life is back to normal. People had to go hiking or on drives to the beach, or, in NYC, take a walk over the bridge. It doesn't need to be grand, it just needs to be thoughtful. I'm a downtown girl, I like getting a coffee or going to the park. Even just going on a walk is great, you can be side-by-side and be in sync. Conversations flow really well. Then, if the walk is great, you keep it going and go for dinner."
If you had a date today, what would you wear?
"I like to be functional and think you should dress true to who you are. You want them to see the real version of you, no false advertising. I would wear something casual, a blazer, sneakers, and sweats. Elevated, tailored streetwear is my style."
What are your dating deal breakers?
"Talking about their ex on the first date and being rude to staff. I'm also not a fan of people who are on their phone all the time. It makes me feel like I'm not a priority. If I have a one-hour coffee with you and you're distracted, then I'm not interested."
What's your advice for the impending "hot vax-girl summer"? How should people navigate dating, hooking up, etc.?
"It is about to be a hot-girl summer! Vaxxed and waxed. Whatever situation you're looking for, it's out there and you can get it, just be transparent about it. If you want to be single, poly, have four partners, no strings attached—you can have all that. Just be honest and upfront with your intentions. We've all been cooped up, things are coming back in a big way, just be ready and honest."
Photos: Abeera Khan
Want more stories like this?
How Seasonal Cities Became Year-Round Destinations
12 Friends of Coveteur on What They're Most Excited For This Spring
More Than a Mock-Up: How Janet Is Etching Her Mark on Hollywood