How One Couple Let Go of Their Fears and Found Love
Carly Russ Peterson and Dylan Peterson on their relationship journey.
Love And Sex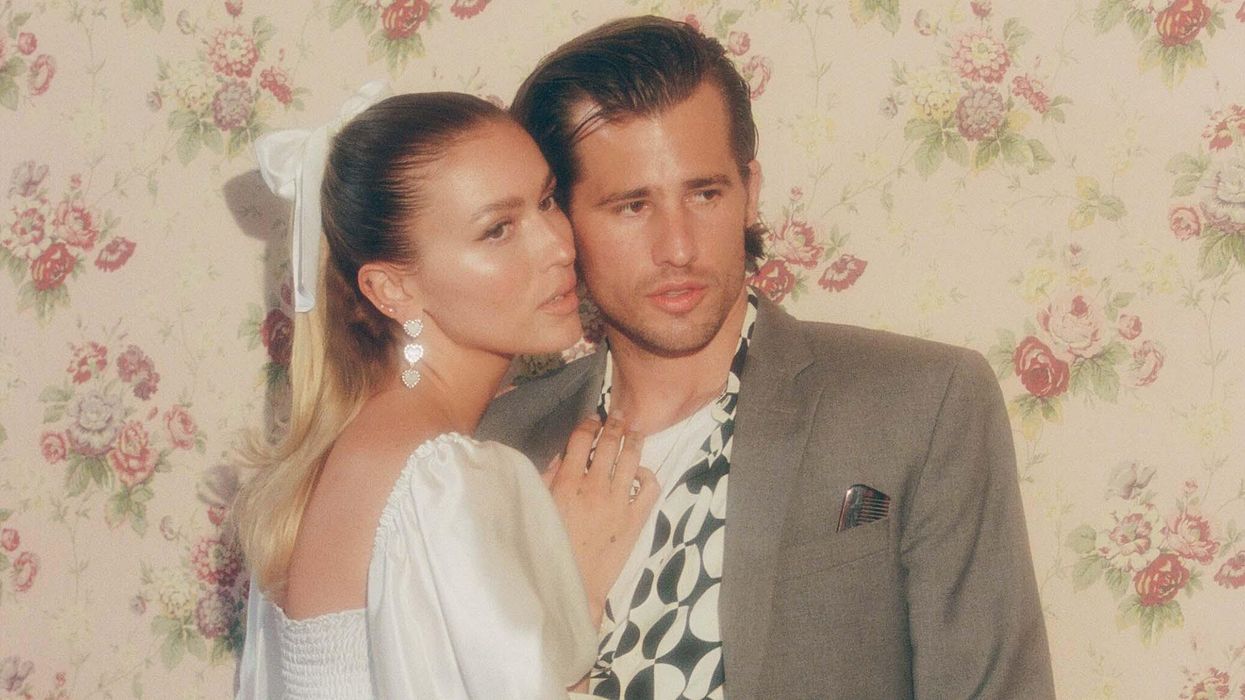 There's a saying about love that you are probably familiar with: You can't love anyone else until you love yourself. If Carly Russ Peterson and Dylan Peterson had stuck true to that maxim, they wouldn't be together today. Carly—musician, curator of Vintage Valentine, and owner of The Valentine House, and Dylan—photographer and cofounder of Collage, a real estate and design company—came together when they were both at low points in their life, but they also knew what they had was special; they didn't want to pass on the opportunity to build a life together. "But I also know that when I met Carly, I was not ready for a relationship," Dylan tells me over the phone. "It was a risk, but I knew that if I let it go, it might not be there later."
Contrary to what you see on social media, there isn't a rulebook to dating, no one way to guide yourself through an emotional connection with another human being. Below, Carly and Dylan reflect on their unique love story, how they met, when they knew they were in love, and why they ultimately decided to elope.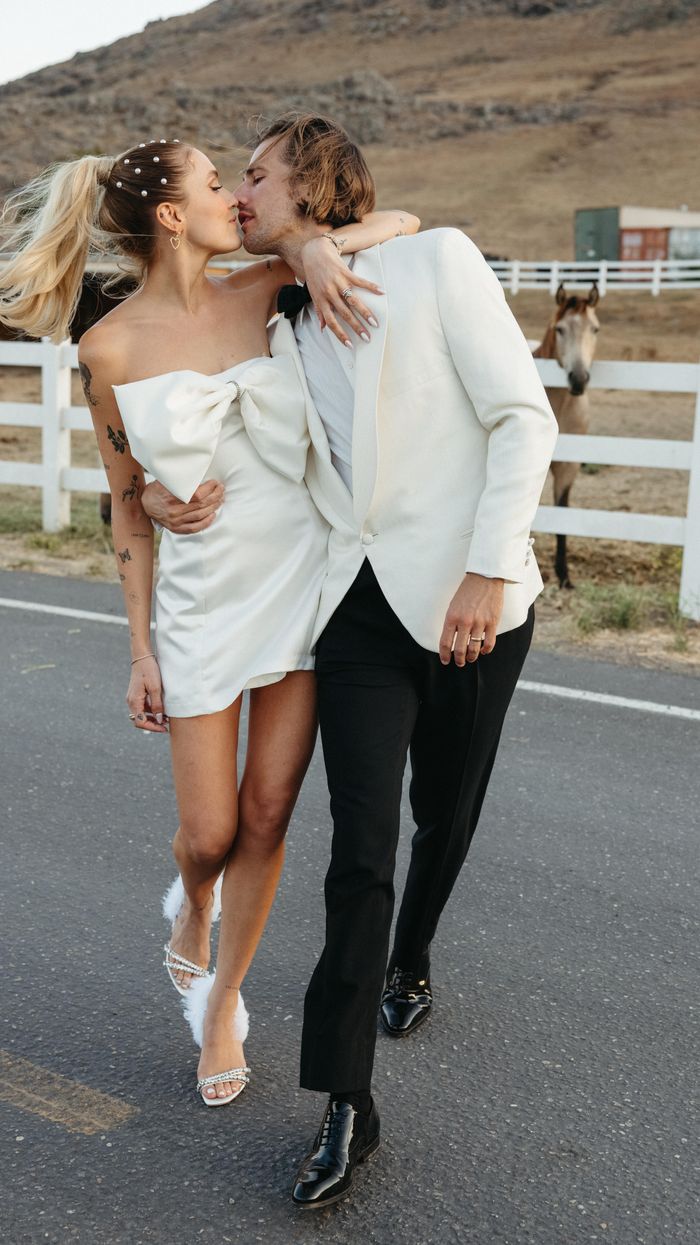 Dylan Peterson: "We met on a camping trip with friends upstate during Memorial Day weekend 2016. We're both living in New York, and we brought our significant others, at the time, along on the trip.
"I remember walking in and not making eye contact with her once because she was intimidating, and I thought she was super cool. I took photos the whole weekend, and I realized while editing them that I took photos of every single person there except for her because I couldn't bring myself to even look her in the eye.
"We eventually became friends; then my relationship ended. Carly was in a band and they asked me to play bass, so I joined and ended up living with her and her ex-boyfriend for eight months before they moved out to L.A. full time.
"After my relationship ended, Carly set me up with my next girlfriend."
Carly Russ Peterson: "He always asks me why I did that. And it's because I thought that I couldn't be with him. So I wanted him to be happy with someone else.
"I'd had feelings for him for a long time because he was so kind to me. I was in a bad relationship prior and he was one of the only friends who actually listened to me.
"A couple of weeks after my ex broke up with me, Dylan sat me down and said, 'This might be too soon, but I think I have a crush on you.'"
DP: "Oh my God, my heart was pounding out of my chest. I was still in New York, but I'd play in the band when they needed me. I booked a two-week trip out to L.A. for the show and that night, they broke up. I spent the rest of the two-week trip sleeping on an air mattress at Carly's house. She was very depressed, so I'd be like, 'Let's go eat something,' or 'Let's go outside.'"
CRP: "He made sure I was taking care of myself."
DP: "After two weeks of that, we'd start meeting up with her friends, and she told them what we were doing and it sounded like we were going on dates every day.
"After I said, "I have a crush on you," which was an understatement, we took things slow and in January 2018, we were completely committed."
When they knew they were in love:
CRP: "I know the exact moment. Dylan and I went to the beach—this is before we were together, actually—and he asked if I wanted to have kids. The way he talked about wanting to have kids and the excitement I saw in him confirmed that I already loved him; it confirmed to me that he would be such a good dad and such a good husband. I remember thinking, 'Oh my god, I'm in love with this guy, and it sucks because I'm with someone else.'"
DP: "I probably wouldn't have admitted this to myself then, but Carly threw a birthday for her ex and she invited me. She went all out and gave him the best birthday celebration. My family has never been big on birthdays, and I'd never been with anybody that really celebrated like that. I remember thinking, 'What a fucking lucky guy. I hope the next person I'm with is someone like Carly.'"
CRP: "When you do find somebody you truly love and you have an actual connection, you can't really put it into words. It's not as much excitement as you may expect; it's not like your heart beats all the time. It's where you feel so safe. There's no judgment at all, and you can be completely yourself.
"I knew I was going to be with Dylan forever when I could be goofy and weird and not think twice about it. There's an immediate trust, and you know they would never do anything to hurt you."
DP: "Even if you're having an argument, you just know in the back of your head that whatever they did, it didn't come from a bad place. You're always leading with love."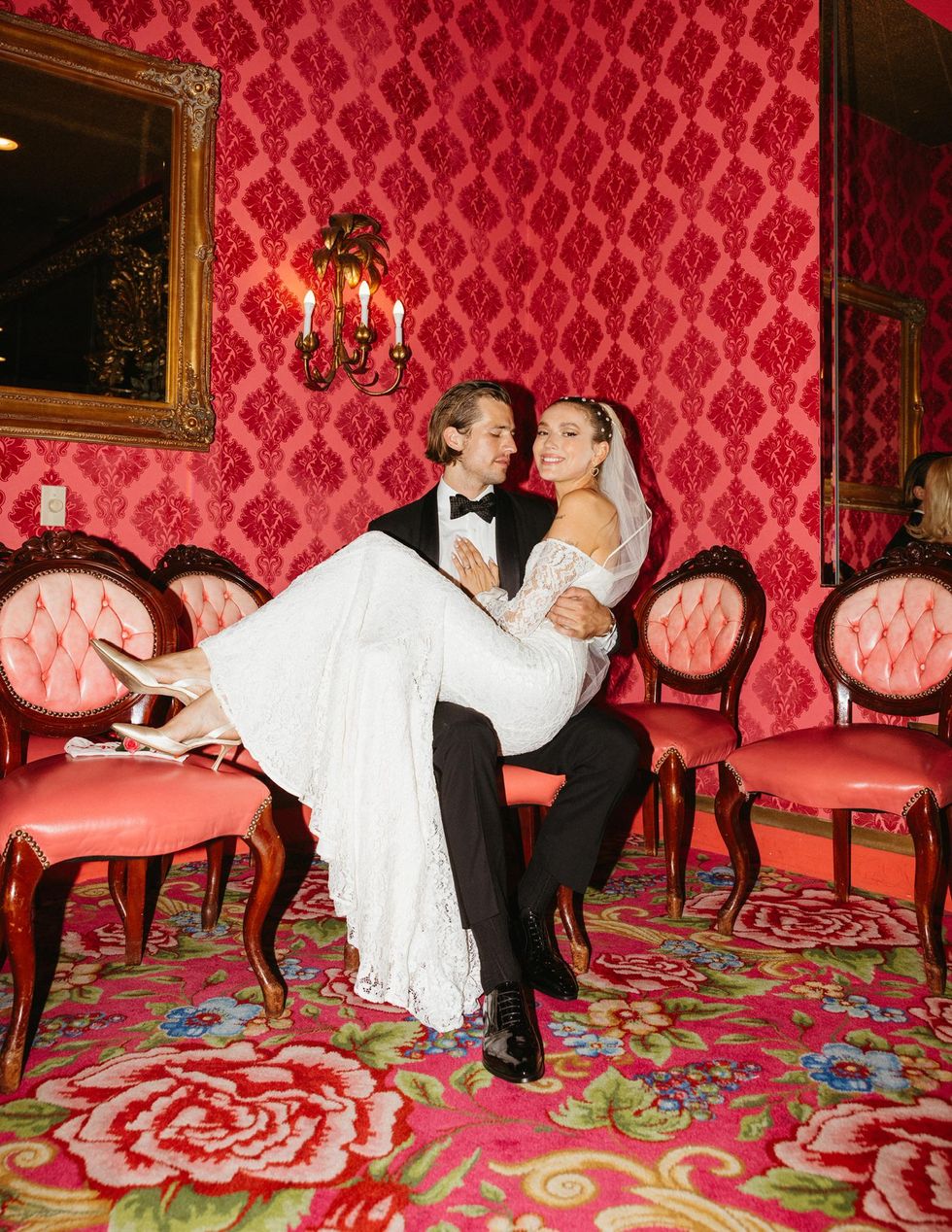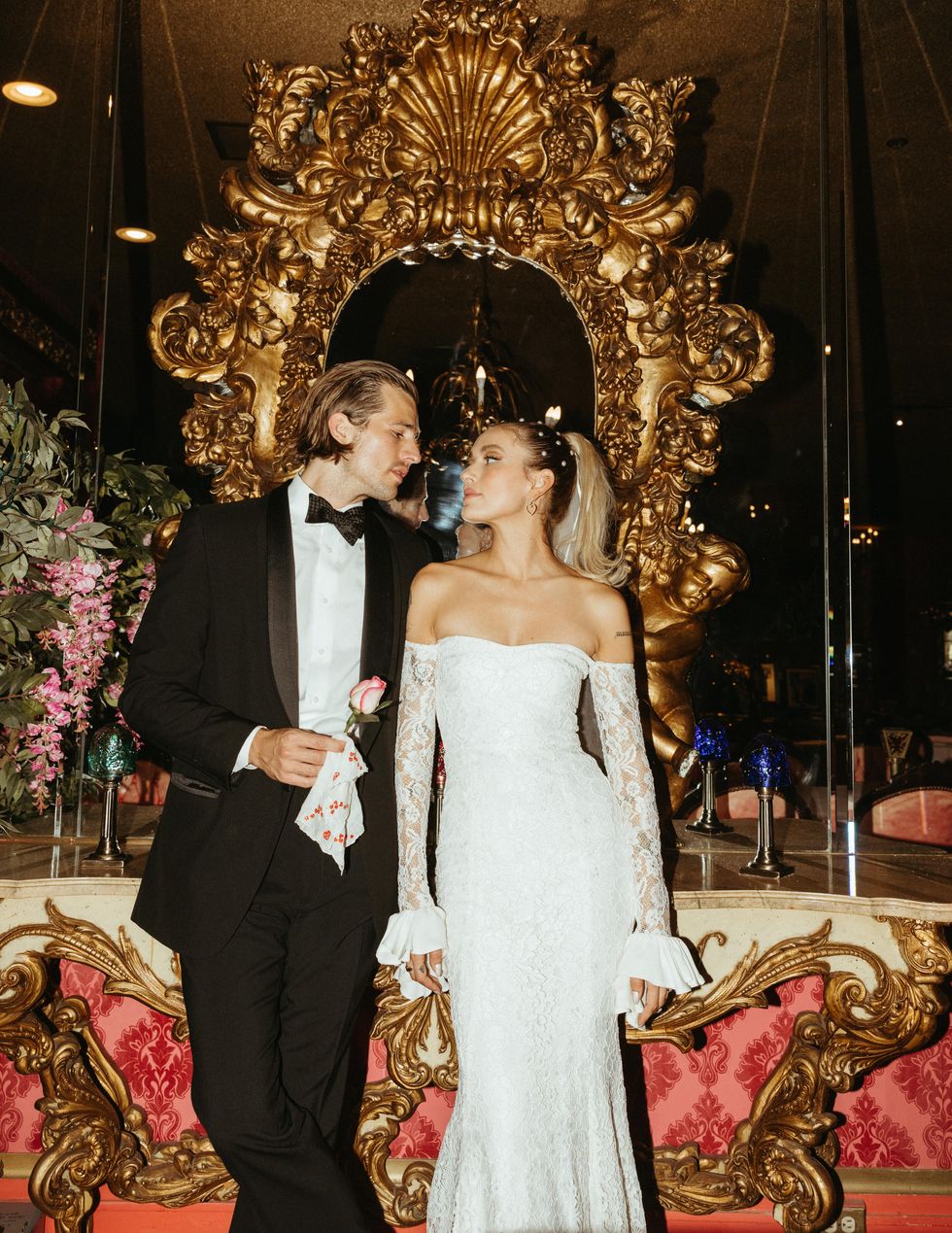 Their favorite thing about the other person:
CRP: "Dylan is one of the most patient people I've ever met. He's really taught me to think before I speak and to have patience for people. I think that's a really strong character trait. I also love how kind he is; he has such a kind heart and he really cares about being the best version of himself to everyone."
DP: "You have such a young spirit; you're so goofy and fun, and I love that. I also feel like you're not afraid to go against the crowd and totally stand on your own. When everyone's headed one way, you're not afraid to go in your own direction."
CRP: "I've always been a little bit ashamed of that. It's nice to hear that someone appreciates it."
On getting married during a pandemic:
DP: "We postponed twice which was a major bummer. But I think it made the wedding so much better because by the time we got married, everyone was ready to have something to celebrate."
CRP: "We had two weddings and the first one happened in July 2020. We went to Vegas and got married, drive-thru style, and it was the best thing we ever did. Of course, we wanted our friends and family there, but this was just for him and I. We got to do all the stuff that we wanted to do; there was no outside input. It was the best day—we stayed in this really cool hotel in Vegas, and we got all dressed up and had a nice steak dinner afterward at Circus Circus Steakhouse. And it was just so fun; we laughed so hard."
How they complement each other:
CRP: "I think I have dated people in the past who've dulled my shine or forced me to tone things down. So it feels really nice that I don't have to hide who I am with the person I love when we're around other people."
DP: "It's never like a competition between us; we're a team.
"We also got together during low points in our life. People say you can't love someone else until you love yourself, and I don't know if that's necessarily true. When you're at your lowest, it's probably harder to build someone else up. But we rebuilt ourselves together. I don't mean that in a codependent way—we were both going to therapy and doing our own thing—but people say, "I'm not ready for this," or "I need time to myself," and I totally get that.
"But I also know that when I met Carly, I was not ready for a relationship. It was a risk, but I knew that if I let it go, it might not be there later. It was a now or never situation, and I was willing to do whatever to make it work."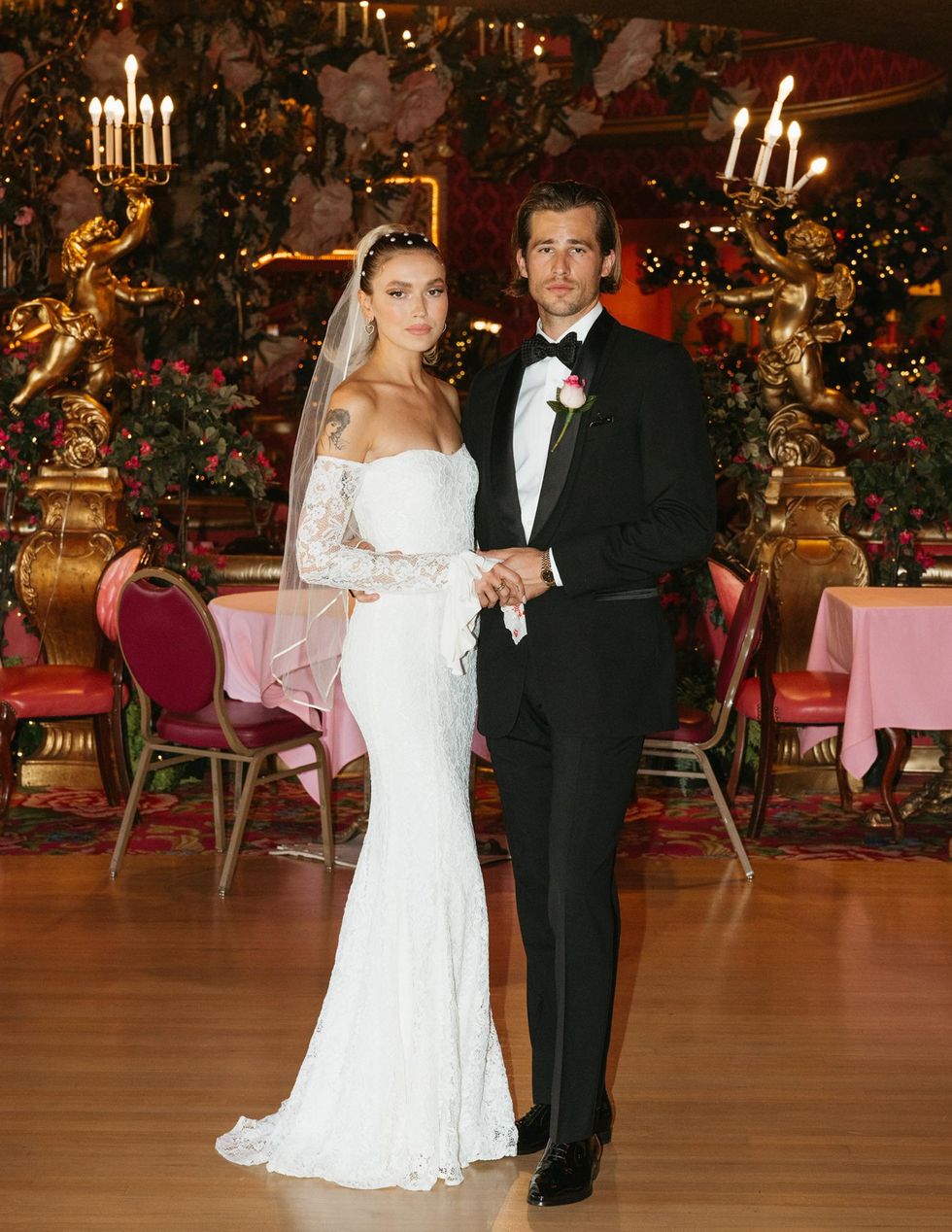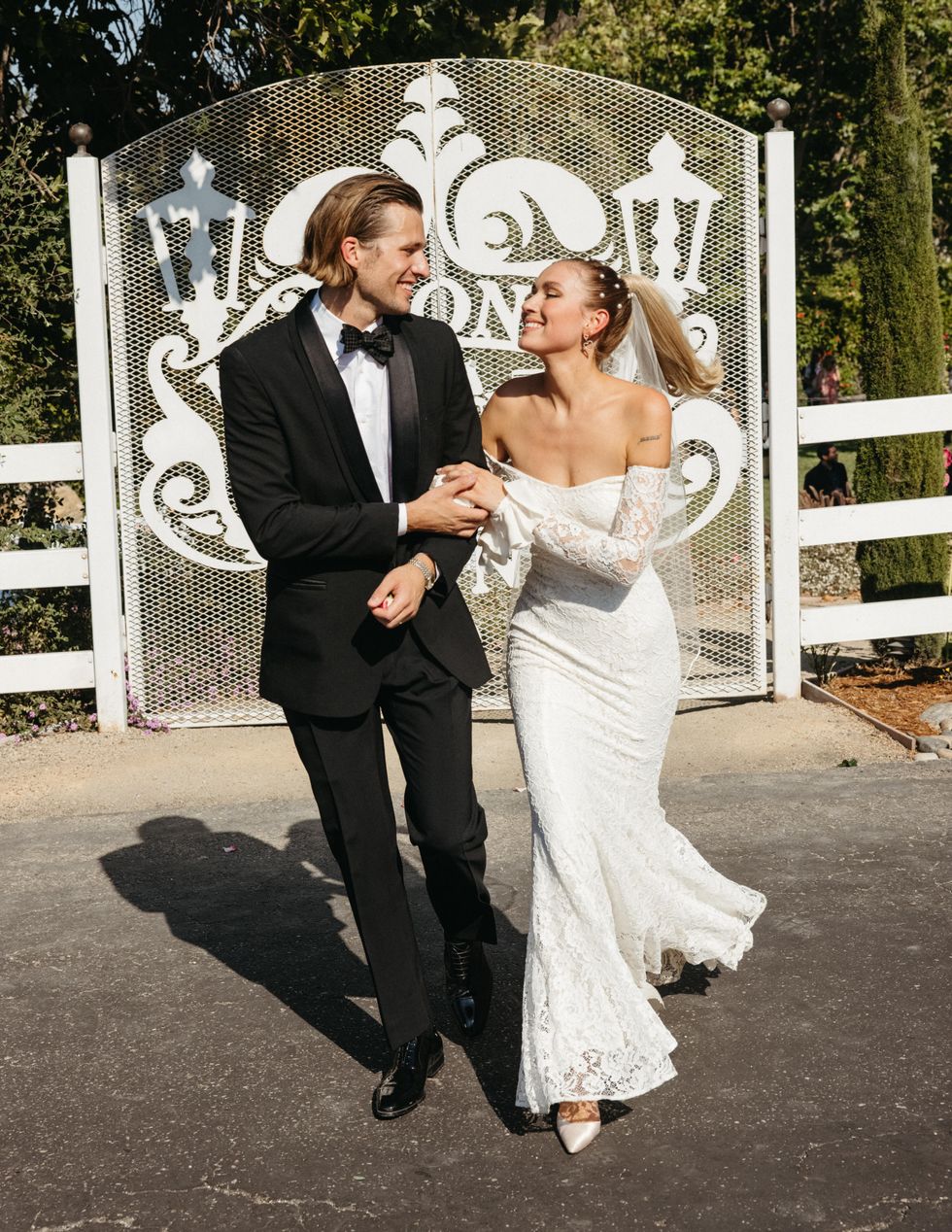 CRP: "We got married in July 2020 then had our second wedding, with our family and friends, in July 2021. There were definitely growing pains that first year because we needed to figure out what we needed for our marriage to work and also to set boundaries.
"It was such a transformative year for me because we made it known to each other what we want in our relationship and communicated our needs. And it's something we'll have to work at for the rest of our lives, but we're in such a good place, right now, in this phase in our life where we know exactly what we need to survive in a marriage."
DP: "We lived together for three years before we got married. But there was a significant shift once we were married. Not in the sense that our old lives were done but in the sense that we are definitely building something new."
CRP: "I remember asking a friend who was older, 'Is it different now that you guys are married?' since they'd lived together before and she replied, 'No, it's really the same.' So I had always assumed that was how it was going to be for me. But, like Dylan said, there was an actual shift. Everything became more real; we were sharing bank accounts. I think everybody's situation is different."
Their favorite moment together:
CRP: "We got a chance to go to Paris in 2019 and Dylan took advantage of that trip and asked me to marry him. And for obvious reasons, it was a beautiful memory.
"But I had lived in Paris prior to us going there and I was really nervous to go back because I had a lot of triggering memories there. And when we got there, we had the best time and we created our own memories. I didn't think about anything that happened to me when I lived there. I think it was our best trip, besides our honeymoon."
DP: "After we eloped in Vegas, we went on a road trip and drove to Montana before going to Lake Tahoe. We didn't have a set agenda, and we went with the flow. It was so easy, and we were both on such a high."